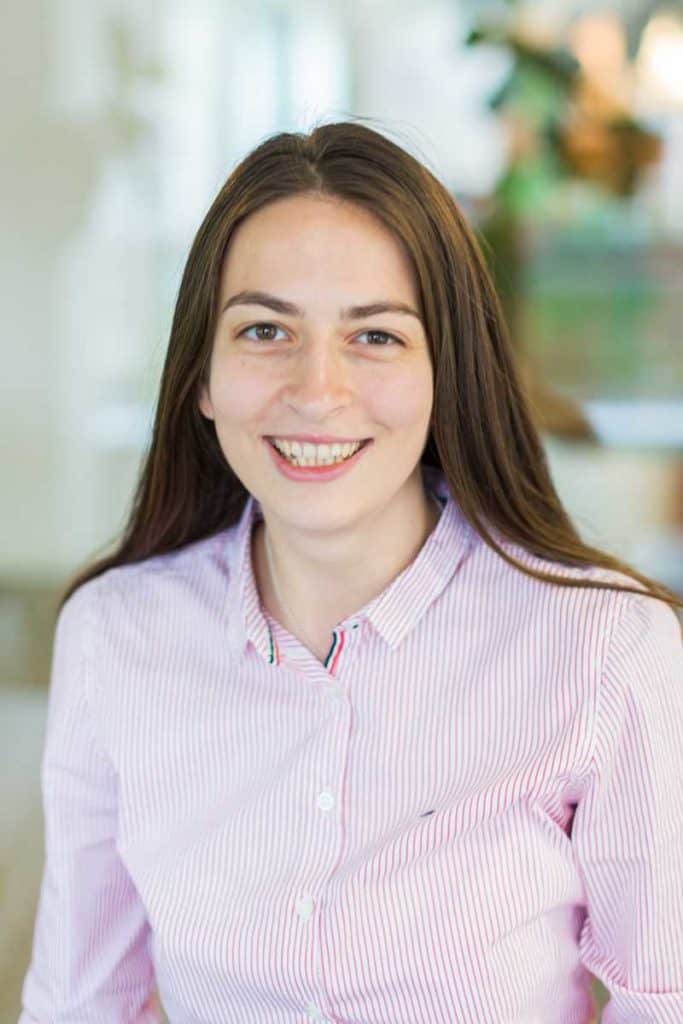 My journey to getting a digital marketing job at google was not a straight line. I intended to have a much more different career. Back in Bulgaria I was very interested in arts, I was drawing and painting a lot. I studied Art History, which in the beginning was a very interesting subject for me, but by the end of the program I was completely bored.
I went to London to do my Masters with the firm intention to find my place in this world. For one thing, I was sure that a career in academia or a receptionist at an art gallery was not really my dream. I went to Goldsmiths, where I had my first class in marketing and it made me curious.
I went on researching different opportunities in marketing and I came across a digital marketing job application for Google which came with free marketing training for all the applicants who make it through the first stage. I passed all stages and was now working part-time at an initiative called the Google juice Bar, now known as the Digital Garage. I was going to different events and acted as a consultant for small businesses on how to use Google's marketing products – Google AdWords, Google +, Gmail and Google My Business.
After graduation, I started a job in sales at Hult International Business School. I spent the next two years there and it was one of the best study experiences. It thought me how to communicate with people, be persuasive, get clients and sign them up. These are some of the most important skills someone could get. I strongly recommend young people to do sales jobs as it shapes the character and helps overcoming shyness and communication problems.
My interest in marketing had not faded over that time. However, I realized that, if I wanted to move towards marketing, interest was not enough – I had to put some effort. I started an online marketing course with Squared Online, developed together with Google. I was staying nights after work, weekends and holidays to keep up with the schedule. The course introduced me to some great people we were doing group work with. Also, I discovered a lot of alumni in the company, I was working in.
One day, I happened to speak with the Head of Digital Marketing at Hult and it turned out that they are looking for someone to manage their Google AdWords account. I immediately applied and got the position. My work involves day to day management of global campaigns across Google Search, Display and YouTube. It is a demanding, but also very interesting digital marketing job, as it puts you so close to the core of the business. I now also work with private clients, managing their advertising, consulting and developing strategies.
I am now starting a new digital marketing job – a very exciting assignment for Google. My work will involve developing education and training for Google's partner agencies, teaching the newest of Google AdWords, leadership and sales skills.
Recommended book for Digital Marketers Marketing 4.0: Moving from Traditional to Digital
How did I get where I am now?
I devoted a lot of my time working on myself and my skills. I did multiple courses on udemy.com This is a great platform where you can access video courses, created by experts in their field. I am now an instructor on Udemy, myself. I have created two courses – Digital Marketing Strategies for Business Success Marketing Strategies for Business Success and Landing Pages Strategy with Psychology
I also read a lot of books on the subject – pretty much anything I could get my hands on. My reading list is expanding since then.
Some great platforms where you can study about Google AdWords are Academy of Ads by Google. There you can access free training and pass certificates for every of the major subjects of digital marketing with Google – Search, Display, Mobile, Video and Shopping. I would also recommend the Udacity Digital Marketing Nanodegree, which I did as well.
Advice for someone looking for a digital marketing job
My advice for people looking to get a digital marketing job is just to absorb as much information as possible. In the beginning you will get overwhelmed, but if you persist and have discipline to study, you will get a breakthrough.
If you want to be a marketer, but no one is giving you a digital marketing job in marketing, do not despair! Start practicing on your own. Try to create an online campaign, spend some money on online ads. You can promote other people's products as an affiliate or your own if you have any. This work can not only get you the necessary experience to get a digital marketing job, but also help you earn some money from your own efforts.
One thing which separated me from many other candidates for my current digital marketing job and the one I am starting soon, is my dedication to study outside of my niche. What I see often is that people settle in their digital marketing jobs and stop learning, or they only learn about their tiny specialty. I read about strategy, business, online and offline marketing, sales, advertising, copywriting. This has helped me a lot to understand and see the bigger picture.
Also, when I started my first digital marketing job with Hult, I started blogging on my website odolena.com and being active on social media. The extra exposure I got there opened a lot of opportunities for me, helped me connect with a lot of people and showcase my knowledge. During my interviews for my future assignment for Google, my social media footprint had already said a lot about me to the interviewers before them even meeting me.
As a conclusion, I would say that getting a digital marketing job in marketing is possible, regardless of your degree and background. Getting the right information, seeking constant improvement and consciously networking are some of the factors which helped me. I believe they would apply to anyone.
Odolena Kostova – I am a marketer with focus on digital. I am originally from Bulgaria but been living for the last 7 years in London, UK. My job involves coaching agencies, partnering with Google on their latest marketing solutions. I am also freelance consultant for small businesses and start-ups. You can read my FREE e-book about online marketing for beginners. I am a blogger on odolena.com and an Udemy instructor with more than 2,700 students enrolled in my online course. 
My journey to getting a Digital Marketing job at Google