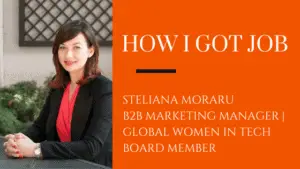 How was your University time?
I have very fond memories of my time as a student at the National University of Political Science and Administration, one of the best colleges in my native country, Romania. The professors, the topics and, most important, the access to numerous extra-curricular activities paved my way to the professional I am today.
These memories include my first official job, my time as a volunteer for several local and international nonprofits, and the first open door in the tech world. Actually, it was in my second year of University when I discovered my interest for technology, during my time within the Ministry of Communication.
During University, I've worked on several projects about e-government, having the advantage of catching a glimpse into a future that I've only read in sci-fi books and contributing to very forward-thinking projects. Later on, I've joined an organization working in e-government research and I've been part of 2 regional studies on the topic, which also gave me the possibility to be a speaker twice at the World Summit on Information Society.
What I would like to emphasize about my University time, something I've become very supportive for is that each student should have at least a community project or a volunteer experience during their college years, even from a younger age. It's such a transformative period, and it's the perfect time to experiment, to be curious and to shape your leadership skills, without most of the job/career precision that comes afterward.
I always encourage my students from the Leadership seminar I've taught to seek out the the balance between enjoyment and achievement, even if sometimes might be hard to balance classes with other projects. It's my true belief that only the ones who go for that extra mile reach to the top, so why not start early? 
Why did you seek out a career in this field?
My academic life is defined by the study of communication and public relations, currently being on the verge to defend my Ph.D. thesis on Big Data, and my overall background is in humanities and foreign languages. But the part of the my professional life is withing the tech world.
So, I can call my entrance into the tech world as pure luck, but my stay as pure work. Having the opportunity to witness front row the technology ability to shape the world, well that's a perfectly valid reason for me to work in the field.
For example, I've worked for a couple of years as a manager for one of the biggest tech social enterprises in the world, whose main mission is to improve lives globally through the use of technology. The main program I worked for is the one enabling nongovernmental organization access to software & hardware resource, as well as training and innovative programs to advance their mission. In addition, I had the chance to lead the communication for a CEE program aiming to identify innovate tech ideas from a person like you and me to shape the administrative work. How could I say no to such challenges?
Currently, besides my day job, I'm head of marketing for one of the fastest growing women in tech organization, Global Women in Tech, contributing together with a team of stellar leaders in tech to the grooming of the next generation of tech female leaders and advancing the conversation on diversity & leadership in tech.
I'm not a big fan of romanticised careers stories, those type we sometimes read about the tech world, most of the times we are talking about a combination of hard work, drive, good compromise and ambition, all seasoned with a pinch of luck. And this is also another reason of my choice of staying in the field.
What was your first job or nuggets from jobs you had that helped you to get to where you are today?
There are 3 habits, let's call them like this, that stuck with me: keep calm no matter what, learn as much as possible about the people you work with and always be in the search for a balance when I have several balls in the air.
How did you prepare for an interview?
I'm paying a lot of attention when it comes to the preparation: either for face-to-face meetings, either online. I always read about the company, competitors, clients, market, about the people I'm about to meet in the interview. Also, I prepare a couple of questions about the role & company, as well as about the team and management.
Books that helped you?
From professional reading to novels I have a shelf full of books that taught me, motivated me or challenged my knowledge.
Recently, I've started to follow CEO's library, a platform filled with interviews, books recommendation & podcasts with worldwide leaders. I recommended it highly for reading &  inspiration.
As would be rather hard for me to make a top, here are some titles from the top of my mind:
What can you recommend on a CV?
Focus on the results you had, keep it clean and creative, and be selective in the jobs/ activities you mention, in the sense of adapting them for the job you are applying. I'm a fan of seeing new things even in the case of a CV, so I've recommended in the past for my students to use Canva.
Advice for someone looking for a job?
Keep yourself involved in the field you want to work, even as an intern (if you are younger) or as a volunteer if you are advanced in your career. Besides the joy of giving back to the community, you can add new projects to your portfolio and you can contribute with your knowledge to some exciting projects. For example, organization like TechSoup make a great job of bridging technology with the communities' needs, so have a look there.
Also, always be prepared. I've recently finished Col. Chris Hadfield book – An astronaut guide to life on Earth, and there are a few things that stuck with me. Here are 2 quotes I think make sense in the context:
"That's how I approach just about everything. I spend my life getting ready to play "Rocket Man". I picture the most demanding challenge; I visualize what I would need to know how to do to meet it; then I practice until I reach a level of competence where I'm comfortable that I will be able to perform."
"No matter how competent or how seasoned every astronaut is essentially a perpetual student, forever cramming for the next test"
Lessons from jobs that you couldn't get.
Don't let nervousness conquer your judgment. I had a very high stakes interview with one of the biggest tech companies and I've let myself drown in the emotion of the moment. Definitely, a lesson learned the hard way.
Steliana Moraru has a diverse background that spans communication, marketing, program management & corporate social responsibility. A technology aficionado and a seasoned communication professional, she is currently Marketing Manager for a banking group, in charge of leading the marketing department of the leasing company within it. She is part of Global Women in Tech organization, serving as Head of Marketing and Executive Board Member, and Communication Lead for a project developed under Code4Romania, as well as a mentor for startups and nonprofits (communication, marketing, tech for social good projects).
Previously, she worked for local and international organizations, as marketing & program manager, focusing mainly on developing innovative projects that enabled the power of technology for the social good and software product development. The primary market she worked on during her tenures is CEE. She is passionate about how technology can change communities, data in all forms (Big, Small, Open), and working people who want to be drivers of positive change in their field.
"I'm not a big fan of romanticised career stories,most of the times we are talking about a combination of hard work, drive, good compromise and ambition" says Steliana Moraru