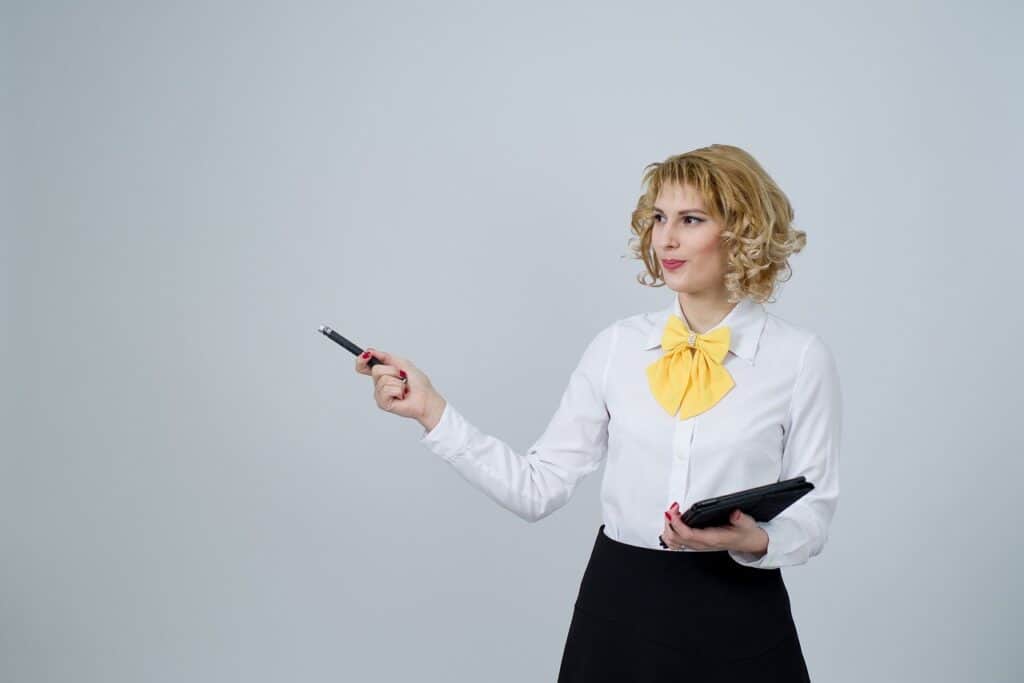 Marketing Manager Job Description – Learn about the key requirements, responsibilities, and skills needed to be a Marketing Manager 
Marketing Manager Job Description
A Marketing Manager is responsible for managing all marketing initiatives of a company. This role is dynamic and requires as much creativity as analytical and technical abilities. There are always new trends in the marketing industry. A marketing manager will have an eye for which trends will soon pass and stay here. A marketing manager is a person who will calculate if the company has the resources to cover the overall expenses and estimate the potential return of investment of a marketing initiative. Using the relevant information, a marketing manager will decide which opportunity is a viable option.
Marketing managers use market research to gather data about their target markets, customers, and competitors and trend analysis to develop marketing and pricing strategies based on past and current performances and future predictions. Research and analysis are key components of the marketing process, and decisions will always be based on facts instead of speculation. Lead generation is incredibly important for marketing managers as this drives business growth, lead conversion, and customer fulfillment. The entire customer experience must flow with the company brand and delivery on its promises.
Marketing managers will oversee the marketing department staff and produce all materials representing the business, ensuring that all materials produced fit perfectly with the company brand and values. Marketing managers will also manage the budgets for marketing projects and track and report top executives' results. As part of senior management, marketing managers will be in continuous communication and collaboration with senior managers to ensure that all departments work towards the company goals.  
Marketing Manager Job Requirements
A bachelor's degree in marketing, finance, business administration, or relevant to the field
A master's degree in a relevant field will be advantageous but might not be required depending on the size of the business.
At least two years' previous experience as a marketing manager is a common requirement and preferably in a similar industry.
Proficiency in digital marketing automation software is a key requirement since modern marketing requires extensive knowledge of technology and the digital media landscape.  
In-depth knowledge of marketing strategies with a long-term approach to achieving sustainable competitiveness and the marketing channels relevant to the target audience and fitting for the company brand.
Marketing Manager Responsibilities
Marketing Managers play a crucial role in helping a business promote and sell to its customers. The aim is always to increase company revenue. Marketing Managers will lead and influence the entire marketing department to achieve this goal in the most creative and resourceful way. Marketing Managers are essentially responsible for the planned and unplanned public image of the company. All decisions made must consider the consumer's perceptive and improve the company's corporate image to its consumer. Here are the key responsibilities of a marketing manager:
Developing long-term customer relationships through Customer Relationship Marketing (CRM) 
Developing strategies and tactics to get the word out about the company and drive quality lead generation, and nurturing those leads to consumers 
Implement successful marketing campaigns that work towards a specific company goal and managing the process from idea to execution
Experiment with a variety of marketing channels like content creation, content curation, pay-per-click campaigns, events, social medial, etc. Choosing the best channel based on the company goal and end-user 
Produce valuable and engaging content that is helpful, inspiring, or entertaining across all communication channels like the company blog and social media accounts. The content should attract and convert target audiences.
Build strategic short-term or long-term relationships and collaborate with key industry players, agencies, vendors, or suppliers 
Prepare and monitor the marketing budget on a quarterly and annual basis and allocate funds wisely. Marketing-related expenses often include paid advertising, sponsored content, website domains, and automation soft-ware 
Oversee and approve marketing material, from website designs to hard copy brochures, ensuring these materials communicate with consumers effectively and aligns with the company brand. 
Measure and report on the performance of marketing campaigns, gather insight and assess against goals of promoting the company and increasing traffic. 
Analyze consumer behavior relevant to the market industry and adjust strategies accordingly to increase the effectiveness 
Marketing Manager Skills 
A good marketing manager should have the following skills:
Adaptably to the ever-changing customer behaviors and marketing conditions
Researching through systematically gathering information, analyzing data, and making decisions based on facts
Writing content that is helpful, inspiring, or entertaining and understanding the different forms of content
Public speaking as you'll be working in a team and be representing the company at corporate events
Interpersonal communication with a focus on mass communication
The marketing manager will often make leadership; as important decision; the marketing managers must lead the marketing team to enable processes to run smoothly
People management is key for managing the creation and implementation of marketing initiatives
Detail-orientation in the identification, approach, and prioritization of the company needs and goals
Detailed budgeting for marketing expenses
Organization of marketing activities
Multi-tasking through managing simultaneous media exposure
Time management by setting hard goals and efficiently using time and resources to ensure success
Problem solved since there are frequent interruptions and continuous changes and updates.
Communication by working closely with the team
Collaboration with the marketing team and other departments and facilitation of company collaboration
Conclusion 
Being a marketing manager is a gratifying job, both corporate and creative. You must have a heart for creativity and a business head. If you've got the work ethic, this is an industry bursting with opportunities and beaming with excitement. Few careers are this dynamic. Marketing encompasses psychology, statistic, and technology and is a vital business function. Always focused on what's new and current, Marketing enables businesses to the future. It's a career where you'll constantly be learning and adapting. It is hard to find another corporate job that is as interesting.
Also read How to Become a Marketing Manager? | Complete Guide
Marketing Manager Job Description – Responsibilities and Skills