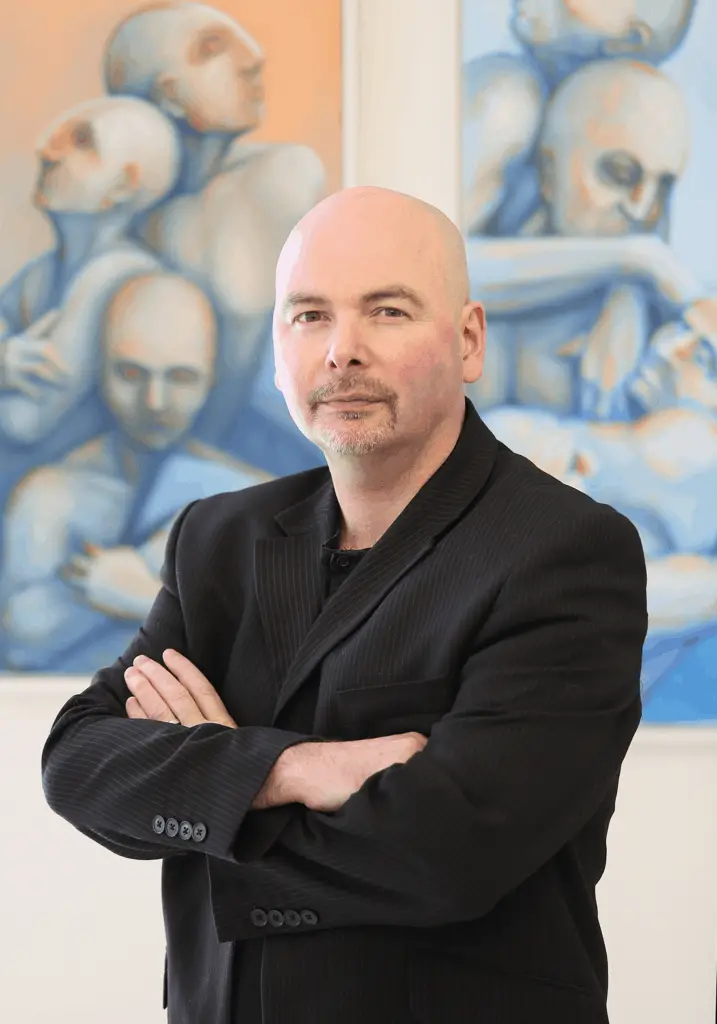 I have always been creative but upon leaving school I never followed it through. I was sidetracked playing bass in the local punk bands (yes I am that old) and dreaming, like many, of being a rockstar and working just to earn money. However my artistic compulsion was still there, and in my early twenties I decided to retrain, moving to Edinburgh with my wife and daughter to study Illustration and Media Design at the old Telford College. Although I did well at college (being a mature student was an advantage), the course at that time was, I'm afraid to say, substandard on some levels.
Upon graduation, I established a freelance graphic design business. This wasn't the easiest route to take, the reality was that I was ill prepared for the Industry and my learning curve was huge. I would certainly recommend that anyone pursuing this career gain real experience as a junior in a small agency rather than going it alone to begin with. However, almost 3 decades later I am still putting food on the table through graphic design. 
As well as creative/technical skills, I had to develop good business skills, bookkeeping etc and I was supported in this by an Edinburgh Initiative at the time called the Capital Enterprise Trust, where I had a business mentor and attended relevant business workshops. Nowadays organisations like Business Gateway offer similar good support and guidance.
Clients' commission people they like and most importantly trust with their budget, I worked hard to ensure I looked professional in everyway with an appropriate brand identity and portfolio. Although there was no internet and websites at that time, things have changed significantly and freelancers or designers job hunting have a great opportunity to create a good online impression with an identity, CV and portfolio (website) that reflect professionalism. 
The next phase in my career was being invited by one of my clients to give up my freelance work and form the Edinburgh office of a large independent contract magazine publisher, Brass Tacks Publishing. The market was difficult at the time and after a few years, myself and the editorial director left to form our own specialist contract magazine publishing agency, Whitelight Media, writing and designing customer magazines for Banks, Utility Companies, Universities etc. Initially just the two of us working from a humble back room, but within 7 years we grew Whitelight Media into an award-winning agency with 12 employees. Over the years I employed many designers, some of them from the excellent Visual Communication course at Edinburgh College where I was an industry mentor. I would recommend that students try to find a paid work placement in a small agency where the team can get to know you see how you work in a live situation. Often, even although there are no full-time jobs on offer at that time there may be freelance opportunities available.
Key points:
It's never too late to retrain.
Try and get real experience – work placements, live jobs.
Workaround experienced people and learn as much as you can before going it alone.
Develop your business skills and the art of good customer communication. 
Research good examples of CVs and online portfolios.
Pay attention to your personal online identity and be professional at all times.
The next chapter:
Growing Whiteliight Media was success in a way, but running the business left little time to fulfil my artistic urges and I became less of a designer and more of a people and project manager. Just over 12 years ago, I made a major decision to step away from my agency and go it alone again, forming Lennon Design. This simpler approach allowed me more headspace to pursue my art in a more dedicated fashion; spending more time in my studio developing my craft. I started to exhibit regularly and the next stage of my progression was to open my own small gallery Lennon-Art Gallery in the City. My business acumen and my skills in design and ability to use social media effectively were a definite advantage to setting this up. 
Again like leaving college and straight away forming a business, this demonstrated arrogance, fool hardiness perhaps, but was indicative of the punk 'do it yourself' ethos – I didn't need anyone's permission or be part of the establishment to do it.
Key points:
Have a long-term plan and stay focused on your dream.
Creatives need to be good at business too.
Be prepared to work hard, nothing comes to you, you must make it happen.
Again, pay attention to your personal online identity and be professional at all times.
My art is part of who I am, I paint, sculpt and more recently create traditional photomontage, to express myself. The world of art is so exciting, you open one door and then get led down other paths, the trick is not to lose the focus, it's harder than you think!
Two years ago I moved to a bigger space in Albion Road, Edinburgh, here I've been able to have my freelance graphic design business, painting studio and gallery all under the one roof. I know I'm very fortunate and keep reminding myself when things appear tough. As other artists know, it's no easy path and requires a lot of discipline, many hours of perspiration and indeed frustration but I am moved that my art can reach out and touch people, this is the reward. 
 I am truly following my dream.
Name: Alan Lennon
Creative Director- Lennon Design Ltd.
Semi-professional Artist – Lennon Art
Education:  
1989- 1991: National Diploma in Art and Design, (Edinburgh's Telford College)
1991 – 1994: HND Illustration and Media Design (Edinburgh's Telford College)
Work:  
1994 – 2001: Established his own freelance design consultancy in Edinburgh before joining Brass Tacks Publishing as creative director.
2001 – 2008:  Formed White Light Media – a very successful contract publishing agency;  launching and designing specialist customer magazines.
2009 Won Business Mentor of the Year award, Edinburgh Chamber of Commerce
2008 – present: Launched Lennon Design, a compact full-service design agency. Responsible for the design and production of a wide range of graphic communication material including annual reports, brochures, prospectuses, websites and exhibition display work. Also served as a student industry mentor and visiting part time lecturer at Edinburgh College.
2017 – present:  Downsized Lennon Design and launched Lennon Art. Opened up studio/Gallery exhibiting and selling own artwork.
---
Also read: Feeling The Layoff: How I Went From Fear To Gratitude And Discovered A New Career Path
Follow your dreams – My Creative Career Path