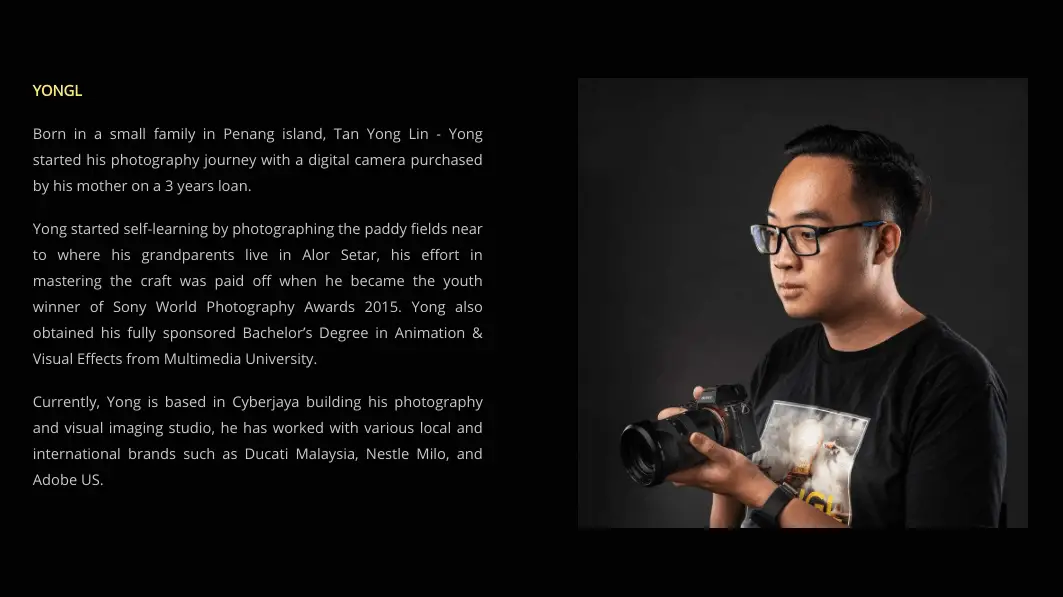 YongL is based in Cyberjaya building his creative studio, he has worked with various local and international brands such as Ducati Malaysia, Nestle Malaysia, and Adobe US.
YongL's passion for art and drawing began early at a young age and has stayed with him ever since. He used to draw and paint when he was a little boy. Nowadays he does it with his digital camera and Adobe Photoshop. Currently, YongL is based in Cyberjaya building his creative studio, he has worked with various local and international brands such as Ducati Malaysia, Nestle Malaysia, and Adobe US.
---
How was your University time?
University time was great because I don't have any financial pressure, my study was fully sponsored as I manage to secure a full scholarship with good high school results and a strong portfolio of creative works (self-learned & created). 
Why did you choose a career in this field?
When I was in the scholarship interview back in 2013 the interviewer asked the same thing, my answer is still the same to this day – Life is short, I want to pursue and do what I love full time and I believe I can achieve that by hard and smart work.
What was your first job or nuggets from jobs you had that helped you get to where you are today?
My first 9-5 job in the creative field was actually an internship position in a small creative media & video production studio. I purposely went to a smaller company (lesser than 10 workers) so I could build a stronger connection, pick up and learn more stuff from the boss directly instead of going to a larger company. It works out well as I can see how the boss run the company or deal with clients when he brought me in on various client meetings. 
How did you prepare for the interview?
My friends helped me with mock interviews just like how I prepare for my university scholarship interview. Research about the interviewer's company ahead, understand their story and mission! Be yourself and be honest, genuine during the interview, it should be a smooth ride.
Can you provide some book recommendations?
Crushing it by Gary Vaynerchuk
Things are changing very fast in the industry; how do you keep yourself updated. Please list techniques or newsletters, podcasts, events, etc.
I keep myself updated by submerging myself and showing up in the industry, attending the conference such as Adobe annual creative conference (ADOBE MAX). I also engage and consume content from Youtube channels such as TheFutur. Chris Do from TheFutur actually gave a lot of great advice which helped me and my business to navigate through the uncertainties during the pandemic. 
Any advice about CVs?
I'm not really in a good position to offer advice on this as I have only sent out my CV once for the internship position. When I graduated, I started my own business (studio) and started rolling in clients and projects on my own. I don't need a CV anymore, my clients never asked for one too. If I were to hire full time, I'd want the CV to be clearcut and informative, but in the end, it's the portfolio of works and attitude/work ethic that will determine whether I'd hire the person or not, not just the CV.
Advice for someone looking for a job?
It's tough nowadays because of the covid and economy but always be optimistic, don't put all eggs in one basket, research and create an email list then send out your CVs and Portfolio, you can even use LinkedIn to connect with certain companies directors and owners instead of using the traditional method. Share your works out publicly on these platforms because the only way people can discover you or your talent or the value u could bring to the table is by doing that. 
Why do you think you were selected among other candidates?
I can only speak from my sole experience of looking for a job for an internship 3 years ago. It's my strong portfolio of works that stand out among the other candidates. I still remember the boss asked why I would choose a small company to do my intern, because with my skills obviously, I could've gotten myself into a big ads agency or studio which works with international brands and projects, my answer is simple I want to learn more in a smaller environment (even though it's tougher because I will be responsible for more tasks like the full-timers)
Lessons from jobs that you couldn't get.
Speaking from the perspective of a business owner, it'd be jobs or projects that I couldn't close or secure, and I have plenty of that. The first thing is to never give up, the second thing is to always reflect on what could be done better (e.g: the proposal, maybe the idea is not good enough? maybe the communication or presentation is not clear?) and improvise on that! I guess it's the same if you are looking for a full-time job and attending interviews. For us, it's a constant process that we need to go through along our entrepreneurial journey of starting up a studio, it doesn't stop just because we secured one client or project. 
Also read How to start a career in photography
How I Started a Visual Imaging Studio