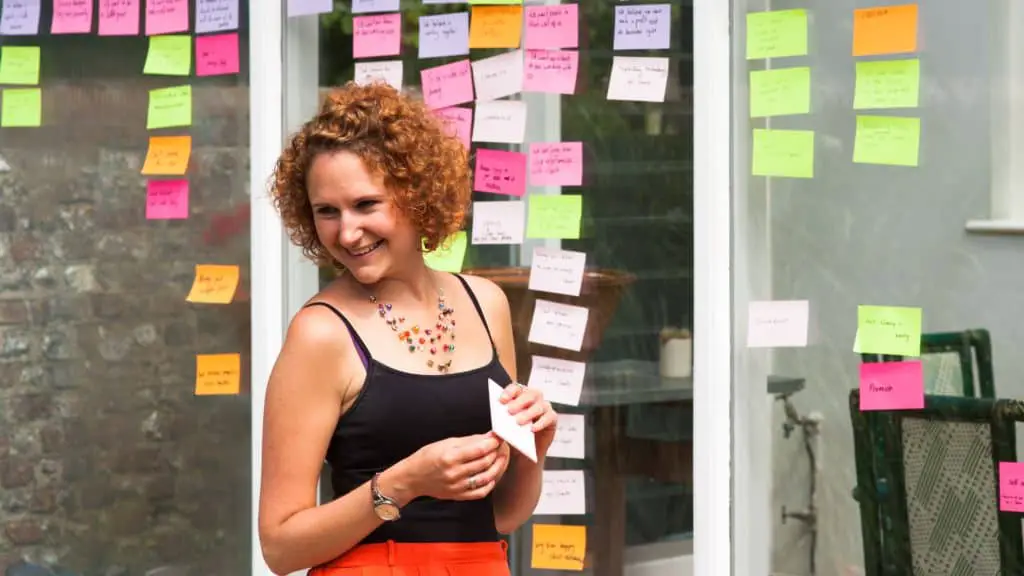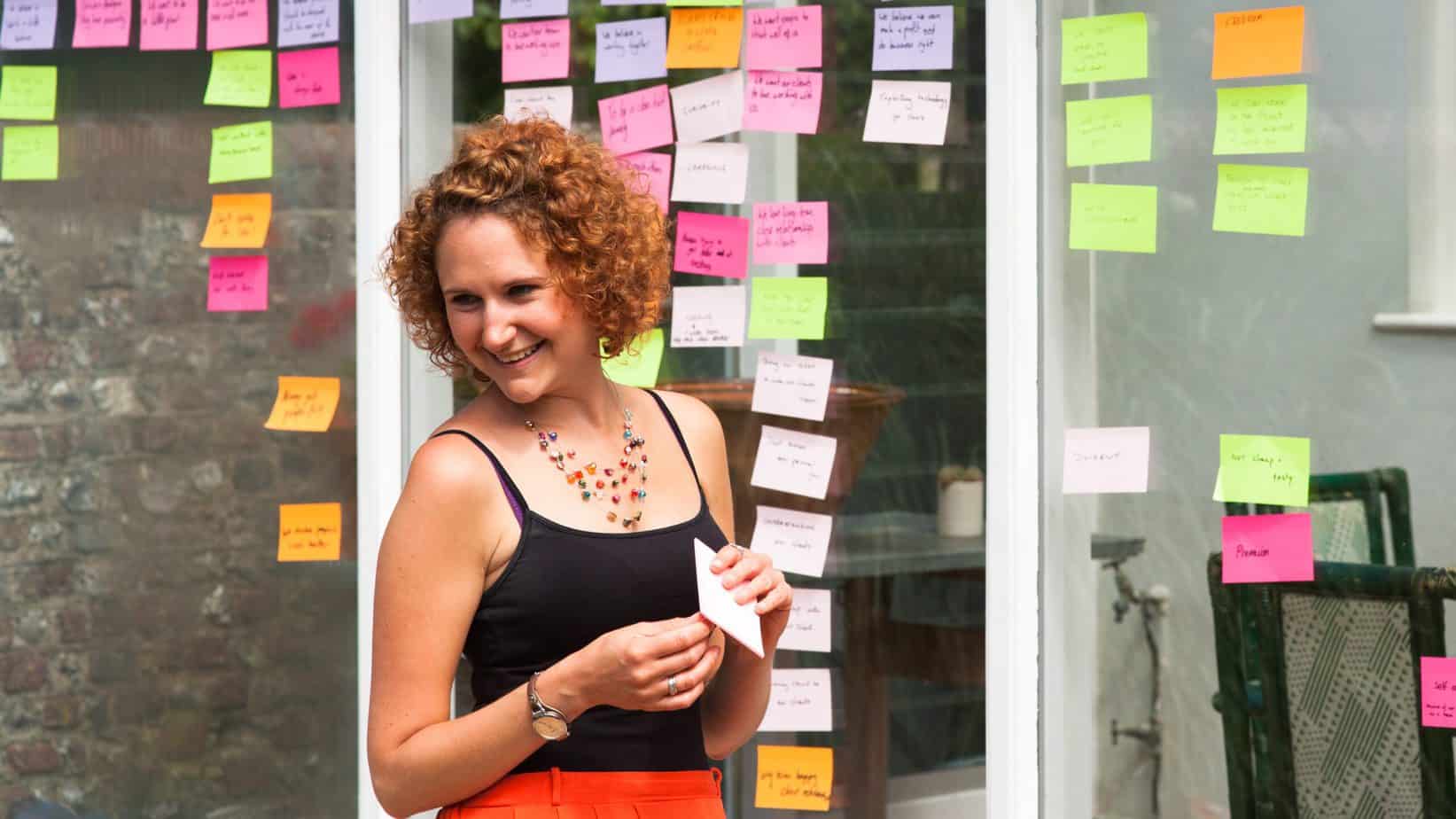 I'm Caz. I work with a small group of highly-skilled, technically-minded people as the Project Coordinator for Brightec. We design and develop bespoke mobile apps for iOS, Android, and the web, working with clients in industries such as e-commerce, e-learning, finance, and travel.
So how did I get a project coordinator job?
I'm stubborn, it's a family trait. I decided I didn't want to go to uni because I wanted to be different. Let me explain that one, my two sisters are older, smarter, more logical, clearer on their career path, you get the gist. So, I didn't want to go to uni and get the not so good marks. I didn't really know what I wanted to do but, I knew what things I liked and what I was good at; writing, being creative, daydreaming, imagining.
It was my best friend's mum (and writing this I wonder if my mum engineered this chance conversation) who questioned my choice. She took my friend and me out for lunch, which wasn't something we'd done before. My best friend knew she loved science, she was good at it, she knew she wanted to do Biomedical Sciences at University. She actually switched course 3 weeks in, completed a degree in biology, and then went back to uni a year later and has just qualified as a doctor, but that's her story. 'So what are you going to do?' her mum asked. I shrugged, 'Get a job I guess'. But doing what? I didn't know. What did I want to do? I didn't know. It went on. The summary of this discussion was, why didn't I find a course that sounded interesting and spend 3 years learning something I was interested in? (University was much more affordable in those days.) It could help me choose a career that I would like. Again, I didn't know, but that answer, for once, was productive.
I quite easily settled on a Publishing course. I'd wanted to be an author for as long as I can remember. I loved reading. I loved writing. I loved creating, getting lost in my imaginary worlds, and totally detaching from what was around me. Due to small numbers on that course, I was forced to do a joint honors degree, and based on my love of writing, and that the two seemed to go hand in hand, I chose Creative Writing.
For the first time, learning felt easy and fun. I couldn't read enough books, learn new things quickly enough or get enough answers to satisfy my hunger for more knowledge. Through the modules, I found more things I was good at, talents, and skills I naturally possessed. My passion for words (and perfection) naturally sat with editorial work and that's how I chose the jobs to apply for once I graduated.
My first job was awful. I was made redundant along with half the staff after six weeks. I was determined that this disastrous start to employment wouldn't pave my future, so I filled my calendar with work experience at places I wanted to work whilst I applied for other jobs like an editorial assistant.
Recommended book for Project Coordinators Getting Things Done: The Art of Stress-Free Productivity
Why Do You Think You Were Selected Among Other Project coordinators?
I was by far the least experienced candidate but my next employer liked that. They liked who I was and they saw that someone young was their route to the future. Enthusiastic eyes to change, improve and grow how their company worked.
I stayed with that company for five years, being promoted through various roles from editorial assistant to a journalist. My editor was scatty and I, without realizing it, took to organizing him with my constant questions and need for organization and schedules. I've always had a strong sense of responsibility and I evolved my role by taking it upon myself to make things happen, to schedule things, to work out new processes (often by trial and error), to make sure people actually spoke to each other. To me it was common sense, to them it was game-changing.
Someone else in the company noticed my ability to organize what would otherwise be chaos. Between them, the production manager and the editor hatched a plan. It was only when they put the suggestion to me, that I join the production team, and I responded 'Yeah, sounds great, I know loads about the production side from my publishing degree' that they realized my background. It seemed that potential employers look at your CV but from the moment you're offered an interview, it is your personality, your visions, your intentions, and your goals that count.
So for the next two years, I created schedules, organized three teams, asked silly questions, coordinated various newsletters, and magazines, liaised with suppliers, advertisers, journalists, editors and I loved it. But I eventually got bored because things worked better than they had done before. I realized that the fear of moving on and not having the safety net of 'this is my first job, I'm still learning' didn't exist anymore and I was ready for a new challenge.
What can you recommend on CV?
Writing a CV is daunting. To stand out, you need to make it clear there is something you are passionate about. At Brightec, we all have at least one hobby that we've taken further. Outside of work, our team is made up of musicians, songwriters, a heavy weight lifter, a yoga teacher, a children's writer. We love to learn and potential employees that display a level of drive in their personal lives will always stand out in a pile of CVs.
It is important to remember that skill isn't everything. To an extent, knowledge can be learned, taught, and nurtured but personality and a person's core beliefs are less fluid. I believe I got my project coordinator job because I was a good fit for the company and its culture.
Lessons From project coordinator Jobs That You Couldn't Get.
Rejection whilst you are job hunting is seriously hard. Until 4 years ago, I'd got every job I'd interviewed for but overconfidence isn't an attractive quality in an applicant.
Caz is a talented and experienced Project Coordinator who thrives on organization and helping to deliver multiple projects on time and on budget. She's a qualified Scrum Master and is instrumental in keeping all Brightec projects running smoothly. In addition, Caz is a skilled yoga practitioner, believing in a holistic approach to mind and body and the importance of work-life balance.
FAQ's
Who is a Project Coordinator? 
A project coordinator works with the project manager to perform crucial functions in project execution and management. Such crucial functions may include coordination and management of tools, equipment, and resources needed for the proper implementation of the project and organizing meetings and seminars to discuss important information for the project's benefit. 
He / She is a professional who is specialized in the management and coordination of different activities related to the planning and evaluation of the project. A project coordinator is always on the field of executing a project.  It should also be noted that a project coordinator reports directly to the project manager for proper implementation and accountability. Also, a project coordinator must be full-time because of the sensitivity of his/her duty. 
A project coordinator can either be a qualified male or female as there is no gender discrimination. Previous experience in the relevant field of a project should be highly considered in choosing a project coordinator. 
Requirements, Skills, and Qualification for a Project Coordinator
A project coordinator is a crucial position that requires qualifications, skills, and requirements. An outstanding project coordinator must possess the following qualities. 
He / She must have at least a degree in business administration, public administration, or other relevant fields of study. Diplomas and certificates from managerial courses are an added advantage. 
Must have at least three years of working experience in managerial roles or another relevant field of project execution—previous experience from projects executed in the past.
Must have a profound knowledge of project management and execution procedures. 
Must be smart and skillful, not a timid type. 
Must be computer literate and have first-class knowledge in various computer software needed to execute the required project. 
Must possess managerial skills and must be an excellent organizer.
Must be exquisite in his/her communication skills. 
Must possess a good listening skill and must be prompt in decision making.
Must be an expert at working under pressure while giving attention to the relevant subject matter.
Must be effective in time management to meet deadlines given by the clients. 
Must be able to work with limited resources available for better productivity.
Must be rational in decision making. That is the ability to make an important decision within a short period of time. 
Must have the ability to maintain a strong relationship with co-workers and also good communication and interpersonal skills. 
Must be very good at solving technical problems within a short period of time. 
Must be proactive. 
What are the Core Responsibilities of a Project Coordinator? 
A project coordinator plays a key role in the execution of a project. He /She performs the following functions:
Assist the project manager and other stakeholders in planning on how to execute and implement a project. This is very important for every project. Proper planning makes its execution to be easy and stress-free to give the best result. 
Ensure proper implementation of the planned project. Using his prior knowledge, he/she ensures the strategic project plan is effectively implemented using a combined effort of labor, capital, and machines. 
He / She frequently reports to the project manager on the progress of the project. Any challenges should also be reported as well. 
Coordinates all activities of every factor of production involving in the project execution. 
Monitors the health and welfare of every human resource involving in the project execution. If any worker is indisposed, he/she ensures that such an individual receives the best medical attention. Also, he/she is responsible for any damaged machine used for the project.
Must keep detailed records of every activity in the execution of the project. The record must be documented and secured for future reference and accountability. 
Sometimes he/she is saddled with the responsibility of recruiting effective and best workers for the project's execution. Also, given an estimated budget for the project. 
Involved in the purchase of machines, tools, and equipment suitable for the implementation of the project. 
Must always protect the interest of the client at all times. Relevant advice can be given for the proper execution of the project. 
Project Coordinator Salary
Project Coordinator is a very lucrative job. The salary structure of a project coordinator depends on the country, the company's financial state, and the project coordinator's years of experience. According to www.indeed.com, a project coordinator's average salary is $45,762 per annum in the United States of America for a project coordinator of one to three years of experience. A project coordinator with more than 10 years of experience earns $54,035 per annum In the United States of America. Generally, a project coordinator earns based on the country he/she works, the year of experience, qualifications, and financial capability of his/her client. 
Project Coordinator vs Project Manager
A project manager is quite different from a project coordinator though their functions may be interwoven. A project manager is a professional individual responsible for accomplishing all the project objectives. A project manager represents the clients directly and speaks exactly the client's aim and objective in project execution. 
He/she has the overall responsibility for the successful planning, initiation, execution, monitoring, controlling, and successful ending of the project. Unlike the project coordinator, who only sees the monitoring of the project execution, a project manager role is encompassing. He/she is responsible for making critical decisions for all chains in project implementation.
A project manager should also be a professional and have a degree in a relevant field of study. Also, he/she must have years of experience in the field of a project manager or similar skills. Additionally, He/she must be computer literate and have a piece of first-class information about computer software relevant to the project to be executed. Like the project coordinator, he/she must also possess all other skills to maintain a good interpersonal relationship necessary for the organization's interest and development. The project coordinator is accountable to the project manager and must periodically give reports of the project. A project manager performs the following responsibilities:
Developing project plans with all other stakeholders of the project. His/her contribution is significant for the success and smooth implementation of the project. 
Effective management of all stakeholders. He/she strike a balance between the clients and all other factors of production, thereby protecting everybody's interest. 
Ensures the project is appropriately executed and appropriately delivers to the clients. 
He/she also manages the cost of executing a project. The cost of executing a project must favor his/her client's interest while also yielding the best outcome. 
He/she receives and works on the reports from other executives, thereby ensuring effective documentation.
Time management is also a responsibility of a project manager. He/she must ensure that a project is executed in time to meet the clients' demands.
How I Got a Project Coordinator job