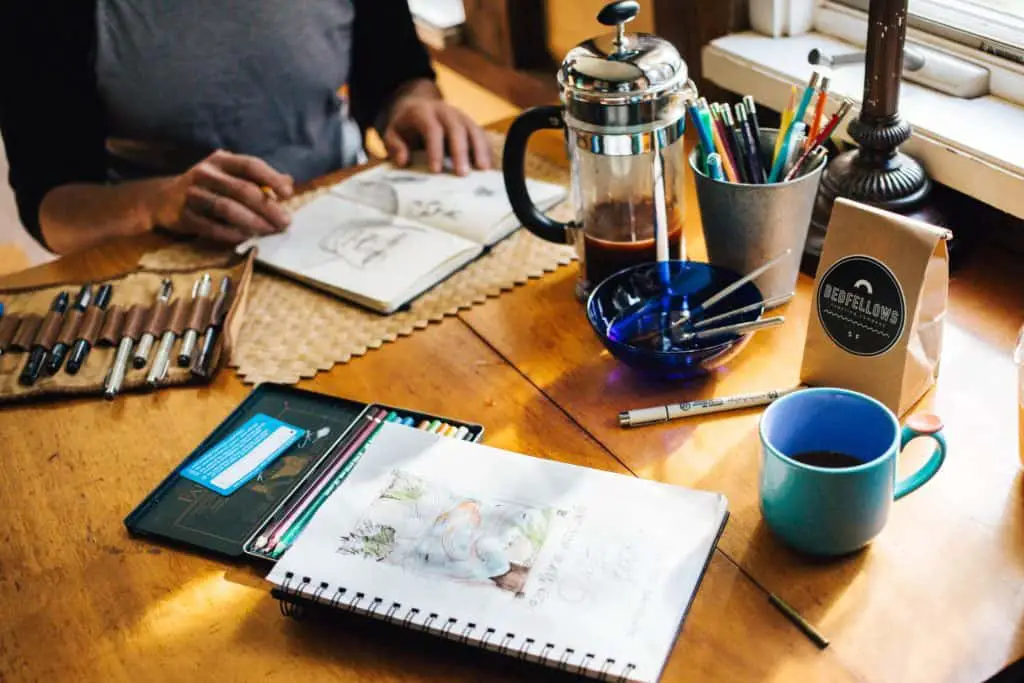 Do you have a keen eye to spot creative designs? So, in this article, we will discuss the Art Director Job Description. Do you develop various innovative ideas and wish to direct a talented team with your strong organizational skills?  If your answer to all the questions above is Yes, then this position might be perfect for you! The position of Art Director is a creative and innovative role that needs deciding styles for various advertisements, campaigns, branding, packaging, magazines, filming, etc., that sets the theme for the whole project and facilitates visual communication of the campaign with the audience and customers. In addition, being Art Director comes with the responsibility to come up with a creative and attractive way to present the idea of the brand in the market. As well as leading the team, so the desired outcome could be achieved!
Education and Background 
To get the position of Art Directors requires a bachelor's degree in one of the following:
1-5 Year experience in the art field.
Previous Business Organisation Experience.
Background in Adobe Creative Suite (Illustrator, Photoshop, After effects, Animate, Premiere, etc.), Powerpoint, Google suite, etc.
Skills Required 
Excellent Designing Skills
Proficiency with Industry Based Tools like Adobe Creative Cloud.
Detail-Oriented.
Exceptional Leadership Skills.
Grasp on Market Trends.
Aesthetic Judgement Skills.
Management and Organization Skills. 
Art Director Job Description
To become an Art Director, one needs to get a bachelor's degree in one of the Art and Design fields involving visual communication such as fine art, digital media, or photography. After the degree, candidates need to gain experience and get a strong portfolio based on the Industry, which will benefit them to get hired as an Art Director.
Duties and Responsibilities of Art Director 
Developing art concepts and layouts for the projects.
Providing direction to the working staff. 
Collaborate with other staff.
Creating budget and timelines for the projects.
Explaining concepts and objectives of the project to the Design team.
Reviewing and approving of the artwork, photographs, videos, and designs made by the Design Team.
Keeping clients updated if needed. 
Managing various projects, maintaining the quality and efficiency of work for all.
Presenting the ideas, creative concepts, and finished projects to the client. 
Similar Job Titles 
Head of Art and Design 
Senior Art Director 
Junior Art Director 
Typical Working Hours 
The working hours for an Art Director are typically Office hours, 9 a.m. to 5 p.m. Monday to Friday in Office Setting. However, it could be longer or shorter, at times, according to the Organization's needs. 
Compensation 
The pay scale of an Art Director may vary from Organization to Organization, from $60,000- $111,000. 
Industry Trend on the Art Director Position 
With growing Advertising on Digital Platforms, working with copywriters and designers closely. Art Directors can create exceptional content- all this while taking on managerial tasks.
Frequently Asked Questions 
What are the Advancement opportunities for an Art Director? For example, art Directors might grow into associate creative directors or executive creative directors. 
What kind of certifications are required to be an Art Director? Certain certifications related to the creative fields such as graphic design, fine arts, and arts are required, with appropriate experience. However, depending on the artistic field of the position, some certificates may or may not be required, depending on the Organization.
How to be a Successful Art Director? A Successful Art director needs to be flexible, up to date with ongoing trends, should be able to communicate the visuals and craft the message in the most eye-catching and easy-to-understand way, and lead the team efficiently providing quality content- meeting the deadlines. 
What is the work atmosphere around An Art Director like? Generally, the work atmosphere is fast-paced and very interactive, as the Art Director needs to work with a variety of staff and clients. And with that, a lot of ideas and concepts come on board, and frequent discussions and reviewing work to be done to craft the perfect campaign. 
How many hours does an Art Director need to work for? The Working hours of An Art Director depend on Organization hugely. For example- the role of Art director in film production varies from an art director in a manufacturing firm, so the working hours for them will differ from one another. 
How is an Art Director different from a Creative Director? The Difference between Art Director and Creative Director is based on the scope of their Responsibilities. If we look at the two positions based on their definitions, the Art director is supposed to focus on the campaign's aesthetics or the product to make it look appealing and pleasing- visibly, to the customer. However, the Creative Director has to handle strategy, art direction, campaign execution, and more. Therefore, the Creative Director is a step above an Art Director. The projects are in addition to the creative vision for other areas of the company.
How is an Art Director different from a Graphic Designer? A graphic designer is majorly responsible for creating the said graphic designs and layouts for campaigns and projects. The goal of a graphic designer is to create an abstract concept into visual design. Art directors might come from a Graphic Design background. Still, when they become Art directors, the amount of actual designing work decreases, and they move on to preparing strategies and project management. An art director leads the team of designers and content creators to create a visually rich and eye-catching campaign that leaves a lasting impression on the audience, and customers.
-x-
Hopefully, the article has given you a little insight into What Art Directors do and what qualifications, skills, and certificates you need to be an Art Director. So, if you love Art and Designing, and with that, you like to brainstorm and dig out creative ideas, manage the creative projects, managing the team and budget. If you think all these things are what you are meant for. This Job is For YOU!
Latest Art Director Job Description Guide