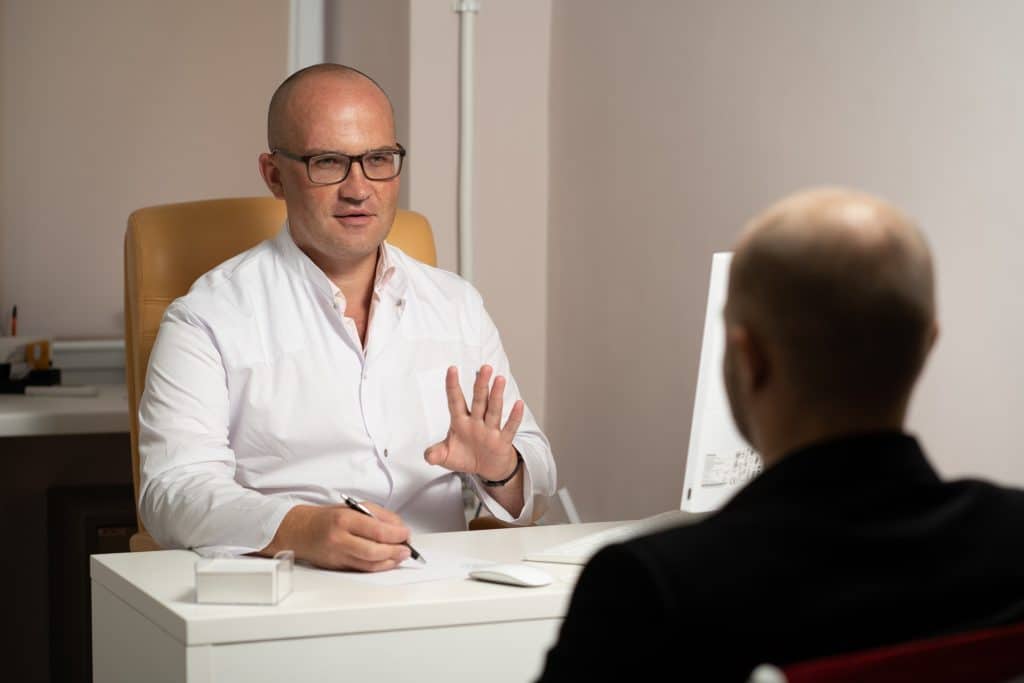 Being a forensic psychiatrist is to know abnormal behavior and mental disorders associated with them. They provide service in judicial hearings and trials. They also study and treat mental illness in criminals. They have an important role in legal hearings, especially during insanity pleas and procedures that question the mental state of the accused individuals. Forensic psychiatrists start as studying medicine through the medical stream then further specialize in psychiatry and forensic psychiatry. In this article, we will discuss the Forensic Psychiatrist Job Description over here with additional information also.
How Do I Become a Forensic Psychiatrist?
To become a forensic psychiatrist there are a few ways you can go about it:
Complete an undergraduate degree which will take 4 years. 
A pre-med or life science major is preferable to complete the requirements of med school. Check your med school requirements before selecting an undergraduate program.
Then apply to med school. This could be a tedious process compared to the undergraduate application. This requires MCAT scores, recommendations, and interviews.
Complete the 4 years of med school (full-time), which you can also choose to pursue part-time. But that is a strenuous procedure considering the workload. 
In your second year of med school, you will have to give the United States Medical Licensing Examination (USMLE), commonly known as boards. This is divided into three parts. The second part of the exam can be taken in the fourth year.
After completing 4 years of med school and passing the boards, to specialize in psychiatry, you must complete 4 years of residency specializing in psychiatry. During these 4 years, you will be assisting nurses and entry-level doctor duties like inpatient psychiatric care.  
Residencies are very competitive. So, make sure you maintain your grades. After the first year of 4-year residency, you will have to give the third part of your USMLE or board, which is the final part.
On completing the residency, you will be able to apply to a forensic psychiatry fellowship which will last for 2 years, which the university usually sponsors. It involves exposure to forensic psychiatry in many forms.
After a year of this, you can take the American Board of Psychiatry and Neurology (ABPN). This certification is not necessary to practice but can be a professional asset.
Forensic Psychiatrist Job Description
If you qualify the requirements to become a forensic psychiatrist, you receive the best of the legal and medical world. Psychiatrists qualify as medical doctors equipped with knowledge of mental health. And one with a forensic psychiatrist applying that knowledge in areas of law. According to the American Academy of Psychiatry and the Law (AAPL), you can practice forensic psychology in research and clinical areas. Forensic psychiatrists could be involved in matters of family courts in the clinical and legal areas, including custody and divorce cases. In family courts, cases of parental competency are also under the scope of forensic psychiatrists. Here are a few types of jobs that you can look out for,
Correctional Psychiatrist. You can also work with the prison population as correctional psychiatrists. This involves working with prisoners with mental illnesses. It has been observed that the percentage of prisoners with mental illnesses is on the rise. So, there is a vast scope here. But there are various pros and cons involved. As a correctional psychiatrist, you will have to administer psychiatric interviews and treatment to inmates. But with exposure to the legal framework, the safety and security of the institution. Here the ethical codes of doctor-patient are also subject to alteration. Such as the confidentiality agreement. This is a sensitive area as you can also be subject to legal actions in some situations, such as medical malpractice committees, leading to hiccups in your career. Although, you do get exposure to study while treating various kinds of inmates, adding to your experience and knowledge.


Involuntary Commitment. This is a legal, civil commitment wherein an individual at risk to self or others is subject to receiving treatment and related services in a community setting. Almost all states in the US permit involuntary commitment but how it occurs differs among states, which could be outpatient or inpatient. This procedure of treatment has been the subject of many debates. Again, the role of the forensic psychiatrist is key in the judgment and further treatment. 


Determining Mental Competency. This is usually when an individual is subject to trial in a court of law. The United States has long recognized the right of a defendant who stands trial to be mentally sound. This is the most commonly conducted forensic examination in the States. Hence the scope here is high. A Competent to Stand (CST) trial and Incompetent to Stand (IST) trial statements have a heavy impact on the judgment, thus, are crucial parts of the legal framework. A forensic psychiatrist evaluates and conducts interviews to report to the court. This involves evaluating various aspects of observations, competency, and counsel.
Duties of a Forensic Psychiatrist 
Penal Law. There are three aspects involved as a forensic psychologist working in penal law. They are fitness to stand trial, insanity regulations, and dangerous applications. The responsibility of clinicians is to judge the competency of an individual. If they are Incompetent to Stand Trial (IST), what measures can you take to restore their competence. The insanity pleas are crucial to this law system as they act as grounds of pardon to an offender. Applications to classify offenders as dangerous also need a high-level competence on the forensic psychiatrist's part. These reports can also be, used for risk prediction of certain offenders, hence, useful for future predictions. After an offender has been, sentenced the duty entails testing various institutions for treatment, such as penitentiary hospitals for the mentally ill.


Civil Law. Forensic Psychiatrists are to conduct assessments to check for mental or emotional problems in one of the participating parties, which is required in various situations, such as the writing of a will, proof of disability, insurance cases, motor accidents, sudden deaths, and checking if one is fit to work. If the individual is deemed incompetent, then the matter elevates. The clinician here has to be through here and perform ethically. Finding incapacity is based on decision-making ability and time-limited; thus, it must be reviewed from time to time. 


Mental Health Legislation and Systems. Forensic Psychiatrists in these systems form the link between mental health correction and the justice systems. This majorly involves involuntary commitment—the close association between legislation and the development of mental health care. In addition, many prisoners in the system and failures in the general mental health practices give rise to a greater number of patients and forensic facilities. The idea of deinitialization also contributes to this. 
Salary Offered To Forensic Psychiatrists 
The salary for a forensic psychiatrist depends on various factors like the years of education completed. And residency, whether they are licensed by the American Board of Psychiatry and Neurology (ABPN). The years of experience and the field or area of work they choose. The location of practice is also a mediating factor in determining the salary. The salary could be case-wise or annually depending on the place of work. The median salary offered is $101,790 as of May 2019. Consultants are offered $115,360. Those working in specialized areas of the legal system with experience earned more than $129,530—forensic psychiatrists working for state governments earned around $104,280. At the same time, those who are working for the federal government earn about $94,670.
Landing a job in a metro area comparatively pays more than average than others. Here are a few examples of an estimate of how much these metro areas pay. As of 2020 reports, these were the states with high pay in the field.
New York: $115,299
Massachusetts: $114,208
Washington: $113,411
New Hampshire: $111,152
Hawaii: $109,689
Maryland: $105,844
Connecticut: $105,810
Forensic psychiatry is a booming one with the increasing importance of human rights and awareness about mental health. As we move towards the future, the scope widens and, more opportunities are created. 
FAQs
How long does it take to become a forensic psychiatrist? It takes 14 years of studying from the undergraduate level including, the residency, to become a certified forensic psychiatrist.
Do I get paid case-wise or annually? Depends on your area of work. You can choose your area of work according to your preference of how to get paid.
Is it worth the investment? Yes, if you are passionate and interested in the subject. It is a struggle to go through 14 years of education but, you do get paid well.
Do I have to study law as well? No, but working as a forensic psychiatrist, you have many exposures to the legal and the medical world.
Can I shift to practicing psychiatry if I do not like being a forensic psychiatrist? Yes, that is possible if you have specialized in psychiatry during med school.
Also read CompTIA Security – Job Description, Annual Salary
Latest Forensic Psychiatrist Job Description, Salary, Duties