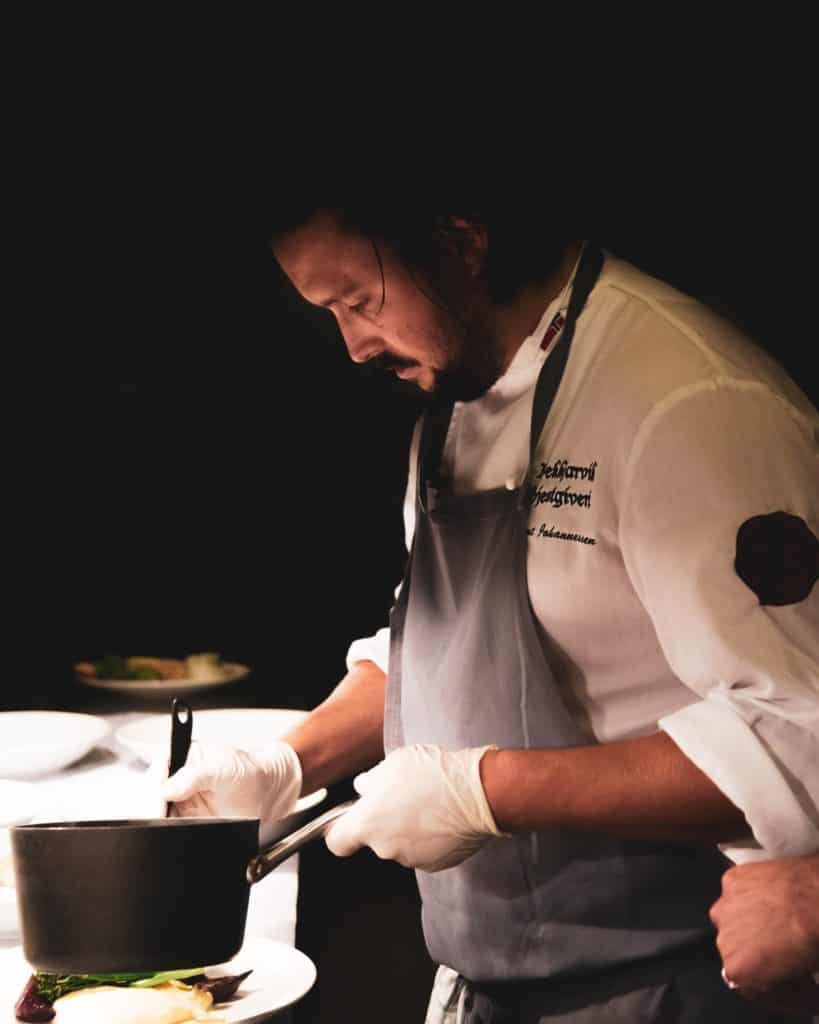 A Sous Chef works directly under the head chef, and hence they need a lot of critical skills to succeed in their position. A Sous chef has many important responsibilities like setting up the plate, training new team members, managing the kitchen staff, ensuring the food going out is of the best of standards, etc. As a Sous chef, you need to be able to work well under pressure too. If you have the capability to manage all these requirements, being a Sous chef is the job for you. We will discuss Sous Chef Interview Questions with sample answers in this article.
To become a sous chef, you need to have abilities like working well under intense pressure, being a team player, etc. You also need to have the necessary qualifications and experience in the field. Here are some interview questions that will come. Prepare for the interview with the help of these questions and answers and crack your interview once and for all. 
Sous Chef Interview Questions with Answers
From where did you get your training?
Tell the interviewer from where you got your culinary training and degree.
What role does the sous chef have?
For this question, state the duties of a sous chef in the kitchen:
Taking responsibility for the kitchen matters
Ability and skill to take charge of any station
Capable of working under the head chef and make new recipes.
Give a reason why you want to be a sous chef?
State to the interviewer why you want to be a sous chef. Tell them how interested you are in the job and that cooking is your passion. Also, tell them that you will gain experience so that you can go forward in your career. Also, tell them that you have the necessary skills to succeed in the position of sous chef and state those skills. Mention your strengths that are relevant to the position.
Why should we hire you for the position of sous chef?
Speak of your strengths and why you are different from the others. Talk about your unique skill set. Tell them how you would be a positive addition to their company and state your strengths.
Give us your motivation for working for this company?
Be updated on all the company information, mission, and vision, and tell them how you relate. Praise the company and their performance and tell them why they are the best.
Do you see the need for improvement in our menu?
First, check who is taking the interview. If it is the restaurant manager, you may suggest a few new ideas. But do not deviate too much; for example, do not suggest a meat dish for a vegetarian restaurant. But, if it is the chef who is interviewing you, say that the current menu is absolutely perfect as chefs are proud people. Praise the menu if you are talking to a chef.
How will you deal with the pressure?
Tell them how you thrive under pressure and how pressure brings out the best in you. Tell them you can handle the pressure in the kitchen well by maintaining a calm head and not losing your cool amidst the chaos, and staying organized.
What are the types of knives?
French knife, Boning knife, paring knife, Carving knife are the basic types of knives.
What are the basic cuts for vegetables?
Batonette cut, Jullienne cut, small dice cut, medium dice cut, large dice cut, chop, slice, shred, mince, emincer are the different types of cuts for vegetables.
What is the boning knife used for?
This knife is used to bone meat, fish, etc. You get this knife in different forms of blade flexibility to be used from even the smallest, most delicate bone to larger bones.
Name the different types of bread?
Foccacia, Baguette, Tiger bread, Tortilla, Bagel, Brioche, Chapatti, Ciabatta, Naan are the different types of bread.
Name the one thing about being a sous chef that you like?
As a sous chef, I work under the head chef. As a result, I get to learn new things about preparing food and different managing styles. This helps me grow and sharpen my skills too.
How much salary do you expect to get?
Have an idea about the salary they offer to someone in your position. Tell them a value within the salary range they are offering. But make sure not to give the impression that it is all about the money for you. Tell them that growing in your career is important for you as well. But do not say that you don't know. Always have a backup figure in your mind within the range they are offering for the position.
Give a brief account of your weaknesses and your strengths as well?
While answering this question, try to stay relevant to your position. State strengths that would be useful for the position of a sous chef; for example, working well under pressure. As for your weaknesses, say something that is actually strength in disguise. For example, say that you are a workaholic and lose track of time while working. They will see this as strong as it is good for their company to have workaholics.
Briefly describe your knowledge about this company?
Do the necessary research about the company before coming for the interview. Know about the company's mission and vision, its CEO, and other leading figures in the company.
Describe your personality and qualifications briefly?
This is a popular question and will surely come. Explain to them briefly about yourself, your personality, and your education and experience. State a few of your strengths along with your weaknesses as well. Make sure you are honest with your answers and avoid bragging too much.
Do you play well in a team?
Being a team player and working well within a team is an important trait that a sous chef needs. Tell the interviewer that you are indeed a good team player and working as part of a team makes you more productive. 
In what position do you see yourself in five years into the future?
Tell the interviewer about your future goals and link those goals with the company's future as well. Be realistic about your goals so that they are achievable. Do not state goals that are difficult to attain.
Why did you quit your old job?
For this question, whatever you do, do not bad mouth your previous employer or colleagues as this might work against you. Tell them that you wanted more opportunities to grow or wanted a chance to work abroad etc. If you speak negatively about your previous employer, your current employer will not appreciate it as you would say the same things about him to someone else. Never answer negatively to this question.
Do you have anything to ask us?
Do not say no to this question. Always ask something. For example, ask something about the company or what sort of candidate they are looking for, what skill set they are focusing on, etc. Do not ask them if you are selected, as it may give the wrong impression.
State the biggest thing that you have achieved till now?
Tell them about your biggest achievement. It would be great if the achievement were relevant to the role you are applying for. The achievement could be a project in school or something related to being a sous chef if you have experience.
Name a chef you look up to and say why you look up to him?
Study for this question early on. The interviewer wants to see if you keep in touch with the latest news in the culinary field with this question. Please state the name of your favorite chef, like, for example, Gordon Ramsey, and mention why you like him. Maybe because of his cooking style?
Tell me an example where you had to deal with pressure in work?
Give them any instance in your life where you worked under pressure, like, for example, finishing a school project within the given deadline. If you have prior experience as a sous chef, then you can take your everyday work as an example of working under pressure.
Conclusion
Becoming a sous chef is not easy. You need to have the required skillset and abilities to thrive in this position, along with cracking the interview. But still, the interview plays an important role in securing the job. Prepare for your sous chef interview with the help of these interview questions and answers and pass with flying colors. Apart from these questions, you need to have the proper body language and confidence to pass the interview. Pay attention to how you present yourself during the interview as well. Pass your sous chef interview with the help of these sous chef position questions and answers. Take on this job title and do not look back. All the very best!
Sous Chef Interview Questions (23+ with Answers)