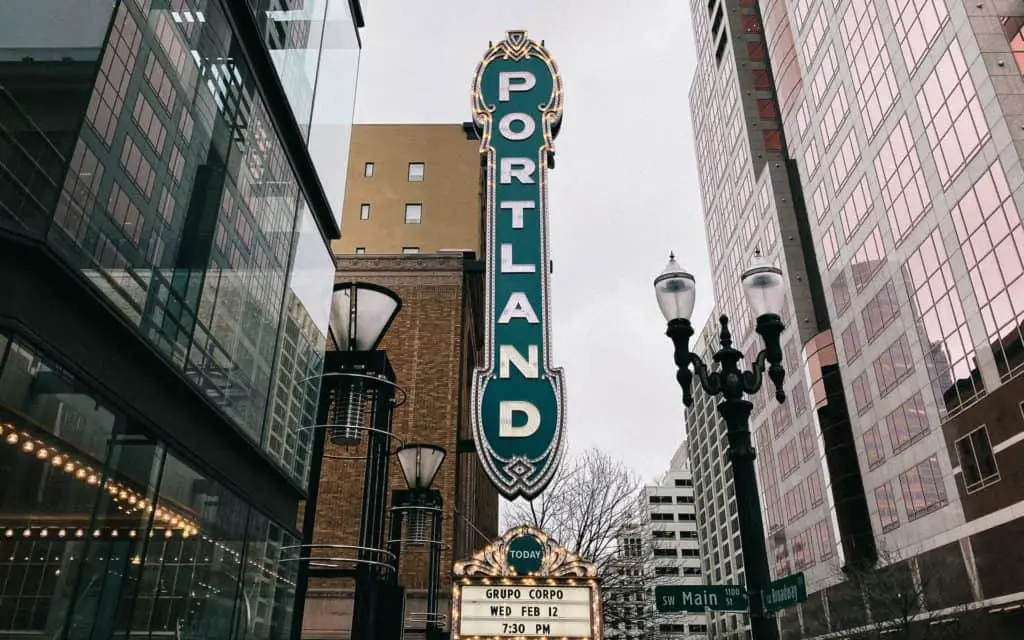 Portland is the biggest city in Oregon. Therefore it is known to be a cultural and industrial base for the state. Its richness also comes from the variety of things to do in this thoughtful populace where people have a mindset of growth and improvement. In this article, we are going to discuss the best Tech Companies in Portland to work for.
With an amount of creativity and counterculture, Portland is going through phases of evolution focused on keeping their home a friendly surrounding to other people and the environment, keeping things accessible, such as public transportation. You can find the bus service and light rail available almost throughout the city, being able to take you anywhere you want to.
The city also offers various beaches and waterfalls to chill on the weekends, beautiful mountains to go on a hike or meet your friends, and biking and vineyards on the outskirts. If you're more of a city person, no problem, Portland provides a richness of parks, museums, a Saturday Market, a Night Market, and thematic gardens. Also, a great thing to remember is that the state of Oregon does not have a sales tax, allowing you to have a great experience while shopping. On top of all these great things, if you're looking for a job in technology, Portland is known as the Silicon Forest for the amount of high-tech companies that have established themselves in its area. Spread across the metropolitan range, it is an investment that has been expanding through the years with corporations specializing in clean technology, electronic displays, test-and-measurement equipment, hardware, computer chips, and printers. 
List of Best Tech Companies in Portland  
With so many different options to choose from, here is a list of the best tech companies to give you a fair sight of the opportunities in Silicon Forest:
Precision Castparts
Pacific Star Communications  
OIA GLOBAL
Tripwire
Coaxis
InsideTrack
Webtrends
Zapproved
Stackery
International Institute for Analytics 
Below, you can take a look further at the mission of the company and what it can offer to its employees, also their history.
Precision Castparts
Precision Castparts was founded in April 1953 by the entrepreneur Joseph Buford Cox. It is an American company based on metal fabrication and industrial goods whose accomplishments include airfoil castings for industrial gas turbine and aerospace, defense industries, forged components, and investment castings. In addition, their missions seem to be creating a higher level of high-performance alloys.
The products that the company use to manufacture is a wide variety of goods as for the aerospace industry, jet engine components; products derived by metals as fasteners; parts for the automotive industry; medical prosthesis; paper industry; defense industry; and the leader application for Precision Castparts, the oil and gas industry used in turbines, jet engines airfoil and gas turbines used for producing electricity. This investment creates for the company a $1.5 million profit per Boeing 787 Dreamliner build. Their main markets are a highlight in the United States, Asia, and Europe. 
Precision Castparts has a good overlook in diversity demographic stats, with 20.6% of women and 31.7% of ethnic minorities employed with a regular detainment with workers generally staying for three to four years with the company. In addition, the average salary stays at $32.37 an hour or $67,327 per year, which is one of the most competitive payments in the area and industry.
What needs to be noticed is that there is a huge discrepancy between the top and bottom of earners. The most paid ones at Precision Castparts can make up to $116,000 a year, while the last one's scores are less than $38,000. It's noticed that between the paying competitors with the Precision Castparts Company are salaries of $67,913, $69,939, and $73,292. The business is a management leader with annual revenue of $9.6B and 30,100 employees on their payroll. 
Pacific Star Communications 
 Unlike the previous one, PacStar is a modern small and privately purchased company of hardware and software technology infrastructure in communication, information development, and manufacturer based in Portland, Oregon.
The company was founded in 2000 and keeps millions of dollars deals with large extensions of the US military and supplying demand for network equipment for commercial industries. They also give a great and unusually diverse staff with their demographic backgrounds being 37.6% from ethnic minorities and 30.5% women. 
The association's mission consists of valuing people who truly embrace, understand, and deliver the firm beliefs with excellent and outstanding customer service and know-how to put effort into teamwork and quality products with exemplary leadership.
Pacific Star Communications occupies 9th place in the ranking of Best Technology Companies to Work for in Oregon and 2nd place of Best Technology Companies to Work for in Portland. 
Their CEO Peggy Miller was prestigious with two awards only in 2020:
The 2020 Sam Blackman Award from the Technology Association of Oregon.
The Executive of the Year 2020 by the Portland Business Journal. 
Both prestigious awards mentioned that Miller's leadership and a long list of achievements in driving a working and financial success are the keys to Pacific Star's rise. 
Besides, the great rate that the company provides is inclusive and a distinguished work policy. Their employees tend to stay for a year to two years before leaving. PacStar has a revenue of $30 million per year and a small environment with 150 members.
OIA GLOBAL
 OIA supplies chains worldwide, optimizing it with materials sourcing solutions, packaging, and global logistics. OIA GLOBAL was founded in 1988 and has become a pretty well-established business in 27 countries and more than 1,300 workers. 
They're now the top management at supply chain valuing about $1 billion and an annual revenue worthing $175 million. The statistics show that they prefer graduates from Mt. Hood Community College because the employer's percentage studied there is %10.3.
The company business took an important step in 2005 when it was added to OIA's service, the CPS (Creative Packaging Solutions), providing money savings through a redesign of the packaging, management, and sourcing and, of course, the part that keeps getting bigger today, supply chain optimization. The company affirms that the key to growing in the industry is to offer a differential system with a rewarding work environment, keeping up the qualities of a smaller business, supporting thriving employees, and placing customers first. 
Their mission seems to be pretty consistent with a range of chain services globally supplied. Their clients are provided with creatively packaged and logistics solutions while their workers are benefited from a healthy environment with good benefits and a crew dynamic that works very well. As a result, OIA GLOBAL occupies 4th place in the Best Technology Companies to Work for in Portland.
Tripwire
Tripwire, Inc. is a software company that works with compliance automation and security developing, marketing, and selling technology information. Again, their staff demographic shows a considerable result of diversity for being a modern business, being 29.1% of women and 34.8% of minorities from different ethnicities.
It started as an academic study of software from Gene Kim and his professor, Gene Spafford, in 1992, pioneering techniques and receiving worldwide praise among different security professionals. However, in 1997, Gene Kim then co-founded Tripwire, Inc. gaining exclusivity rights from the name and technology that he created. From 2000 to 2005, the company was improving to attend servers and then a higher demand from an open-source configuration control by recognizing, estimating, reporting, and mediating file and configuration changes. 
The employers tend to make $92,960 per year for a salary, with the most paid ones reaching more than $135 thousand while the less paid do $63 thousand per year. Thus, besides the difference between their staff, the Tripwire salary is lower than the competitors' payroll, which varies from $108,624 to $109,104 per year.
Tripwire staff tends to work for the company for two to three years and usually, after leaving companies such as Intel and then moving on to The Standard. Despite these facts, the business stays in the top 5 Best Technology Companies to Work for in Portland and the 12th for Best Technology Companies to Work for in Oregon. Tripwire, Inc. has at the moment 400 employees and makes a revenue amount of $86.2 million. 
Coaxis
Coaxis, Inc. is a company of management and software development that provides for North America and Australia enterprise, mobile, and cloud-based software for the construction industry, offering a V6 Software Viewpoint for the professionals in the area with different modules in a variety of specializations such as construction risk management, disaster recovery, enterprise content management, service agreement, technology,  construction accounting software, construction pre-qualification, project collaboration, construction equipment management, work order management, construction financial planning, construction job costing, construction project management, field management, and construction document management. 
In addition to this range of opportunities, Coaxis, Inc. also maintains Parallels Desktop for Mac, focused on consumers. The products serve as a solution to run operating systems besides the OS X on PCs such as Linux, Windows, and others alongside providers' products, including hosting, cloud computing automation solution, parallels automation, SaaS, and a control panel, Parallels Panel. 
Besides that, the company provides construction software training services, consulting and technical services for professionals, software assurance, and subcontractors' solutions, in general. Coaxis, Inc, was once known as Haladay, Inc. but had the official name changed in 2004, having an estimated 700 employees. It has a 9.6 performance rate and is ranked 8th as Best Technology Company to Work for in Portland, OR, and 7th in Best Start-up Companies to Work for Portland, OR.
InsideTrack
InsideTrack is a small and new company founded by Alan Tripp in 2001, also the founder of SCORE!. They offer services for colleges and universities by supporting them and increasing graduation rates, student enrollment, and persistence by the staff organization. 
They supported during these 20 years more than two million students and are now offering approximately four thousand programs to improve the performance of every kind of graduate, from part-time to full, traditional to adult, online to on-ground, and also first-generation, military-connected, and underrepresented students. In addition, InsideTrack has good retention statistics with staff members staying with the company from 3 to 3.5 years. 
As usual in more modern business, employees have an incredibly diverse background demographic, with 35.4% being ethnic minorities and more than half of employees being women, scoring 53.8%. The average salary stays at $65,457 per year, but it can change the wave according to different roles. For example,  senior managers, program developers, campus directors, and business intelligence developers can earn an amount of $113,790 yearly salary. At the same time, the other less paid functions as interns and assistants make only $15,654 per year. 
Their mission seems to be a commitment to those who trust them to understand their experiences as students and aspirations, turning insights into impactful transformations while reducing obstacles to success and creating a healthy environment for the student to thrive without affecting their relationship with family members and their communities. 
InsideTrack is on a path to going from a small to a medium successful company with 347 staff members and scoring 9th place in Best Technology Companies to Work for in Portland, OR, and 18th place in Best Technology Companies to Work for in Oregon. The company scores an 8.8 performance. 
Webtrends
Webtrends is a private small company with only 180 employees that provides software related to digital marketing and e-commerce, digital analytics, and optimization to more than two thousand companies. It was founded in 1993 with their Log Analyzer product, creating later for marketing analytics the first SaaS solution, being now a leader for Microsoft 365 and SharePoint, providing enabling organizations analytics with a high quality to engage, measure content usage and team collaboration. 
WebTrends' purpose consists of making available a set of data collected when a user accesses a determined site, making it possible to overlook through a variety of websites with a high level of security and reliability with maximum detail offering a wide range of customization possibilities. In addition, their solution has a very high capacity for processing being from 2 to 4 gigabytes of data per hour. 
Curiously, the company prefers graduates from Portland State University since the stats show that 24.3% of their employees are from there. In addition, Webtrends' payment is considerably lower than other similar companies with an average of $98,737, while the others provide $109,104 to $124,653 per year. 
The payroll tends to vary according to the different positions that the company provides. The highest ones include the director of software development, channel sales director, chief marketing officer, and vice president of operations, typically a salary of $181,379 per year in a chief marketing officer position. Other roles at WebTrends like network technicians and public relations can earn yearly an amount of $62,324.
WebTrends currently occupies the 13th position in Best Technology Companies to Work for in Portland and 26th in Best Technology Companies to Work For in Oregon has a revenue annual of $35 million and a 7.6 performance score.  
Zapproved
Zapproved is a software that manages litigation response and is founded in 2008 by Monica Enand. They produce software that is cloud-based for the use of their legal department staff and corporate in-house counsel. They received a great amount of financing from investors, being $15 million from K1 Investment Management, and now accumulate more than $25 million.
Their mission seems to be focused on the process of how powerful the e-discovery software can be by transforming corporate legal processes and understand that the success of the company lies in the ability to understand their unique requests from each customer and to deliver their service as personal as they can with unparalleled experiences. In addition, they claim to work with transparency and a collaborative plan to resolve issues that might appear, serving a long-lasting relationship with staff members and customers.
Zapproved has an amount of 150 employees and occupies 15th place in Best Technologies Companies to Work For in Portland, OR, and the 23rd in Best Technologies Companies to Work For in Oregon with an 8.5 performance score and annual revenue of $10 million to $100 million. 
The thirteen years company has earned through their journey recognition and prestige in the industry with a large amount with awards as in being ranked in 2016 and 2017 by Deloitte Technology Fast 500TM as one of the most successful companies in North America to grow fastly; stayed at the Top 100 Companies to Work for in Oregon in 2018 and 2019 by the Oregon Business Journal; was ranked in second place as Oregon's Most Admired Companies in 2018 and 4th in 2019; won the Technology Association of Oregon Innovative Inclusion Award in 2020.
Stackery
Stackery is a small company with 30 people as staff workers that build tools for software teams, giving them the ability to provide an exceptional experience with values to their users and waste no time or energy into the difficulties of operations and infrastructure configuration. Their business was founded in 2016.
Their mission seems to revolve around having a platform that helps teams in the most secure, fast, and scalable way to deliver modern applications constantly. Furthermore, they claim to envision a world empowered by people and technology since what humans can do best is solve problems, be creative and make a difference creating an impact in the environment around them. 
Stackery has a revenue of $5.5 million per year and stays at the ranking of 20th in Best Technology Companies to Work For in Portland, OR, and has also scored a top 30th in Best Start-up Companies to Work For in Oregon.
International Institute for Analytics
Jack Phillips and Thomas H. Davenport founded the company in 2010 as an independent advisory and research business that would work with other organizations to construct competitive and solid analytics programs. Since then, the IIA has worked with 200 organizations globally, sharing the key concepts to analytics improvement so their clients can have an increasing edge in the economy driven by data. In addition, their program offers various webinars, events, research library and moderated phone briefings to emerge the client through the guidance to conquer the expertise necessary. 
Their mission seems to be the improvement of the way businesses operate and to empower analytics fundamentals. Building a wide-ranging network of impartial experts, analysts, and practitioners that included academics, leaders with broad active experience in the field, and industry specialists.
The International Institute for Analytics has only 75 employees with a 9.6 performance score. Yet, it occupies second place in Best Start-up Companies to Work For in Oregon and third place in Best Technology Companies to Work For in Portland, OR. The twelve years old company now makes $30 million as a revenue per year. 
Conclusion
As you can see, Portland, OR, offers a great variety of job opportunities for the ones who are looking for a tech place to thrive and grow in their professional life. The Silicon Forest keeps expanding and embodies the necessities of a new generation closer to technology, software engineering, and tools to improve websites.
Here was presented ten options to look further as they keep building a path to brand discoveries and thankfully being awarded and prestige for their work in the industry, options that go from the traditional ones and more established to the more fresh ones, having ambitious ideas, interesting approaches, and a more diverse demographic background on their staff members, which contribute immensely to the immersion of new kind of tools to the companies. 
Best Tech Companies in Portland to Work for