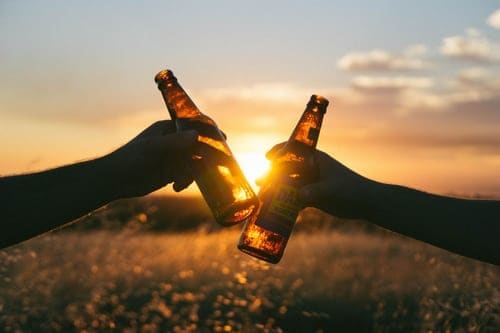 Who doesn't love a bottle of chilled beer after a day of hard work? But what if we said that you could join the best brewery in the world? Does that mean free beer for a lifetime? Probably not, but you get the opportunity to work with one of the finest teams, whose purpose goes way beyond breweries. Welcome to the Budweiser or Anheuser-Busch Community as they provide a plethora of opportunities for curious and motivated individuals. 
The Anheuser-Busch Community 
Founded more than 160 years ago, the Anheuser-Busch has been developing alongside America. Today we employ more than thousands of people at over 150 locations committed to making top-quality beer that has been satisfying Americans for generations on every occasion. Anheuser-Busch is the producer of America's most loved beer brands like Budweiser, Bud Light, Stella Artois, and Michelob ULTRA, along with several award-winning regional brands of craft beer, suited for every kind of occasion and celebrations. Such award-winning and trendy beer brands do not get build in one day. We have invested millions in our sophisticated technologies and have had an amazing, growing community that has helped us reach this height. 
However, we do not only produce items for pleasurable mass consumption. At Anheuser-Busch, we are very aware of the communities near us and have various programs that go beyond our brewery. Since 1988, we have been teaming up with the American Red Cross society to provide millions of water cans to people suffering the devastating effects of natural disasters. In 2019, we also provided cans of water to 300 volunteer fire departments to honor their work. Apart from this, we also have programs on Responsible Drinking, Sustainability, and Economic Growth to fuel the countries' development. Sounds good enough? 
What Are We Looking For?
The legacy of Anheuser-Busch is not complete without its team of self-driven and motivated individuals who aim for personal growth intertwined with the ideals of the company. If you are thirsty for a progressive and profitable career marked by entrepreneurship traits, then this is the right place for you. We are primarily looking for individuals who will be able to work with curiosity and explore the 'why' behind our innovations. So if you are up for a hefty challenge and are inquisitive enough, this is the perfect place for you.
What do We Offer?
The Anheuser-Busch Community is nothing if for the attractive and appealing perks offered to its employees. First and foremost, unlike many others, we have a wonderful culture marked by flexible rules and regulations. Other things we offer include;
Leadership – An opportunity to lead a team in any of our projects
Rewards – Including competitive benefits for completing work within deadlines
Transport – Because we care about the safety of our employees
Mentoring – A once in a lifetime chance to learn from leaders who have made their mark in the industry
Paternal Leave – Because your family is as much ours as they are yours
Development – An opportunity to develop your all-round capabilities
Wellness – Because your mental and physical health is of extreme importance to us, and we have work schedules that can fit all kinds of lifestyles.
Global Mobility – Because we want you to explore opportunities all over the globe and become an all-rounder
Birthday Surprise – Yes, we care about your birthday, and we do everything in our power to make you feel special
Discount – What is the use of working with the leading Beer Company if you don't get those discounts about which you proudly boast in front of your friends?
Beer Vouchers – The one that you have been waiting for! Though we don't provide free beers for life like you have been dreaming of, we offer delectable vouchers that will win your heart. 
Job Opportunities
Anheuser-Busch being the parent company of Budweiser, ensures that you work with a global beer brand under the umbrella of the mighty parent company. The following profiles are offered by us, who ensures you work for our brands as a whole. 
Sales – The backbone of our beer brands, the sales team ensures that our product is delivered in our consumers' hands, keeping the legalities in mind. The team includes field reps and roles in forecasting, business and wholesale development, pricing and promotion, trade marketing, and even accounts management. So it is more than just your door to door sales. 


Marketing – No one knows it better than us because you see the proof everyday around you. To be in this team is not for the faint-hearted. You have to be rigorous about building a brand that resonates on a global level. The roles under this segment include digital marketing, sponsorship and events, brand management, consumer insights, and constant innovation. 


Logistics – Our logistics team is the master manager of all our warehouses, breweries, and distribution centers. You have to be the management wizard to fix a place here.  


Supply/Manufacturing – Our supply chain manages the brewing, packaging, and shipping of the much loved Budweiser beer. If you are productive by the second, then this is the right platform for you. To join this team, you have to be up for constant action and alertness and ensure that all the deliverables are completed within the strict deadline. 


People – The people team ensures that you are right for the job. They manage recruitment, labor management, ensure client servicing and employee relations. After all, managing and looking after such a huge pool of amazing employees requires much effort. 


Technology – If you are a tech wizard who can master the art of data, then this is the perfect place for you. The tech team is responsible for predicting stock products and supervising the e-commerce platform's functions. 


Legal and Corporate Affair – Not that we enter into brawls with other companies, but our corporate team manages the vast array of corporate social responsibilities as well as our PR and media relations. 


Finance – The real advisor to the king of beer, our finance team supervises M&A, budgeting, treasury, accounting, and real estate, which supports our business's development all around. 


Procurement – Procurement involves balancing quality, cost, and risk associated with every individual can of beer. It includes working with suppliers of raw materials, logistics, and trading. 


Customer Connection – If you are a people person and everyone loves you as a negotiator, this profile might prove to be the best of your career. It involves connecting with literally everyone, from our consumers to retailers, wholesalers, distributors, and colleagues. 
Salary Approximations
Now the thing that you have been waiting for all along. Of course, salary differs from posts to seniority, and the actual amounts are known only after you officially join the team. But we can provide an approximate annual amount, which will help you make an informed decision. 
Marketing Manager – $35k -$92k 
Territory Rep – $34k – $73k
System Manager IT – $34k – $67k
Salesperson – $33k – $98k
HR Manager – $48k – $81k
Marketing Manager – $41k – $93k
Warehouse Supervisor – $40K – $75K
Electronics Technician – $31k – $61k
Application Process
Application and vacancies for each profile can be found on the official website of Anheuser-Busch, and willing candidates are suggested to apply directly from the website after going through the eligibility criteria of each profile to ensure 100% authenticity instead of applying through third-party websites except for authentic ones like LinkedIn. 
Without a doubt, we are the best team in the biz, and we provide a truly addictive work culture that really gets you going. At Budweiser and Anheuser-Busch, you get the opportunity of a lifetime to have a career that is challenging and helps you bring out the best in yourself. 
Also read What Are Six-Figure Salary Jobs?
Anheuser-Busch Community: Best Brewing Team!