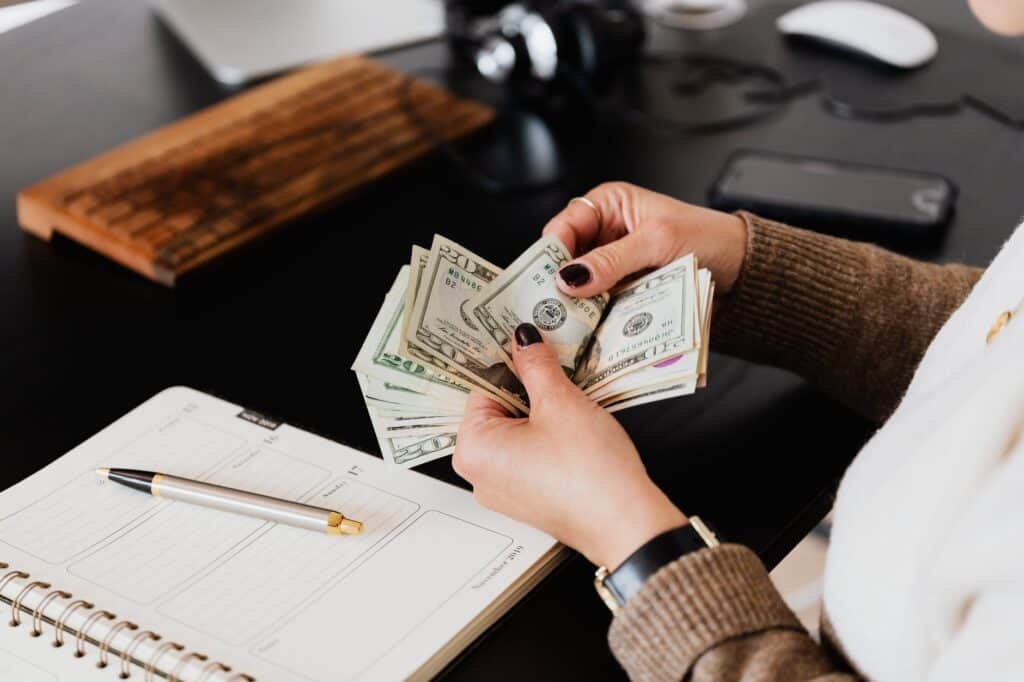 Are you looking for six-figure salary job? How much is 6 figures salary? Brushing up on some in-demand career skills will help you meet your earning goals. Do you need a college degree to receive a six figure salary? Dream about it again. There are a number of blue-collar positions that pay six figures and do not require 4-year degrees and over tens of thousands of dollars of debt. 
Many businesses provide six-figure jobs for highly qualified employees, and others specialized in some sectors. Knowing what these work skills are before you complete a degree or seek career development opportunities will place you at the forefront of ensuring higher-paying employment in your career. 
In reality, whether you want to work with your hands, hospitality, or the aviation industry, there are a lot of jobs that pay six figures with a high school diploma. Many of them are also recession-proof, which ensures that workers are shielded from the macroeconomic climate. 
How much is 6 figures salary?
 6 figures salary means having a salary of at least $100,000. Individuals making less than that, but at least $10,000, have a five-figure income. If you make a million dollars, you have a seven-figure salary (and obviously a wonderful job).  
Who wouldn't want to make a lot of money, particularly a six-figure salary? The salary is one of the main factors in applying for a job. Many, if not all, professionals are still on the lookout for work that comes with financially lucrative incentives and benefits. 
How to earn a six-figure salary? 
Will you want to receive a six-figure salary per year? The first step is to take your education very seriously. Having a strong base will greatly help you choose a career that will lead you to financial success. According to the Bureau of Labor Statistics Occupational Outlook Handbook, only 55 of the 818 occupations listed offer a median wage of at least $100,000 per year. Of the 55 jobs, 53 require at least a bachelor's degree. 
Several industries pay well and provide more growth opportunities, so it is important to carefully select your career path. If you want to have a job that offers a six-figure income, continuing education is your best bet. To give you an in-depth idea, here are some positions you may want to consider if you want to receive a six-figure salary: 
Electrical and Electronics Repairers, Powerhouse, Substation, and Relay 
Keep the lights on in your home and for others by maintaining electrical equipment in power stations, substations, and in-service relays as an electrical repairer! Get it right, and you'll find that the benefits are electrical for your bank account, with 90th percentile earnings in excess of $102,000 
 Median Salary: 78,410 
 and Top Earners Annual Salary: 102,550.  
Actuary 
Insurance firms hire actuaries who measure risks and mitigate costs with the use of statistics and mathematics. They receive an average of $100,610 as of 2018. Actuaries typically hold a bachelor's degree in mathematics, statistics, or actuarial science. There are also several courses in databases and programming languages. 
Ultrasound Technologist: 
Those who control health care devices that use sound waves to create photographs of patients' internal tissues and organs are called ultrasound technologists. Physicians use these images to evaluate the case for any problems. 
Diagnostic imaging centers or clinics are the locations where these practitioners practice. They're engaging with patients and physicians. A college degree is not really required for this post, but a two-year course is mandatory. Once the course has been completed, a person must register with the American registry of diagnostic medical ultrasound technologists. This is one type of work that makes a nominee receive seven-digit salaries. 
Fashion designer: 
To become a fashion designer, you need imagination and experience rather than a college degree. This work is geographically based and helps the employee excel. Employers are hiring applicants who have an in-depth knowledge of fabrics, new fashion trends, and ornamentation. Low job market growth and low turnover can be a hindrance to this career. When trends are high, a high-profile fashion designer will earn seven-digit salaries. 
Nuclear Power Reactor Operators 
Since only a handful of states provide this position (Pennsylvania, Illinois, Tennessee, North Carolina, South Carolina, and Mississippi), it is worth discussing. Nuclear Power Plant Operators are responsible for supplying energy to millions of homes and businesses. They run or control nuclear reactors, track and change controls, and enforce emergency procedures when appropriate.  
Median Salary: 94,370 
Finance manager 
Banks, insurance firms, and other corporations hire financial analysts who are responsible for designing plans to keep the business financially healthy and secure. The average annual six-figure salary of the finance manager is $121,750. Are you interested in being a finance manager? You need to earn a bachelor's degree in banking, accounting, or related fields. Bear in mind that some employers choose to apply for an MBA. 
Internist/Internal medicine doctor 
Data from the Bureau of Labor Statistics (BLS) indicate that doctors typically receive a six-figure salary per year. For example, interns earn a median salary of $182,370 per year. Everyone knows that medical practitioners have spent several years in school. Doctors should hold a bachelor's degree and be a medical school graduate. They're still going to internship and residency for three to seven years. 
Power Plant Operator 
Usually, only high school and job training are needed; power plant operators can make serious money. This position is close to the role of nuclear power reactor operator but has expanded to more nations. Jobs are also more likely to be open to you. 
Median annual salary: $81,990 
The annual salary for top earners: $117,130 
Air traffic controller   
Air traffic controllers are the aviation industry's unsung heroes as they keep things humming behind the scenes. They organize the transit of aircraft to and from airports. It's a great job to keep your brain busy and potentially a great job for night owls, as air traffic controller hours can rotate or be set late. 
Median Salary: 124,540 
Annual Salary for Top Earners: 175,800 
Petroleum engineer 
Petroleum engineers are responsible for developing ways to extract oil and gas from the earth. Per year, they earn a median six-figure salary of $128,230. If you want to work as a Petroleum Engineer in an oil company, you need to have a degree in Petroleum, Civil, Chemical, or Mechanical Engineering. 
Water Transportation Worker 
Travel the globe (or remain local if you prefer!) as a water transport worker. These individuals operate vessels that carry freight and people over water, often over long distances, and are often well paid for this. Typically, there is no educational prerequisite, but also, there is a requirement for work training and certification. 
Median annual salary: $54,400 
The annual salary for top earners: $118,260 
Many who are interested in software development are still in demand at this time and age when all is going digital. App developers receive a median six-figure salary of $102,280 per year. They typically hold a bachelor's degree in computer science. However, even without a degree, many professionals find success in this area.  
Oil Field Work 
Oil fieldwork is a common, high-paying job for a lot of people and pays off beautifully. Few other occupations pay six-figures without any formal education. States like  Wyoming and texasneed oil workers almost year-round, and there are plenty of jobs available for well-off individuals. Bear in mind, however, that oil fieldwork takes a long time and can prove to be risky. Nationally, the average oil worker pays a median wage of $100,000 a year. 
Real Estate Broker 
Real estate brokers make high salaries, particularly if they live in the right place. Many real estate professionals receive more than $150,000 annually in heavily populated areas and affluent cities. Real estate brokers can make their own schedules and have limitless earning opportunities. However, as a real estate broker, you are responsible for your income.Even so, if you're a great salesman and you know how to budget, this might be a career choice for you. 
Commercial pilot 
Although you're going to need a commercial pilot license, no college degree is required to fly fixed-wing aircraft for a lot of money! A little adrenaline junkie, intrigued by flight, or just trying to stretch your wings and see the world? A commercial pilot could be a perfect debt-free profession for you. 
Median Salary: 78,740; 
The annual wage for the top earnings: 152,180 
Business Consultant 
If you have vast industry experience or contacts, consider being a business consultant or a management consultant. Business consulting is a challenging industry to enter into; newcomers are forced to work long hours before they can find a comfortable place in the field. However, these practitioners typically earn more than $100,000 a year and provide essential services to companies around the world. 
Car Dealership Manager 
Car dealerships deal with some pricey products, and managers make an amazing wage. The number of businesses a dealership receives can be inconsistent; however, as more and more customers turn to other outlets to buy new or used cars. It takes a little time to get to the role of manager. However, the annual pay for dealership managers is over $130,000, so if you're in the automotive industry, it's worth hanging around for the promotion. 
Owner-Operator Truck Driver 
Experienced truckers may want to declare themselves to be the owner-operator. Unlike working for a corporation, this job involves investing in a truck and investing in your own cost of living and benefits, such as health insurance. If you've done so, you will pocket an immense profit on fuel and other expenses. Most owner-operator truckers earn more than $100,000 a year. 
Career Information for Six-Figure Jobs that Are In-Demand 
Physicists 
Physicists may be able to begin a career with a bachelor's degree, but a doctoral degree in physics is required for advancement or a career in research. Physicists are focused on the physical aspects of the world and universe, what they're comprised of, and how those things function. Their work involves research, assessing data, and performing calculations, so strong math and analytical skills are important. The BLS reports that physicists enjoyed a median salary of $120,950 as of 2018, and the BLS anticipates a growth rate of 9% for physicists from 2018 to 2028, which makes this a high-paying profession with a strong rate of demand. 
Postsecondary Law Teachers 
Postsecondary law teachers hold seminars and workshops for postsecondary law students. They specialize in exploring topics relevant to the legal field and may teach students how to perform specific tasks such as preparing contracts or presenting an argument in court. A doctoral degree is typically required to be a postsecondary teacher. The BLS reports an expected job growth rate of 10% for these educators from 2018 to 2028, making this a six-figure job with a very high demand rate. 
Human Resources Managers 
Human resources managers need a bachelor's or master's degree in a subject area such as human resources and related experience before they can assume a job as a human resources manager. Human resources managers oversee an organization's staff, recruit applicants for vacancies, and deal with staffing issues. Their work can involve assessing employee benefits packages and drafting policy recommendations. A job growth rate of 7% through to 2028 is forecast by the BLS, which means this six-figure career option is experiencing strong job growth. 
Computer Network Architects 
Computer network architects manage and design computer network systems for companies. Their work can include determining what types of computers to use, what software best suits the company's needs, and how to configure new equipment or software when it's installed. They need a bachelor's degree in computer science or a comparable discipline, which makes this a six-figure career option that can be pursued after only four years of postsecondary study. The BLS reports computer network administrators should see a job growth rate of 5% from 2018 to 2028, which means that their growth rate is expected to exceed the national average. 
Anesthesiologists 
Anesthesiologists are medical doctors with a medical degree who have completed internship and residency requirements in anesthesiology. They give people anesthesia prior to surgery, monitor the patient's condition during the surgical procedure, and treat other patients who are in pain. With the BLS projecting a job growth rate of 4% and a median annual salary of $267,020, this is not only one of the fastest-growing six-figure career options but also one of the most lucrative. 
SUCCESS HABITS THAT will lead you TO 6 FIGURE INCOME: 
There is definitely a time in everyone's life that we want to become a millionaire or a billionaire, but not everyone is working hard to achieve that position. 
Later on, we settle down with a small business with our routine or end up with a career. As per expert information, doing business is one way of earning a six-figure income in a short period of time. 
Here are some of the success habits that you need to have in order to earn a six-figure salary. 
Workings on your basics 
Be always around like-minded people 
Make it simple 
Being consistent 
Ask yourself?  
Why not me? 
Make intentional decisions 
Work on your money blocks  
A few forms of seven-digit income can be obtained; the same six-digit income can be earned by people who do not have a college degree. Individuals should also realize that there are a variety of forms in which 6-digit income can be gained.  
Hard work, commitment, and smart working methods are required in order to obtain a healthy income. There are a few ways that will help you achieve your goal. Individuals who plan to earn six-digit income but are muddled to move in the right direction may run through these tips. 
In the same way, the latest assistance, such as the Internet, can be one way to help you succeed in your company. Run through other sources, too, and get to know more occupations that pay seven-digit wages and help you win your life. 
How to Earn a Six-Figure Salary 
If you want to receive a six-figure salary, you have two main options:
A) play the lottery and hope for five out of six numbers on your hit ticket, or B) start building your career to that target.
The odds are million-to-one against option A, so really, option B is your best bet. Now that leaves just one question: how? 
The high-paying career you love is, when you get right down to it, just about everyone's goal. And having a six-figure salary or more than $100,000 seems like a dream to be accomplished. It's not a million dollars, but it seems like a small appeal from the world. But it also provides a kind of financial security that is appealing. So it's the perfect one for those of us who are not building the next hot startup or willing to smash 35 home runs a year.  
Your first steps towards 6 figures salary that do a self-survey of yourself and your career so far. 
How close am I to the target 6 figures salary? This will affect the timetable and reach of your target. If you want to make $200 K, but you're just making $40 K at the moment, that's a big leap. Depending on your profession, it might be possible, but you might have to change how long it takes you to get there. 
Is this even attainable in my field? For example, if you're a lawyer, you know this is feasible. If you are a mid-level non-profit boss, that may not be the case. It's important to make your goals workable, and if you work happily in a profession that appears to top $80 K, you don't do any favors yourself by striving for a financial target that is impossible or even feasible. 
What career level do I need to reach in order to make the paycheck? Are they just executives who make that kind of money in my industry, or are there other jobs/roles that can do it? What does the promotion direction look like in order to achieve that goal? 
What do I have to do next? Are there specific skills or any kind of education or experience that I will need to step closer to that goal? Am I in a position to take another degree, complete a training program, or learn the next level of skills that would be required? 
Do I need to go somewhere else, or does my current job offer that kind of career path? If you see this kind of salary as a possibility for your current business, ask yourself if you're willing to commit to it. If that kind of development just doesn't seem to be possible where you are, or if you're not happy or satisfied, start searching for other opportunities. 
Key Takeaway 
The sure-fire way to get a high-paying job is through advanced schooling, but that doesn't mean it's the only way. Just as in software production, where some companies recruit work-seekers even without a degree, the next simple route to a six-figure salary is to learn in-demand skills. Developing sought-after skills will do more than compensate for lack of formal education. With the right skill set and experience, you can always receive a six-figure salary, or even more. 
What Are Six-Figure Salary Jobs?