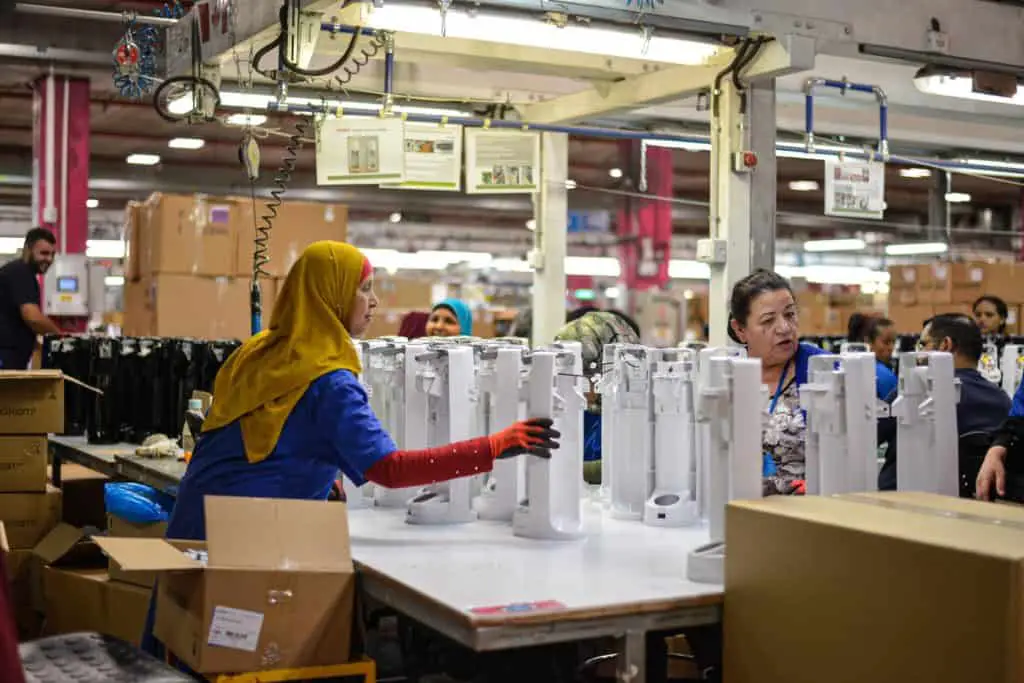 Are you interested in a challenging opportunity to work with your hands in a dynamic environment under a global organization? The position of a Amazon Sortation Associate might be a great option for you!
Amazon is a world-renowned brand heavily involved in shipment, delivery services, packaging, and several more logistical functions. Sortation Associates are a key part of the continuously being run at Amazon and present a great career opportunity for those interested in manual labor and who have an eye for detail.
Continue reading to find out more about the skills you may need to qualify as an Amazon Sortation Associate. Details about the job description, salary expectations, and duties will also be highlighted. The article also touches on how you can become a Sortation Associate for Amazon.
Amazon Sortation Associate – Skills, Qualifications and Requirements
There are several skills, qualifications, and requirements that Amazon seeks before it can employ individuals for various roles. As previewed, the role of a Sortation Associate is physically demanding and requires a certain type of skill set for someone to perform the required tasks effectively.
You must be at least 18 years of age to qualify for the Sortation Associate position at Amazon. Additionally, you have to be a holder of at least a High School Diploma, General Education Degree (GED), or an equivalent qualification. This will raise your chances of being selected and hired for the role. Previous experience in a similar role will place you at an advantage. However, it is not compulsory and does not guarantee success in getting the role.
You will likely be working in team settings mostly. Interpersonal skills are highly beneficial because a Sortation Associate is expected to communicate with co-workers and team members. A customer-oriented mindset is also important for the position because this helps promote and ensure quality assurance and care for the products transported throughout the operations.
Aspiring Sortation Associates must have excellent time management and organization skills to increase efficient performance on the job as it takes place in a fast-paced and deadline-oriented environment. One must be proficient in speaking, reading, and writing in English because there will be a lot of verbal and written communication that a Sortation Associate will be involved in.
As the job involves strenuous manual labor, candidates for the Sortation Associate role must be deemed physically capable and fit enough to carry out the numerous demanding tasks that occur on the job. You must be able to lift, move, and carry packages that are as heavy as at least 50 pounds. You must also be prepared to be working on your feet for lengthy periods, from about 6 to 12 hours. 
A Sortation Associate will encounter several types of equipment when handling the merchandise on the job, such as forklifts. Someone who is in this position must be able to operate the many given tools. The ability to operate and use warehouse data systems is also important for the job. Prospective Sortation Associates may be offered training on operating the equipment that is used on the job.
You must be quick on your feet and able to cope in a deadline-oriented environment. Flexibility in working hours, job tasks, and duties is a favorable attribute as business demands, and merchandise volumes fluctuate throughout the year. Additionally, you must be comfortable working on a mezzanine of about 40 feet high as the job may require you to operate in locations with such characteristics.
Observational and problem-solving skills are valuable in the role of a Sortation Associate because you must be able to identify and quickly rectify any hazards or disruptive occurrences that surface during operations or in the general working space. Teamwork skills are a desirable addition because you need to be able to collaborate with co-workers and work effectively as a team.
Now that we have established the important requirements, skills, and qualifications that an aspiring Sortation Associate needs to have, we will now dig deeper into the job description.
Job Description
A Sortation Associate receives, moves, and prepares inventory and packages effectively and efficiently to meet client expectations, company standards, and assigned deadlines. You can expect to undertake a range of warehouse activities and rotate numerous tasks.
Amazon Sortation Associates is responsible for moving and organizing merchandise for customers before delivering to their intended destinations. You mainly work at the warehouse building and will likely work in Inbound and Outbound departments, delivery stations, Fulfilment Centers and Sortation Centers. The position can be full-time, part-time, seasonal, or temporary.
As an Amazon Sortation Associate, you will be sorting and moving packages and products of varying quantities and characteristics around your assigned facility. The goods that Sortation Associates assemble and arrange are then allocated accordingly in Sortation Centers. One must be prepared to be flexible with their working schedule as overtime may be requested occasionally.
The role also requires the building and assembling of pallets and the loading of merchandise onto pallets. The Sortation Associate prepares inventory, prepares packages for shipment, and deals with return orders and value-added services. You will manage and deal with merchandise from varying product lines and be careful when carrying and moving packages around.
Sortation Associates are expected to operate machinery and equipment, such as hand trucks, hand-held printers, scanners, and computers when moving packages around. The role is physically demanding and involves repetitive manual tasks such as lifting, pulling, and pushing heavy packages consecutively or unloading packages from containers and onto rotating conveyors or continuously going up and down flights of stairs.
You will also be working in relatively noisy environments and will be provided with hearing protection if required. Amazon Sortation Associates are expected to be work under varying temperature conditions which range from as low as 60 degrees to as high as 90 degrees – if not higher. Employees must be able to communicate still and work effectively under such conditions. 
Sortation Associates must also be able to take the initiative in contributing to warehouse procedural improvements and innovative ideas to increase the efficiency of the operations. You are expected to work for long and/or flexible hours while maintaining motivation and drive.
Safety is important, and there are practices and procedures put in place to ensure the risk of injuries and damages is minimized as much as possible. Amazon provides gear, safety provisions, and rules to promote safety in the workplace.
Quality assurance is also taken seriously, so Sortation Associates are encouraged to be detail-oriented in ensuring merchandise is well kept, maintained, and transported securely and protectively. Employees must abide by safety guidelines, quality standards, and a Minimum Acceptable Performance Standard known as MAPS.
After reviewing a Sortation Associate job description, we will now look into the compensation, remuneration, and basic salary expectations for a Sortation Associate working at Amazon.
Salary
An Amazon Sortation Associate earns an annual average salary of a range of about $22,800 to $32,000. You can expect to earn a range of about $5 to $24 per hour with a weekly pay schedule. The average expected earning rate is estimated to be about $16 per hour.
Sortation Associates at Amazon, on average, work from about 20 to 24 hours a week. They offer an Employee Assistance Program and special training on the job. Additional benefits include holiday and overtime pay, 401(k) with company match, basic life, and AD&D insurance.
Next, the article highlights what the job of a Sortation Associate entails by listing the range of duties that one can expect to carry out in this position.
Job Duties
The following are the duties of an Amazon Sortation Associate:
Scanning and inspecting merchandise and packages to ensure there are no damages and meet the given standards and customer expectations.
Abiding by Amazon's internal procedural standards and regulations while also following and applying safety guidelines.
Sorting packages and inventory according to their intended locations and measurements.
Moving products and packages to designated locations quickly and efficiently.
Overseeing shipment that is inbound and outbound.
Managing collection of 
Assembling, wrapping, transporting, and sorting pallets with respective merchandise.
Packing merchandise into appropriate packaging.
Relocating packages.
Checking, authenticating, and completing customer invoices to enhance accuracy.
Operating machinery, carts, hand trucks, and dollies to move high quantities of merchandise from one point to another.
Maintaining cleanliness of the warehouse and ensuring the warehouse environment is kept organized.
Removing or addressing identified hazards in the warehouse or general workplace to establish a safe working space.
Organizing and submitting reports to supervisors.
Receiving packages and managing the collection of inventories that are transported to the warehouse.
Organizing packages to be ready for delivery and shipment promptly.
Overseeing and processing instructions for package returns.
All the listed duties are expected to be executed relatively quickly while also upholding the utmost care for handling several types of packages. Amazon Sortation Associates are required to work effectively and efficiently in all their tasks.
Next, if you are keen to find out how to apply for the job, the process you can follow is discussed.
How to Become an Amazon Sortation Associate
Amazon has an online application process for those who are interested in joining the company. All you have to do is go to their careers website and seek your desired job to see if there are openings, and you will then be taken through an online application procedure.
More in-depth instructions on how to apply to become a Sortation Associate for Amazon are as given below:
Go to their careers website by following the given link: https://www.amazon.jobs.
There will be a Search Box where you can type in keywords or the specific role you are searching for. Type in "Sortation Associate" in the given Search Box.
Below the Search Box is a Location Box where you can type in your location or any location you would like to work in. You can choose to fill in the box with your specified location or leave it blank.
There is a Search button you may click after you have filled in your job search preferences. Click the Search button to start browsing through the results to find your most preferred opening for Sortation Associate.
After browsing through the list of job openings, select a position that you feel best fits your preferences and click "Apply Now," which will be next to the title of the position.
You will then be asked to create a profile if you are new to the careers site or log in if you already have a profile on the website.
You will be requested to provide some of your details and information so the company can learn more about your experience and background. Next, you will be prompted to complete an online assessment and select your most preferred shift. You will then be emailed a link to a Virtual Job Preview for your selected role of Sortation Associate. The video will be 30 minutes long and will overview the next steps you will take in the hiring process and what your it looks like to work in the position you applied for.
Progressing from this, you will be invited by appointment to a face-to-face meeting called an Office Hours appointment. You are requested to carry your proof of identity and employment eligibility to this in-person appointment.
Following the previous steps, you will receive instructions from KNET for an Online New Hire Orientation. This orientation will enlighten you and teach you more about working at Amazon and shed light on what you can expect from your experience. If you can proceed from there, you will receive your official schedule to begin working with Amazon shortly after.
Amazon also hires seasonal or temporary Sortation Associates if permanent positions are not available or during peak business periods. Seasonal or temporary hires have the opportunity to earn a permanent position if they perform well in their time with Amazon by adapting well to the organization's work environment and delivering quality work.
You may also go through background and/or drug tests before Amazon can officially hire you. Amazon is an Equal Opportunity/Affirmative Action Employer and makes reasonable accommodation for individuals with disabilities.
By now, you should be able to decide whether or not you are interested in becoming a Sortation Associate and whether you would like to pursue the job at Amazon.
Becoming an Amazon Sortation Associate
If you are interested in becoming an Amazon Sortation Associate, this article's purpose was to help guide and inform you of your decision. After highlighting what the job entails, what salary expectations there are, and how you can apply for the position, we hope you feel much more informed on your decision or interest in being an Amazon Sortation Associate. 
Good luck with the path you decide to take!
Amazon Sortation Associate: Skills, Salary and How to Become?