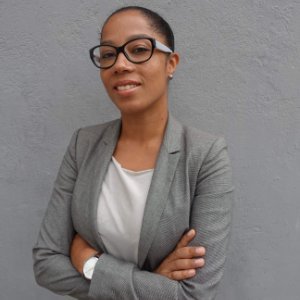 Kamia Vasconcelos (A Digital Marketing Growth Consultant)
If I could give my 20-year-old self any piece of advice, I would probably tell myself to not plan too much and learn to expect the unexpected. 
I got a late start to my career as it took me longer to discover what I truly wished to do in life. Early on, I began (and gave up) on two different university courses and a multimedia professional course (my biggest passion) before I finally settled and completed a more traditional Business & Politics degree at London Metropolitan University. By this time, I was already almost 30 years old. 
With my degree finally in hand, I set out into the world with ambitions to work for a renowned NGO in an underdeveloped country, unaware that the universe had a completely different path in store for me. 
I was born in Angola, a ex Portuguese colony in South Western Africa that only began its restoration process, after 27 long years of civil war, in 2002. It was only now taking its first steps on their own, but surprisingly, their economy was booming due to the high value of petroleum (which the country has a lot) and diamond mines. 
Despite this, going back to Angola had never crossed my mind. However, one simple phone call changed the course of my (idealized) career and in August 2007 I found myself working as Program Officer at SIDA (Swedish International Development Agency) in Luanda, Angola. 
For some people, moving your entire life from a well-established place such as London to a developing country in Africa would be a tough decision to make, but for me it wasn't. I saw this job as the perfect opportunity to combine my career goals together with playing a part in contributing to my born country's rebuilding. 
But, like I stated in the beginning, fate had other plans in store for my life and a short while later the Swedish agency decided to phase out all its projects in Angola and move on to other countries that were in greater need. 
They gave me an opportunity to move from the SIDA project at the Swedish Embassy to the Swedish Trade Council that was just starting at the time, to take on a position as Commercial Associate. 
This small decision had a ripple effect on my entire career. From then on, I moved on to other similar positions such as Multimedia Content Manager in a telecommunications company and then Buyer in a supermarket company. 
However, when deciding to accept a job offer, there are many factors that can influence your decision that many times have nothing to do with what you want to do or the job itself. 
This was where I found myself years later when I was contacted by a food and beverages company to take on a new challenge as a Sales personnel. 
Luanda (the capital city of Angola, was at the time classified the most expensive city in the world for expats. So, considering that I was Angolan, I did not have the additional benefits and support of an expat (housing and etc.) and the costs were beginning to weigh on me. 
The financial proposal was the deciding factor in my transition from Buyer to Sales personnel and although I quickly realised that Sales was most probably not a favourite area of mine, I decided to utilise this time in the Sales industry to learn as much as I possibly could, in order to take this into my next venture. The company in question was a small, family business and career progression was very much limited. 
I knew that in order to grow professionally and improve my personal lifestyle, I would have to look for work in international, corporate companies who would provide me with greater opening to a career inside and outside of Angola. 
As luck would have it, my regular presence on Linkedin once again worked in my favour, and sometime later I was contacted by a South African HR company to participate in a recruitment process for an international company. 
Colgate-Palmolive South Africa, was looking for a Key Account Country Manager, to be the contact between the CP official distributor company in Angola and the South African team, someone living in Angola, and with the understanding of the culture, and population habits, able to research the market and to list adequate products, taking the premiumisation concept to the modern supermarkets in Angola, and to a fast growing medium working population with more money to spend. 
For the next 3 and a half years, I travelled back and forwards to Johannesburg, I interacted with teams from all African countries, I did a lot of training, and I eventually delved deeper into the marketing area. It was a job that I came to love. 
Getting to understand the population mindset, their needs and wishes and new trends was such an incredible opportunity but there I still faced many difficult challenges along the way. Dealing directly with the distributors in a male dominated company taught me 
to be stronger as a woman, I had to learn to gain their respect and find my standing within that world. 
This experience was the driving force that led to pursue a Masters degree in Marketing, after gaining 10 years of experience in Angola. For me it was the perfect timing to move forward and pursue other challenges. 
To many people in my life, they saw my decision to move to Ireland and return to education, as an unnecessary risk. Most could not understand the decision to leave a job that provided me with safety to go study and start a new life (from scratch) in an extremely competitive continent that is Europe. 
My outlook on life however, is probably very different to most, as I prefer to take risks in order to evolve rather than become stagnant in the comfort of something "safe". 
During my degree, I also juggled a few freelance jobs such as writing articles for an economic newspaper and managing social media accounts. 
Although I had never actually worked in this area, being a curious person I have always been somewhat of a "self-learner", and this was extremely handy in helping me to gain hands-on experience that was invaluable for my CV. 
As I finished my Masters Degree, I got an amazing opportunity to be part of a Google Ads consultancy project working on-site at Google where I became an expert at Google Ads search engine software. This however, came with many overwhelming challengings as Google is constantly upgrading their software at an incredible speed, which meant constant training every single month. 
My time in Ireland was one of the most challenging times of my life, and yet also probably the time where I felt I grew most, professionally and personally. As much as I did evolve in Ireland, my husband and I had always shared a dream of living in Asia, so when the opportunity arose to move to Singapore, the choice was clear. We were both enamored with the culture, the weather, the food and pretty much the entire lifestyle that is so vastly different to Europe. 
My husband and I both began looking for jobs in Asia and we were both extremely lucky to have both gotten offers in Singapore around the exact same time. I was hired while in Dublin for a Digital Marketing Coordinator role, at a Fintech start-up called Smartkarma. I felt super lucky, to be able to keep my new career path into the digital marketing world, using my new acquired google ads skills, and going deeper into the creative process, that took me back to my student years in where I worked many years as a web designer, creating websites, designing logos, and etc. 
I believe that life is made up of cycles, and although my initial goal of working in an NGO was not accomplished, my passion for design was again part of my life, and I was happy that I was lucky enough to be able to explore it. 
So now we finally arrive in 2020, an utterly awkward year, full of unpleasant surprises such as COVID-19, but with new opportunities popping up, although also with mass layoffs. 
Unfortunately, the start-up company I was working for had huge struggles with their Marketing budget and I left the company at the middle of this year. 
Finally now, at the age of 45, I decided to launch myself onto a new career path as an independent, freelance consultant. 
After years of gaining international work experience in three different continents and living, what some would consider, an eclectic lifestyle I have now settled into working for a Non-Profit organisation with an 100% remote work culture, as a Marketing Growth Consultant, while also working on other independent projects. 
I can undoubtedly say that my career path has definitely been unalike most and I have experienced more than I ever imagined was possible. 
I am watching the changes in the world expectantly, while considering adapting myself to the new terms in which we now live while looking into creating my own company, focused on niches in the market, and focused on marketing for individuals and small companies. I do believe that there is still so much to be discovered and implemented in so many niches. I am looking forward to diving into new adventures and embracing the challenges that will surely come with being self-employed. 
My favourite quote and motivational phrase is one from Albert Einstein that says that the definition of "Insanity is doing the same thing over and over again and expecting different results", so I always look for different and unexpected solutions instead of focusing on the problem. 
That's when I grow and learn the most! 
Kamia Vasconcelos is a Multicultural and multitasking professional passionate about business growth. A global citizen, life enthusiast with a fascination for traveling, learning new skills, and meeting different cultures. Lucky enough to have lived on 3 continents and learned a lot from all the experiences. 
An assumed foody, who enjoys interesting conversations and fine wines with a profound and genuine interest for the human beings and the world we live in. 
Also read: My career lessons leading Product management teams at VMware, Cisco and HP
Expect the Unexpected: Career Interview with Kamia,A Digital Marketing Growth Consultant