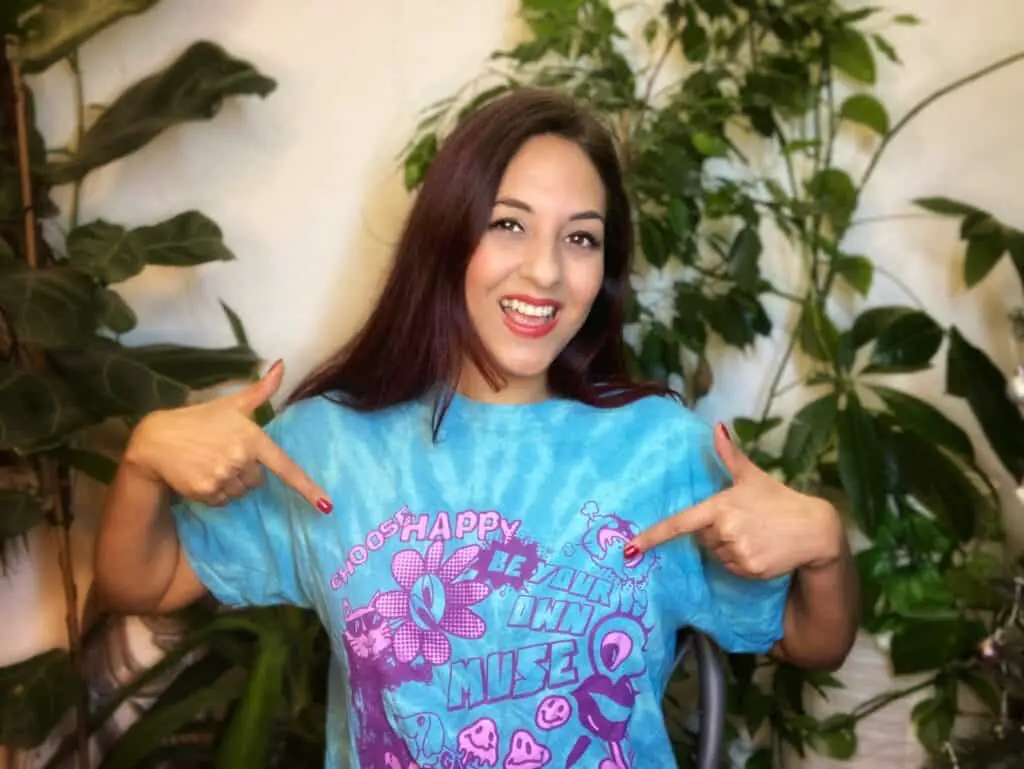 Hi, I'm a graphic designer, creating jersey designs for customers like Urban Outfitters, River Island and Lipsy. This is a career change I took when I was 33. And I'm grateful to be doing something that I love, that stimulates my creative mind. My advice is it's never too late to follow your dreams, if you have dedication, passion and make sure you take all opportunities and prioritise your goal. Also, that it's okay to not know what you want to do in your twenties, one day you will find what drives you. Grow your skills and confidence in other roles until you're ready to chase what you want!
Creative expression was my first and forever love. As a child I lived in my imagination, drawing, dancing, making things. That enjoyment became talent, when it came to Art and Textiles GCSE, it never felt like "work".
However, I did work, hard. Partly due to lack of a social distraction! I achieved excellent marks in all my subjects. But, that lead to confusion, my parents suggested an academic path was security, and art could always be a hobby. (Although might I add, it is hard to muster energy for hobbies when you work full time.) 
In the nineties we weren't aware of the artistic careers out there, "graphic design" was something to do with computers (oh, ahem, one of my weakest subjects, and this was a time before I had a mobile phone!) so that was a no go. 
Being a lawyer like Ally Mcbeal seemed appealing enough, and so I drifted through purely academic A-levels to get a degree in law and psychology. 
However, as interesting as I found some modules, it wasn't the right career path. I was a shy introvert, scared to take a customer phone call, how could I compete with the ambitious students who actually knew they wanted it?
So I worked my way up in offices, in Account Manager, Customer Service and Admin roles. My life at the time had different priorities, and I was content to have a job to "pay the bills". I satiated my creative drive with problem solving and process improvements. 
In a bid to find myself I took a year away from office work, to teach English in Vietnam. Teaching was the most rewarding job I've ever had, but also the most exhausting. And as a perfectionist, I found myself planning all hours; and the "performing" for a class took it out of me. Burnt out before I could travel, my advice for teaching abroad is to focus on experiencing the country, not on giving amazing lessons. 
I returned to the UK, and continued with office work. During this decade I grew in confidence and skills. I became super organised and proactive. I learnt how to manage, work in a team, and manoeuvre through office politics. I became an asset as an employee, which led to my success in every role. So although the work wasn't my passion, I gained valuable experience. 
I paid for someone to review my CV, after several ignored applications, where I learnt how little time someone will spend glancing over it- so less is more, much much less! 
However as time passed the more restless I felt: I was over thirty, and neither rich nor feeding my soul. So when redundancy was offered as my firm relocated overseas, it came at the perfect time when I was ready to make a brave move: I left the Bristol I adored to move back to my dad's sofa in Leicester, to figure out my life!
But doing what? I started with a ton of research. Job descriptions. Career Books and websites (like this one!). I found the Jobseekers classes very informative.  
So was the "Birkman Test" which I was lucky to be offered during redundancy. It's an in depth test that looks at your personality, your ideal work environment, your interests and stress behaviours… But mainly, it tells you how similar you are to people who are satisfied with their career. 
It assumes that you will be skilled in areas you enjoy (but not necessarily enjoy all areas you are skilled in- which is what the "Morrisby" tests for). Funnily enough for me, legal came last, being only 5% similar to those who enjoy a career in law. 
Dr. Birkman told me that out of four character types, I am someone who loves "making things new and different". As my top three options, it said I was 60% similar to people who love computer programming, psychology research, and all the art roles.
So I chose to pursue the latter two, I certainly did enjoy the psychology half of my degree. I applied to help run research studies on children's literacy, hoping that may open doors. And pondered if the daunting life and fees of academia were feasible and what I really wanted.
Meanwhile, in my art roles research, I came across "graphic design" again. I read more about it, and it just fit. So much so that I burst into tears! That intense reaction made me wonder if abandoning my passions repressed them somewhat, so that it became blind to me that returning to them could be possible! And when I learnt it was, at 32, I was terrified it too late.
I Googled local graphics courses, and funding. I could never afford a second degree, and couldn't be part-time learning until I was 38. Thankfully, my timing caught an open day and I spoke to a lecturer at De Montfort University who assured me, that yes, I could use an Art Foundation to get a career. 
I had to go for it! I'd spend the year learning, making contacts, researching, and then if I couldn't get a job, at least I'd have tried; The worst case scenario being that I would have spent a year spent doing what I love. (My dad's words.)
Two months until interview and lacking any artwork, I was told to fill as many sketch books as I could. Being unemployed I had all the time and energy to draw. My GCSE projects had been binned, so I set myself a new projects, and had a marvellous time around Leicester using every medium to explore and develop the concept of "Watching" into a final Banksey-esque piece. I also created a Facebook art group among my friends to help motivate me, setting and interpreting weekly project titles for each other.
I passed the interview, where my dedication was clear and was all set to study that September.
What an intense and wonderful nine months! Armed with passion, I threw myself in, in a way I never did at Uni. I joined the graphic and art societies (super important for contacts and work experience),  I became a Student Representative, and I made sure I sought and took every opportunity available. 
Serendipity led me to take an animation workshop (that I had almost skipped), and I instantly felt the magic of creating "life". It wasn't graphics, but I made a six minute stop motion animation for my final project. It's one of my proudest achievements and it won the Christopherson Purchase Prize. I worked a straight month of 12 hour days on my "baby" and nearly broke down afterwards as I didn't take time to rest, but again, this didn't feel like work!
I realised, I could never have pushed myself like this, and still loved the work, with any another subject. I also realised, that this was the right time because I REALLY wanted it. If I had taken an art degree in my twenties, I would likely have failed – I could last-minute cram and scrape a 2-1 in law, but you just can't cram art.
I had my goal, and I prioritised it. Over socialising. Over watching Leicester winning the Premier League. Over holidaying in Thailand with my three sisters for Christmas. That one was tough, but I had joined an internship competition via the graphics society and I couldn't complete that brief AND do Sibling Thailand too. So I chose my future, and I was rewarded for that.
It was my very first brief, to design a Natural History Museum range for Marks and Spencers. Before then, I didn't even know that graphic design included t-shirt illustration… Amazing! I was only a few months into using Photoshop and against third year students. I was lucky that most the students were too busy to compete, only five of us entered. I made the top three to go to interview, and won the internship:  designing licensed graphics for a jersey company.
Here, I think my business experience helped. Their monkey and moth illustrations were beautiful. Mine were too, but I also had many marketing angles behind why I chose "bees", why my range would appeal to the M&S customer, why it would sell.
In a saturated market, I would definitely advise making time for those competitions at university, they allow a vital foot into employment's door. Without it, I doubt I could have succeeded, with no degree nor work experience.
So amazingly I had an (unpaid) job to go to, which fell at a perfect time; Pokemon Go was released that summer and all retailers had underestimated this craze. Next, Tesco, and Asda were all desperate for Pokemon designs. So I spent the next three months learning Illustrator and churning out Pikachu creations. I had twenty styles selected by the time I left.
I was offered a paid position to stay, but I had this vision in my mind, of a cool swish design studio with lattes and a dog. I had to follow this dream.
I explored full time, for seven months, and every rejection, failure and disappointment was valuable learning. I learnt about what I needed to do next, what I wanted, and what I didn't want. I applied to all the local graphics studios, whether they were hiring or not. I did a month's work experience at BBC3, a taste of London life (which was tubes-work-tubes-home-eat-sleep, I couldn't fathom where people found the energy or time to socialise). I enjoyed my illustration tasks there, but the graphics role wasn't very varied and I found the journalism "clickbait" industry didn't sit well with me. I then had a few failed interview projects.
During my foundation course a teacher had told me that I wasn't a Graphic Designer, that I was an illustrator. She said I would struggle to compete with those whom it came to naturally. I broke down in the bathroom, having thrown my soul into this plan, I couldn't handle it crumbling. I didn't want to be an illustrator, I wanted a stable office environment and regular income! She later apologised, yet she was right.
After another failed interview project where I couldn't design a "simple" brochure, despite being given a paid week in their office (with a dog!) and much encouragement and patience. The owner kindly sat and talked to me for hours, about how I needed more training, and the options open to me. During this helpful discussion,  my mind kept prodding, "Why? Why was I struggling for this dream, what was wrong with designing t-shirts?"
I went home and made a list, because sometimes when you are striving for a fantasy, you have blinkers on. And I had. The only real benefit in the "Design Studio" column was the salary, and hadn't I decided not to follow money? Whereas with T-shirt design, I was already naturally talented and successful, already had a job offer, they have a better work/life balance and, mainly, I really enjoyed it! 
Silly me! I returned to the licensed company, knowing it was right for me right now. And if it was money I wanted, Retail pays very well, as a goal for the next decade!
I learnt so much there and really appreciate the opportunity I had due to their internship program. I got promoted, dropped "junior" and became the head designer for C&A and Next, primarily with "older boys".  
But after a couple of years I realised I wasn't learning anymore. The role grew more admin heavy, the one department thrived into nine, "gaming" became the sole licensors- which were notoriously hard to be creative within. My accounts were successful, but I wasn't using the skills I'd retrained for. The less time I had to design, the more my confidence eroded. 
Designing for 'License' involves designing t-shirts for known brands, whereas 'Generic' is any non-branded artwork. For those of you who are curious about the difference in designing under these categories, license gets a bad rap of "cut and paste" as you are given the assets to work with, with varying flexibility depending on the license, but of course you don't cut and paste. I'd argue you have to be even MORE creative than in generic- to take those very same assets your competitors have, and perhaps even the very same assets you've been provided for years (Nintendo), and create newness, season after season after season. To follow trends, creating unique designs, within the strict brand rules (PlayStation), even whimsical ones (Fortnite) required immense problem solving. The process is longer- there are "brand approvals" to go through, many design amends, but if you're a fan of licenses and puzzle challenges, it could be for you! 
Generic design had always seemed out of reach, I wasn't familiar with Photoshop anymore, it seemed like a whole different skillset. However, after asking to meet with some generic designers and seeing their work, I realised I could do it!   
Don't be afraid to make contacts and seek advice. When colleagues left for generic roles, I asked to meet them for coffee, to see their portfolio and learn. One was very helpful offering to "ask around" when I had my portfolio ready, and she had great knowledge of the reputations of local companies, as it was vital I moved somewhere where I would feel valued. I learnt that generic designers didn't always have time to hand draw everything like I imagined, they often used "jigsaw pieces" just like I did, except theirs were from stock sites instead of licensors. And oh my, did those portfolios look fun!
The longer someone is in licensing, the harder it is to get hired for generic. It was now or never! 
An agent told me to create a portfolio for the role I was going for, so to set myself fake briefs for the hiring company. But, I was simply too exhausted to go home and design all night. So after a time of feeling trapped in this cycle, I realised I just needed to prioritise my goal and book some holiday days to work on my portfolio with bright energy.
A strong relevant portfolio is key in this industry. Most of my interviews were informal chats, about my experience and portfolio. The graphics CV can be daunting, as that is your first show of your "design", but that's more relevant for design studio graphics. For fashion, and going via an agent you often just need a  CV in MS Word. 
I would definitely advise using a fashion recruitment agency (plenty on Google) to work on your behalf. When using an agent, your portfolio shows your talent, so they can propose you for roles. If the role is a different handwriting, target customer or product, you will usually be asked to do a brief before the company chooses to interview you.
Over the next few months I had several opportunities arise and interview projects to design for. I didn't get these positions, but they helped my portfolio grow. Most importantly thanks to the reaction of the agents and the roles I was being put forward for, my confidence in my talent returned. Finally, just before Covid hit, I interviewed for a company who sells to River Island, Lipsy and Urban Outfitters. 
I spent hours on the interview brief, I adored it! A dream come true to be designing clothes which I would wear myself. It was so fun to be able to be creative and playful, unbound by licensor rules. And slogan play, I forgot how much I love a good pun! I couldn't imagine being so lucky that this would be my day job! 
They said they were impressed how "worked-into" my designs were (the level of design detail, the use of techniques), how well I knew the customer handwriting, and how many I had produced (ten). A tip is to use models from the companies' website to wear your designs. I've also heard companies like a mix of Photoshopped and CAD drawn designs, to show you can do both.
While I was waiting for feedback I happened to get another interview project doing all-over prints. Important to keep all options open! I didn't get this role, but again, it's all valuable learning and it confirmed how much I enjoyed that first brief. All over prints were not as stimulating to me, and I found them surprisingly challenging. I was told I wasn't the strongest candidate, and they had expected more designs from me (I did 11, at least two for each concept, which shows that is subjective!).
The economic nightmare of Covid delayed the situation few months, but in June, I was overjoyed to be offered the first role.
I have loved every minute. Whatever happens, I have confidence that I am a talented designer, who is continuously growing. I have 300 more generic designs for my portfolio. I have learnt so much, particularly on Photoshop, it's such a pleasure to notice my speed, skills and use of shortcuts increasing daily. I make sure I am learning from my colleagues when I can.
The biggest thrills in this job are when a buyer selects my designs, nothing beats that feeling! When I see my creations online or in-store. Seeing my virtual ideas become physical samples. The buzz I get when inspiration pings, as I solve a visual problem (the brief). When I feel inspired and have so many ideas and enough time to do them in. When I sit back and smile, as I have created something beautiful. I feel very grateful to be where I am and I can't wait to see how I continue to flourish!
also read: My Story From Studying Motion Graphics to Becoming an Illustrator and Graphic Designer
My Career Change to Become a Fast Fashion Graphic Designer (without a relevant degree)