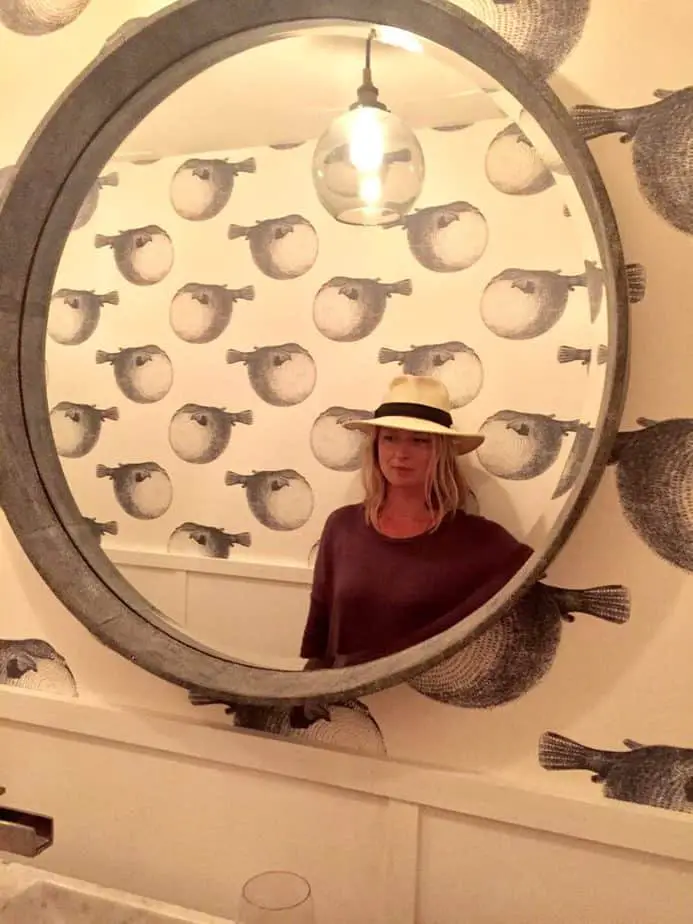 I'm Lauren, a partner in a small boutique wallcovering collection located in the PNW. We design mood-boosting wallpapers for residential and commercial spaces with hopes of making our clients feel good in their spaces. Read my story on how I became a wallpaper designer.
How was your University time?
From a young age, I have always had an interest in interior design. Rearranging my bedroom, sketching it out, and reimagining it often was treasured moments that I remember fondly. An artist or architect is what I remember wishing to be "when I grow up." Fast forward to 18, and it's time to go to college. I lived in GA, and there, if you maintained a 3.0 GPA, you could receive free in-state tuition, so off to Georgia Tech I went. I started as an industrial engineer, as that was the easiest of the engineering majors, and since I went to Tech, I had to try at least to be an engineer. Not sure how I went from dreaming of being an artist/architect to an engineer, but that's how it went. After a couple of years as I participated in the co-op program, the engineering direction fizzled, took on real-life engineering experience, and realized it was not what I wanted to do long term. I changed my major to Business and Management, which was the easiest major at Georgia Tech, and sort of made fun of amongst all the engineers. I was okay with that, though, as little did I know. It would serve me well in the future. Graduation came after 5 years in college, and I left with that Business and Management degree with a Marketing concentration. Not so bad.
Why did you choose a career in this field?
As soon as that diploma landed in my hand, I thought, hmmm… I actually really want to go into interior design as this really was my passion [insert more student loans]. Note to self, follow what you love! So, I started back up school at a local Atlanta College that offered an Interior Design program. I met some great friends in my first classes there and enjoyed every minute of the lectures, assignments, and projects. One day, a notice came out that a local design firm hosted a party and invited local design students to attend to explore their internship program. Count me in! I went with 3 of my classmates, and we mingled, put our nerves aside, and introduced ourselves to the company owners. Business cards were passed to us with instructions to get in touch about the program. And so we did. Going to that networking event and putting myself out there completely shaped my path in the design field. All three of us were given internships over the summer and began interning with seasoned designers who renovated country clubs.
How I Became A Wallpaper Designer
It was a dream to be working at an interiors firm and learning real-life design skills. I worked hard, stayed late, was eager to learn during the internship. I wanted to be working in this field more than anything. After the internship was over, a full-time position was offered to me if I wanted it. And YES, I did want it! I put design school on hold as I felt this was the opportunity of a lifetime to be actually doing REAL design work. The school would always be there if I wanted to go back. As a junior designer, I got to know the furnishings and materials reps during their presentations at our firm. I started to make many connections in the industry during the next few years.
One day, a rep called me to ask if I knew anyone that might be interested in a rep job with a luxury multiline furnishings showroom, Donghia. I quickly said, well, I think I might be interested?! I always loved the fabrics, the wallcoverings, and the furnishings and felt like this would be an interesting next step. Why not? So after being with the design firm for about 2.5 years, I left to work for Donghia, located at the Atlanta Decorative Arts Center. I was excited to explore this side of the industry and still be surrounded by interior design. The fun part is that I still visited the design firm I left to do my own presentations of materials. I stayed with this new gig for another 2.5 years and got to travel all across the southeast, peddling my pretty design materials to designers. I met so many wonderful people and vendors and formed some long-lasting relationships that still serve me today.
I moved to Seattle to work for a different showroom after meeting the owner on a work trip and expressing interest in moving. You just never know what will happen if you open up and share your dreams. Exploring a brand new state and region as well as new designers and vendors was very exciting. I now had some great experience on the design side and the sales side of the interiors industry. I worked for that showroom for a fun 2 years and then decided to move to Los Angeles with my boyfriend. Through word of mouth, I assisted an interior designer and did research, shopping, and all the other things associated with design for a small company. I loved it! Los Angeles has one of the best design communities. SO much to see and explore. My then-boyfriend turned business partner, and I had discussed our mutual dream of having our own wallpaper company
Being in LA helped launch the spark of this wallpaper company. We found our initial design ideas at a flea market one Sunday and had connections through previous work with a printing mill there. Abnormals Anonymous, Inc. was born 2 years after working on the patterns, colors, developing a website and presentation book, and teaching myself Photoshop basics and Quickbooks. We soon made appointments with a few showrooms to present our work and try to get representation. I drew upon connections from my previous jobs to get a few other showrooms to take us on. During the next several years, we grew from a single desk and a small box of samples to a full-on studio and a team of 3. We nurtured every potential client, worked hard to market, and now, fast-forward 9 years, we have a flourishing wallpaper company that has grown from small humble beginnings.
What I Have Learned:
Trust your gut when trying new things. Some of them work, and some don't, but we always learn from it. We have also taken several business growth classes that have shown us how important it is to know yourself and your voice as a company and the business side and the numbers; how to study, interpret and plan from them.
Books to Read : (these are geared more towards having your own creative business, but can apply to so many things).
This is Marketing by Seth Godin (his newsletter is great too!)
Start with Why by Simon Sinek (also a Ted Talk)
The Artist's Way by Julia Cameron
Keeping Updated:
My favorite newsletter and podcast is Business of Home. It's chock full of news and insight from the interior design industry. There are also great job postings there! Another favorite newsletter is Ask Holly How (great posts about finding your way as an entrepreneur and books to read, articles, etc.).
Advice For Looking For A Job:
Research the heck out of the company you want to work for, know as much as you can about them. Be curious.
See if you have any connections via LinkedIn and ask for a recommendation or chat to learn more about the company.
Ask owners or people you know in the field you desire to do an informational interview to learn as much as possible.
Be professional, ON TIME, polished, and yourself.
Put what you want out into the world through talking, emailing, texting, etc. After hard work and an openness to connection, it will eventually find you.
Also read How I Got My Job as a Senior UX and Product Designer
How I Became A Wallpaper Designer + Entrepreneur