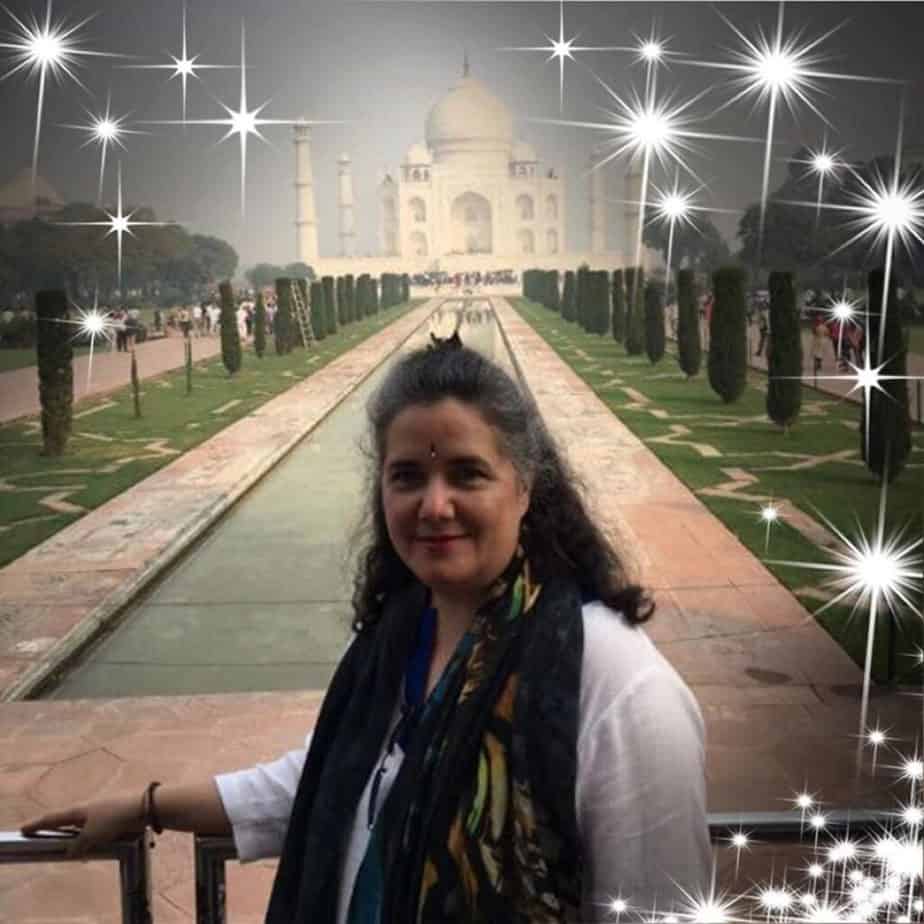 Internet Radio Producer / Medical Interpreter / Energy Healer
I was born in Mexico City and was the first one in my family to have the opportunity to attend college. I always knew I wanted to continue my studies after high school as I always had a passion for learning. I still do. In college, I studied Clinical Psychology for 4.5 years. I really enjoyed those years. My first life-changing opportunity presented itself shortly after graduating college. A close friend of mine and I were planning to travel to Europe (behind our families' backs) and go on a two-month backpacking trip with the hope of finding jobs there. Still, life threw me a curveball that I had not anticipated: 2 weeks before my trip. I met Hector, my husband of 30+ years. It was love at first sight, and my previous plans changed instantly. For a second, I even considered not going on our "European excursion," but Hector convinced me to go on the trip, and thank goodness he did because those 2 months of traveling were exceptional. The opportunity to see other countries/cultures and being on my own opened my mind in ways that no book or field of study did or could.
I decided to study Psychology because of my interest in the medical field and human behavior and heal others in a deeper sense, beyond the physical body. After marrying Hector, I worked as a Psychologist at a Private Neurological Clinic, where I began making partnership plans with a classmate to open our very own practice. That was until Hector, and I found out that we were pregnant. To top it off, the next day, Hector was offered the opportunity to accept a job position that brought us to the United States. We came to the USA in the early 1990s with work visas, mine dependent on his, so I could not work. I was pregnant with my first baby, so it was a happy opportunity to practice being a full-time mom. Plus, Hector's assignment was supposed to last a couple of years (this was 30 years ago).
After two more pregnancies and moving from Florida to Chile to Florida and lastly to North Carolina, we landed in Charlotte in the early 2000s. Here, I started volunteering at local nonprofits and becoming part of their Board of Directors around 2007. As a hands-on volunteer, I had to brush up my computer skills and start learning all about social media, event planning, fundraising, marketing, using programs like Excel, Word, Books, and more. I loved the opportunity to learn all these new skills, and, thankfully, as a volunteer, it did not matter that I had no prior work experience with these things. Suddenly, without realizing it, all those years as a Board Director allowed the opportunities: to build up a powerful, skill-set oriented resume that filled me with self-confidence; and to relate with professionals from different industries and realize they were not that different from me, a mother of three.
Growing up, I had a passion for the arts. I am a self-taught visual artist. When we moved to Charlotte, my children were now in school, which allowed me the opportunity to enroll in art classes to learn different techniques – acrylics and watercolors. Art has always been a way to be at peace with myself as it allows me the opportunity to appreciate the beauty and serenity of nature. Painting is the ultimate means for me to express myself. As I was beginning to immerse myself more and more in my artwork, someone in my art class mentioned an opportunity to become an ESL teacher. I jumped at the opportunity as I was curious about the idea of learning online. Surely enough, I loved it and excelled in my studies, so much so that even before I finished the 6-week program, the Central Piedmont Community College (CPCC) hired me. Being an immigrant in the U.S. and a Spanish-speaking native, there was never a point in my life where I envisioned myself teaching English to others! I served as an ESL instructor for CPCC for 5 years before moving on to my next venture.
In 2011, I was invited to be part of a project that used Internet Radio as a marketing tool for small businesses. Being always open to new ideas, I could not be more excited to try this new and creative approach, never imagining that: it would turn into a business opportunity for myself – C View Quantum Network. Here, I serve as an Internet Radio Producer for people looking to host/promote their show or podcast in the holistic, alternative, and metaphysical areas. As a part of my role, I help people create and design their own shows to promote their businesses and skills to the world. It is beneficial for those who do not have the time or desire to learn the technical skills required to market themselves. Did I forget to mention I love learning?
We then became empty nesters and moved to Winston Salem. I resigned from my post with CPCC and hugged my students goodbye. Fortunately, having an internet radio business allows me to bring it with me wherever I go. I found more time for myself at this point in my life, so I enrolled in a 3-year Esoteric Healing Certification class and started seeing clients in my home's designated healing-room. While pursuing my Esoteric Healing Certification, I discovered gifts I never knew I had. I learned how to connect to the human body more profoundly. Energy Healing ignited a desire to learn more about human anatomy and physiology, whereas Psychology taught me a more scientific and fact-based healing approach.
Shortly after acquiring my Esoteric Healing Certification, I enrolled in a Medical Interpreter certification program at the community college in Winston Salem. I purposely chose all online classes, and the curriculum asked for volunteering hours at a local Community Clinic and Practicum time at the Hospital. While interviewing with the clinic's volunteering coordinator, she informed me about an opening for a Spanish Interpreter, and I promptly applied for the role – I was immediately hired! At almost 50 years of age, I had acquired my first full-time 'formal' job! Unfortunately, the grant that funded my position expired after 1.5 years, so my role was terminated. It was hard for me to leave this clinic as I had come to love everything about this job. Not only was my relationship with the doctors and staff very welcoming and enjoyable, but the role provided me with all sorts of learning opportunities as each case I was part of was unique and eye-opening. I remained in trust that something else would come my way.
Hector and I then moved back to Charlotte, where I began working as a remote Spanish Interpreter for a company that provided a 5-week intense training (those skills I am still using) with a full-time role. I worked there for six months building up my resume for remote interpreting. After adding this position to my LinkedIn profile, I was contacted by three companies and became independent with a more flexible schedule and better compensation. Life is all about remaining open-minded and taking advantage of the opportunities that come your way. It would be best if you kept your options open and have a child-like curiosity for things. Sometimes, these opportunities might seem random, and they may not align with the path you have set for yourself, but all the pieces will eventually fall into place in perfect harmony. It wasn't until I started studying for my Medical Interpreter certification that I reflected on my life's journey and was able to see how all these different opportunities and choices I had made complemented each other in perfect balance.
Fast forward to today and, although COVID took the world by storm and impacted all of our lives, I am safely working from the comfort of my home. I am grateful for every opportunity in my life that has provided me the skills and tools I needed to thrive and succeed and be who I am today. Boy, have I had fun! I am grateful that everyone in my family can work from home, remain close and in Charlotte, and stay safe from the pandemic. I know that guidance and growth are never-ending and that new opportunities will come my way. Who knows what new hat I will be able to add to my collection of roles and responsibilities? All I know is that whenever that time comes, I will be ready!
Also read Tangible Designer: From Animation to Industrial Design and Everything In Between
Live Your Life Open To Opportunities – They'll Surprise You