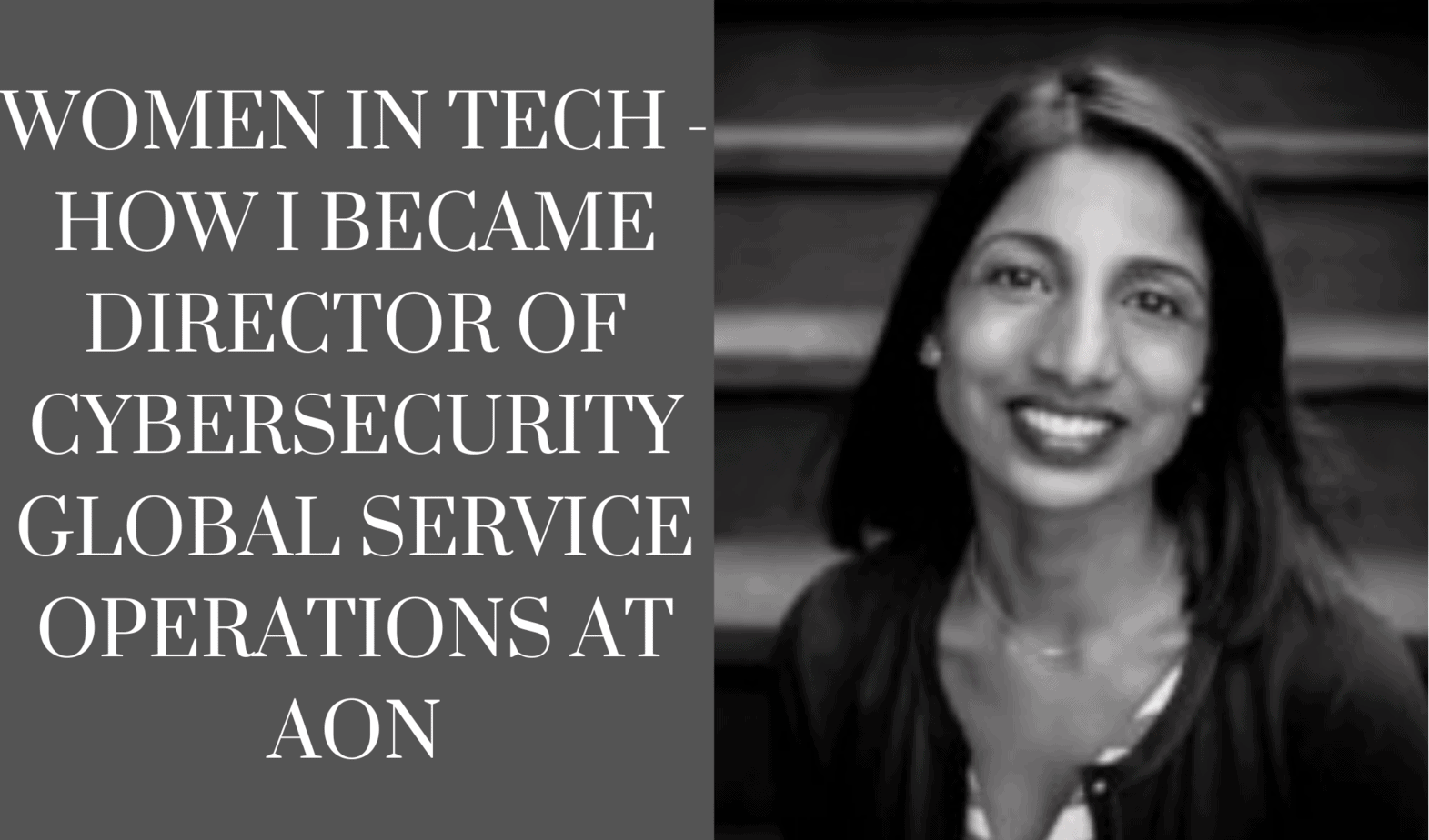 My name is Saira Harcus and I am currently the Cybersecurity Service Operations lead globally for the Aon Corporation. My story began back in 1997 (Now I am dating myself :)) where I graduated from Purdue University with a Bachelor's of Science degree in Information Technology. It was the new and exciting degree to attain and the opportunities were tremendous. I was very fortunate.
I began my career at The Revere Group as a consultant. My first rounds of assignments were tied to clients requiring Java development. I appreciate that experience on multiple levels but the main reason was that it gave me the experience to realize what I did not want to do longer term. Don't get me wrong.  If it was not for all those unbelievably gifted developers, we would not be where we are today in our day in age of technology but I knew at the end of each day I could do more and wanted to do more.
I discovered the world of CRM and began to gain experience tied to PeopleSoft Financial implementations shortly thereafter. I realized very quickly I liked the concept of delivering solutions based on these packages and customizing based on business needs and future state requirements.
After several years of multiple rounds of travel, endless hours on client sites, I made a tough call but much needed one to move to a more balanced career and that was to a small marketing agency known as Frankel (based downtown Chicago). The hours were great and I was primarily responsible to provide support to all colleagues within the agency. As wonderful as the hours were, after a couple of years I began to get the itch to grow and yearn that excitement once again of working directly on external client facing deliverables. I began graduate school at DePaul University during this time and knew it was also time for me to look for my next adventure.
I moved my career once again to become a business analyst at Hewitt Associates. I began right in the middle of preparing for a major go live tied to a significant financial organization. This was also my opportunity to move into the Human Resource world of PeopleSoft. The hours were long but I absolutely loved what I did. I had merged into more of a functional role working directly with the developers and I found my love in technology. My skillset grew in terms of knowing how to partner with clients, get through challenging discussions. build requirements and end-user solutions. During this time I completed graduate school and was expecting my first child so to say I was busy was an understatement. 🙂
Prior to the birth of my first daughter I was given an amazing opportunity to move into a Technology Leader role overseeing the technical functions of two of Hewitt's largest outsourcing clients. I was terrified but knew it was an opportunity I could not pass up. I knew that my dedication as an analyst had then led me to this next level in my career at the organization.  I was brought into a role with a combined technology support team and the challenges were immense from an engagement perspective. This was to date the toughest job I have had in my career but what I walked away from it as a manager was priceless. The requirements of the role required me to support the clients across all technology solutions but to also ensure my teams were aligned appropriately across all of the different services we were required to deliver. Similar to my role as a java developer, I have to admit that it was another experience I don't regret but it further helped me dwindle down my list of what I truly wanted to get out of my career and what I wanted to contribute in the world of IT. My next career out of sheer luck finally gave me that answer.
I came back to work in October 2008 after the birth of my second daughter and it was a scary time as I was not aligned to a client or group of clients post my maternity leave. An extremely uneasy and nerve wrecking feeling but Aon Hewitt maintained me as a colleague which I was grateful for almost 4 months.  During that time I worked on smaller efforts to help other teams out and then an opportunity arose that brought me into the security arena. A perfect fit with my experience and what I knew I would enjoy doing based on my experiences to date.
I was provided an opportunity to take on a global lead role to manage the client security user access team servicing internal and external clients. I was introduced to a world of regulatory obligations, user access awareness and a much larger appreciation for what excessive access meant to any organization. I managed the Client Security Management team for almost 8 years and it was an incredible opportunity to move into a role where I was tied to the ins and outs of user access and attestation but also a path in my career where I created, managed operational and global standards and policies. I also gained a tremendous amount of experience managing true global teams which included an entirely new set of manager skills that I needed to learn quickly in order to retain engagement, career growth and the top most quality of service to the organization and our clients.
During my time managing the global CSM team, I also managed the global production migration team which was a very similar concept to the security team ensuring that any update to production was managed centrally abiding by organization and regulatory controls. This as well gave me a deeper level of appreciation on the layers required to move anything to production so as not to impact client commitments from a service and revenue perspective.
I organically moved in my career post my time as a CSM and Migrations global lead where I was offered a much larger role in the Aon corporate function as a global Cybersecurity Leader for Service Operations. My past experiences have really set a great foundation for my current role. I am now in a world of Identity and Access Management and Active Directory but the foundation of my core goals and service back to the business still lies within user access and compliance. My scope of responsibilities from a regulatory perspective has grown as well with now a heavy focus on SOx and SOC1. My main objectives are to standardize user access globally across all our services especially to set a guide and precedent around privileged access.
It may not seem super exciting but I have to say I am thrilled that this is my story of how I got my job. I grabbed my dislikes and likes from each in order to get me where I am today and I will always continue to do that in my career going forward in order to grow.
Women in Tech – How I became Director of Cybersecurity Global Service Operations at Aon