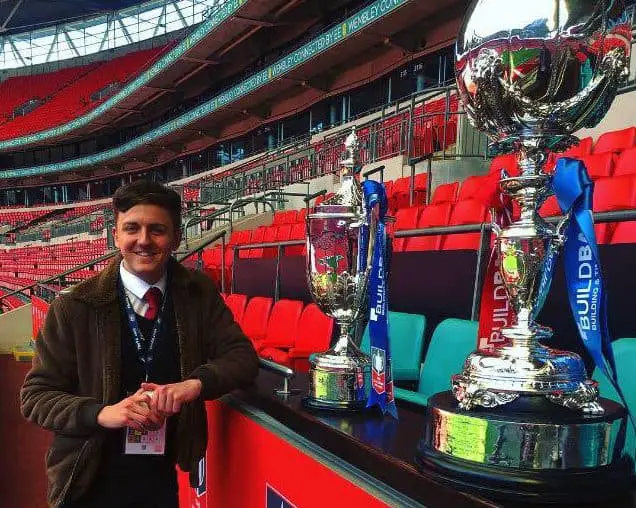 My name is Dan Simmonite, and I am the Media Officer for York City Football Club. I work in a team of three in a Business Development unit and lead on all things digital for the club, contact external media, arrange press conferences, and produce press releases. I have worked for my hometown club for nearly two years and am lucky to say that I really enjoy my job. If anyone would like to connect with me, then the best platform is probably Twitter – @Dan_Simmonite
How did I Become a Media Officer?
How was your University time?
I studied Media and Journalism BA (Hons) at Northumbria University. I found this beneficial as it gave me all the fundamentals in my field, whether that be media law or creating a PR campaign. However, the best thing about my university experience was using the free time you get and going out and putting those fundamentals into practice. In my final year, I was in lectures two days a week but working part-time for a football organization three days a week doing their marketing, and this is where I really progressed my knowledge and expertise. Being in Newcastle, I also had a great time and really embraced all the City (bars!) had to offer.
Why did you choose a career in this field?
I originally wanted to be a PE teacher, but I was never good at the sport's academic side and pretty much had two left feet, so I was never going to be a footballer or coach. I was more practical and hands-on and also messed around in Photoshop and creating in my younger years. After a gap year following Sixth Form, I decided to combine two and go into the sports media field. A perfect fit for my interests and expertise.
What was your first job or nuggets from jobs you had that helped you get to where you are today?
My first ever job was a voluntary role for BT Sport, where I would record match highlights and interview football managers post-match for their Non-League Highlights show. It took a lot of traveling back and forth every weekend, but the sacrifice was worth it for the experiences I got and even attended Wembley Stadium as a runner for the Live broadcast at the end of the season. This job taught me how to network with other professionals and create the fire in my belly to strive to be involved with a football club after my studies.
It just so happens that one of the reasons I got my job today is that someone remembered me at York City from when I covered a game back in 2016 for BT Sport at Bootham Crescent. In turn, that really helped me build rapport at the interview phase.
How did you prepare for the interview?
I prepared for the interview by creating a physical portfolio of my work with three copies of each project to show and tell the panel. This worked really well as I articulated my previous work and then showed the finished result. I also looked at what the club had done previously and suggested ways to improve things for them on the social media side. Talking confidently about the things you are the expert in will really impress an interviewee who is literally hiring you for your skills and, in this case, to lead on all digital projects.
Can you provide some book recommendations?
To be honest, I don't read any books at all. I prefer podcasts and videos. I think you can learn anything literally on YouTube, and that's how I still design things on Photoshop – if I'm not sure, I will watch a YouTube tutorial.
Podcasts are excellent to find out the stories and best practices of those already in the industry – this will also help you keep up to date with the latest trends and find people worth following. The industry is changing all the time, especially in social media, so you need to keep up to date.
I have a podcast where I interview the people behind the scenes in sports media called 'The Press Conference Podcast' if anyone is interested in finding out more. https://www.pressconferencepod.com/ 
Any advice about CVs?
I was always taught at University to do your CV in black and white and a certain way, but I tend to disagree. If you are going for a creative job, then I think you need a creative CV. You can use another tool to articulate that you know what you are doing, and an eye for design is a really sought-after skill for football clubs.
I also think your accomplishments should be on your CV. Show that you have a proven track record and show that you can offer something to a potential employer. It will also prove to be a conversation starter at an interview, and you can go on to talk about a project in more detail.
Advice for someone looking for a job?
Keep networking, and don't give up at the first hurdle. Sports media is the most competitive field, and everyone wants to work for a football club. You will likely be one of the hundreds of applicants for one job. Getting to the interview phase is an achievement in itself in this field, but it's important not to get disheartened when you don't get the role. I applied for several football roles before the job at York – most I didn't hear back from, and the rest sent me rejection emails back.
If anyone is looking to network in the sports media space, I have a free Facebook group with 2,200+ sports media professionals. It's a great place to be if you are starting and want to gain a few contacts or ask for advice. It's called 'The Press Conference' on Facebook.
Why do you think you were selected among other candidates?
I think my passion and drive really shone through in the interview, and the club liked that. I was asked the question; What is your dream job? And I said I wanted to work in the Premier League. They wanted someone ambitious and keen to work and make their own role, and I think I ticked those boxes.
Also read How I Became the Director of Partnerships & Alliances at JetRails
How did I Become a Media Officer?