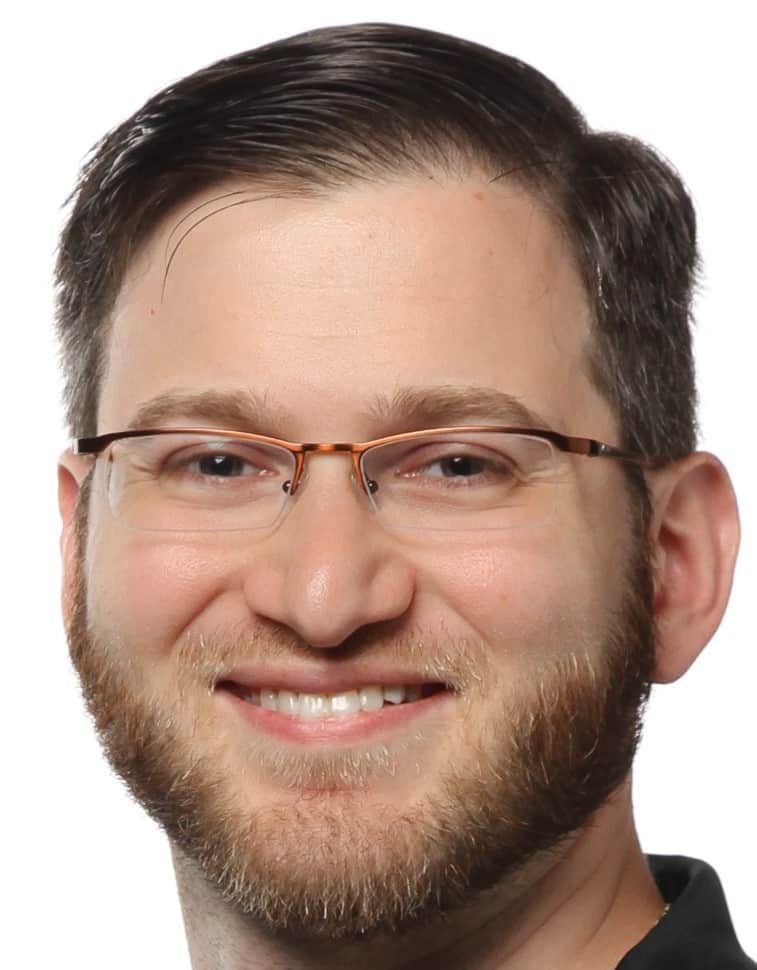 Robert Rand is the Director of Partnerships & Alliances at JetRails, a mission-critical web hosting provider. Robert is a leader, strategist, and consultant in eCommerce, digital marketing, and web technologies, with well over a decade of experience in helping organizations of all types and sizes grow and succeed. By building and fostering robust strategic partnerships, he's had the privilege of working closely with many of the best technology and managed services providers in the world. He's a frequent author and thought contributor in the eCommerce industry and the JetRails Podcast host.
How did college prepare you for your career?
I spent two summers working on robotics research at Polytechnic University during high school – now the NYU Tandon School of Engineering. In the midst of this, my family moved from New York, where I was born and raised, to Florida. In 2001, when I graduated high school and needed to choose a college, I matriculated to Polytech to continue my mechanical engineering studies. I had barely started when 9/11 happened. I had an uncle that was a Port Authority Police Officer – the department responsible for the twin towers. We knew many people directly impacted by the terrorist attack and its aftermath, making the experience more visceral than simply dealing with the university temporarily shutting down. It was a tumultuous freshman year, to say the least.
Later that year, I became aware of a semester abroad program that the university was planning. I applied and spent the first half of my sophomore year traveling across Southeast Asia. It was a phenomenal experience that showed me that I was equally passionate about connecting people and ideas while I loved science and technology. I followed those interests much more closely from that point on and wound up with a major in international and global studies, a 2nd major in psychology, and a minor in history. It wasn't what I envisioned when I enrolled at a STEM University, but it was a great experience. I was able to take courses ranging from Technology & The Human Condition to Quantum Mechanics. It was a really diverse education that I benefit from to this day. 
However, my college experience wasn't all about classes and travel programs. As my immediate family was no longer in New York, living in NYC was no small expense. That pushed me to work at a wide range of on-campus jobs throughout my college years. I started cold calling alumni for donations and would grab hours at different jobs as on-campus work opportunities opened up. I was a teaching assistant (TA) for the Humanities & Social Sciences Department, a senior research assistant for the History and Psychology departments, a lead ambassador for the Admissions department. I took on a variety of other posts. 
I was also highly engaged in campus life. I was the Chairperson of the Programming Advisory Board, had a voting seat on a Board of Trustees committee, produced a play, and both stage-managed and acted in another… looking back at it, I squeezed a tremendous amount of experience out of those 4 years of my life. In hindsight, perhaps I took on more than I should have. At different times, my grades were impacted. On the other hand, I learned a lot about time management, the world, and myself. I left with a great understanding of what I enjoyed doing and what I was capable of. 
Why did you choose a career in this field?
I don't know that I exactly chose my career path – to some extent, I fell into it. By the 3rd grade, I was being pulled out of class to help my elementary school's computer teacher multiple times per week. I can't recall imagining a career that wasn't steeped in technology. I've also been passionate about civic activities throughout my life – trying to bring others together to benefit society. I'm fortunate to have found a career path in technology partnerships and alliances that allows me to challenge myself in both of these areas, and even luckier to have been successful in breaking into this field.
What was your first job or nuggets from jobs you had that helped you get to where you are today?
My first employer out of college was in the travel and tourism industry. I was able to help organize conferences, conventions, educational tours, and other group trips. While I started in a business development capacity, I quickly worked my way up the ranks to Assistant Director for North American Operations at this multinational company. I was able to help organize events and travel programs, and in some cases, found myself traveling both domestically and abroad to assist on-site with a variety of the programs. This job taught me a lot about event planning and is extremely detail-oriented. A simple mistake like misspelling a name on a flight ticket for a passenger could have serious consequences. In some cases, we'd work into the night to double and triple-check our work.
After this job, I joined a marketing agency that had recently begun offering web design and search engine optimization (SEO) services. They were experiencing rapid growth. My brother was part of the leadership team and asked me to come aboard and organize their processes and systems as a short-term project. That engagement turned into a decade in the digital agency world. We grew to add services related to eCommerce, pay-per-click (PPC) advertising, social media, e-mail marketing, web hosting, merchant services, and more.
In the end, I wound up as the CTO of a digital agency that worked with world-renowned brands. We earned numerous awards and accolades for both our work and our fast-paced growth. This included being named an INC5000 company and a Google Premier Partner. As is often the case when you're part of a fast-growing startup, I wore many hats. This included everything from sales engineering to consulting on eCommerce projects and marketing campaigns. I earned many certifications along the way from companies like Google, Magento, and Microsoft and became certified as an Agile ScrumMaster. It's safe to say that I evolved with the fields of eCommerce and digital marketing.
Along the way, I created 200+ partnerships. These ranged from ad networks and email marketing platforms to web hosts, shipping solutions, payment processors, fraud prevention systems, and live chat solutions. In essence, we knew that it took a village to be successful in eCommerce, so instead of just wishing our clients luck with their diverse needs, we did our best to have solid relationships with the other providers that they'd need along the way. Not only could we recommend the right solutions, but if a client was facing a challenge, we knew who to call. These relationships were also beneficial from a business development perspective, as we became a recommended vendor for many of these providers. 
We even hosted events, like eCommerce Expo South Florida, where we'd bring together partners and clients to connect on a higher level. I had the pleasure of being the master of ceremonies for that event. As we worked more closely with partners, I also became a frequent guest speaker at their events and on their webinars, as well as a prolific guest author for partner blogs and similar channels. However, in 2017, the agency was acquired, and shortly thereafter, I decided to exit. It was a tough decision to move on after so many years, but the company culture changed rapidly after the acquisition. In hindsight, it was definitely time to move on, and I regret not heading out sooner.
As my name had been on the agency's door, I had not started job hunting before resigning. That made me a bit nervous, as it had been a long time since I found myself job hunting. I was blessed with many offers in the weeks that followed. These ranged from opportunities to play a similar role for non-competing agencies to chances to head up the eCommerce and digital marketing efforts of some great brands. Ultimately, I was drawn into partnerships and alliances. 
I considered multiple offers and accepted a VP of Alliances at nChannel, an integration platform as a service (iPaaS). I felt strongly about the team and company culture and my ability to bring value to the company. I hit the ground running, and 2018 was an exciting year. We built up a plethora of new agency, strategic, and channel partnerships, exceeding all expectations and building pathways for success through partnerships. 
However, management changes took place at nChannel. While these left the company healthy and profitable, they didn't leave the same opportunities for me to have an outsized impact. The team was very gracious in how they approached the situation, and I was able to head out on excellent terms, with my head held high. I still have strong relationships with my former nChannel co-workers and feel lucky to have had the opportunity to have worked with such a fantastic group of people.
Now, I was back on the market, with even more confidence in my ability to come in and move quickly. Much like when I exited agency life in 2017, I found myself with multiple job opportunities. I also strongly considered full-time consulting and other self-employment opportunities. After all, I had just wrapped up with two companies where I headed out because of issues that weren't in my control. Ultimately, I was attracted to join the team at JetRails as their head of partnerships and alliances – a decision that I'm still absolutely thrilled that I made and an opportunity that I remain grateful for.
How did you prepare for the interview?
I knew the team at JetRails through trade shows and industry events and had built relationships with their leadership. My interview process was, undoubtedly, impacted by that. While it was great that I knew about their Magento hosting and other products, services, and competitors, I took the time to research their standing in the market. Ultimately, I came to them with a high-level partnership and marketing plan. It was a show of good faith, and realistically, it's tough to onboard for a job like this without knowing that you share a vision for how you're going to achieve success. Sometimes, you have to be willing to go the extra mile in the interview process and invest some time on spec.
At the same time, my father was being treated for a medical condition, and I was by his side for a surgical operation. Sometimes life happens. The team at JetRails treated me like a friend throughout the process. I knew that these were people that I'd be excited to work with. Once we felt like we'd come to basic terms, I was invited to plan a trip up to Chicago, where JetRails is headquartered, sit down in person, finalize the paperwork, and get off on the right foot with the team. Luckily, that trip went off without a hitch, and I've now spent 2+ great years as part of the team. They even allowed me to create The JetRails Podcast, which now has 60+ live episodes with industry leaders and experts in eCommerce, digital marketing, and related tech sectors.
Any advice about CVs?
When it comes to resumes and related submissions, less is more. I've always tried to keep my CV to one page, plus a personalized cover letter. I've hired many people and always felt like brevity was important. Sometimes, that surprises people because I'm typically much more verbose in my other writing and communications. Of course, these documents should look professional and be proofread. However, I'm always looking to understand what someone's actual experiences/successes have been with just a few bullets. It's not enough to say that you had a job, and I'm not interested in knowing that you know how to use Facebook or you think you work well with others. These should be givens. I want to understand what made you an asset to a team and how successful you were. 
Don't forget to personalize your cover letter and resume. That is to say, if you're applying for a customer service job, your experiences and interests in customer service will be most relevant and should stand out. The more you prioritize relevancy in your application materials, the better. If you're in a field where you can showcase your work, that's crucial. I've looked over many hundreds (if not thousands) of graphic design resumes over the years, and I never bothered to consider a candidate that didn't include a link to a portfolio. I'm much more interested in your work than your name, address, where you went to school, or even your references – who I've undoubtedly never heard of and won't be calling. This applies to a wide range of categories, from web designers to social media experts. If you have work experience, it's essential to show off your talents.
Lastly, bring copies of your CV to any interview. If it's a remote interview, have a copy you can share via link, such as uploading your CV to Google Drive. Assume that the person interviewing you isn't the person that initially looked at your resume and scheduled the meeting. Perhaps more importantly, make sure that your LinkedIn profile matches your CV. Chances are, that's the first thing I'm going to look at after your resume. 
Advice for someone looking for a job?
Lean on your personal network. Post on LinkedIn or in industry forums and social media groups about looking for new opportunities. People that are familiar with you and your skills can often be your best advocates. Whether the company they work for is hiring or they know of an opening elsewhere, let your professional network help open doors for you. Instead of being one of a thousand resumes that came in through a job listing, you can find yourself being personally introduced to a decision-maker by someone they trust. While this method won't work for everyone in every situation, I believe that there's at least some truth to the adage that "it's not what you know, it's who you know that matters," especially when it comes to competitive jobs.
Why do you think you were selected among other candidates?
I'm passionate about what I do. I don't flip jobs looking for a small bump in compensation, and I don't rest on my laurels. When I take something on, I'm committed to it and am always learning and growing to bring more value to my team. It's not just your past successes that matter, but also your commitment to keeping up with your industry's evolution.
Lessons from jobs that you couldn't get.
I've cold-applied for different positions and found that in some cases, the openings were already closed. In other situations, I learned while an organization was compelled to advertise a position, they were hiring from within. In one case, I was considered for a job with a company that already had finalists for a post. I didn't wind up getting the job. It turned out that the gentleman that did had several years of experience working in a very similar role for one of their direct competitors. They made a great decision based on their choices, and as luck would have it, he and I are now good friends. Knowing his background and that he was already a finalist, I'm flattered that I was even considered for the position.
To some extent, job hunting is like dating. Once in a while, someone gets lucky and they meet their soulmate quickly. Most of us need to spend more time getting rejected (and perhaps rejecting others). The difference is that most people can't wait long to replace a job. What I can say is that it's important to remain faithful to yourself. If you believe in yourself, there's a much better chance that others will too. Don't let getting ignored or rejected slow down your hunt, and do your very best not to settle, especially in a market or field with low unemployment. We spend a large portion of our waking hours working, and life is short. 
Twitter Handles: @JetRails  @TheRobertRand
Facebook: @JetRails
LinkedIn: @ JetRails  + https://www.linkedin.com/in/rrand1/
Also read Career Advice and success tips from Franz Escolastico