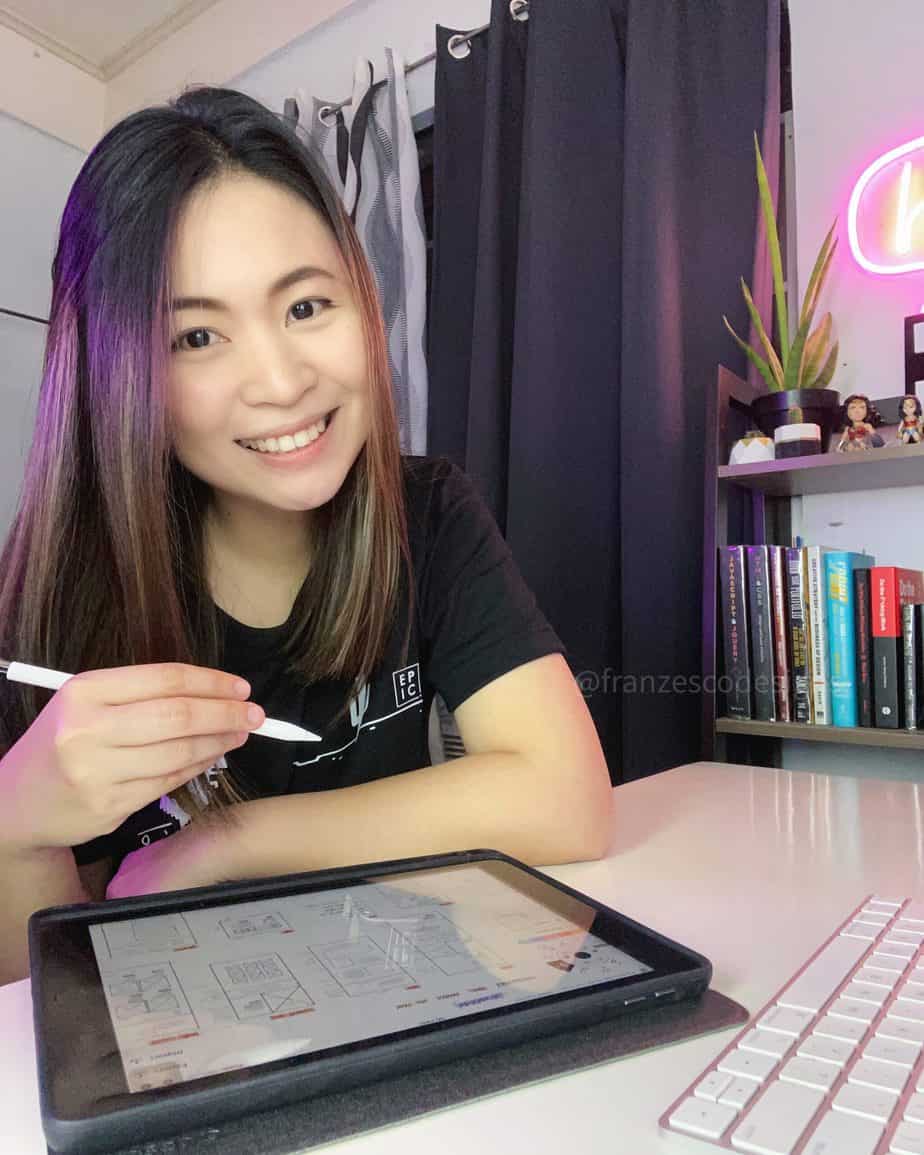 Are you wondering how to get a web developer job without experience? Career advice and successful tips from Franz Escolastico will be very helpful.
Franz Escolastico is a designer, developer, and marketer based in one of the provinces in the Philippines. Since 2013 she's been producing creative work with teams and individuals locally and around the globe. From social media marketing, she developed and level up skills in creating successful graphics, websites, and brands using effective strategies and problem-solving techniques. Aside from working on client projects, she's also active on Instagram, Facebook page,  and YouTube sharing freelance Career advice and successful tips, experience, projects, tips/tutorials, and shedding positivity in life.
How was your University time?
There was no special during my university time. Why? My field was my parents' choice that's why my only goal at that time was to graduate without failing my subjects. If you're going to ask, I graduated last 2009 with a bachelor's degree in Nursing. Way back, Nursing here in the Philippines was so in demand because anyone can go easily abroad and work outside the country preferably in 1st-world countries. Well, I have no choice but to follow my parents' choice even I didn't like the field I'm in.
I've just enjoyed the years, join clubs (I'm in a band where I played drums on an all-girl group plus one of the lead vocals on another boy band.) Then I also joined a sports club like basketball and table tennis.
I still learned new things esp about health matters that I still apply to from time to time.
Why did you choose a career in this field?
After I graduated in Nursing, sadly, I didn't pass the board exam (maybe because I didn't concentrate enough or didn't like it at all LOL). I worked on a casino as a customer service specialist but it didn't last long and decided to resign after 3 months. During my free time, I spent most of it learning new things online. I started blogging on blogger.com where I write food recipes since I know how to cook :). Then, I grabbed some online tutorials to learn how to be a Virtual Assistant. From then on, I didn't stop learning by myself using the internet and my computer.
What was your first job or nuggets from jobs you had that helped you get to where you are today?
Working online as a Virtual Assistant made me think that this is something I want to do for years and counting. I enjoyed working online and talking to clients virtually. Aside from working for their business, I enjoyed learning new things from free resources. Being a VA for years helped me reach what I'm doing right now.
How did you prepare for the interview?
I remember when I got an email from the client asking for a short interview. I was so nervous back then because it will be my first time to have an interview online with a camera. The day before the interview, I practiced a lot in front of the mirror. I searched for a few possible questions that the client will ask starting with:
– Tell me something about yourself
– What are your skills that will help the business?
– What are your strengths and weaknesses?
– How can you be an asset to the company?
– What's your rate?
– How soon can you start working?
On the interview day, I prayed and relax for minutes. The interview went well, it was a natural flow unlike the usual offline interview inside the office. The client and I had a natural conversation. She didn't ask for some of the questions I practiced. The client just asked about myself, what I do, and my rate.
Can you provide some book recommendations?
If you want to dig deeper into designs and development then I suggest reading:
– Show Your Work by Austin Kleon
– Steal Like an Artist by Austin Kleon
– Burn Your Portfolio by Michael Janda
– Logo Design Love by David Airey
– Logo Modernism
– Identity Designed: The Definitive Guide to Visual Branding by David Airey
– Design Elements: Color Fundamentals by Aaris Sherin
– Type Matters by Jim Williams
– HTML and CSS by Jon Duckett
– Javascript and Jquery by Jon Duckett
Then some of the helpful books I also love:
– Sprint by Zeratsky and Kowitz
– The Win Without Pitching Manifesto by Blair Enns
– Start with Why by Simon Sinek
– Crushing It! by Gary Vaynerchuk
– It's Not How Good You Are, It's How Good You Want to Be by Paul Arden
Things are changing very fast in the industry; how do you keep yourself updated. Please list techniques or newsletters, podcasts, events, etc.
When you're in the design industry, there will always be new updates or new trends that are happening almost every week or month. To keep me updated on new things, I make sure to read blogs coming from Medium, Invision, Adobe, and other blogs I have a subscription to. Other Chrome extensions like Muzli helps too in keeping yourself updated on the latest design trends.
Podcasts like Biz Buds Podcast by Mike Janda and Tom Ross, The Future, Being Boss, Ted Talks Daily, and other design/work-related shows are really helpful. Lastly, watching YouTube vlogs from design experts like The Future, CreatenProcess, Gawx Art, Caler Edwards, Adobe Creative Cloud, WP Tuts, Dansky, Satori Graphics, CharliMariTV, and Flux.
Any advice about CVs?
Keep your CV simple and updated on what you're doing currently. Add anything that you think is related to what you're applying like your skills, your past work related to the job, and certificates that will attract companies. As much as possible, no need to add your hobbies since it's not work-related.
Lastly, adding a link to your portfolio helps and will make it more impressive to your prospects.
Advice for someone looking for a job?
Don't give up because there are tons of clients, companies, and businesses that are also looking for someone like you. Keep striving and hustling!
Why do you think you were selected among other candidates?
I'm passionate and dedicated when it comes to projects and helping clients. Solving their problems on their business is what I'm good at (no kidding) and maybe that's one of the reasons why they're choosing me among any other freelancer out there.
My attitude towards the projects always reflects what I'm working on. I'm not only giving my 100% but my blood and sweat 😉
Lessons from jobs that you couldn't get.
I always think of this quote, "When one door closes, another one opens." There are still better opportunities out there.
Career Advice and success tips from Franz Escolastico