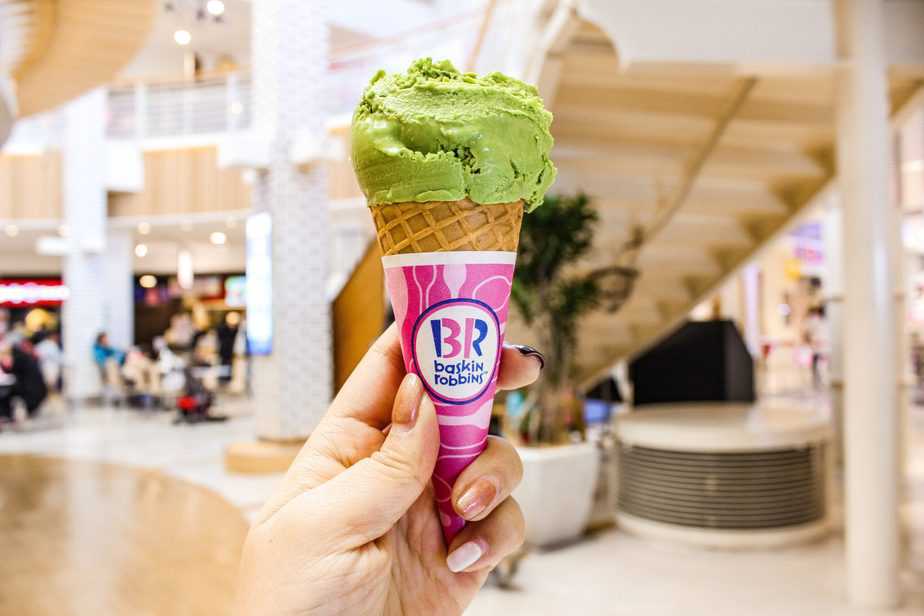 "Chill" is not only the world-class ice creams that Baskin Robbins serves but also the environment that surrounds the company. We will discuss Baskin Robbins Careers. With over three-quarters of a century of experience in the field, Baskin Robbins has turned out to become an ice-cream serving corporate-giant with multiple branches all across the world, with an undying quest for innovation and newer, tastier flavors! This place hosts birthdays, boasts of crazy parties, and also serves as a simple hangout spot for people all across the age spectrum. This place doesn't only serve ice creams but also big smiles to its customers, which proves that ice creams come fun. Ice creams, fun, and a chill environment are all a given staple at this place, but that's not where it all stops. Immense growth opportunities, great benefits and perks, and of course, the heart-melting smell of ice cream all through the day is also a given. Whatever be the catch, working with the world's favorite ice cream chain sounds the best. They don't just make you scoop ice cream, but the offers extend to greater job opportunities with a whole lot of exposure. Turn your work experience into the happiest with ice creams, fun, and a whole lot of growth opportunities.
Baskin Robbins Careers
JOB DESCRIPTION
Baskin Robbins, a multinational company with over 7300 retail stores across 50 countries worldwide, employs thousands of enthusiasts for its branches located in the United States and abroad. From offering careers in management to scooping ice creams to customers, there are various opportunities to choose from. Further, the chosen employees enjoy multiple benefits, a great pay scale, and a fun work environment.
Note: The salary and hourly wages are given below against each position are based on online employee reviews and an average estimate. These may be subject to change according to each respective branch that chooses its own pay scale for its employees, which is essential because each Baskin Robbins branch is individually-owned on a franchise basis, free to decide the pay scale by the position offered. 
ENTRY-LEVEL POSITIONS
These simple but fun positions offer a great opportunity for freshers in the field of a working environment. Since Baskin Robbins works in a franchise manner, frequent openings for such positions across its branches are available. From up to the age of fourteen, young people can start applying for these positions, which would help them gain the work experience that is aimed for within a fun-filled business setting. Be it a first-timer, next step on the ladder career, or a part-time venture, these positions may be just the right choice.
ICE CREAM SCOOPER: $8-$9 per hour

As simple as it sounds, the job would be to scoop out ice creams from across many flavor collections by the customer's preference. 
Service with a smile- the key to nailing this job.
RESPONSIBILITY: Maintaining cleanliness and frequent sanitation of the respective ice cream station that matches the company's standards is deemed necessary. Company standards should do handling and preparation of the consumables. 
REQUIREMENTS: People-friendly
EXPERIENCE: None required
PROS: Great social interaction- gets to meet a diverse set of people.
CAKE DECORATOR: $10-$11 per hour

A position that perfectly suits creative people. Should be able to work efficiently over a vast set of cake designs. 
RESPONSIBILITY: Employee must be able to meet the Baskin-Robbins Dessert Decorating Quality Standards. 
REQUIREMENTS: Organizational skills, creativity
EXPERIENCE: None required
PROS: This position engages one's creativity; helps showcase individuality through unlimited experimentation with the designs.
TEAM MEMBER: $8-$9 per hour

A position that transfers the company's very essence to its customers by providing and ensuring service is quick and satisfactory.
RESPONSIBILITY: Makes sure that every customer has a great experience within the store and leaves with satisfaction.
REQUIREMENTS: Outgoing and friendly personality, with a desire to lead and succeed.
EXPERIENCE: None required
PROS: Great social interaction, a medium between the company/staff and the customers.
SHIFT LEADER: $8-$9 per hour

The perfect position for someone who plans to take a step in the management line is not there yet. 
RESPONSIBILITY: training the new team members and creating a schedule for the week. We are also required to open and close the store as necessary.
EXPERIENCE: Should have a prior engagement with managing a retail store OR should have been employed as a Baskin Robbin's team member or ice cream scooper. 
PROS: This role provides the necessary break into management roles for a future career prospect.
MANAGEMENT CAREERS
Baskin Robbins is profusely known for its system of internal promotion manner with its employees. This is majorly useful for enthusiasts looking for a career in the management field. A position such as assistant manager serves as a great groundwork to attain the position of branch manager. Therefore, people looking for a career in management would find these positions worthwhile. 
ASSISTANT MANAGER: $10-$11 per hour

A position that offers a magnificent base-work for a career in management. 
RESPONSIBILITY: Reports directly to the Branch Manager. Train new employees, create novel product displays and maintain the safety and standards of both the staff and customers.
REQUIREMENTS: Organizational, management and leadership skills
EXPERIENCE: Previous endeavors in any retail firm.
PROS: Help form a strong base for promotions and career; helps capture a career with Baskin Robbins.
BRANCH MANAGER: $35,000-$40,000 per year

A position that serves a magnitude towards managing an entire branch of the company.
RESPONSIBILITY: Has to make sure customer service satisfaction is 100-per cent always. Should make sure the branch upholds food quality and cleanliness standards adhere to company requirements.
REQUIREMENTS: Leadership, organizational, management, and teamwork skills.
EXPERIENCE: Previous retail store or restaurant management experience.
PROS: Leads an entire branch, serves as a role model to the staff working under them.
EMPLOYEE BENEFITS
After getting employed, employees initially go through training from associates on proper cleaning and serving methods and convey the company's requisite functioning standards. Flexibility within the work schedule is of great importance within the store since the working hours for most stores extend long.
Employees also get many other perks and benefits as part of working with this establishment. The most crucial benefit being further career advancement opportunities. Since Baskin Robbins works with a system of internal promotions, employees who are currently engaged as crew members or a position within a similar range are usually preferred for promotions to the management and supervision roles. Such advanced positions not only come with an advanced salary and better benefits but also with added responsibilities. 
Apart from getting free ice cream at most Baskin Robbins franchises, employees are further provided with multiple perks and benefits, which are listed below. Note that these may be subject to the difference between the position and individual franchise location.
Job training
Team outings
Soft skill training
Free food
Work from home
Health insurance 
Free transport
International relocation 
Child care
Educational assistance
APPLICATION PROCESS
Baskin Robbins branches usually work on a franchise basis. Therefore, interested applicants are usually advised to head down to the branch they prefer and hand in their resumes directly. Due to the pandemic situation at the moment, Baskin Robbins has extended their job application opportunities onto a virtual platform as well. Interested applicants should submit their CV, via email, to [email protected], and should not forget to indicate the position that they are applying for in the subject line.
APPLICATION INFORMATION:
Age requirements: The minimum age requirement to apply for a position here would be 14, which is usually when teens receive a work permit in terms of the USA. Branches in other countries should look out for legal age applicants to work in the respective country. Baskin Robbins generally takes pride in providing the ultimate first-job experience.


Operating hours: This usually depends on the region of the branch, but generally the timings that employees can expect to work within are 4 am till 12 am.


Methods to apply: As mentioned before, each franchise usually is subject to having sole discretion in using a job application of whatever format they please. Therefore, applicants are advised to go in-person to their preferred branch and fill out the respective application. If this isn't plausible, then applying online by sending a CV and other required information directly would also work.
BEST TIME TO APPLY:
The first and foremost step to applying to Baskin Robbins would be to choose the most suitable branch.
If applying in-person, then enquiring the working hours would help determine the non-busy hours, such as after dinner time or so, to avoid crowds.
CALL AHEAD OF TIME:
Making sure to call the respective branch to enquire whether they are currently hiring before going in-person would be helpful. 
If they are not hiring, then moving onto the next closest branch would help.
TIP: Going the extra mile and filling out an application for the next time they hire proves a viable alternative.
WHAT TO EXPECT ON THE APPLICATION:
As mentioned before, the application for each branch differs. Therefore, keeping a keen eye on the direction of the application is necessary.
The application is pretty simple and straightforward. Asks for basic information about the person applying and contact info that usually includes email address, phone number, and house address.
There is also a requirement to fill out previous work history and experiences along with educational information.
An option that asked the applicant's availability and preferred work timings, along with full-time or part-time preferences, is given.
APPLICATION TIPS
CARRY A RESUME:
If the applicant has a long list of work experiences or educational information to be added, then a copy of a resume should be carried along with oneself to attach it along with the application form.


Carrying a resume while applying would also work as a cheat sheet and would help the applicant fill out the required information on the application by directly looking at the resume to avoid any mistakes.


In terms of online resume submission, a well-curated CV and all the required information and personnel details provided accurately and legibly would help form a good impression on the applicant and make things easier for the employer while taking a look.
FOCUS ON PERSONAL REFERENCES:
Before walking into a Baskin Robbins branch for an in-person application, making sure to list personal references and information such as names, titles, numbers, etc., beforehand to avoid fumbling on the spot, carrying a well-curated CV should also solve this issue.


In terms of an online application, these references should be checked and proofread multiple times to avoid discrepancies.


While providing information on previous bosses or other contacts as reference information, informing them beforehand would help them get ready mentally, which would also help to give a stellar recommendation.
DRESS TO IMPRESS:
A first impression majorly revolves upon the dressing of a person. Especially when coming in for a job inquiry or filling out an application, first impressions make a great deal in ensuring a positive experience for both the applicant and the employer.


Since the applicant is usually called in for an interview right after filling in an application at most Baskin Robbins branches, dressing in business casuals would be the right choice to form a great first impression.


If the hiring manager is out and about, what would be a better first impression, an applicant wearing jeans and a tee or an applicant in a pair of black slacks? The answer is pretty obvious. 


Therefore, being caught off guard is not advisable, and dressing up in business casuals for an in-person application would be the right choice to make up an impression of a serious candidate.
FOLLOW-UP?
The status of an application could be obtained via a simple phone call.


It is advisable that once the application process is over, be it online or offline, the applicant should wait for a couple of days or a week to ring in for a follow-up.


Calling into the respective branch would be the right way to follow up on an application, and the right person to talk to would be the hiring manager. If he/she isn't available, then asking for the best time to ring in would be advisable.


Showing the hiring manager that the applicant is keen on getting hired and eager to join the team would be nothing less than a positive impression on the applicant.
INTERVIEW COMMON QUESTIONS AND TIPS
Once the application process is done, a successful candidate passes on to the next step towards a career at Baskin Robbins interview. These are a collection of a few potential questions that could be asked at an interview at this company.
Demonstrate how you would contribute to your community and how far are you dedicated to serving your community?
The best time to show the hiring manager that an applicant is dedicated to serving back to the community and the company is during an interview. If the applicant has been into any community service endeavors such as working in an animal shelter, nursing homes, or any other volunteering activities in the past or at least plan to do so in the future, should be mentioned during the interview in a manner that aligns such activities with company's core policies. This would create a positive impression upon the interviewer as to the applicant is an active community member could also serve toward upholding the company's core values and would help the applicant score a spot on the short-list.
How familiar are you with the Baskin Robbins ice cream flavors?
It is crucial to know the fact that when Baskin Robbins started in 1953, their most important objective was to create an unending list of ice cream flavors for the world to enjoy. Initially, they started with 31 flavors, one flavor for each day of a month. Today this company boasts of having more than a thousand different flavors of ice cream.
Knowing and tasting every single ice cream flavor before an interview might not be a plausible idea. If not all, a basic idea of most of the flavors present in the company should be known by the applicant as this forms the core of the entire company. Even though basic flavors like vanilla and mint chocolate can be considered common knowledge, wowing the interviewer with a wide knowledge of Baskin Robbins products such as candy corn, jamoca almond fudge, and such flavors would be a huge plus. 
If the applicant has no previous experience with the company's products, then it's best to get acquainted with basic knowledge by taste-testing various ice-cream flavors before the interview. If nothing else, at least a new favorite flavor with ice creams can be found.
What are your preferred working hours?
This question essentially hints at your working flexibility over time. It is advisable to be upfront with the preferred timings by other commitments such as school, university, etc.
It should also be kept in mind that the hiring manager would be most inclined towards someone who has the most flexible working hours. Therefore, it is important to stress that the applicant would work on a weekday, weekends, or so. Even though it's a given fact that no one will work 24/7, it is essential to imply that work hours can be made as flexible as possible within the limited hours.
HELPFUL RESEARCH FOR INTERVIEWS
California in 1947 saw two brothers-in-law by the names, Burton Baskin and Irvine Robbins, birthing the idea of a company that would serve innovative and premium-quality ice cream, that went on to be named Baskin Robbins, and today is one of the world's biggest ice cream chain.
The original Baskin Robbins mission was to create a fun and joyful neighbor gathering location for local families. Their primary objective was to create and experiment with multiple and diverse sets of flavors of ice cream and initially came up with 31 flavors, each flavor for each day in a month, which was embedded into their logo and created a unique identity company. This '31-flavor' concept is one of a kind aspect that adds to the uniqueness of this brand. Today, almost seven decades later, they have more than a thousand different flavors that engage people from all across the age spectrum and worldwide.
Baskin Robbins is made prominent by its quirky color palette of fun, and bright pink and blue reflected on its logo to the interiors of every branch across the world, creating a trademark of its own. The pink spoon is also one of the greatest trademarks of the company that helps serve millions of customers in branches across the world with more than a thousand different flavors of ice cream to choose from. This company also boasts of being one of the world's most recognizable ice cream brands.
Within the past seven decades, Baskin Robbins has grown from 40 stores to about 2800+ franchise branches across the US. It also has over 7000+ other branches in about 50 other countries globally, serving millions of customers not only ice creams but also happiness every day.
EMPLOYEE REVIEWS:
Employees at this company claim that the best part about working in one of the world's largest ice cream chains, free ice cream serves as the biggest perk. Note that this benefit might vary from each Baskin Robbins franchise.


A fun-working environment, great smell of ice cream throughout the working hours, friendly co-workers, and customer tips seems to be common perky.


Even though there is not much room for general advancement, it's a great opportunity for first-job experiences. Commonly, this concern is also rectified because individual franchise locations usually lookout for and provide adequate support for employees who want to advance their careers.
Also read Baskin Robbins Hiring Age – What Age Does Baskin Robbins Hire
Baskin Robbins Careers: A Complete Guide