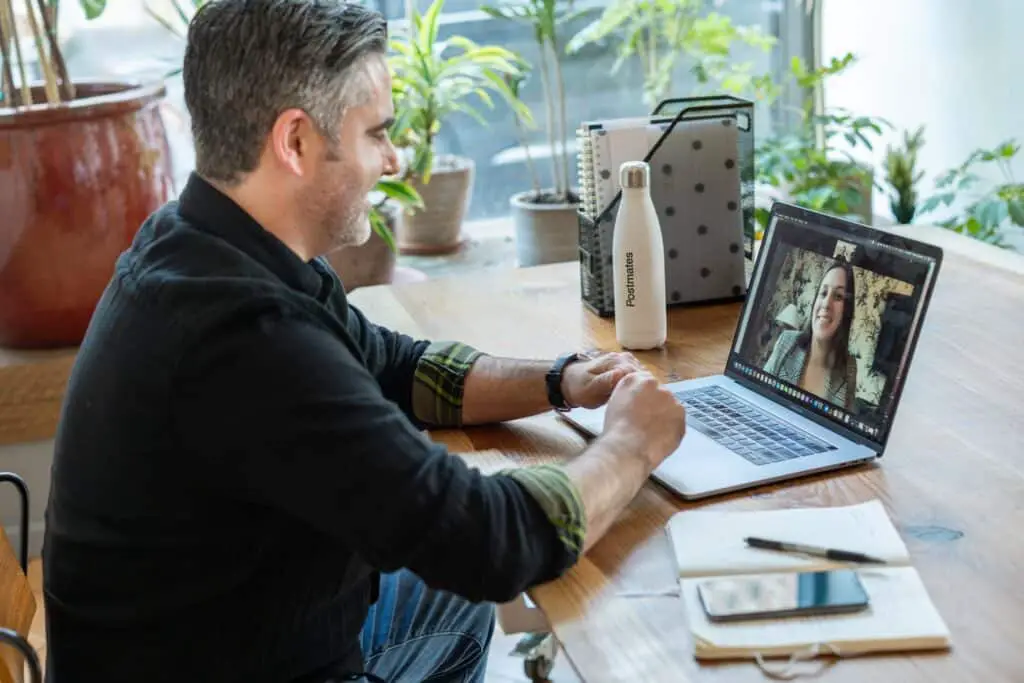 Zoom Meeting Outfits – Following the outbreak of the pandemic, Covid-19, companies have considered the health of their employees, clients, and potential employees, allowing them to work remotely, thereby embracing virtual meetings. This is where applications like Zoom come to play. Zoom allows you the place a video call through to one or more parties, which can also be called "Teleconferencing". These calls can be placed from any location or venue of your choice, be it at work or in the comfort of your home.
Reason You Should Look Good On Zoom
Appearing smart and confident on a zoom meeting is as good as doing the same physically, after all, looking good is good business.
Here is why you should consider looking good to your next zoom meeting:
To present a warm and welcoming outlook.
To portray a positive image to your co-workers, employee, or client
It helps to brighten your mood ahead of the meeting
Looking good serves as a confident booster
It shows you care about the meeting
It keeps your professionalism in check
Zoom Meeting Outfits
Tips To Look Good
Appearance speaks of the basic things that contribute to your overall good looks. Looking into the basic things, like combing your hair, shaving your beards neatly if you are a male. For women, hair and makeup should be left neat and simple but not to be ignored. Make sure you do not wear too many colors or patterned outfits so as not to cause distractions. Bright colors always do a good job in making you stand out. It is better to go with a business casual look. Life is easier now, and you do not want to be overdressed for a zoom meeting. A bright-colored shirt or gown will do the job for you. However, if you do choose to wear a shirt, you want to at least have a pair of jeans on if you are wondering why this is because you do not want to get caught without pants on or in your sweatpants when you need to get up at any point during the meeting.
Having a lamp centered directly at your face is what you want to go for. It is best to ignore both sides and backlights. This keeps unnecessary distractions in check and makes you the focal point. Make sure you do not have a window at your back, as the light. Instead, flip it, and face the window, which will give you soft, people-pleasing lighting that will affect how you appear on camera. It is best to face the window instead.
Here is a list of light sources that you can use:
Natural light
Warm indoor lighting
White indoor lighting
The light from your computer screen
In any case, it is best to test your camera lights a few minutes before your meeting.
Your background during a zoom meeting is another important point to factor in. Plain and simple backgrounds are best suitable to avoid distractions—no busy background. Avoid sitting in front of bookshelves.
Try no to get too close to the camera, as this may make you appear deformed.
Your eye level is just as important as your overall appearance. Do not have the camera looking down on you or looking up to you. Have an eye to eye contact with your camera. It is proven to be the best option. Nevertheless, if you use the standard table and desk, your laptop does sit below your head. Adjusting the level upward a tad bit would keep it at a decent level with your eye. This same rule will apply if you are making use of your mobile phone.
Just you have been told to keep distractions at the barest minimum. The same goes for the sound. You want to make sure you are heard during zoom meetings and not otherwise. Make sure to keep distractions at bay. If you have kids, put them in a different room to avoid distractions during your meeting.
Choice of Outfits For Your Zoom Meeting
Selecting an outfit for a zoom meeting can be confusing, especially since you are looking to keep it simple and professional. However, when picking out your zoom meeting outfits, you want to consider a couple of factors, and they are listed below.
You may get tempted to get a little bit overdressed for your meeting, but always bear in mind that it is a zoom meeting and not a Tv interview. A bright-colored top will assist you to brighten things up the room and enable you to look distinct amongst other contracting or disturbing backgrounds, which you must avoid in the first place.
Avoid tightly fitted tops.
For a zoom meeting, you should do away with extremely fitted outfits that may cause you discomfort. Go for outfits that make you feel relaxed and comfortable. You do want to avoid pulling or tugging at your blouse at intervals. This may make you come across as unserious or unorganized.
Avoid too low or too high necklines.
This is a rather tricky one, as I am sure you must be wondering why high necks could pose as an issue. Low necks may cause distractions during your meeting and, of course, need to be constantly adjusted, depending on how low they are. On the other hand, high necks have a way of making you look "all heads," so to speak. For this reason, do avoid outfits like a turtle or mock necks and button-ups.
I am sure you are wondering why this is necessary, as you would be sitting all through the meeting. However, as earlier stated in this article, under appearance, you do want to stick to this rule. As much as you may be tempted to throw on some shorts and whatnot, it is strongly advised that you put on some pair of jeans at the very least, and not your pajama shorts.
Zoom Meeting Outfits – Carefully Selected Outfits You Should Consider
The final part of this article is us providing you a range of outfits that could make you look stylish, professional, and smart to your next zoom meeting.
What if I don't find that which best suits me?
These outfits have been carefully selected, so irrespective of your style or skin color, taste in fashion, be rest assured to find your pick.
Peach Blazer paired with a white inner.
Peach and white are colors that always look great together. Peach is a bright color and has a way of adding life to your outfit.
Bright colored blouses with vertical stripes.
Stripes make you look taller by creating a flattering look, especially if the blouse is bright in color, then it is even better. Pair with comfortable pants, and you are all set for your meeting. However, if your choice of striped blouse does seem to be a bit low around the neck area, do not be bothered. Feel free to secure the neckline with a matching camisole.
Sky blue is another color you should strongly consider when picking out outfits. They are bright, warm, and will create just the right amount of ambiance you desire. You may consider pairing with high-waist skirts or pants. This, of course, is according to your discretion.
Chiffon is one of the most skin-friendly lightweight outfits you could think of, and so thinking in the line of selecting a chiffon blouse for your meeting definitely a smart idea. Apart from the comfort it provides, they are a timeless trend.
Long or short sleeve, a patterned blouse is another option you should consider. These pieces have a way of contributing to your sense of style. A patterned blouse paired with loose pants complements each other.
Casuals (T-shirt and a pair of jeans)
Here is some good news. No rule states that you cannot put on a pair of T-shirts to your zoom meeting. It only means that you have to put all the right things into consideration to make the most of it. However, you should make sure your choice of a t-shirt is in bright colors.
Conclusion
Preparing for a zoom meeting can be quite tricky for anyone and may tempt you into overdoing things. However, with the information provided above, you will be on the right part. What you do want to maintain is the right amount of professionalism while keeping all things in check. Bear all of the information above in mind and try to worry less about what others depict of your appearance.
Frequently Asked Questions
How do I make sure my background is not distracting? Stick to using a plain background and avoid sitting in front of bookshelves.
What is the best choice of outfit color? Bright colors are your best bet when preparing for virtual meetings. 
Is there a dress code for zoom meetings? The unofficial dress code for the zoom meeting is not to look too casual.
What choice of outfit is best for men? A collared shirt without the tie and jacket is the right amount of casual for men.
Also read What to wear to a job interview as a teenager?
Zoom Meeting Outfits – What To Wear To Your Zoom Meeting?