How I found my passion for growth marketing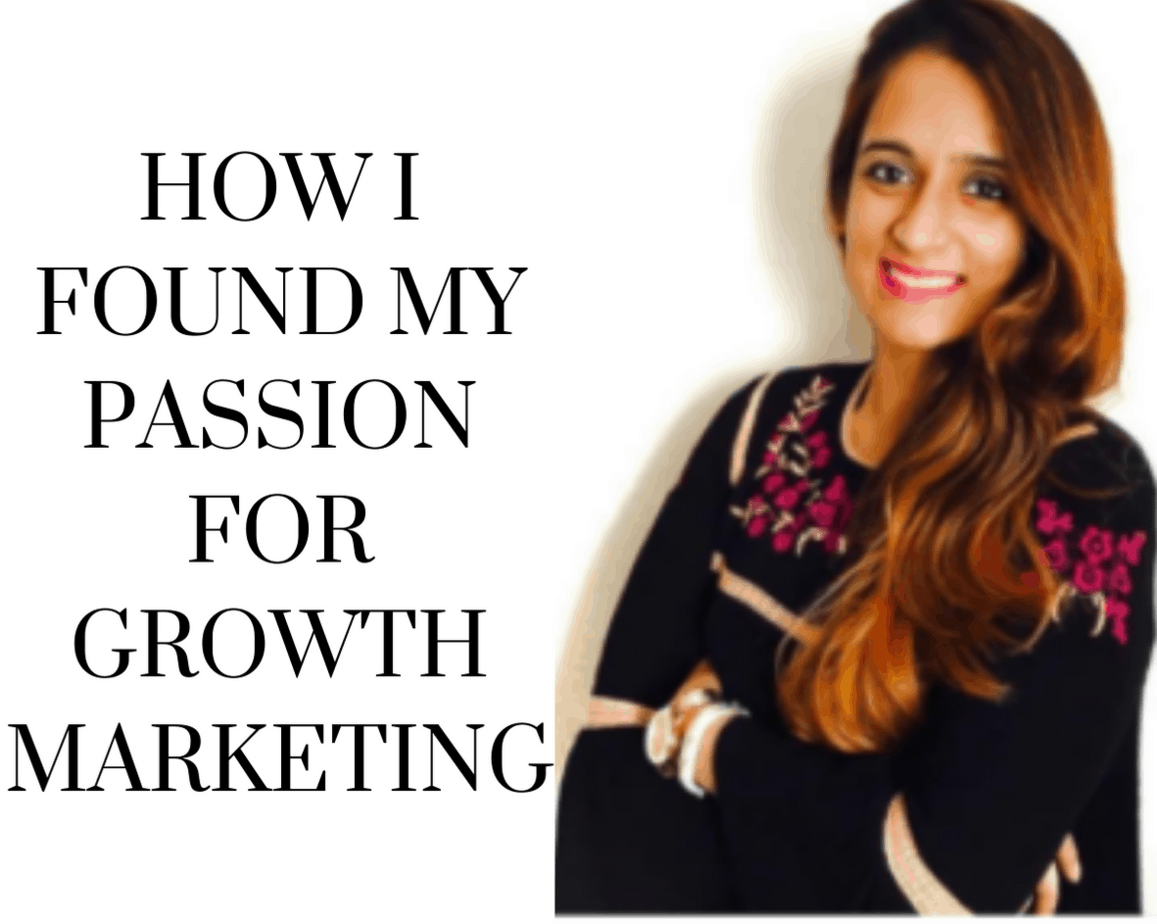 How was your University time?
Honestly, it was the most exciting period of my life. Coming from an Army background, I have had the chance to meet a lot of people throughout. But coming to University, it was taken a notch higher. I didn't just meet people from different walks of life, but also got a chance to interact with them.
Apart from getting to make new social connections, I also learnt an all new way of studying. Till high school you're thinking you're taking care of everything from studying to managing your projects and grades. But it is in University, that you actually learn how to do this all – alone.
I had done my engineering, and trust me, the knowledge I stepped out with eventually is far greater; simply because I learnt how to do it all on my own. Even today, this little practice helps me find my way. Marketing technology isn't easy, but you're able to find your way if you have the basics in place and a willingness to learn on the go, without expecting much of help from others.
After working a few years though, I'd say I went back to college – but not literally. Since I moved from hard core technology to technology marketing, I had to take a postgraduate degree in marketing. My experience here, involved lesser stress, because by now I had already gotten into the grind of taking things into my own hands.
I feel that's exactly what students need to be doing as well. Take charge of what you are learning and what you want to learn.
Why did you seek out a career in this field?
I have always loved talking to people. It gave me an opportunity to understand how different human minds are, how differently they perceive technology and how I could help them adopt these technologies.
Getting an opportunity to work with one of the biggest marketing and advertising firms in Singapore, I started my career in the marketing domain as just a writer – all this while waiting for my engineering results.
It is during this time that I realised, I had knack with works. I could make the most complex technology sound easy, and that's when the concept of pull marketing had come into the industry. So I would say that I didn't really seek out a career in this field; it actually found me. I just kept my focus on doing what I thought I could do best, learning from experts and people, from all walks of life.
What was your first job or nuggets from jobs you had that helped you to get to where you are today?
My first job was that of a freelance writer with the agency in Singapore. During the same period, I was also exploring business development as a career.
While the roles might not seem much at the start of a career for someone who comes from a technology background, they fulfilled my want to interact more with people. I learnt the market standpoint, while being in the market and exploring how technologies were being used and how it could be better.
I would say that these roles helped me learn how important it is to build relations with people; networking isn't the only thing that one should be focusing on. Today, I can actually say that people know me as the person I am, apart from my work in the industry. And that recall effect, is literally something one should value. It might not look like it gets you much of value, but eventually you see the positives trickling in.
I'll give you an example here. When I started writing and talking to people to be able to write better, I started becoming more of a friend to them than just a freelancer. This broke the ice between me and the people I worked with, which got me transparent feedback from their end and that has helped me immensely in bettering my work.
Similarly, continuing to this for all these years, has also gotten me a lot of word of mouth. Since people enjoy working with me (or so I have been told), I get recommended to a lot of other people. My network and work has only expanded so far, keeping this one little practice that I learnt during my first job roles in mind.
How did you prepare for an interview?
Honestly, I have never given what you call an 'interview'. It has always been a conversation, that led to the companies understanding what my forte was, how I could help them and me understanding what they were looking for, and how I could effectively step in to join their growth journey.
Although, to have this conversation too, it is important that you do a little research beforehand. You can't just walk in knowing nothing.
Do your research on the company, the role they are looking for someone to join, where they are currently in the market and then list down what skills you possess to help them achieve their market goals. You need to map your skills to their goals, to be able to effectively answer why you want to be a part of the company or how you can help.
So if your interview is scheduled, say 5 days from today, spend time going through what the company has achieved so far. Take a look at their Glassdoor reviews, visit some of their employee profiles – basically, get your hands on everything you possibly can.
Books that helped you?
You just have to read these marketing books – whether you're just starting off, or planning to switch your career paths:
What can you recommend on CV?
The most obvious parts of a CV are definitely a summary of what you have done so far, and then an in-depth look at your experience. But here's the important part – recommendations or what you may call otherwise, testimonials.
I see a lot of people not focusing on recommendations. I mean, come on, they are the one true proof that you know what you have done so far, and can do it well – coming from others that you have worked with, and not just a self advertisement you're doing althrough the rest of your profile.
As a practice, I have always focused on asking for recommendations from people I have worked with.
Advice for someone looking for job?
When you're looking for a job, please don't spread yourself too thin. Honestly, I have seen so many students take up just about any job – something that's not related to their education, nor is it remotely related to their interests. And that's where they fail in growing!
So start by first identifying if you want to work in the same field as you have gotten a degree in, or if you would like to use that knowledge to fuel a career in another field that is more close to your interests. Then, list down a few job roles that you could take up and map out a rough growth journey for yourself.
Don't just look at the salary that is going to come to you the next month; please also focus on what you will become or where you will be in the next 1, 3 and 5 years minimum!
Why do you think you were selected among other candidates?
As I have been previously, told – my ability to talk and bond with people. I genuinely like to speak with people – work or sometimes even day to day related. It really helps you connect with the people that you work with, and that's what is needed to work better.
Any lessons from jobs that you couldn't get?
Okay here's something I frequently do. I apply for a few roles that demand skills that are a little beyond what I have learnt so far. In some cases, it has gotten me the best of opportunities, where I could learn what I didn't know on the go.
In other cases, I could figure what I lacked during the conversations. So I would say that you need to keep an open mind and not just be panicking during an interview or a discussion. You never know what it might highlight for you next!
Things are changing very fast in every field, how do you keep yourself updated? Please list blogs, podcasts, or any techniques that you follow etc.
I love reading about the upcoming careers and how my industry is changing. So some of the blogs I follow are:
Vanhishikha is an electronics engineer by background and a startup growth marketer by passion. Driven by the want to learn more about different technologies and their use cases in day to day lives, she focuses on helping startups reach their target markets with contextual marketing. As of today, she is aligned with more than 15 startups across the world and is working on her book. You can stay up-to-date with all her work on www.vanhishikha.com
Also Read: How I Became A Successful Female Engineer
How I found my passion for growth marketing