"Be yourself, and always stay true to your values" says Anne Gretland, CEO of FotoWare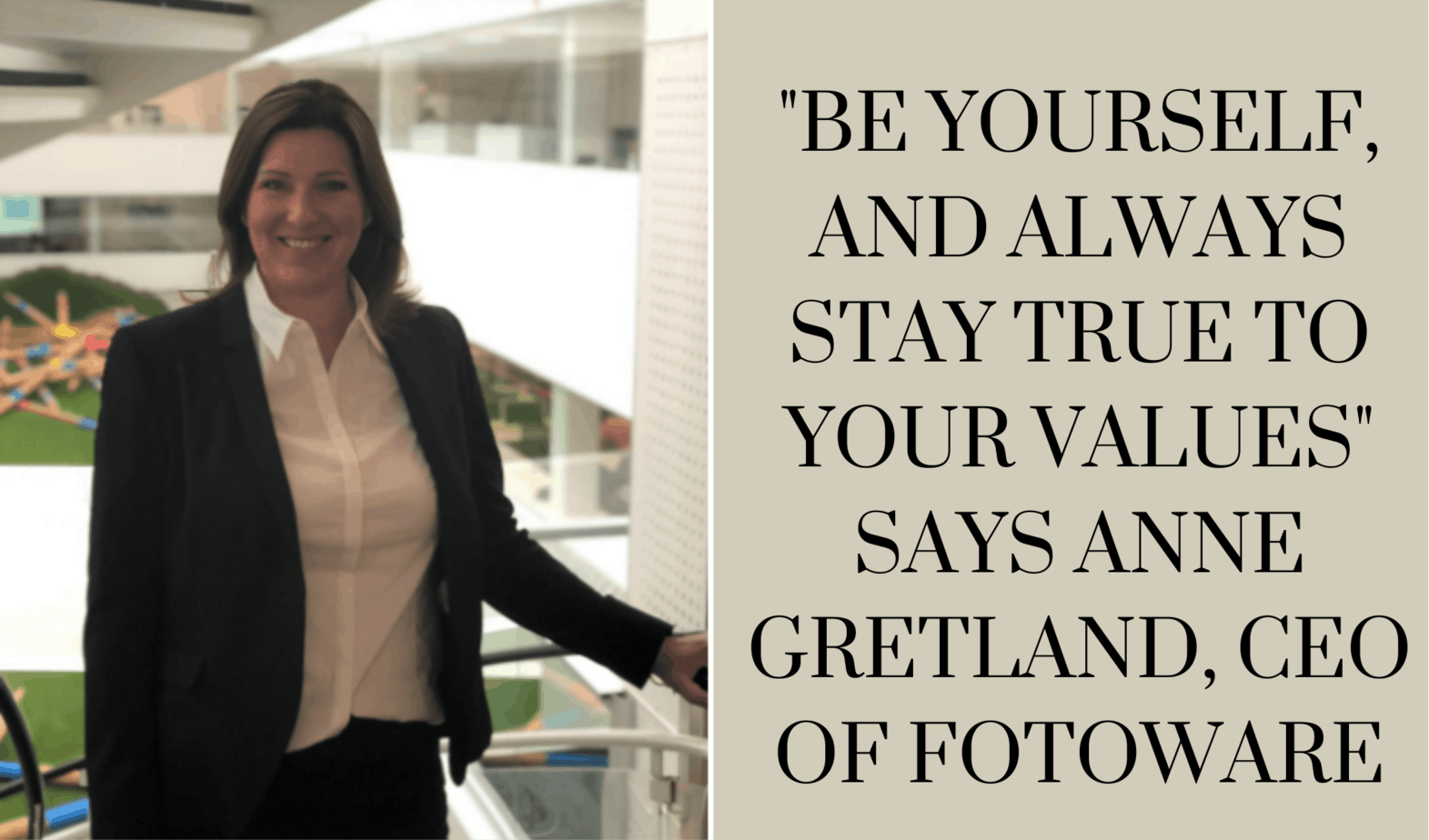 We spend most of our time at work, so when you chose a job and a career, make sure it is meaningful and fulfilling. Don't worry about your friends or family or what is expected of you, or what everybody else thinks or does – make your choice, and whatever will make you look forward to going to work every day.
Life is too short to not have great colleagues, a good manager, and autonomy in your daily job.
In addition, I believe that everybody should choose a job (if you are so fortunate to be able to have a choice) where they feel that the company values and culture are a match for your own. You want to be able to go to work every day with your integrity intact.
And who knows –  maybe you will even end up making a surprise choice – many people end up following a career path far from their initial thought.
That was exactly what happened to me.
I am not really a technical person. But I ended up in the IT-industry anyway, and I love it! When I got a job at Microsoft 20 years ago, I was afraid I was not technical enough, but it was just the opposite; the customers understood what I was saying because I did not use technical terms – I focused on what the product could solve, instead of talking about features and technical requirements. And I found out that you don't have to be a technical person, to love tech.
I love tech, because I love how technology changes people's lives and changes the world. Thanks to technology, people all over the world have immediate access to information and knowledge. Before, knowledge was in the hands of the privileged and few, but now, knowledge is available to (almost) everybody. We can follow classes online, we can read news on our smartphones and we can access information hubs like Facebook, Wikipedia, Google and education programs. I am proud to be part of an industry that is making an impact in the world.
So, how will you get the job of your dreams in the industry that fits you perfectly? One of the first steps to getting your dream job is the application and interview process.
Making sure you have a good CV and tailored application is key to getting to an interview.
Your CV should have at least the following:
Name, phone number, mail address, age and picture
A short overview description of you and what you are all about
Your jobs and what you achieved when you worked there, including some key numbers and responsibilities
Your education
If you did any (any) volunteer work
Any interest outside of school
And remember; no spelling mistakes
Preparing for an interview is essential. I divide the interview process into three stages: before, during and after.
Before the interview:
Take another look at your CV and make sure that you highlight in the interview what you are good at, that you might not have mention in the CV
Make sure you read about the company beforehand – visit their website, their social media channels and find out as much as you can about them
Imagine yourself getting the job – how will you spend your first weeks? Is there something that you would like to start with? Have a plan when you get to the interview and let them know what you are thinking
During the interview:
Don't sit leaned back in the chair. Body language is important. You should be leaning forward, keeping eye-contact and have a firm and steady handshake. You have made it to the interview – don't spoil it by being sloppy
You should have prepared for some questions that you want to ask them – about the company, their strategy, their goals for this year, etc.
Getting a manager that enable their employees to thrive and grow is key, so make sure you ask your hiring manager the following question: on a scale from 1-10 – how good are you as a people manager? You want a boss that can answer that question in a good way
Don't ask about salary in the first interview – that will come later
After the interview:
Immediately send an email or message thanking them for their time
If you don't get the job – keep in good spirit and thank them for their time and for considering you in the first place. You never know when you will see this person again, so make sure you are polite and positive (even if you are disappointed)
I have been very fortunate in my career to work for big companies that believed in continued education their employees, and I had a lot of resources available. If you don't have that work privilege, make sure that you update yourself on things that are relevant for your job. You can do so by following certain companies or organizations and their social media channels/newsletters, or by reading books or taking online classes.
Here is what I usually do:
Ted talks – there are so many good ones and they cover every topic
Follow the industry independent leaders around the world – it can be newspapers, vertical magazines or thought leaders. I am in the IT industry, so I follow among others the CEOWORLD Magazine, MarTech Series, Asian Scientist Magazine, Harvard Business review, LinkedIn online training, and many more
If you are a leader there are many books that you can read – here are some classics: "Lean in" by Sheryl Sandberg, "7 habits of highly effective people" by Stephen Covey, "FISH" by Stephen Lundin, John Christensen and Harry Paul, "Originals" by Adam Grant, "From Good to Great" by Jim Collins, and many more
When you find your dream job; just go for it! Never think for a moment that if you don't fit into the "norm" of what that jobseeker should be like, or look like, that you might not apply. Diversity is key for companies to grow, and they need people that are not the same as they already have.
Breaking with tradition and being the new normal is what makes the world move forward. Someone always have to be the first – so dare to be yourself and follow your heart!
Be what you dream you can be.
Good luck!
Anne Gretland is CEO of FotoWare and has been working in the IT industry in different leadership roles since 1998, when she started in Microsoft Norway. She is on the list of Norway's 50 leading IT women, and co-founder of the largest network for women working in the IT-sector in the Nordics, ODA-women in Tech (8.000 members), where she was chairman of the board for 11 years.
FotoWare deliver Digital Asset Management (DAM) solutions to more than 4.000 customers in 46 countries, like Thomson Reuters, The White House Historical Association, Marks & Spencer and The Financial Times.
"Be yourself, and always stay true to your values" says Anne Gretland, CEO of FotoWare