Story: How I got a Visual designer job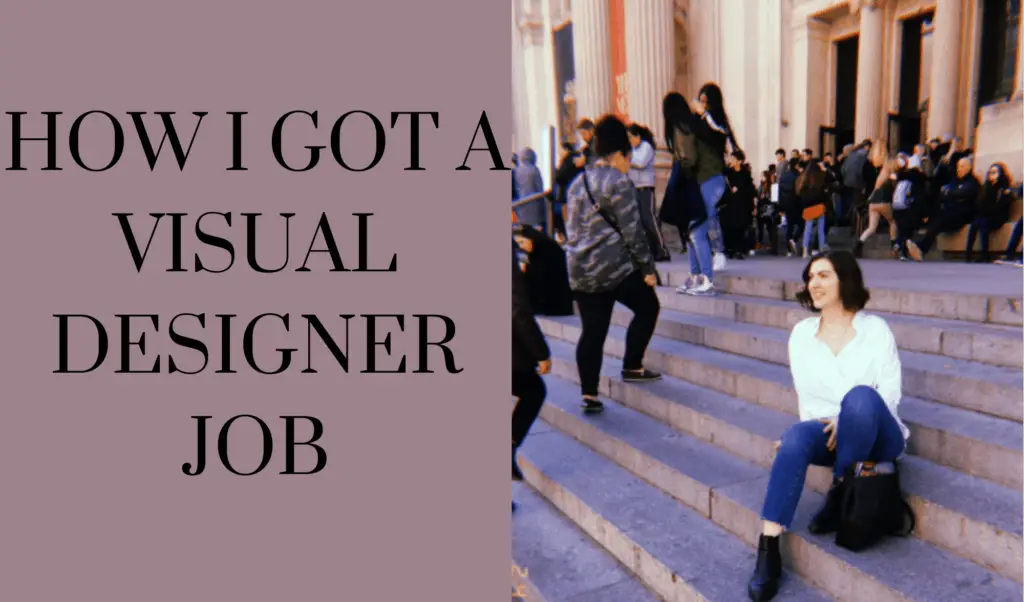 I was always taught the myth of the "struggling artist." I grew up in suburban New Hampshire playing with as many art medium as I possibly could, but it was always a fun past time for me. It was never something I thought I could turn into a career.
So when it came time to apply for college, I barely even looked at art school. I thought I wanted to study psychology and eventually become an art therapist, which is one of the only ways I saw combining my creativity with something that could get me a "real" job.
I landed at Hofstra University, a modestly sized liberal arts college on Long Island. Once there, I quickly realized that I needed to do something more creative.
Alongside other traditional art classes,
I was taking graphic design and started interning in New York City. Most of my internships were with small startups where I could be a "jack of all trades" and feel like I was really making a contribution to the business. During my almost three years of interning at various companies, I gained experience working with children's art classes, running a business's social media, curating an art exhibition, updating websites, designing marketing materials, and helping to host events with 500+ attendees.
I still had no idea what I wanted to do in my career.
I kept interning and pushing myself to learn new skills inside and outside of the classroom. In retrospect, the best skills I gained through these internships was the ability to network.
It may seem pretty obvious now, but at the time I had no idea about the reality of using your network to get a job. When it came time to apply for internships my spring semester of senior year, I resolved to only take a position if it could potentially lead to a full time role come graduation. I applied for and was offered a part-time design assistant position with a freelance website designer.
Though I had a pretty hefty resume for a college student and was majoring in graphic design, I had almost zero web design experience. I was offered the position because the owner of the business knew a manager of mine from a previous internship.
She not only saw my portfolio and experience, but also had a good recommendation from a source she personally knew. Without this network I had started to grow, I don't think I would have landed that part time position.
This part-time role transitioned to full-time the summer after graduation. My parents were less than thrilled that I wasn't working for a company with a big name and was receiving a paycheck that was just barely livable in New York, but I'm so glad I stuck with my gut and continued in this position.
I had come to love the work we were doing with small businesses and I was able to own projects and grow my skills in a way that I probably wouldn't have been able to at a large company.
In the two years that I was there, I grew from an assistant designer position to Lead Designer, helping my manager rebrand from freelance to a boutique design studio with four employees and a number of creative partners.
I lead graphic design projects with clients and made a point to pursue my interest in branding outside of office hours. We soon evolved from offering just website design to offering full-branding packages.
Through following my interests and leveraging my network, I was able to land a job I was only slightly qualified for, but one that would help me grow exponentially.
I continued to learn new design skills outside of the job as well as do creative projects and freelancing on the side. These kinds of extra projects not only helped me better understand what type of design work I wanted to do, but also gave me a more rounded out portfolio when it came to applying for new jobs.
Though I'm still learning, growing, and deciding "what I want to do with my life," I'm so glad that I was able to break out of the mindset that I couldn't be both creative and successful.
Learning how to trust your gut, leverage your network, and never stop evolving your skills are some of the best ways to get you to where you want to be.
Bio
Amanda is a visual designer with a passion for creating beautiful, strategic designs. She's worked on creating brands from the ground up and helped entrepreneurs launch their businesses. She is currently an Art Director at Hodes and a freelance graphic designer based in Brooklyn, NY. You can find out more about her and see her work at amanda-bentley.com
Also read: Letter To A Future Product Designer From UX Designer At Shopify
How I got a Visual designer job