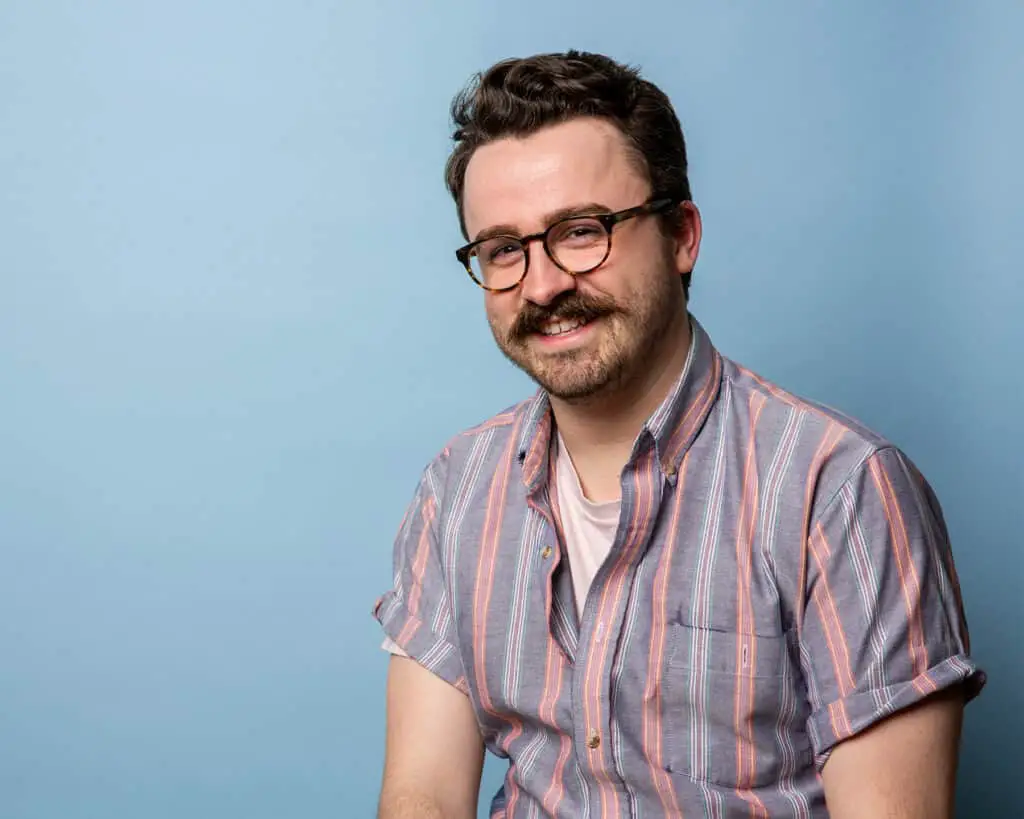 My name is Hayden Davis. I am a freelance Graphic Designer, Illustrator, and Maker currently living in New York City. After graduating from Brigham Young University with a BFA in Graphic Design in 2014, I eventually moved to New York. I began working as an in-house designer for a temporary tattoo company called Tattly. After being let go in 2017, I worked as a freelance designer for the past 3 years. I enjoy wordplay, plants, and collecting things that inspire (especially when I can rescue them from the trash) in my spare time. You can see more of what I do on my Instagram, peruse my website, or even check out my Dribbble.
How did I Become a Freelance Graphic Designer?
After I graduated college, I moved home to freelance while I lived in my parent's basement. I set up my own desk and decided to freelance for a year. After a rigorous and structured design program, I decided I needed some time to work on some personal projects, which would really show my voice. One of the projects I did was branding and illustration for a fictional taco restaurant I called Híjole. I worked hard on it, but it was just a personal project I assumed would be extra content for my portfolio. I decided to post it on my Béhance because I liked the way it turned out. The next morning I groggily checked my email to see that this project had gotten (in my humble opinion) some massive appreciation. It was featured on the Béhance Branding page and some other blogs. People I had admired for years started following me. It was amazing that some project I just decided to do for fun turned out to be a project that got me quite a bit of visibility and still is one of the proudest projects. 
After getting a full-time job, working in-house as a designer, my days filled up pretty quickly. I took my weekends and evenings to work on projects for myself, things to sustain my creative drive and refresh my passion for art. I made lots of things: zines filled with weird thoughts I had. Still-life portraits of objects in my house, piñatas out of paper mache, GIFs for Instagram, and even started a monthly portrait painting night with my friends. I tried lots of things I liked and just happened to share them online. I started regularly posting on Instagram. I got drafted onto Dribbble.com and began posting there. I filled my Tumblr with anything and everything I was making. Collecting what I made and put in online did a few things to help my career. More than anything, it just gave me exposure. I slowly started to connect with people and accumulate a small following. I was able to see trends in my style and subject matter that helped inform future creative projects. I even saw what work got me noticed, what work appealed to my audience most. I cultivated a habit of making it regularly and got comfortable trying new things. 
After working at my day job for 2 and a half years, I got let go all of a sudden. The company needed to tighten its belt, and I was part of what had to be cut off. It was a scary time, and the track my life was on suddenly stopped. I decided to take the time while looking for a new job to work freelance and pushed hard to find new clients and projects. I posted about it online, asking people to share my name if they heard of anything opening up. I started building a network of connections and projects that has turned into my freelance career of 3 full years. I always thought I had to do it alone. Find my own work and do the hustle all by myself. But after a while, I realized the help I could get if I spread the word and let people help connect me with clients. Ask around, reach out to clients you want to work with, shamelessly promote the things you are doing. I got many small projects that would have a quick turnover time, but I also connected with clients who wanted part-time work, which helped sustain the flexible schedule and diverse projects I was working on. Most of them came from word of mouth. Others came from finding my work online. 
As a freelancer, I had easier access to time to work on projects when I felt a stroke of inspiration. That ability to do work that fulfilled me helps me stay motivated to work irregular hours and on difficult projects for clients. After finishing another branding project, I decided to try out some experimental lettering I was thinking about. After some experimentation, I liked the way the S's and N's looked. I made some more letters, added some color, and posted them on my Instagram and dribble. A year later, I had someone reach out with interest in buying the font. I was delighted and told them it wasn't a font, but I could make a complete alphabet if they were interested. They were, and so this random idea I made and shared now became a paying client project. It's extra special when you get paid for something you did just for yourself. And more often than not, it just takes some time. You have to be able to make things and be ok if it turns into something or not. 
I think most creative professionals dream about a time where they get to work for themselves and decide what projects they accept. Freelance or creating an independent studio is really appealing, and I admit it really does have its perks. It has many really great benefits: professional autonomy, flexible schedule, freer creative voice, working from home, etc. But it also comes with its own challenges. Things like Health Care, taxes, irregular pay, wearing all the professional hats, and work-life balance are things that freelancers have to confront. Luckily for me, I have worked to find a good schedule and project management system to stay on top of things. I sometimes wish for the things this job lacks but try my best to enjoy the parts of it I really like and recognize the privilege of working like this. Not everyone is cut out for this nebulous type of work, and that is fine. I encourage people to reflect on what kind of approach works for them. What types of systems help them work the best, and what they can do to foster a healthy career. Ask for help. Make connections. Get organized. Be thankful. 
And becoming a freelancer isn't a job you apply for. It isn't even something you really can just become a master at in a day. It's a journey that comes after a risky jump into the unknown. It is reflective of the work you put into it. Get your name out there, contact people you would like to work for, make sure you are using your time wisely, and produce work regularly. Build the career you want and do your best to make the most of each opportunity. 
When asked, the advice I give to new Designers/Illustrators is to find time for personal projects. Even as professionals in the creative field, we all need some art therapy. Most of my best work comes when I have no guidelines, and I let myself explore and experiment. And often, as a freelancer, the work I create for myself and share online results in the interest of clients. Make time to make. Never stop making. Remember the ABCs, Always be Creating. Create healthy habits of productivity and creative production. The more you do, the more you will understand yourself, and honestly, the clearer your creative voice will be, which will help future clients recognize your work. Enjoy the process! Take some risks! Create the career you want!
Also read How I Became a Graphic Designer Specialized in Brand Development
How I Became a Freelance Graphic Designer