By Terrie S. Wheeler, MBC, Founder and President
Professional Services Marketing, LLC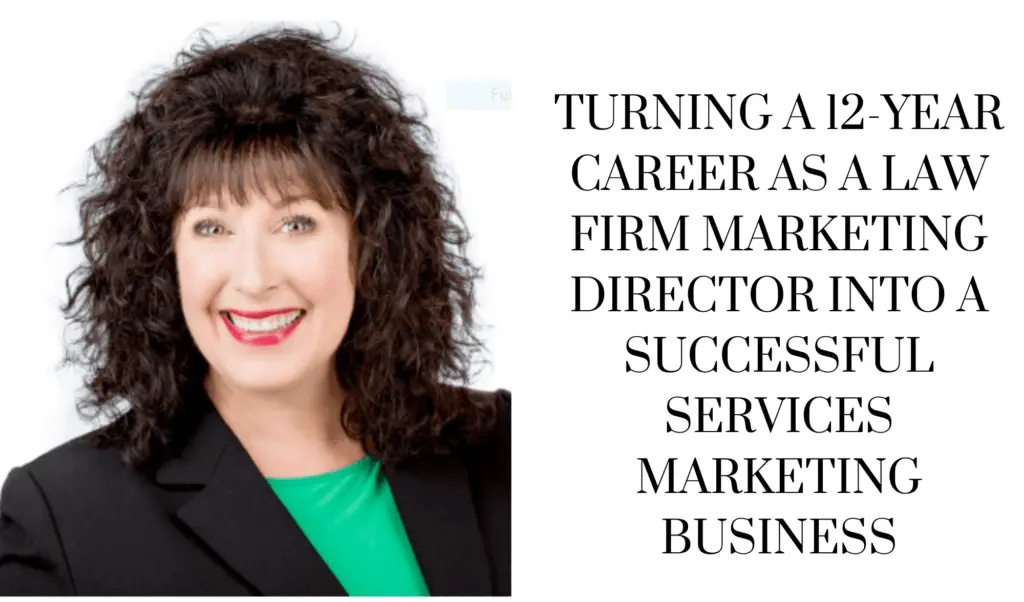 After graduating from college, I began my career as a law firm marketing manager.  At the time, this was a relatively new position in law firms.  Generally, lawyers thought if they were good at what they did, clients would find them. 
We know that just like in other industries, lawyers and law firms have a lot of competition and that merely being good isn't enough.   So, you might wonder, what does a law firm marketing director do?  I was responsible for managing the firm-wide, practice group, and individual attorney marketing activities. 
My job included managing the marketing staff, and handling everything from the firm's website, to generating positive press coverage.  From firm events to holiday cards, and from newsletters to developing strategic law firm marketing plans.
Humpty Dumpty Fell Off the Wall
Over a 12-year period, I ended up getting recruited to two additional law firms, each one larger and with more offices than the last one.   The last firm I was with had over 350 lawyers with offices around the world.  I loved the position and the responsibility until the firm decided to have a meltdown. 
Whether it was partner greed, inaccurate financial reporting, or partners who just didn't get along, the firm splintered apart with some lawyers choosing to start their own firms, while others were snapped up by what had previously been competitive firms.
Spreading my entrepreneurial wings to build a successful services marketing business
Having my law firm essentially fall apart (through no fault of the marketing department, I should say), provided an opportunity for me to really figure out what I wanted to do.  I was very well compensated and was the primary bread-winner in my family.  I really didn't want to join yet another law firm.  I considered a senior-level marketing position in an accounting firm, but realized I was tired of working for other people. 
I was an entrepreneur and needed to muster up the courage to start my own business.  I convinced myself that owning a business with a lot of clients, was less risky than having one employer.  When I started my new business, Professional Services Marketing, I was also finishing my last semester of graduate school at the University of St. Thomas, in St.
Paul, Minnesota, and chose to write my thesis on "Current Trends in Professional Services Marketing." This was a great decision because the results informed my decision on important matters like what services are being outsourced by law firms, what law firms are willing to pay for high level expertise in their industry, and how likely the law firms would be to work with a marketing consultant. 
One of the best books I read during this time was The E-Myth: Why Most Businesses Don't Work and What to Do About It.  The book really transformed my entrepreneurial spirit by offering me solid advice on how important it is to establish processes for my business – processes that are replicable. 
Without strong processes, entrepreneurs will oftentimes find themselves reinventing the proverbial wheel.  The book also helped me realize that I wanted to build an enterprise, not just "own" a crazy job.  For any entrepreneur it's a must-read!
Version 4.0 of Professional Services Marketing, LLC
Today, I run a very successful consulting firm that employs over 30 people with skills in the areas of strategic marketing planning, website development, copywriting, public relations, social media, graphic design, videography, and every other service the marketing department of a professional services firm would offer.  I tell people my firm serves two industries with two distinct services.
  We work in the legal and financial services industries and offer outsourced marketing services and marketing coaching for individual professionals.   Focusing on these two industries has opened so many doors for my company.  In fact, most of my clients are located across the country. 
The work PSM does for them is delivered through a virtual team of professionals, also located across the country and internationally.
But Your Business Isn't REAL, Terrie!
Twenty-two years ago, it was not at all common to have a "virtual" business.  Yet, that was the model I developed and was committed to building.  Every person who works for PSM (and many have worked with us for over 10 years) have their own offices and pay their own business expenses. 
While they all have @psm-marketing.com email addresses and are prominently displayed on the Our Team page of our website, each team member is an independent contractor.  It works great because I do not pay people unless they are actively engaged with a client.
Developing a Business Model that Works
Speaking of clients, another important part of building my business model was to only work with clients committed to a minimum of a one-year retainer.  Early in my business, I would accept projects; a website here, a brochure there. 
What I quickly realized is that if I only delivered marketing projects, I would have to constantly be in sales mode, looking for the next project.  Because I am very strategic, I decided marketing only projects was not the way to go.
Rather, I developed a process around how I delivered services using a model that started with a strategic assessment, the development of a strategic marketing plan, and the implementation of that plan over a 12-month period. 
In other words, if a client didn't want to commit to PSM (and we to them) for one year, we did not accept them as a client.  It was tough as I was trying to replace my executive-level income.  But what I realized is that many times I put just as much time into selling a project as I did into selling a long-term relationship – so why not focus on long-term clients.
Today, every PSM client has a signed engagement to work with us for a minimum of 12 months.  To protect myself and offer clients a little assurance, we do have a one-month exit clause. If the relationship isn't working out for PSM or for the client, with one month's notice we will end our work.
Practicing What We Preach
As leaders in strategic marketing, it is important for PSM to be on the cutting edge of new, highly effective marketing and social media strategies.  Our clients rely on us to make recommendations to them, and in order to do so, we must practice what we preach. 
Generally, PSM is the first to try new social media strategies, or to update our website using the newest platforms.  We then take our knowledge and end up training our clients on how to adopt new, cutting-edge marketing strategies designed to help them grow.
As the president and founder of PSM, I write a monthly column for Attorney at Law Magazine, and a bi-monthly column for the American Bar Association's GP | Solo Section.   I thought you might enjoy reading some of the more recent articles I published.  Thank you for taking the time to read about how I segued from an internal marketing position to owning a very successful company with over 30 employees!
My Biography – About Terrie Wheeler
Turning a 12-year Career as a Law Firm Marketing Director into a Successful Services Marketing Business