Are you thinking about starting A Financial Marketing and Public Relations Agency?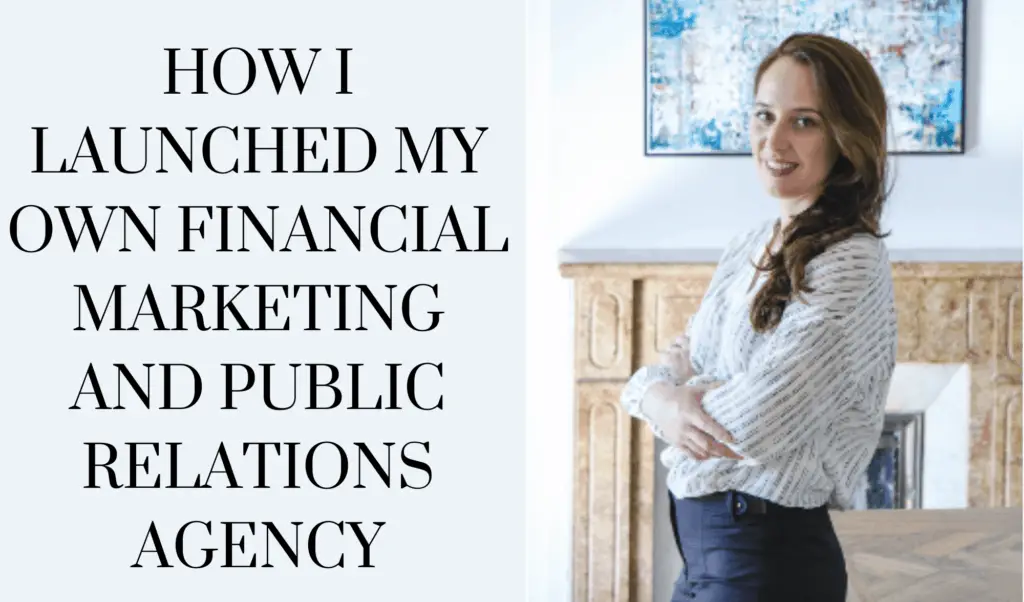 Alexandra Levis is CEO and Founder of Arro Financial Communications, a Financial Marketing and Public Relations Agency where she is responsible for new business development, client services, and agency growth. Prior to establishing the agency, she developed and ran marketing and public relations campaigns at Global X Funds, an NYC-based ETF issuer, where she served as Vice President of Marketing. She began developing solid relationships with the financial press while at Dukas Public Relations, where she managed various media campaigns for asset management clients.
Levis graduated with a B.A. in International Relations from Tufts University and is fluent in English, French, and Spanish. She has spoken at Financial Times and ETF Trends panels on the role of philanthropy in financial services marketing as well as on ETF marketing trends. An avid traveler, she has visited over 40 countries.
How was your University time?
I attended Tufts University, and it was one of the best times of my life. I studied International Relations and minored in Mandarin, thinking I was going to be a diplomat or go work for the State Department. At the time, it was very difficult to get a job (or even an internship!) with the UN, World Bank, or comparable international institution. They told me, "go get your Masters, then come back and apply for a internship…which may lead to a full-time position."
I was eager to get working and making money, so I decided to try the private sector. I had the misfortune of graduating in 2008—during a financial crisis – and the job opportunities were quite slim. Many of my classmates went to law school or business school to buy time while the market rebounded, and jobs became available.
Me? I thought it would be a good idea to move to NYC with no job. My plan was to knock on every door until I got hired. What this meant was me sending out hundreds of emails for "informational interviews" until one person replied. I found a position at a marketing agency as a receptionist. They promised me that if I proved my worth, they would give me client work. I literally started at the bottom.
Why did you choose a career in this field?
I joke that my career chose me! I think time in University is invaluable, but it doesn't necessarily prepare you for the real working world. Despite studying one thing, I ended up finding work in another. I think my generation is different because we had to get creative and be OPEN MINDED about the few opportunities that were out there when we graduated college. You never know where you will end up, so it's important to follow any doors that open…even if it's open only a small crack. I almost did not attend the interview that launched my career!
What was your first job or nuggets from jobs you had that helped you to get to where you are today?
After working at the marketing agency, I got a job at a financial PR agency. This was not something I ever thought I would do, but the opportunity was solid, and I thought, "What else do I have to lose?" I did not even know financial PR (public relations) was a thing. I had no finance background, but I liked to write, read the news, manage client accounts, and learn about new things. I got an education in finance by sitting in on hundreds of phone calls between our investment manager clients and the financial press.
Remember: you don't need to get a degree to learn something. The best learning happens hands-on and on the job.
After the financial PR agency, I got a job in-house to manage marketing and public relations for a start-up investment management company. I loved it while I was there, but after a couple of years, I got the entrepreneur itch….I wanted to go off on my own.
In 2013 I launched my own financial marketing and PR agency called Arro Financial Communications. What started as a one-woman-show (me with a laptop and wifi connection) is now a 5-person company servicing boutique and Fortune 2000 clients around the globe.
My previous roles working for other employers really made me stop and think about the type of leader I wanted to be for my team. The biggest lesson I learned from one of my first managers that caused me to quit my job was how NOT to treat employees. 
How did you prepare for an interview?
During an interview, the employer wants to see if you are qualified for the position, of course, but they also want to see what kind of a person you are to work with. Sitting in the same office with colleagues for 40+ hours a week is a big-time commitment, so make sure the personality fit is there as well.
To prepare for the interview, I came ready to share specific case studies of success I had with clients. I did XYZ initiative which lead to ABC success. But I also came prepared to be myself and share some of the things I enjoy doing in my free time. Again, sometimes personality fit is everything, and employers want to make sure they are not hiring a robot.
Things are changing very fast in the industry; how do you keep yourself updated. Please list techniques or newsletters, podcasts, events, etc.
When I launched my financial marketing agency, I set up Google news alerts about my industry (using very specific keywords), so I could immediately know what was happening and what trends were impacting the industry.
Today, I listen to podcasts, subscribe to email newsletters, read industry trade publications, attend trade shows, and talk to/meet up with as many industry people as possible. At the end of the day, people like doing business with people they like, so forming personal relationships is really the best way to get ahead.
What can you recommend on CV?
Be VERY SPECIFIC about your accomplishments. It's not enough to say that you "helped grow the team" at ABC company. Throw some numbers and data in there to back it up. How did you help grow the team? What % year over year? What was the end result?
Advice for someone looking for a job?
Be open-minded about what is out there and take any interview that comes your way. YOU NEVER KNOW. The more interviews you do, the better you become at them. Use them as opportunities to practice so that when a job you REALLY want opens up, you are extremely well prepared.
Lessons from jobs that you couldn't get.
 I was up for a position in a wine marketing company and lost out to the other candidate who was clearly more qualified and experienced.
The lesson here is obviously "experience matters," but the other lesson I learned was that specialization matters. If you can find a niche industry or business to work in, chances are you have a more secure future because you have less competition. Instead of being a "general marketing manager," I specialized in financial services to fill a niche industry. That is something that has served me very well in my career and something I would encourage others to chart their career paths.
Also Read: How Gibson Biddle Got The Job As VP Product At Netflix
How I Launched My Own Financial Marketing and Public Relations Agency