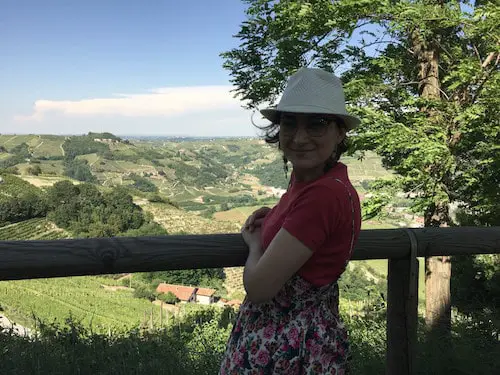 How was your University time? 
My University years were challenging and beautiful at the same time. I studied Journalism and Communication Science, a last-minute decision that changed my life. I hadn't even known I had writing skills before University. 
As a student, I learned to add clarity to my messages and never feel ashamed for asking questions. I was lucky because I had two or three fabulous professors who taught me to stick to my values. 
Why did you choose a career in writing?
Do you remember that quote, "Choose a job you love, and you'll never have to work a day in your life?" I took it pretty seriously, and it brought me here. I wanted a writing job and diversity. Since I couldn't pursue a career in journalism without sacrificing time with my kids, I chose freelance writing and slowly added content marketing to my services list. Now I have this incredible opportunity to meet people who do extraordinary things and learn from them.   
What was your first job or nuggets from writing jobs you had that helped you get to where you are today?
My first job was at McDonald's through a Work&Travel program. It had nothing to do with writing, but it disciplined me and pushed me outside my comfort zone. After taking my backpack and traveling across the globe to work in a fast-food restaurant, I knew I could do anything. And that feeling stayed with me ever since. Sure, I had times when I couldn't get clients and thought I would never have a consistent income from writing and selling marketing services. But I kept sending the pitches anyway. 
However, I wouldn't be here today if it wasn't for my career in journalism. Working as a journalist shaped my writing skills and taught me how to ask the right questions. Journalism also gave me the most important lesson for a freelance writer: dealing with feedback and rejection. At first, you take things personally, and lousy feedback automatically creates this thought in your mind that you're not good enough. I reached a crucial point in my career the first time I didn't cry over a rejected article. 
How did you prepare for the interview?
As a freelancer, you need to be always ready for an interview. Talking with potential clients becomes part of the job. So, I just stay true to myself and don't fake it till I make it. I tell the truth about my skills even if sometimes it means losing the job. 
For example, I got a collaboration with Impressa Solutions through UpWork. It was supposed to be a small writing job, and, somehow, it became a long-term relationship. I think it helped that I hadn't created expectations over my abilities. 
When I pitch a client on UpWork, I don't follow sophisticated templates downloaded from who knows what website. There are no fancy words in my pitch because there will be no fancy words in my writing. There's no need to impress a potential client in this first message if I can't deliver the same quality once I start working on the project. 
The other thing that helps me get clients is that I write a pitch from scratch every time. I don't believe in pitch templates. When I email my friends, I don't have a template because I have different conversations with each one of them. It's the same with potential clients. 
All my long-term collaborations started with small assignments. People come back because I deliver, and they see results. I have one client who had to hire a person because his company got several new clients at once after a LinkedIn campaign we had built together. Another client has high open rates on his email campaigns, so he always gets back for more content and email sequences. 
Can you provide some book recommendations?
"The Universal Journalist," by David Randall. It's considered one of the best books for journalists. However, you shouldn't think of it as off-limits for someone who doesn't work in the industry. Anyone who writes for a living can find great advice in this book. 
"The Power of Habit: Why We Do What We Do, and How to Change," by Charles Duhigg. It helps you become more aware of your habits and, at the same time, understand how people think and how to write to get to them. 
"Start with Why: How Great Leaders Inspire Everyone to Take Action," by Simon Sinek. Everybody talked about this book last year, and I understood why when I finally had the chance to read it. It's an excellent guide for content marketers and copywriters.
"The Media's Journey From Repression To Obsession," by Rodger Streitmatter. It's an older book that explains how the media have changed over the years. It shares useful guidelines on keeping people engaged in the conversations that matter to your brand. 
Things are changing very fast in the industry; how do you keep yourself updated. Please list techniques or newsletters, podcasts, events, etc.
I spend too much time on social media. I read anything that captures my attention, from blogs to social posts. I also subscribe to multiple newsletters. I rarely open an email, but I always read the subject lines. If there's something there that deserves attention, I'm on it. The newsletter I'm trying not to miss comes from Raconteur. And I listen to Grammar Girl at least once or twice a month. 
Any advice about CVs?
Hire someone to polish it. At least, this is what I would do if I needed a 9 to 5 job right now. I've always had problems with making myself shine in a CV. I used to waste hours wondering whether to add or remove any single phrase. I wouldn't do that again because now I know people who can help me with that.  
Advice for someone looking for a writing job?
Keep your mind open. My first writing job as a freelancer was reviewing erotic books for $5. I had no idea back then that I would be working with agencies and ghostwriting articles for famous magazines. On the other hand, I'm not encouraging anyone to work for $5. I did it because I didn't know better. If you read this article, you know better. Please, find a job that pays the bills. 
Last but not least, this industry has too many people ready to scam newbies. If your instinct tells you, there's something wrong with that client, that's because it is. 
BIO

Teodora is a former journalist who traded adventure for the comfort of freelance writing. She writes articles, blogs, ebooks, and other copy for fellow freelancers, entrepreneurs, and B2B companies. Since 2018, she collaborates with Impressa Solutions, a team of word wizards, strategy sorcerers, and the bee's knees of B2B. A traveler at heart, Teodora moved to Italy, where she lives the freelancing dream while enjoying good food and excellent wine. She's passionate about content marketing and language learning.
Also read How I Got a remote writer job while traveling the world
How I Get Writing Jobs as A Freelancer