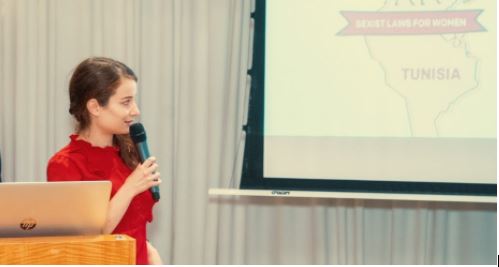 Bio
I'm an advocacy communications strategist specialised in human rights, health, and equality. Currently a Senior Account Manager at Global Office Consulting – a communications agency specialised in gender and health-related causes, I have been around the block before I got here – to find my happy place building communications campaigns to inspire social change!
I only graduated from my Master's degree three years ago, and my career has been a rollercoaster ride since then – from interning at the EU, working at international NGOs, to having a crack at freelance ghostwriting. But looking back, I am quite proud of the eclectic mix of experiences I have managed to gather in such a relatively short length of time – and where it has led me so far.
If anyone else is interested in building nonprofit campaigns and writing content to persuade and inspire positive change – here's how I got there.
My academic background
After getting my BA in French and Spanish from King's College London, I graduated from LSE with an MSc in European Studies, Ideas, Ideologies, and Identities, where I specialised in political philosophy and multiculturalism. Culture, ethics, and language were always my main interests academically, as early as I could read. But I hadn't really considered at this point that I could weave this directly into my career.
How it all started 
So barely after submitting my dissertation, I did what anyone may expect a budding European Studies grad to do… I packed my bags for Brussels! Bagging an internship at the EU capital at the European Commission's DG for Taxation and Customs. Although I knew going in that this would be a stepping stone, and not necessarily "my thing" (not to mention that I was a Brit starting an EU career path only months before the initial Brexit deadline was due to roll around…) the experience certainly gave me confidence. 
I met some great people and learned the ins and out of the EU as a public administration. Above all, it gave me a practical introduction not only to working within European affairs – but more generally to working in an intense, international environment.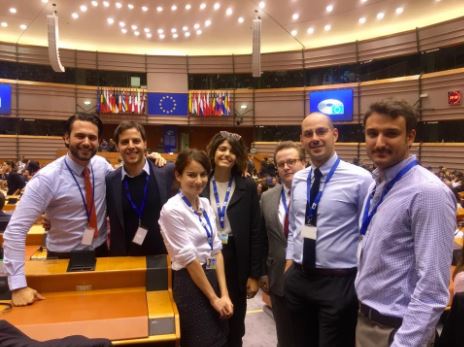 After the traineeship, I decided to stay in Brussels at least a little while longer, but I wasn't really sure what to do next. After shopping around for entry-level jobs with more of a communications and writing focus, since this was something I was always drawn to but didn't get much of a chance to work at during my time in EU tax, I quickly settled into a new position as Communications and Events Officer at the European Parliamentary Forum for Sexual & Reproductive Rights. 
Here, I enjoyed more creative freedom, as well as immersion in a completely new field for me that turned out to be something I saw myself working in long term: gender and international development policy. I oversaw the international parliamentary network's online advocacy for women's empowerment and reproductive health and rights – from drafting the daily social media content, to writing the newsletters and op-eds on current affairs related to gender and health rights on behalf of MPs. 
This position was also rare in that even in my first few months, I enjoyed a lot of international travel. From Switzerland and Poland to Canada and Rwanda, the various parliamentary conferences I was involved in took me on a fair few flights.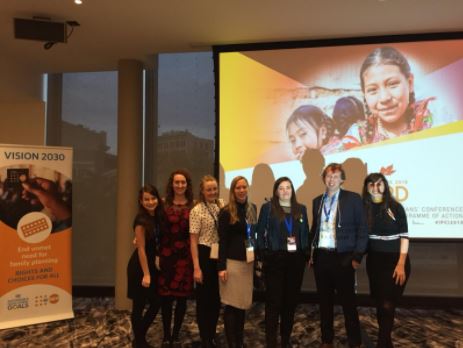 A career curveball
But just as my contract there was coming to a close and I was starting to think about my next move, I got a message out of the blue from a German PR agency called Media Consulta. The CEO was making a quick trip to Brussels for a meeting about a project the company was about to launch with the EU, and he had come across my LinkedIn and wondered if I'd be interested in meeting about an opportunity. 
And so, within one week, I went from thinking about starting to job hunt, to signing a contract to start as a Communications Consultant for a major EU PR campaign.
I  returned to the European Commission – but this time to DG Communication. A little more up my street, at least! Here, I worked as the go-between between the agency Media Consulta, and the EU, on a new corporate campaign aimed at spreading awareness about the EU in rural areas. 
The role was fast-paced and probably one of the most challenging 8 months of my life. Working for an agency but actually in the office of the client was… interesting. Not to mention the fact that the client, in this case, was a huge public institution. I essentially had to work with 2 hierarchies, 2 contracts, and 2 interests pulling me either side. 
The highlight of a turbulent role was when, due to my Spanish language skills and knowledge of Spanish culture,  I got sent out to a remote part of Extremadura for one of the several events we organised across the country. Here, I represented the EU on the ground by talking to farm workers from nearby villages about EU activities and values.
A lesson learned 
After my initial contract in this role was coming to an end, and I was having to decide whether or not to request an extension, I was torn. On the one hand, I had hit the jackpot with this job. I had studied European Studies and had since developed a love for communications and PR – and I was now leading a PR campaign for the EU itself – on behalf of a global PR agency. 
And yet, my inner yearning for creativity and independence was hard to ignore. As such a huge institution, the guidelines for what could and couldn't be done was strict. In my previous role, I had written whatever I felt like (within reason!) on the social media accounts each day and relished the creative freedom and opportunity to write about something I was passionate about. 
But now, my day-to-day consisted of proofreading lengthy strategy documents, and long technical meetings where we agonised over approvals and over-complex workflows… 
If nothing else, the role showed me the areas of PR I wasn't so enthused about, and made me realise that crafting written and visual content, and planning strategy specifically about how to grab attention and inspire – was what I wanted to be spending the majority of my workday doing.
Although working at the EU is a dream for many, for me – after these two times I got the chance to give it a go – I realised I wasn't quite a fit long-term. I needed more autonomy in my position. More space for creative freedom – more excitement! 
A leap into the unknown
So, I decided to leave Brussels that winter. January came around, and I started to do some freelance work while I figured out what to do next. Proudly setting up my (basic but very shiny) new website and profiles on various freelancer platforms, I had a slow but promising start with a few interesting clients. I knew that starting out as a freelancer wasn't going to be easy, and so as another outreach method I also took to Medium. 
I have to say, this was the platform that really gave my stunt as a freelancer any chance. Not only does it mean publishing your articles – on any topic you want, free of the constraints of regular publications – but it also means you actually get paid in relation to how many minutes of reading time each article gets. So once you start, it's accumulative. 
As such, my work on Medium went from a  method to reach new clients to a form of paid work in its own right. Clients requesting my services ranged from academics wanting someone to write a snappy book summarising their subject area, to activists wanting a hand writing speeches or opinion pieces advocating their cause.
Meanwhile, I also had articles published in Selfish Darling, Euro Babble, Thrive Global, and Undercurrent Philosophy, among others – and was invited to speak on various panel discussions about my key topics of human rights and equality – simply by being super vocal on LinkedIn, Twitter, and Medium about the causes I cared about!
Where I'm at now
After working with a range of clients in this way, planning where to go next both in terms of career area and physical location (and not to mention the pandemic which was thrown into the mix during this already turbulent time!) I recently started working remotely for another communications agency – Global Office Consulting.
In a way, my role here as Senior Account Manager is like a perfect marrying between my last 2 roles – taking the best parts from both. The small, close-knit team, gender and health advocacy focus, and room for independent creativity akin to my position at EPF – and yet the heavy communications, media, and PR element with that added intrigue of agency-client relations not unlike my stint at Media Consulta and the EU.
Some final thoughts
If you're still with me, then congratulations (and genuinely, thank you!). 
It has been a bit of a twisty-turny ride, and yes – this really did all happen in the last 3 years. But I wouldn't change a single step of the journey, as every stage brought me a little closer to where I am today, in a role that I feel suits both my skill set and my personality. A role that allows me to be both creative and structured, that has consistency and yet variety, and that weaves together the best of both nonprofit and private sector work. 
If you also enjoy writing, communicating online, and contributing to human rights and social justice movements, then I highly recommend a job as an advocacy and communications strategist. 
It will certainly keep you on your toes – but you will never be bored!
Also read How I Launched My Own Financial Marketing and Public Relations Agency
How I Became an Advocacy Communications Strategist