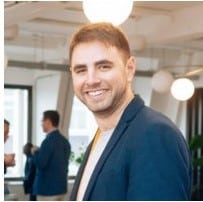 Yehoshua is the co-founder & CEO of Alpe Audio, an audio learning platform for achieving lifelong learners. He has been both an investor and entrepreneur in start-ups over the past several years. Yehoshua managed Toyota's early-stage investments in EMEA and led business development & strategy at Spatial Logic, a deep technology start-up, and has assisted 100+ startups as part of OurCrowd's BD team, a global VC with $1B AUM. Yehoshua holds an MBA from Hebrew University and is the Chairman of the Sayeret Nahal Association non-profit.
Landing a Job in VC – More Luck Than Skill
Over the past 5 years, I've bounced between being a venture capitalist (Regional Manager at Toyota AI and Director of Business Development at OurCrowd) and an entrepreneur (CEO & Co-founder at Alpe Audio and Director of Business Development at Spatial Logic). They're very different roles, with a different skill set but one common thread: never stop learning.
When I started my undergrad, I didn't know what I wanted to "be when I grew up." Just a few vague notions. I had chosen a combined major that offered me flexibility: Talmud, a branch of Jewish historical studies, and business. The so-called 'practical' with the Chicken Soup for the Soul. None of that translated into an actual job calling—just vague notions of what interested me.
I landed in VC by luck and goodwill – an internship that a friend recommended and set up an interview for. Who you know matters. It's not enough to get you hired, but opening the right door is probably at the least halfway there.
Tips for the interview: come prepared.
Read up about the firm and industry. Know the basic dynamics of what you're getting into.
What excites you about working in venture capital?
What's your edge? I thought I had none, being young and inexperienced, but that isn't the case. Venture investing is about seeing the future – the younger you are, the more connected to it.
Once you're in the door it's up to you.
School starts when you get hired.
Venture capital is a tough industry to learn. It's a high-stakes game where the feedback loop is incredibly long. You're making bets that mature over the years, and so learning from your mistakes is incredibly hard. It's an industry of pattern matching, and as a young venture capitalist, you have little to draw upon – you have no patterns to match to.
Learning became second nature for me: business models, industries, technology. Today, the world is at your fingertips more than ever before, and even in a busy lifestyle, you can make time for learning.
What helped me was (specific recommendations at the end of the post):
Investing in and researching public companies. This was something I had actually been doing for years prior, and it paid dividends. There's no better source for quicker feedback on actual investing decisions. Public companies report earnings every three months, present at conferences, and host analyst calls. Better yet, you can see quickly how your investment thesis is going.
Read more than anyone else. When you're just getting started, ironically, you're more in control of your time than ever. You're working on less critical tasks as it's expected that you'll need time to learn. Use this time to read what busier people no longer manage to. Every industry has daily or weekly newsletters and reports. Please read them and note trends or companies that are interesting. Set Google alerts for keywords that you need to track. Knowledge is power and its compounds. Read the key books in your industry. Read academic papers that are published at conferences.
Podcasts. There's nothing quite like listening to the experts talk about an industry to learn from the best and, more importantly, get exposed to the things you didn't even know you didn't know. Unfortunately, academic degrees do not cover most of what you'll need to know.
Talking to founders. No one knows a specific industry or the 'do's and don'ts' of what matters to company building better than founders. Everyone has many valuable lessons to teach, whether they're successful or unsuccessful, serial or first-time entrepreneurs. Building anything grants you insights from the front lines that backseat drivers find hard to come by.
Changing Sides
Any side gig as an entrepreneur you've done in your past is more helpful than you might imagine when you go on to build a company. It could be setting up local game nights, managing your college's alumni association, or a local non-profit. All give you confidence in the single crucial skill of working at a startup: being proactive and solving problems.
The thing about startups is that there is no guidebook. No rules or how-tos. There are more questions than answers, and the only way to answer them is by figuring it out. This is a critical aspect to emphasize if you're interviewing for a startup. Crossing the bridge between venture to startups is easier than many other job transitions. As an investor, you're exposed to many founders and many investors who know founders. Your network becomes large quickly, and startups are always hiring. More importantly, they're always looking to hire someone in their network that they can trust. Impress those people and you'll always be on someone's hot list of potential hires.
As before, the recommendation gets you halfway there. The other half is up to you. It might not be fair, but founders expect their hires to hit the ground running. They'll also expect you to do some work to prove yourself to them – probably as part of the interview process and before they hire you. Remember that they're making a critical business decision with very little information, so seeing your actual output is important. Put your best foot forward, do your homework and prove your value early on.
Entrepreneurship is a Masters degree
If school started in venture capital (VC), entrepreneurship is your master's. Investors go wide on knowledge; company builders go deep. Investing is about pattern matching, so you need a wide array, but you need to get the minutiae right actually to build something. It's all about blocking and tackling. To market, you have to understand the nooks and cranny of positioning, communication, etc.
In short – your learning only just started.
Going deep as an entrepreneur is hard. Going deep and becoming an expert requires time—the time you no longer have. Whether you're developing or marketing, actually 'doing' takes up most of your time. And yet, the need to learn new things doesn't diminish. It only grows.
Pulling it all together.
Getting into your first job is just as much about who you know and luck as it is about your skills, CV, or degree. Keep that in mind as you go through college and take the time to build long-term relationships that will open that door for you later on.
That door though is only the halfway mark.
They say that knowledge is power, and I've found this to be true over and over and over again. Be an expert in your field. Know as much as you possibly can. Read obsessively, keep on learning. If you're busy, listen to audio courses or podcasts.
Recommended Resources:
Books:
Newsletters (General tech-related – they all have great free posts):
Stratechery
Benedict Evans
Lenny Rachitsky
The Observer effect
Podcasts:
Invest like the best
Acquired.fm
Masters in Business
Also read How I Became A Content Producer & Audiovisual Developer
How I Found Myself Flip-Flopping Between VC and Startups