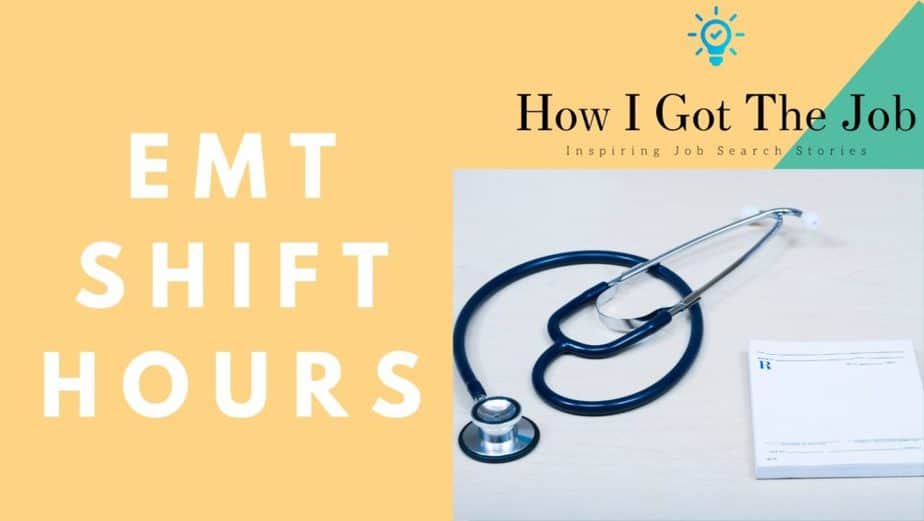 In this article, we will see what is EMT and EMT Shift hours.
The medical professional who helps in emergency medical crises including natural disasters and vehicle crashes is an EMT. An EMT also responds to the 911 call. Being an EMT is all about developing an immediate response to the medical needs of the patients who will not be able to make it to the hospital. If you are a person dedicated to serving people, then becoming an EMT might be the right choice. 
An EMT is usually required to work full time or at least around 40 hours a week. Planning to become an EMT? Be prepared to give up on your holidays. Shifts keep varying according to the agency. Mostly, the shifts might be of 9, 12, or 24 hours. Yet as an EMT, expect the unexpected. You never know what emergency you might be in. 
It is important to be aware of the job requirements and the shifts before deciding whether you fit into the job. An EMT schedule might be of different types in different departments. Find out all you need to know in this article.
Types of EMT schedules
Kelly Shift Schedule: This schedule involves three teams. One team is allotted with three shifts. The team has to provide 24/7 coverage for any emergency medical situations. The schedule is in a form of a 9-day cycle. Teamwork for 24 hours every alternate day. After the final shift, four consecutive days off are given. Thus, every team works for the same number of days in each week and, also is given the same number of days off in nine weeks. 
48/96 Schedule: This schedule also includes three teams. Each of them works different schedules to provide 24/7 coverage. The cycle is a six-day cycle. Here, one team has to work for two consecutive days to get four days off.
Pointers To Shift Hours
The schedules and hours depend a lot on the region you are working in. One can only know the details by directly being in contact with the region's administration. A rural area might have a lower call volume. 
The Time on Task numbers is the averages. These determine the length of shifts. At times they might not include some time-consuming tasks such as traveling and vehicle check.
Fire Department EMT
    Some fire departments have their ambulance services and are staffed with EMTs. The EMTs have a different schedule from the firemen. As an EMT in the fire department, you might be asked to devote about 48 to 58 hours a week. Shifts range around 8, 10, or 24 hours. However, the work hours aren't a laid down rule. The EMTs might be expected to continue working overtime in case a big emergency arises.
Hospital EMTs
Working as an EMT in a hospital might bring a more stable work schedule. The average work hours are less as compared to the fire department; around 36 hours per week. The factors that are taken into consideration while allotting the schedules are seniority, the needs of the hospital, and your preference. Remember that you might not be allotted the schedule according to your preference.
Best Schedule
You might be asked to choose your work hour preferences from 9, 12, or 24 hours. Usually, most people prefer the 24 hours schedule to get a day off. But looking at how competitive and efficient medical services are now getting; you might end up working for 24 hours continuously. The service also requires you to be calm and polite all the time despite the stress. The firemen are likely to take upon the 48/96 work schedule. One has to choose the schedule keeping in mind his own requirements. 
Tips to manage the schedule
As an EMT is supposed to work for long hours and deal with tense situations, here are some tips to help adapt to the working conditions.
Positivity: Keep a positive approach towards the work schedule. Let your focus be on the time you will be getting to rest and this might energize you. 
Love Your Work: Celebrate the work you do by recalling how important the job is and that it gives a chance to save someone's life. Saving one life is an achievement, remind yourself why your job is important.
Mental Health: Taking care of your mental health is crucial to this work field. As an EMT, you might deal with stressful situations and being calm in such situations is the key.
Physical Health: Working as an EMT requires your body to adjust to a non-traditional schedule. You won't want to be fatigued during your work hours. Thus, balanced diet, scheduling sleep hours, and staying hydrated is the key to remain fit at all times. 
Check List to Become an EMT
The person must have attained an age of 18 years.
A high school diploma or GED is a must for people aspiring to be an EMT. If you have decided to become an EMT early on, it would be better if you opt for subjects like biology or anatomy. If any other health science courses is taught in your school, that might work too.
Must qualify the certification exam to be eligible to get the certificate. 
Should be free from any criminal charges. Some of the crimes result in automatic disqualification. It is advised that you remain honest about your criminal record.
Must possess a driver's license in the state of practice.
Must have acquired Cardiopulmonary Resuscitation (CPR) certification.
A certified first aid instructor by American Heart Association or National Safety Council. (can be obtained within one year of employment)
Must receive an on-job training.
EMT Training
The organization that certifies EMTs at three levels is the National Registry of Emergency Medical Technicians. The training is an inclusion of three levels. After having the minimum criteria, one can go for the training. The pay scale might depend on the level completed and also the work experience.
The first level of the training is EMT basic. It includes training on the standard hospital procedures, learning about instruments used, and basic emergency care. It takes a week to complete. Professional experience of 110 hours is required.
The second level is EMT intermediate. It has courses including anatomy, biology, and physiology. For completing this level professional experience of at least 30 hours is required. The hour requirement might vary concerning state guidelines.
The third level is Paramedic. This is the final level and the coursework includes in depth learning of chemistry, biology, physiology, and anatomy. This course also includes certifications like Advanced Cardiac Life Support. Work experience of more than 1000 hours is required to complete this level.
All these levels have to be renewed every three years.
Skills Required
For being an EMT one needs to have great communication skills. 
The person should have problem-solving ability and a presence of mind.
Physical strength is also required to be an EMT; ability to bend, push and lift about 50 pounds.
Should be able to follow written and oral instructions.
The person should be good at listening.
Most importantly, an EMT should be compassionate.
Work Responsibilities of an EMT
Properly looking into the patient's medical condition and immediately determining the course of action.
Provide basic life support on the spot before the patient is taken to hospital.
Provide medical aid that includes CPRs, ventilation, preventing bleeding.
Preparing a report that specifies the patient care.
Transport the patients to an ambulance and shift them from one medical care facility to another. 
Sterilize the ambulance in case there's a risk of a communicable disease.
The victim's closed ones are to be calmed down.
If required, activated charcoal, oral glucose and oxygen id to be administered to the patient.
Maintain privacy concerning the patient and respect the patient's rights.
Work Environment
Working as EMT can be physically and mentally exhausting. The job requires you to deal with stressful situations. It doesn't matter how the weather outside might look. It involves bending, lifting up the patients. One has to deal with life and death situations daily. But trying to look at the brighter side, it does give a certain mental satisfaction of saving lives. 
Employment opportunities for EMTs and paramedics are about to grow significantly in the coming years. They might grow up to 6% The average growth is expected to be higher than all occupations. If you are looking for a job opportunity to be hired as an EMT, then this might be the right time. Make sure you complete your checklist to qualify as an EMT. Despite all the hectic schedules, working as an EMT will be emotionally fulfilling.
Reasons to be an EMT
No Requirement for College Degree: Get an early start to your career as you won't have to spend years in getting a college degree. Some people might not have the opportunity to spend on a college or to invest time in it without earning. The basic course for EMT would take less than 200 hours of study. Thus, in less than just six months you can start a career.
Job Security: With growing population and improving medical facilities, EMTs are always in high demand. 
Career Growth: By continuing the training at different levels you might end up on another level. There are many ways to improve your pay scale and reach higher posts with an EMT qualification. 
Exciting Work Life: Working as an EMT everyday brings in different situation. It requires problem solving aptitude at the very moment. There is also a lot of satisfaction in knowing that you are helping people save their lives. 
People become EMTs for various reasons. Some of them like learning the subjects involved in it, while others enjoy the challenges that situations bring in. The profession might be exhausting for some but it is a rewarding profession. 
Frequently Asked Questions
How flexible are EMT work hours?
While on duty according to your schedule, as an EMT you might be expected to work continuously. However, once your shift ends you get a day or more than a day off. It depends upon your employer and the region you work in.
How much do you get paid as an EMT?
The payment to an EMT is usually made on per hour basis. The payment mostly depends upon your employer. However, your pay might range from $12-$20 per hour. The annual median salary of an EMT might be around $32,000. 
What are the jobs that are similar to EMTs?
In the medical field; physician assistant, emergency dispatcher, lab technician, flight paramedic, and a registered nurse are similar to the job of an EMT. 
Can you be a part-time EMT?
Usually, the pre-medical students work as part-time EMTs. Their work schedule is two to four 12 hours shifts every month. The work hours are much less as compared to a full-time EMT. 
EMT Shift hours-All about EMT