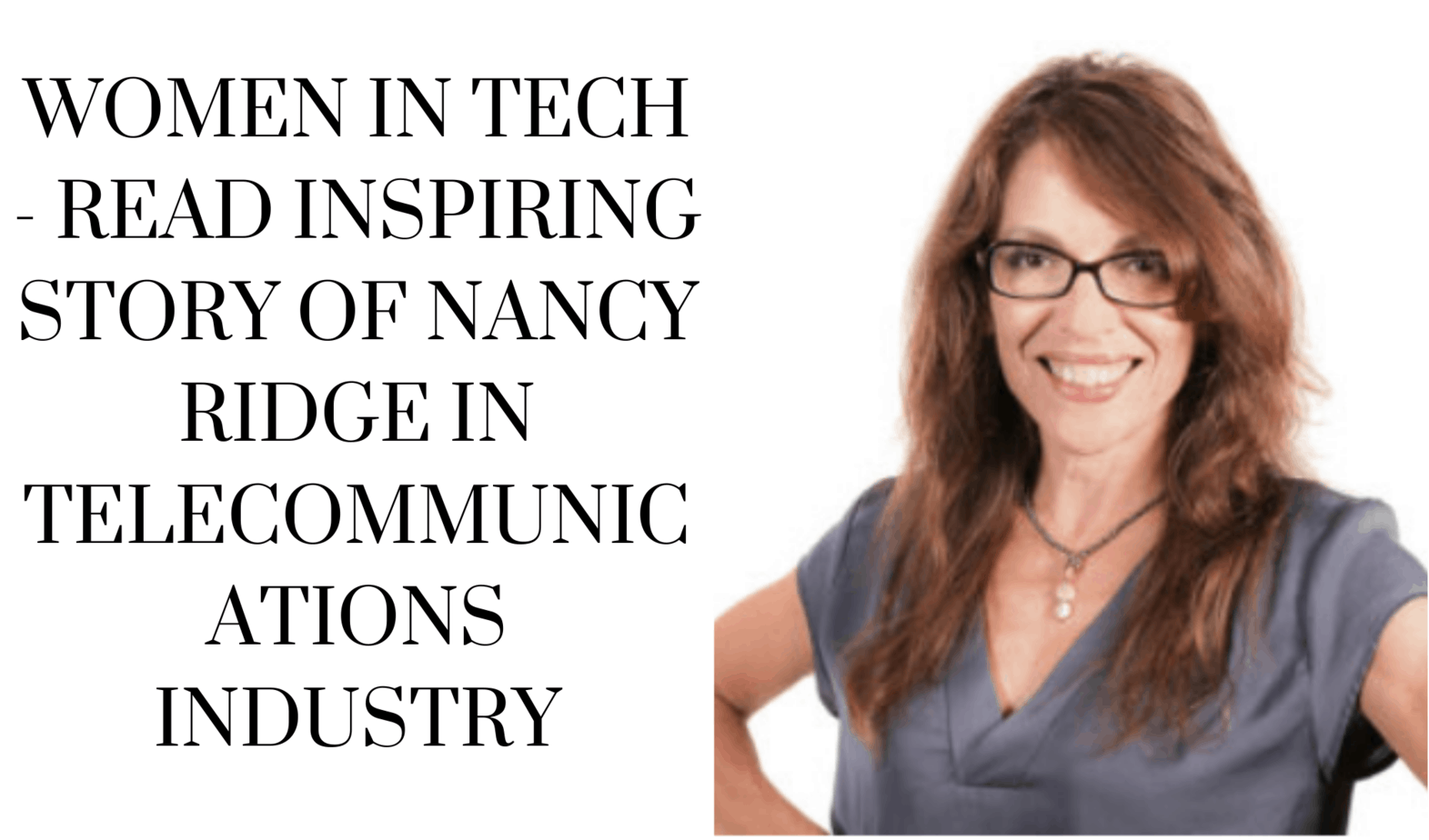 Nancy Ridge – EVP, Telecom Brokers 
Like most people in the telecommunications industry, I did not start out with a specific intention to build a career in the field. I did, however, always like tech and have an acumen and focus for business. I was accepted to Wayne State University in Detroit, Michigan upon graduating from high school at the age of 16. I enrolled in Computer Sciences and began studying the basics as well as writing in the code languages of the day.
Two things happened that shaped my life at that time and ultimately my career trajectory. First, my father retired and my parents moved to Tennessee. Because they could not afford to pay tuition, I made a decision to stay in Detroit, get a full time job to support myself and pay for night school at Wayne State.
The second thing that happened is I was fortunate enough to get a job working as a secretary at Honeywell for the team that sold mainframe computers to the big automotive companies. This propelled me directly into the high tech world where multi-million dollars deals were made and innovation was happening. I believe I was hired because in spite of my young age, I had exceptional secretarial skills, I was openly ambitious and I had a passion for tech and for learning new things.
All those qualities served me during my tenure in that job. I inserted myself as often as possible into situations where I got to witness if not the big deals getting closed, the behind the scenes strategy sessions with the executives and sales teams that got them closed. I hung out with the technical people, too, asking questions, learning a little about coding, being first to use new technology like the Word Processor, to do my job. When I decided to move to California, I requested a transfer to the LA office and immediately got it.
It's interesting to note that I didn't get my degree at Wayne State. Between my full time status at Honeywell, the real time education I was getting there and then the move, I let go of that dream. Although a part of me regrets not having the full college experience or gaining those contacts, the reality is my career advanced through on the job experience and the contacts I built at work.
A few years later, I began working for the microchip division of Honeywell and was introduced to the Silicon Valley, the exploding world of microprocessors and the world of OEM, distributors and channel sales. I also worked for a woman who became a significant role model for me. She had risen to the level of executive leadership through creating effective distribution channels and knowing the technology. She was also very attractive and in a time when women dressed like men to fit in, she was feminine and comfortable in her own skin. I followed her to a start-up that unfortunately didn't survive but I learned a tremendous amount during this time. I pursued that job because of her; I wanted to be in close proximity to a role model and I told her so during our interview. The experience didn't disappoint and I believe she also showed me the satisfaction she got from mentoring a young woman, something I would later be passionate about.
I spent 11 years in the energy efficient lighting industry at a time when technology changed light bulbs for the first time in 50+ years and introduced motion sensors and other electronic devices. When interviewing for this job, I got to take a step back and be hired as an Office Manager/Director of Operations first. The company owner, an entrepreneur, was both delighted with my direct, strong and unabashed ambition. He often stated he wished he could have cloned me. After a year, he allowed me to move into direct sales. In my first sales role, I broke all the records. I was the only woman my customers had ever seen. I learned the details of how the technology worked, I understood and could easily explain how to install it and how to service it. I designed energy efficient lighting systems into new facilities on blueprints and eventually in CAD systems, working with electrical engineers, contractors and facility managers. I gained a seat on the Board for the LA Chapter of the Alliance of Professional Energy Managers.
After my first child, a daughter, was born, I left the lighting business because I wanted to be home with her in the evenings and work a more predictable schedule. I decided to try telecommunications and joined a switchless reseller who worked with enterprise clients selling, at that time, Top Tier networks AT&T, MCI and Verizon. I was hired by a seasoned professional who liked the fact I was used to doing big deals with C-Level decision makers. He also liked my natural affinity for technology as well as my background with it and promised to teach me what I needed to know about telecom to be successful in sales, and he did. After about 6 months, a big telco executed a takeover of the company. I had my first lesson in the volatility of the telecom industry and how M&A's would forever more influence my career. The new management came in and fired the entire sales team except me and one other because I had the experience and street smarts to treat the initial meeting like an interview. Again, I was the only woman.
It became obvious the new company wasn't for me with its' "Glengarry Glenross" sales environment, "pounding the pavement" to sell in one call closes long distance to small businesses. Although this was not a good use of my skills it did teach me a great deal and although it wasn't pleasant, particularly as I was pregnant during this time, I am grateful I got the experience.
I called on a start-up electric, gas & water utility cost containment consulting firm through one of my old energy contacts and found my next opportunity. After I completed my presentation to the company owners, they said they didn't want the service but they wanted me. I was hired to start a telecom division. I was given access to their contracts with over 100 Fortune 500 companies, the ability to hire and manage a staff and free rein to create relationships with telecom carriers to execute recommendations. This was the first time I built a business from the ground up. Within 4 years I had a staff of 8, had added residual channel sales as a way to gain another revenue stream and control the implementation and on-going relationship with the customer and the carrier, and put over $5M in revenue on the books. At the time I left the company, I had been working with the pioneers of TEM software to apply the knowledge I had gained doing the work manually.
I was recruited by the CEO of another brand new startup to take on the challenge of creating a channel distribution model for wholesale long distance. We sold millions and millions of long distance minutes to all sorts of telecom carriers. I began with less than $100K in billed customer revenue and no channel distribution. Within 3 years we were named #40 on the "Inc. 500" list of fastest growing companies, #5 in the telecom sector, generating $3M in revenue. I formed key relationships with all the major master agencies in the channel as well as learning the wholesale side of the business myself. Sitting on the carrier side of the table, I learned a tremendous amount about operating a telecom business, including operationally, technically and from the regulatory perspective. The "bust" of the wholesale industry in 2005 necessitated another move for me and that's when I landed at my current company, Telecom Brokers.
The challenge there was to take a small agency with approximately 5 carrier contracts, a handful of agent partners and no back office and create a powerful master agency. Over time, Telecom Brokers has grown to be one of the most profitable, high-profile and respected master agencies in the Channel. We have created breakthrough strategies in marketing, education, business planning, vendor relations, base management and sales. I have continually strived to be at the forefront of technology, adapting our focus to new products and strategies in their early phases. In the meantime, I was a co-founder and the first President of a non-profit group for women in technology originally called "Women in the Channel" now known as "Alliance of Channel Women". It was a result of my many years of being either the only woman at the board room table, or one of the few women in the room period. In particular, I wanted to create a group where women in leadership and revenue generating roles could meet, network to grow their businesses, support other women in the heavily male dominated tech industry and mentor young women and each other into leadership roles. The Alliance of Channel Women has been a resounding success and is still growing and reaching for those core principles and goals.
Through all this, through my continuing love of technology and how it can solve problems to help people and grow their businesses, I have and continue to deal with the challenges of being a woman in the tech world. I have suffered sexual abuse and harassment, I have been paid less than my male colleagues even when I've out performed them, my role as sole breadwinner for my family has made me vulnerable to accepting employment agreements that didn't serve me, I have been talked over, passed over and told to be quiet.
Yet, I am not defeated. I continue to advocate for women and girls both through the non-profit and all the relationships I've made as a result. Along the way, I've learned the value of mentorship and sponsorship which has helped me survive and yes, thrive! Today, I am asked to speak both in and out of the tech industry today on topics like mentorship and negotiating for success as a woman. I'm still learning how to speak up for myself and ask for what I've earned and I have hope. At 55, I'm not finished with either my career or my passion for women in leadership. I know today that my voice can be part of a collective conversation that will eventually change the circumstances so the next generation of girls and women who love tech like I do will reach new heights and effectively change the world.
Women in Tech – Read Inspiring Story of Nancy Ridge in telecommunications industry