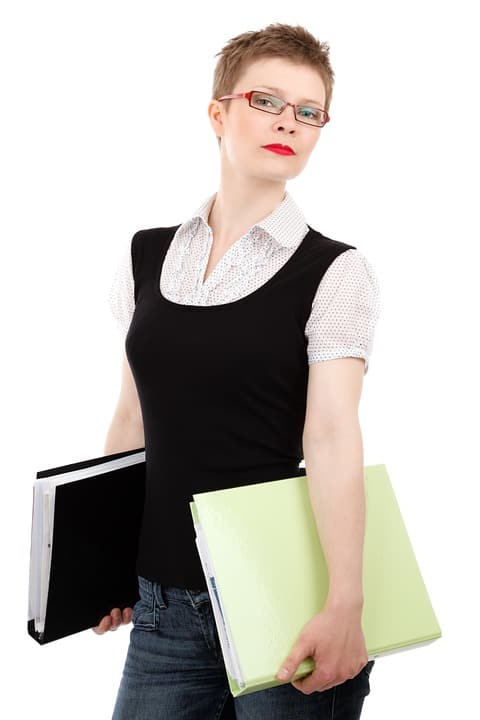 Remember the time you helped your Mom out in the kitchen with all the cooking? Or assisting Dad in washing the car? What if you could take these assisting duties a notch higher? If you love to assist another individual in their activities, then a personal assistant's job will be a perfect fit for you. You act as a mediator between your employer and the third party. You keep a track record of all the activities needed by your employer in a day and manage their work. You help them by lifting the burden off their shoulders. A personal assistant's job can be quite stressful at times given the time constraints you have to work in, the expectations of the employees you have to meet, and so on. You also provide alternatives to your employer when a difficult situation pops up. A personal assistant has to be in constant touch with the employer. We will discuss Personal Assistant Salary here.
You are the prime source of contact for both the personal and professional people of the employer. A personal assistant acts on behalf of the employer and the orders given by them. A personal Assistant, at times, can also act as an advisor to his employer. A personal assistant can work in any job environment as most job environments demand a personal assistant. While some setups will need you to have many years of experience and seniority under your belt, some environments will hire a fresher with little to no experience for the job. Obviously, the perks of the job in both settings vary by a large margin. Depending on your employer and your relationship with them, you may be offered a more senior position, such as an administrator or financial advisor. Consider this as a promotion. 
Requirements To Be A Personal Assistant
You need to complete your high school diploma or General Educational Development (GED).
You should be at least 18 years of age.
Some employers may also ask you for an Associate's Degree in Communication or Business.
You should possess great interpersonal and communication skills.
You should possess organizational skills, time management skills, and writing skills.
You should possess profound knowledge of computers.
You should be trustworthy and keep any information given by the employer confidential, and take responsibility for this information.
Commitment should be your top priority.
It would help if you were a motivated and goal-oriented individual.
You should be able to adapt to different working styles.
You should active listener and should have an eye for detail.
The work you do should be highly productive, and you should always try and take up the initiative. A prior experience is a huge bonus.
You should know how to operate the current office management systems and procedures.
It would be best if you did not crack under pressure but must maintain your composure.
You will be required to coordinate with various teams and divisions and continuously collaborate with them.
Duties Of A Personal Assistant
Maintaining the employer's email and composing or replying to messages when needed.
Communicating with the other parties on behalf of your employer and relaying important information to your employer if required.
Receive phone calls on behalf of the employer.
Schedule travel plans and itineraries for the employer.
Schedule, organize, and take care of all the details of the meeting.
Noting down the minutes of the meeting and paying attention to all discussed in the meeting.
Carrying out orders given by the employer.
Regulate access to your employer.
Book transport and accommodation as required in the designated location.
Screening or having prior discussions with people who want to contact your employer.
Prepare presentations, reports, and statements for the employer.
Assigning work to your employer's department when your employer is not around.
Ordering stationery products as and when required.
Types Of Personal Assistants
There are 4 types of personal assistant you should know about.
The Gofer: Gofers carry out the instructions as asked. They do all the tasks of the employer in the employer's directions. But this does not ease the employer's workload as the employer has to all the thinking and planning for the personal assistant. The personal assistant acts on the work assigned. This does affect the employer's time to some extent. A gofer is the most basic level of the personal assistant. This type of personal assistant is more applicable for fresher or people who have no personal assistant experience. A top-level employer will not hire a gofer.


The Administrative Assistant: This kind of assistant is mostly seen in an office setup. The administrative assistant, more commonly known as an 'admin,' is an individual who will have to multi-task and manage various departments under them. They are given a layout that they have to follow diligently. These tasks should be within their capacity, and they should be familiar with doing these tasks. This does not mean that the admin completely relies on the employer to carry out any task. Since they are already adapted to working, they know how bouts will do the job efficiently. The drawback or downfall with this kind of assistant is when they are handed tasks where no success is guaranteed or when the task is out of their comfort zone, they may end up not delivering their job with the best of their efforts. Hence, they may refuse to take up tasks where help is needed the most as they know that they will be held accountable for any discrepancies on their part. Administrative Assistants are way more helpful than a gofer.


The Executive Assistant: As the title suggests, these assistants have more experience and knowledge under their belt. Executive Assistants can excellently deal with problems that have no solution. They know how to strategize and use their quick sense of thinking when a problem crops up. An employer does not necessarily have to give detailed instructions on how a job should be done to the employer. The employer will figure out what they have to do even with minimum instructions. With an executive assistant, the employer only has to give them an outline of the task to be done, and the executive assistant will carve out his work autonomously. Executive assistants save up a lot of the employer's time. They can come in very handy in large companies.


The Chief Of Staff / The Executive Officer: This kind of assistant is like a one-person army. They understand their job role perfectly. They know how to leverage their work and their team player's work. They can do their job with very little information provided to them by the employer. An executive officer will always ensure to conduct a follow-up on what the employer has asked. The executive or administrative can only jot down points in a meeting, whereas the staff's chief can take necessary action. Such kind of staff is mostly assigned to larger companies.
Personal Assistant Salary In The United States Of America
The average median salary of a personal assistant in the United States is $36,000, with the lower half of the population earning $25,000 and the upper half of the population earning $51,000. The lower half of the population is considered an entry-level personal assistant. In contrast, the upper half of the population are considered professional personal assistants having more seniority.
Following is a table that states the salary of a personal assistant in all the states of US.
| | | | |
| --- | --- | --- | --- |
| CITY | STATE | AVERAGE SALARY | SALARY RANGE |
| Paterson | New Jersey | $50,333 | $39,000 – $64,000 |
| New York | New York | $47,793 | $37,000 – $61,000 |
| San Francisco | California | $46,239 | $36,000 – $58,000 |
| Philadelphia | Pennsylvania | $43,680 | $34,000 – $56,000 |
| Chicago | Illinois | $39,103 | $30,000 – $49,000 |
| Columbus | Ohio | $38,917 | $30,000 – $49,000 |
| Florence | Kentucky | $36,648 | $28,000 – $46,000 |
| Charleston | South Carolina | $36,284 | $28,000 – $45,000 |
| Richmond | Virginia | $33,700 | $26,000 – $42,000 |
| Houston | Texas | $33,546 | $25,000 – $43,000 |
| Doral | Florida | $32,816 | $26,000 – $41,000 |
| Atlanta | Georgia | $32,161 | $25,000 – $40,000 |
| Seattle  | Washington | $32,151 | $26,000 – $38,000 |
| Phoenix | Arizona | $29,385 | $22,000 – $37,000 |
| Springfield  | Missouri | $28,916 | $22,000 – $36,000 |
| Duluth | Minnesota | $26,869 | $21,000 – $33,000 |
Companies That Pay Personal Assistants The Most
| | | |
| --- | --- | --- |
| COMPANY | AVERAGE SALARY | SALARY RANGE |
| Missouri State University | $75,717 | $64,000 – $89,000 |
| Calendars | $62,983 | $51,000 – $77,000 |
| Virginia Commonwealth University | $55,212 | $45,000 – $67,000 |
| Einstein Healthcare Network | $47,328 | $42,000 – $52,000 |
| EDG | $40,070 | $37,000 – $43,000 |
| Seven Hills Foundation | $36,320 | $33,000 – $39,000 |
| Community Health Systems | $36,264 | $34,000 – $38,000 |
| Randstad USA | $36,233 | $31,000 – $41,000 |
| CornerStone Staffing | $36,092 | $31,000 – $41,000 |
| Mass | $35,828 | $31,000 – $40,000 |
| Juno | $34,461 | $30,000 – $39,000 |
| Robert Half International | $34,216 | $30,000 – $38,000 |
| Michael Page International | $34,015 | $30,000 – $38,000 |
Also read Chief of Staff vs Executive Assistant: What's the Difference?
Personal Assistant Salary – Requirements & Duties