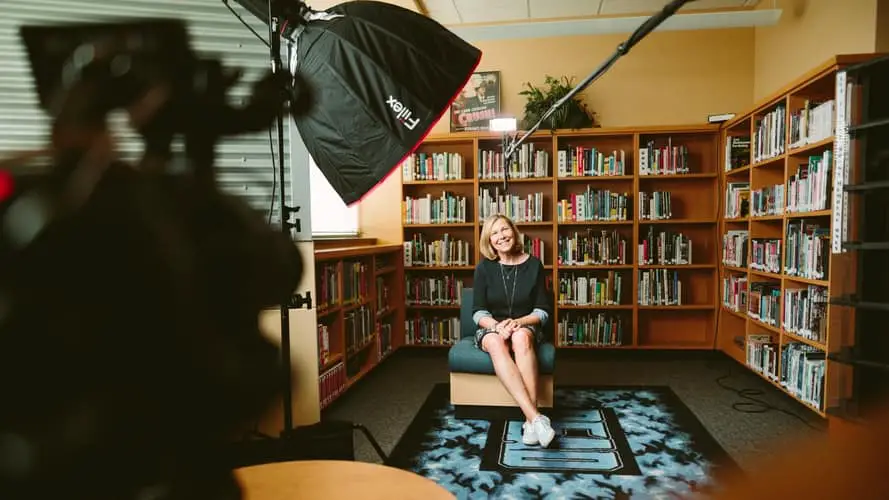 The reputation and prestige gained when one addresses them as a principal of an institution is massive. In this post, we have listed some common and top Principle Interview questions with measures to respond to them. Becoming a principal for a school is one of a kind dream job for many of us. However, we must know that it's not that easy. It is challenging as the principal is responsible for all the educational facilities, faculties, students, and the entire school. Such a big career needs the best person; hence hiring procedure is competitive and tough.
The employing board plans an intricate interview with nerve-wracking questions to comprehend each applicant, their inspiration, and demeanor to different school-related issues. Here's the good news, it's not difficult to crack it. The candidates will go under various tests regarding behavior, technical knowledge, personality, and other related standards during principal interviews. Have a look and view the bigger picture! Let's get it!
15 Sample Principal Interview Questions Interview Questions 
The important aspect while answering questions is to speak with clarity. If you have a thorough understanding, your words won't be broken to think the next word. Take a look at the following 15 questions with the indications to respond. Comprehend and compete.
What Do You Feel Must Be The Main Motive Of A Principal?
This is an important question and might sound hard, but you should look at it from different views to handle it. Ponder on questions like should principals be a leading authority, represent the school, strictly work, contribute 24/7 for the school, etc. These thoughts will help you to approach the question with a full-fledged answer. 
A decent answer to this depends on your skills and views on work and leadership. Justify the motive you believe in with personal experience as well as methodologies of great personalities. Alluding to world geniuses confirms your extensive knowledge of inspiring personalities.
What Made You Apply For The Principal Post? What Motivated You?
Whether it's for cash, individual acknowledgment, or because of motivation from your close people, this accomplishment is huge. As a principal, it's mandatory to have some teaching experience. If you're applying for this post, then either you'd have dreamed of getting a stand in the educational field or wanted to improve something.
Speaking of improvement, do you wish to make a change in this school you're applying to? Is your central goal to turn the school into an ideal spot for everybody, where both teachers and students find solace? Interrogate yourself.
While being interviewed, you need to be clear about why you chose the career and encouraged you. You should show a few aspirations, objectives, and desires that lead you here. Make sure you relate your answer to the students' goals and faculties as well because principals are meant to be selfless.
Describe How Your Day At This School Will Move As A Principal.
On normal days, working staff probably read some newspaper in the morning, have a cup of hot coffee, get ready for work, and take responsibility. This is how people assume a principal's life to be too. But the question stated here is to see how you envision the position. 
You'll need to show an alternate methodology of your day as a principal at the interview. Say, how you'll be occupied, how you generally search for activities, how you'll find pursuit for things that need improvement etc. Keep it short and crisp, yet mention how you'll fulfill the expected set of responsibilities, obligations from the depiction, exercises for the staff to gain more exposure, and other methods. When you show how you plan to accomplish something every day of work, it will make the recruiter anticipate more. 
What Is Your Perspective When It Comes To A Student – Principal Relationship?
Ask yourself how you wanted a principal back when you were a student. Did you expect or liked the strong control they maintained? Did you expect a principal to feel like a friend? Did you ever feel they needed to respect and show more love to the students?
Based on your experiences, you can also question how you can change or improve those standards as a principal yourself! Do you wish to maintain discipline in school, have a steady watch over the syllabus, and speak to students now and then to figure out feedback? Ponder over these and state your view on how the rapport between the principal and students must be.
Describe Your Understanding Of Leadership.
Leaders are often portrayed to be intimidating, but in reality, they work among the people for the people and by the people. In that case, what's the significance here, to lead somebody according to you? Is it fearsome or freedom? As a leader, will you pull in individuals, accept them, interface and give them strict measures? Be it anything, as a leader, everything mentioned above needs to be mixed when it comes to leadership skills.
State in your answer how leadership is a part of our day to day lives, like instructing anyone around in needed situations, leading kids at your home, and your previous school experience as well. 
There are numerous degrees of authority, but unfortunately, the vast majority can't lead their lives. Such individuals do barely settle on any choice all alone, even though they don't understand that they are indiscriminately following stereotypes. Explain how this isn't your view but a unique leadership skill. 
Anyway, speak about your expert profession in your own life by depicting circumstances when you drove somebody towards accomplishing an objective or to accomplish something important. 
Show the interviewers that you can decide and prepare to lead the school and the individuals who work there. This will motivate them to believe you're the right candidate.
If You're A Recruiter, What Would You Expect From A Candidate Applying For The Principal Post?
To lead an interview from the employing panel isn't simple. But no worries because there are numerous fantastic resources to take care of candidates at recruiting meetings. 
Explain how you'll be extremely aware of the latest school laws and ask the applicant regarding schools' essential system. As a recruiter, stage one of interviewing is understanding who you need to enlist and how you'll want them to represent themselves as a profile for the position. 
Secondly, explain how you'll promote the job vacancy so you'll be able to draw the right crowd to apply. And once they do, as a recruiter, you'll need to expect them to have thoroughly read about the job requirements mentioned in the promotion. The third step is to maintain a layout of basic principal etiquettes from the applicant and see whether they fulfill it.
What Are The Fundamental Zones For The Development Of Our School You Look Over To?
This question is your extreme beginning where the job can be confirmed. Based on the recruiters' expectations, you might wonder would it be advisable for you to commend them or scrutinize them, would it be advisable for you to call attention to the beneficial things, disregarding the difficulties, or would it be advisable for you to begin discussing the estimates you would take on the off chance that you drove their school? You might wonder if the improvements you suggest might make them feel like you're mocking the school. You might also think whether they'll get offended. Either way, we'd suggest you do justice to the question by professionally conveying the zones of development. Because somehow, you need to get ready for this inquiry ahead of time. 
Spotlight generally on the beneficial things, and recognition of their great work while scrutinizing. Individuals at schools don't care for change–in any event, many don't prefer to change how they manage their work. You will have a lot of time to take measures and improve everything when they employ you for the work to answer the point and explain how you'll manage it.
The more data you have, the simpler it will be for you to create a smart response. Be that as it may, attempt not to contact the recruiters' feelings sitting in the employing panel. Exploring the foundation, checking the surveys, attempting to discover what the instructors and the students consider the school will get you familiar with their exercises and about how they introduce themselves in a nearby local area. 
Describe In Three Words As Per Your Pick How A School Principal Should Be.
In three words? You'll be feeling when this interview will end and that it just won't get simple, won't you? A decent reply to a decent audience requires extensive knowledge of the topic. Consequently, you should reply with three words and that need words of wisdom built-in.
Think about which words will you pick for your meeting answer and think of words that don't sound too simple.
Explain how a principal must be like a pioneer who sets good examples. Keep it short and reply mindful, shrewd, and conclusive. If you tune in how you'll be such the recruiters will get the hang of how incredible you'll be. We mean, you need to decide how the description you give for a great principle will be done by you as well. Remember to utilize three words precisely if they ask it. A sample we would give is "Thorough, Tenacious, Tender." If they ask you to explain them, try it like – Thorough with knowledge, tenacious with courage, and tender with the people around. 
Bingo!
Do You Believe That Principals Should Also Teach Students? If So, Why?
Let's imagine a female principal in her forties, wearing a costly coat from top quality material, looking very confident, and just sitting in her cabin the whole day. What's the point? Yes, of course, she'll have busy calls regarding school but will all days be like that? 
If you're a principal, would you like to sit in your comfortable cowhide seat, appreciating the excellence of your office, failing to walk out except if somebody calls you, or thumps on your entryway? Think about it. On the other hand, would you like to effectively partake in educating, participating in the classes, to notice instructors at work? This is why we believe principals should also get inside the classrooms and interact with students through education.
All things considered, any principal who isn't hesitant to partake in educating or even to instruct is the best fit for the campus. Show them that you are not apprehensive and comprehend the significance of seeing the school life likewise from the viewpoint of understudies and educators.
A clever response relies upon your way of thinking, on your disposition to work. The recruiters comprehend the significance of your answer where you speak about how principals must be active with students and staff through education.
What Will The First Thing You'll Do If You Bag This Principal Position?
This is a very crucial question. They're probably interested in you, and this question can be your chance to grab the spot! If you say you'll celebrate the success with family and friends, it sounds fine, but that's your personal issue. Be professional and express how you'll be prepped to flex at work as the new principal!
A decent answer would be that you'll welcome the associate chiefs, the school guides, and educators for an executive gathering and start conversing with them one on one. You can really welcome a few substitutes additionally, maybe the individuals who work to maintain discipline in the homeroom. The gatherings should assist you with getting a decent handle of the school, the fundamental difficulties and issues they face, and the individuals you will work with the hereafter. That is likely something first you ought to do in your new position. Yet, don't hesitate to concoct your own thought and express some private feelings. It's okay to share how you'll feel blessed when you bag the job.
Suppose you answer regarding how the first day of your work will be impactful, then good, indeed. We are really getting some information about the principal thing you do in your work, and it will sound promising to the recruiters. 
Where Do You Picture Yourself In 10 Years?
Showing the recruiters how you understand some investment requirements to make an extraordinary school in 10 years would possibly get you on the career shore. Reveal to them that you intend to remain long with the school and that you plan deliberately as well as strategically. This ensures that you're aware of how objectives require numerous years to accomplish. 
The recruiters will realize that you dream about going into business or about venturing to the far corners of the planet for a prospective school improvement. 
We should know that no one understands what will occur in ten years. We may pass on; we may live in an alternate country, we may have a totally extraordinary position. Also, no one will accuse you if you leave the school following one year of working there. In any case, you ought not to discuss these things in a prospective employee meeting. So, speak only about the school and not about your private assumptions about the future. 
Don't we know Rome wasn't built in one day? Thus, make the hiring people believe that you're willing to remain with the school for a long time to come. 
Tell Us Your Expectations From Students, Teachers, And Other Staff.
Express through this question how you center around the things you can handle that implies your demeanor to others at school, your inspiration, and how you assist the others with managing their work. A great principle ought to expect a ton from one individual just from themselves. You can have some fundamental assumptions, such as trustworthiness, straightforwardness, openness for conversation, and essential order. Yet, you ought not to expect any other person to deal with your work or to make it a lot simpler for you. 
It would be best if you made them feel you're promising to be on the campus because a rapport between the school members will bring about a lot of change. It will be making the entire campus turn astounding. Your answer must sound inspiring for all the candidates who'll one day learn under you.
Do You Have A Role Model?
Recruiters believe that evaluating the candidate's resume and vocation might not be an adequate groundwork for an interview. That's why they'll like to hear how another person's accomplishments inspired you.
We believe this question is a blessing for the candidates. You'll get to express about someone you really look up to, and what if the recruiters also like that personality? That's going to be a hooking discussion. When you speak of them, it will show the amount of love and respect you have because it's brought a desire in you to be like them.
Be it your own parents, they are exclusively good to go with, but speaking of well-known or unrelated personalities would sound charming. Parents are our colossal ones, and they're our everyday life teachers. So, in these types of questions, rather than explaining their motivation, you can add them in a while talking about someone in your professional career. Those expert saints will get you through this question.
Pick somebody whose standing will demonstrate that you're not kidding about getting one of your industry's successful people too. Discussing a world-renowned personality who inspired you to construct extraordinary groups will reveal to them that you're indeed someone with lots of vibes.
As A Principal, What Strategies Would You Use To Control Bullying If It Happens?
Tormenting and bullying are not other difficulties that schools face. Numerous training experts are increasingly more worried about how to stop it. As a principal, it is your sole duty to find if there's any and figure a way out. Bullying can happen during or after school, in the school building, and such non-scholarly occasions must be put to an end. 
As a school principal, their vital part in establishing a climate that lessens and forestalls tormenting will understand the roots. Principals must establish a positive school environment for all staff and students. Feel invited and esteemed. Get current realities about what's causing harassment and gather precise information. Explain to the recruiters what you'd do so after collecting the information. Something which you can follow is:  
Instruct at school what bullying is and its dependable impacts, what approaches and rules are set up, what is anticipated from them and how they can help. 
Search for help from other school pioneers, educators, staff regarding plans.
Have an open discussion with students about the impacts of harassing and urge them to establish a positive climate, all things considered. 
Give anti-bullying exercises, such as congregations, innovative craftsmanship crusades, or different correspondences that fortify the local area's positive messages. 
Remember, to add in your answer that changes won't occur quickly for it's a progressing exertion and obligation. 
Tell Us Your View On Technology's Impact On Education.
There are innumerable reasons why technology is a vital part of learning in schools. Students are drawing in with invention continually outside of the study hall. Children like to be intelligent, and learning through innovation has become a piece of their way of life. For new instructors, these are viewed as a need for the learning climate. As we know that students know technology better than most grown-ups, they have become the least demanding way they learn because it is a particularly indispensable part of their lives. They can also learn at their own speed, yet now and again, the conventional homeroom makes it hard to do as such. With innovation, there are no impediments. 
If you're also addressing the cons of technology, please do so because we all cannot deny that the regular teaching method is incomparable. As a principal, they must keep with the new teaching trends, but it never means the traditional ways need to be cut. So, express your honest views keeping all the above-mentioned benefits in your mind.
Other Questions You Can Prepare In Advance For Your Job Interview:
As we've had a thorough look at some mandatory questions, here are a few extras to muse on. It's never wrong to be prepared for everything.
How would you pull more students to apply for certain events, courses that you feel will make them more knowledgeable?
As a school principal, what would you want your school to carry towards in the future?
How would you manage to establish a positive relationship with staff, parents of the students, and other business people who are likely to aid the school?
Describe your experiences of working with low income and troubled students? What measures would you take to proceed with them?
How would you rate yourself as a teacher? Do you think firm control as a principal alone is enough?
How will you market the school to the nearby local area?
What do you consider your most extraordinary commitment to your current school locale? 
How will you measure your prosperity after the primary year in this work?
How will you uphold a protected and successful school through other methods or schemes that seem to benefit?
Who invented school & what is the purpose of it?
Some Tips To Look At
Here are some tips which will help you while you're prepping for the interview.
Go early to the interview spot. Talk with the staff to have an idea about the school. 
When you go into the room, move to and welcome every individual from the meeting board. 
Think before you answer an inquiry. Also, bind your reaction to the inquiry posed. Be brief and careful.
While responding to an inquiry, take a gander at all individuals from the meeting panel, not simply the individual who posted the inquiry. 
Make certain to thank the council for the time and freedom to meet. 
Our Final Thoughts
When you want to smooth out your groundwork for a tough interview like this, practice is the key. Meeting for a school principal's work might make you nervous because it might be your biggest dream. But the good news is that things will get better with effort and reading. With the above-mentioned sample questions, we believe you know what to look at before going to the interview. Never forget to research about the school from head to toe. That's very vital for answering questions. I hope our article helped you and if any of your friends requires this, feel free to share it. All the best for your interview. Ace it!
Also read Pharmacist Interview Questions [With Sample Answers]
Top 15 Principal Interview Questions and Answers