How is your day-to-day product manager job description?
This is my Product Manager Job description
All Developers shudder at the thought of taking up my role.
All QA's want to take up my role.
Business considers me as a member of the tech team.
Tech team considers me as a member of the business.
And I want to become a designer – seeing opportunities where others see problems!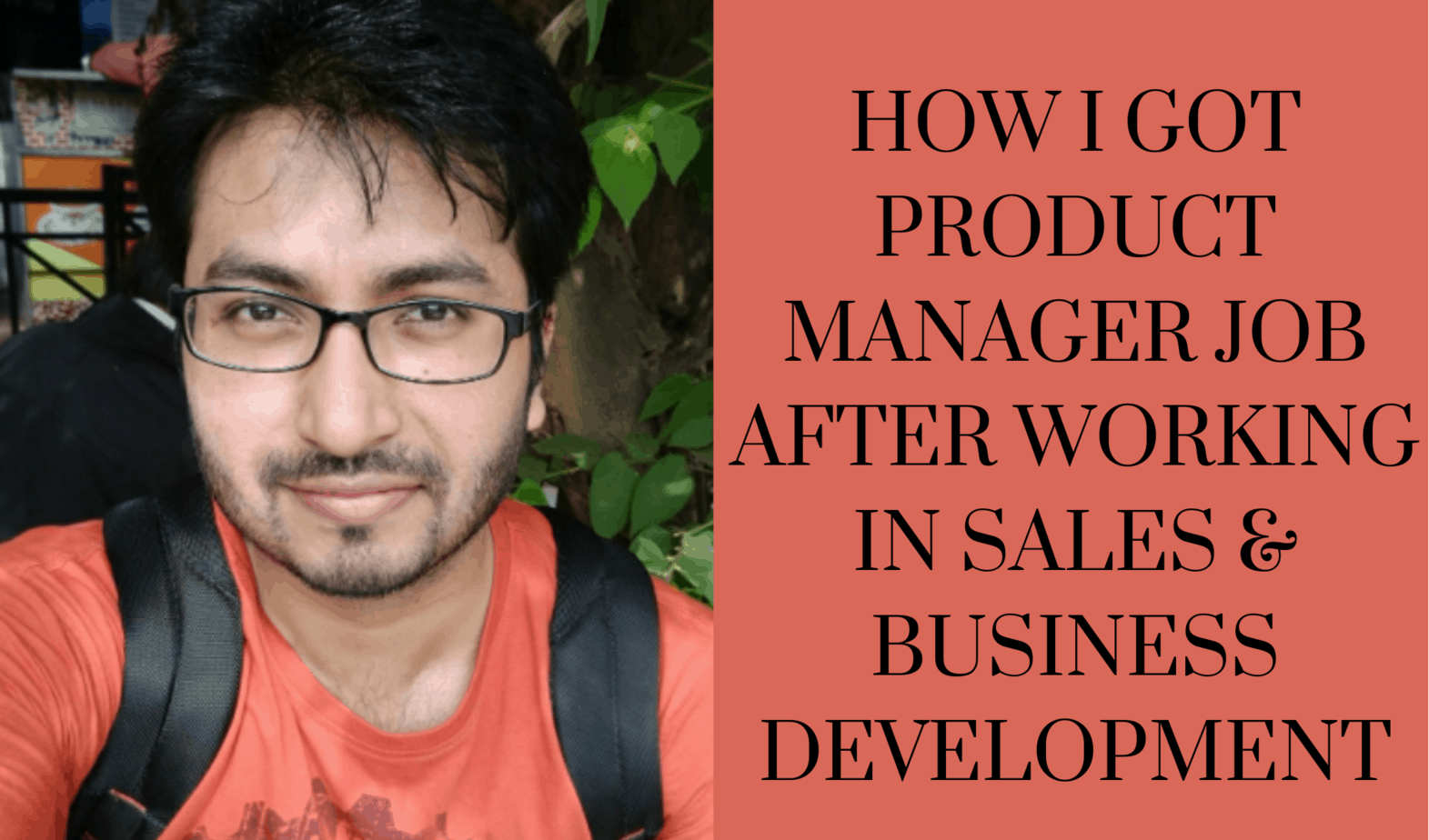 After graduating as a software engineer in 2008 I had a job offer from IBM GBS and a startup. This was a time when startups were not a craze, neither they used to pay as much. However, I was offered the same salary at the startup as my offer from IBM. So, nothing to lose I joined the startup.
My experience in the startup felt like an extension of my student life, just with more responsibilities! I worked on so many different projects and technologies which still awes me. I felt I was just about average as a software engineer, i liked product development but not coding, i wanted to be involved in defining the product without actually implementing it, but it didn't make sense why anybody would involve me in such a role. Recently I read Ken Norton's blog and could relate so well to him! So, soon something else drew my interest – Business development! We were developing a product in-house for asset tracking using GPS, RFID, GPRS, SMS and client-side website to track assets and a server side to manage all the data. It started frustrating me to the core when we just kept on developing the product for over a year and didn't have a single customer and neither were we even talking about getting any clients. I dropped contributing as a software developer and started hunting on the field to get clients, door to door, the old-fashioned way.
Recommended book for Product Managers Hooked: How to Build Habit-Forming Products
Thus started my journey away from software development.
Then I went and got an MBA in sales and marketing. Being a married man pre-MBA I had done a calculation that I needed at least INR 10 lacs per annum (A million Rupees) package for a decent independent life with my partner. With this scare, and having experienced a complete confidence shattering experience during summer placements in MBA, I didn't take any chances and applied in all tech companies from day one. During summer placements I had applied in 30+ companies, had my resume shortlisted in 5 companies, rejected in all 5 companies in interview or GDPI round, then selected in one company on the insistence of my placement cell.
I joined a pre-sales team in an IT services company. It felt like a decent job description in Bangalore, at least my salary expectation was met. But my job satisfaction was at an all-time low and my confidence of moving out of this role was diminishing by the month. I knew my salary was average among my peers, however, I still felt that the work that I am doing doesn't justify this salary. I felt I am being paid more than the value I am adding! Does anybody feel that, especially after doing an MBA? However, I have a rule in life to give my best in any job. I hate when people stop being productive saying why should they do more if they are not getting anything from the company in return. Well, you are getting something in return, the company is giving you a salary, so either do your best in 8 hours as per your ability, or leave the job. I spent 2.5 years trying to learn as much about how big corporation works, made the best use of my time there and became an expert in working with cross-functional teams. Then, while working on an application development outsourcing deal I found my spark. I learned about agile development, project planning, estimations, and microservice based architecture. I loved all of this and decided to move out of presales and closer to engineering again. I wanted to get closer to the value adding chain
There was an opening for a product manager within my company for a DevOps platform being developed in-house. I was sceptical about this role, as anybody aware of IT services company would be on the idea of:
"product development in a Services company"
However, I interviewed for the role and was lapped up by the managers on that team. Apparently, they were struggling to find anybody for the role (probably everybody within the company was sceptical of the role and didn't want to take chance with their career). Well, whatever was the case, after asking a series of questions to the hiring manager and the head of Business Unit I decided to take up that role. And it was a turning point in my career…
Luck as well favoured me. IT services as an industry was seeing headwinds due to automation, higher expectations from the clients for better productivity, and Infrastructure was moving to cloud which don't need as many people for maintenance. And on the other hand, employees were expecting higher salaries, startups were abundant and luring away all good staff, the traditional skillset which was the bread and butter of IT companies was losing sheen. Thus my company as well others in the industry were starting to focus on product development, so as to attract and retain its clients and try to develop non-linear revenue sources. CEO's had started committing to the market that the revenue will be doubled in 5 years with same employee strength, this couldn't be achieved by doing more of what they were already doing.
The product team I joined (Agilebase) got the benefit and support of entire organisation because of this movement, and I got high visibility and opportunity to work on an actual product development in an agile fashion. I started working with the tech team in 3 week's sprints, launched the product on the Microsoft Azure cloud as a service, worked with marketing to launch a media campaign about this launch. Parallelly I was working with the legal department on trademark filing and EULA finalisation, with finance on pricing and with the companies portfolio team on defining a longer-term roadmap as well as devising plans of integrating Agilebase with other key platforms in the company.
Within a short period of time, I was talking to clients, giving them demos, taking their feedback, as well as working with sales teams to pitch this to existing and new clients.
In 5 months I felt that the amount of learning I got was more than what I had got in previous 3 years. Also for the first time in my career, I got a feeling that I am not being paid enough! And it was a happy feeling, I felt worthy.
6 months in as a product manager for Agilebase I put my resume online and started receiving calls on a regular basis. Apparently, the market was in need of good experienced product managers, and there was a dearth of them. So this is how I landed my current job. In all my interviews i was speaking passionately about my product and everything relating to product development, launch, cross-functional teams, influencing business, prioritizing roadmap etc, all from my previous 6 months experience. Not one interviewer spoke or asked about my previous 6 years experience!
I chose my current company over a couple of other offers for the following reasons:
it is a product company
Is in Financial domain, which has a high appetite to adopt latest in technology.
Has high revenue per employee – I had realised that the treatment that an employee gets has a high correlation to how much revenue the company makes PER EMPLOYEE.
This is a UK based company having operations globally. Which means I can continue to be relevant in a global market and also get opportunities for business travels outside India.
The treatment I had got during the entire interview process was exceptional, nothing I had experienced before nor imagined. I was feeling like I was being hired for a very senior role (which isn't really the case, product manager, though important, is no more important than engineers or other key roles in a tech organisation).
The company offers free fruits, daily. Delivered on the desk! 🙂
Well, now I am a much more confident and self-aware product manager; having worked in a startup; in a global services enterprise in various roles; and in a mid-sized multinational product company. However, I still am grateful for all the experiences I got along the way – Software developement, Sales, Business Development, Demand generation, Presales, Product Management, Product Ownership! And after all, my zig-zag path through my career all fit together nicely like pieces in a jigsaw puzzle.
I may not be a star who outdid the whole world and achieved something pathbreaking, neither have I worked on a next billion users product (yet!). However, my story is a story of masses. Not everybody has to work on such products, and nor will everybody get a chance to work on such products. If one gets to work on one billion user product in their lifetime, it's an achievement, if you work on two, you can become a motivational speaker or career guru. However, for once I feel belonged in my professional life, so I would like to share with others who are in their early career, to keep searching, keep exploring and keep experimenting. Keep trying to find your fit and enjoy the journey. Don't keep your best for when you get the thing you like the most, give your best to everything you do on your journey, it will make you stronger when you reach the goal.
Career is still too long to become complacent or contended. So I am ready to see what lies ahead for me… 1 step at a time.
How did you prepare for product manager interview?
One of my colleagues once said that there are 2 kinds of people-
1. Those that are good at working, and
2. Those that are good in interviews!
Actually, for some both are tough. And if you have to put an effort to be good in one of those then I would recommend to improve oneself in being a good in your work. No surprises there, right?
Interviewers these days are moving away from puzzles, guesstimates and analytical problems, to more of behavioural interviewing. For PM interviews, focusing on each area of your experience is a good way to start. I try to identify each area of my strength that I would like to highlight, and then identify times in my past experience where I exhibited that strength. A repository of such past experiences, prepared in the form of stories, makes me prepared for the interview to use them appropriately. I also read a lot on my area of work, now more than ever as I am on the other side of the table, interviewing PM candidates. I always try to anticipate all possible questions which can be asked in the interview and prepare their model answers. And I am pretty good at organising my stuff, I have all my notes prepared since my engineering. Many of those answers now appear childish, but it motivates me seeing that I am maturing. It helps me gain confidence in myself that continuous learning shows the result. I am a big proponent of the power of growth mindset.
For my last successful interview, focus in all rounds was on my last role as a Product Manager for one product I was managing. So it was exciting and a relatively easy sail for me, as it was my area of strength. Additionally, I had read "Cracking the PM interview" which also helped.
Books that helped you.?
– Ken Norton's blogs are one of the best resources to understand Product Management and take the best practices from his experience 
https://www.kennorton.com
What can you recommend on a Resume?
Be true about everything on your CV. That doesn't mean that you cannot tweak to highlight some areas more than others. Identify your target role and try to highlight areas of experience that showcase your strengths and knowledge relevant to that role.
Advice for someone looking for a product manager job?
To people, early on in their careers I strongly recommend to put an effort to understand a wide array of roles, some by doing it hands-on, and others by talking and taking an interest in other peoples roles. Don't take your first role as your retirement role. Try to identify where you are stronger and where you find the work also interesting. Some roles look jazzy from outside like Data science, Architect,
Product management
. However, if your aptitude is more attuned to something else then even if you get in any of these roles you might start losing interest in them pretty soon. But no harm trying out a number of things, till you identify your retirement role.
Things are changing very fast in every field, how do you keep yourself updated. Please list blogs, podcasts, or any techniques that you follow etc
I read extensively as that interests me and gives me so much learning. I am a firm believer in self-help books. I moved into PM area by reading a book, I quit smoking by reading a book, I constantly apply models used by industry leaders in my day to day work after reading things suggested by them. Some blogs and podcasts I love:
Other than these things, keep talking to people in the area, attend meetups, spend time with UX designers, discuss product's aspects. Keep yourself motivated. Set annual improvement goals and stick it up in front of your desk or somewhere you will see it time to time.
Kunal spent over 5 years in product development and management in companies ranging from 10 people startup to 170000 people strong global enterprise. Kunal has also spent over 4 years in Business development and Presales. Kunal is currently working in the Bangalore office of a UK based financial trading firm, where he is responsible for the Payments and Statements features of the platform. The Payments and Statements products he works on are responsible for servicing clients across all IG's products and platforms globally. Kunal is a Computer Science Engineering graduate from Pune University and has got a MBA from NMIMS, Mumbai.Kunal is a technology evangelist and he loves Reading and Travelling. Lately Kunal is also trying his writing skills and regularly writes answers on Quora and shares his thoughts around learning & development, Career and Product space on LinkedIn
How I Got Product Manager Job after working in sales & Business Development