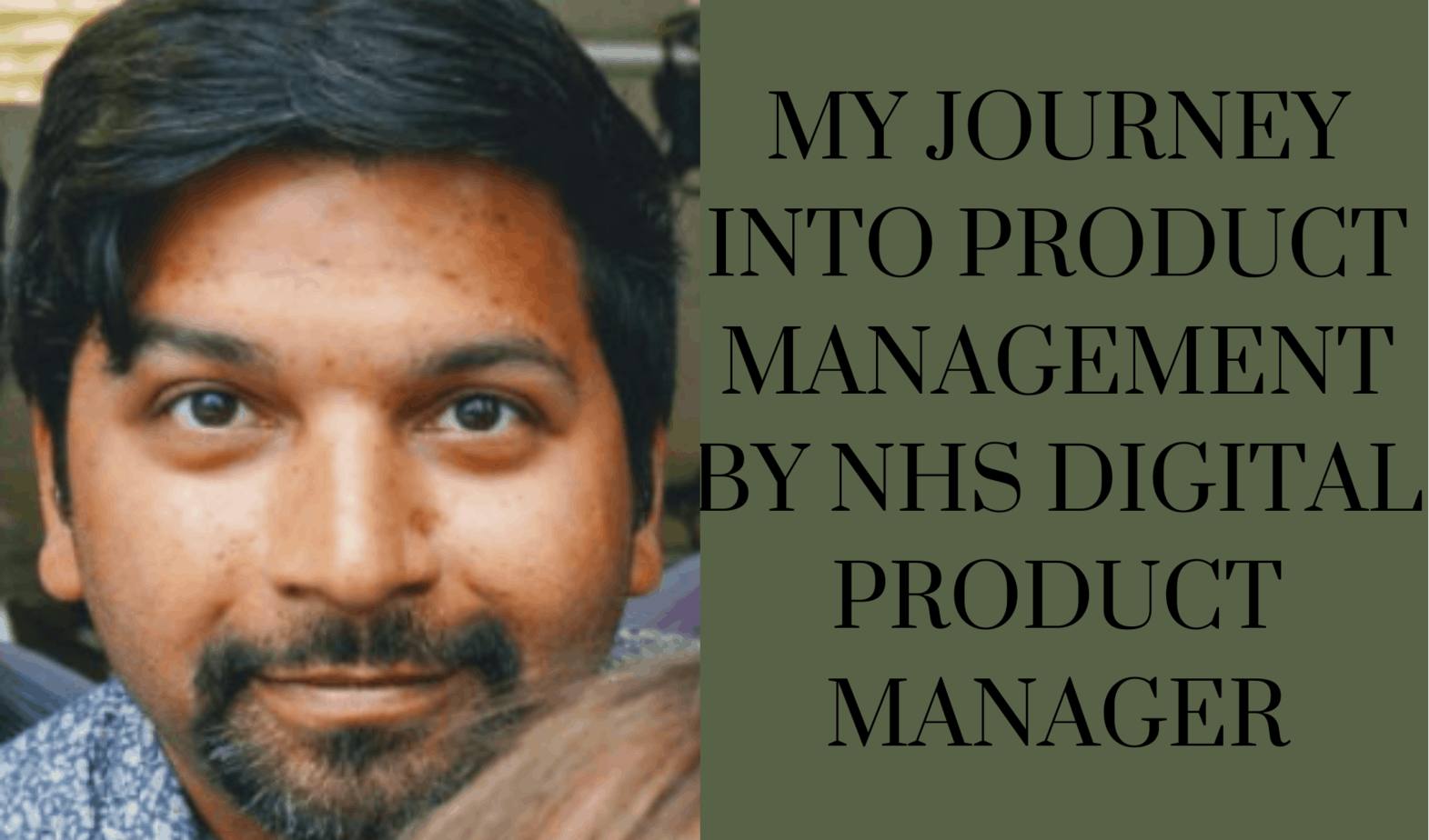 Trilly Chatterjee is a Product Manager & Deputy Head of Profession (Product) at NHS Digital, where he works on the NHS website. He previously developed digital strategy for HMRC (the UK tax office) and was a Digital Service Manager on the cross-departmental team the developed the award-winning Check Your State Pension digital service. Helps teams invent better things (including better teams).
Early life & education
The first thing I remember ever wanting to be as a kid was an inventor – I was maybe 6 or 7 years old. Growing up, one of the things my father and I regularly did together was watching science and technology documentaries. Even then, something about the things these people were doing was beyond fascinating to me. I loved understanding how things worked – not necessarily on a deep technical level, more conceptually – all the systems and principles at play with each other.
I took physics at university because at the time it seemed the closest fit with the way I liked to think – grappling with the fundamental principles that underpinned everything. I also felt like other sciences involved a lot more memorisation, which wasn't my strong suit. Of course, graduate-level physics is full of challenging and unintuitive ideas to wrap your head around. I guess I always took more pleasure in that pursuit than in the more applied areas of the discipline. Unfortunately, the majority of what I did fell outside my natural area of interest, so I left university with a degree, but also a sense of unfulfilled potential.
Straight out of university
For around a year after graduating I worked in a bank collections call centre – dealing with people repaying their household bank debt. It was my second call centre job and my first one after university. After ten months, I realised I wouldn't be happy if I was still there 
in three years
 – so I took out a career development loan to fund a postgraduate degree. I found a masters proogramme in Interactive Systems Design (a multi-disciplinary primer for Human-Computer Interaction research) at the university I had graduated from.
For context, this was 2007. The very first iPhone had just been launched. The world was on the verge of an incredible technological revolution – though its implications were hard to foresee or fathom. I had an incredible year studying things I actually loved to think about. My hope had been to move on to a research doctorate – but I couldn't find funding for the idea I really wanted to pursue. I limboed for a year or so in another bottom rung call-centre job, before knuckling down and getting my first post in the UK Civil Service.
Given how haphazard my life had seemed up to that point, its strange to think now how well what I'd done prepared me for what was to come.
My first government job
For two years I was a caseworker and manager at the Office of the Public Guardian, a government sub-department dealing with the legal protection of those who lacked mental capacity. We handled statutory reporting from court-appointed custodians and processed legal documentation for people managing other people's affairs. Because of my natural interests, I gravitated towards picking up additional projects involving system improvements.
Around that time, the UK established the Government Digital Service (a story worth telling in itself) – which eventually succeeded in bringing together over 300 government websites to create GOV.UK – fundamentally shifting the way governments worldwide do service design and digital development in the process.
Relatively early in this evolution, the OPG was a department developing one of 25 new transactional digital services under GDS stewardship. I was really excited – my skillset was perfect for this. Sadly, due to where I was based I couldn't be as involved in the project as I wanted to be. With a little encouragement from my managers, in 2012 I successfully applied for the technology (now digital, data & technology) strand of the Civil Service Fast Stream – a graduate and talent scheme for the UK government.
Life in the Fast Stream
Being on the Fast Stream gave me access to a range of formative roles and experiences over the next four years. I managed a multi-million pound software procurement. I researched and wrote the HMRC's (the UK tax office)
landmark 2014 digital strategy
. However, I'd always wanted to work hands-on developing new services – as I had always been really passionate about the ways technology could be better designed to meet people's needs.
I needed to change posts on the scheme and someone off-handedly mentioned that the directorate for National Insurance (a form of employment-based tax contribution) needed a Digital Service Manager. I volunteered immediately and wasenthusiastically taken on. Within a month HMRC had entered into a cross-departmental collaboration with the Department of Work and Pensions – who handle social benefits like the state pension.
In the UK, state pension entitlements are based on National Insurance contributions – so the two departments both had a key role for citizens wanting to understand their pension entitlement. However the departments' operations were largely separate, which could make getting information a challenge for the public. The departments also had differences in priorities, plans, strategies and philosophies when it came to delivering their digital services.
DWP Service Manager Joy Bramfitt-Wanless and I formed and led an incredibly dedicated, knowledgable and good-humoured team comprising key people from both departments. Together, we conceived and created the Check Your State Pension digital service – a journey from early product discovery to a national public beta that lasted two years, delivering a groundbreaking (and in timeaward-winning) digital service that neither department could have created alone.
The service solved a problem that existed because of the departmental operational boundary – people needed information from both departments to understand what their likely future state pension entitlement would be and how to improve it. Our service eliminated that boundary for users and answered their most important questions simply.
Critically, we were research-led, user-centered and iterative in our development approach – we researched to understand our users' needs, prototyped, tested, iterated and used our learning to make real improvements to the service for our users. It was really fulfilling work – not only was I actually 'inventing' things, but doing it with the support of a superb team and for the public good.
That said, it was at times an intense working experience. At that time, it was difficult to get buy-in from within a single government department for our approaches. Attempting this across two departments created a whole new order of other governance, decision making, logistical and political alignment challenges that required long, hard work to resolve.
I was also doing a round-trip commute of 600 miles (between London and Newcastle) each week.Despite the personal and professional challenges involved, along the way I learned the fundamentals of product design and development, as well as how to foster collective thinking and collaboration in large organisations – both things which I think have become defining themes in my career. I'll always remember working on Check Your State Pension as the time that taught me the most about how to be a good product manager, colleague and leader.
Interviews and joining NHS Digital
After the highs and lows of Check You State Pension, I served out my time on the Fast Stream working on inbox and notification functionality for HMRC's digital tax accounts. During this time I applied for a few PM posts with companies I liked the idea of working for (among them
FutureLearn
, who I still think are doing great things culturally). Then I heard about a PM role at NHS Digital from one of my good friends from the Fast Stream who worked there.
A lot is made about how daunting PM interviews can be. At the time, my concerns were mostly about how I would come across on a personal level, and remembering the relevant details of past roles (memorisation stresses me out). I had a painful interview for my own job once where I completely crumbled because I felt so much pressure to cram the details. However that was also the most traditionally 'corporate' interview setting I've experienced – I realise now that might have had some bearing on my success at that time as well.
In all my other PM interviews, in addition to some standard 'tell me about yourself and your experience' questions, I was also set product management tasks either before or during the interview. I relished these. I like thinking, and talking, and talking about thinking – and thinking about product management. In those tasks I was pretty much in my element – in a way that might even have made up for other perceived weaknesses.
This was reflected in the responses I got – even if I didn't get the job, I got a lot of positive feedback. It was massively encouraging, and helped maintain my confidence to pursue the roles I was interested in rather than spending lots of energy just trying to get another PM job.
Growing as a Product Manager
When I joined NHS Digital as a
product manager
for the NHS website, it felt like I had been given a clean slate – an opportunity to take a step back, drop the accumulated baggage of the past four years,reflect on everything I'd learned and put things consciously into practice that I'd previously discovered by (happy or unhappy) accident. I was lucky that my new team's ways of working at NHS Digital were already close to the kind of working culture I wanted to be part of (an important thing for me personally​) – though at the time the organisation was earlier in its transformation journey than other parts of the public sector.
I was assigned to a team who had completed initial research phases for a new national service for people in England to register with their GP (local primary care physicians in the UK). Again, with the support of colleagues I built a team who tried to understand what users needed and how we could deliver a public service that truly met users' needs. However, after close to a year we reached the conclusion that the service we were trying to buildwouldn't sustainably scale – and the project wound down. Thoughthis was in many ways disappointing, it provided me with an opportunity to work closer to heart of our site. I now support our work redesigning the site to be more simple, accessible and responsive and to better meet the complex health needs of people across the country.
A few months ago, after presenting a five minute primer on product management at a Digital profession away day, our Head of Digital Profession offered me the opportunity to work as a deputy profession head for Product – looking after professional development and the community of practice for PMs across NHS Digital (a role I share with a Head of Product). Its been really great to be paired up with a more senior product leader for this set of responsibilities – particularly as it has given me a broader perspective on capability building. Though we've only shared the role for a few months, we already have a solid working relationship that I think will really help our culture to grow within the organisation.
What I've learned
If you've suffered through my career biography (or perhaps more smartly skipped it!) then you clearly deserve something more useful!
Here are some of the biggest lessons I've learned from my work to date:
Always Be Chasing.Be on the look out for opportunities to develop new skills or do things that are closer to what you want to do – even if the fit isn't precise. Big and small opportunities arise more often than you'd think – and they all contribute to your development and ideas for your future career… Even the unlikely seeming ones! Developing this habit has the added benefit of demonstrating your enthusiasm and skills to others, which makes them more likely to support you with future opportunities. Do not underestimate the power of this!
Learn to listen. Learn to listen purposefully – without bias, reaction or impatience. This itself is takes a surprising amount effort, attention and time, but is one of the most important skills you can develop. It helps you understand more and get the most from others – and it demonstrates your respect for them.
Sharpen your communication. Written and spoken communication are the foundation of any job you're likely to do – so work continuously to refine these skills. It can take time for your abilities to grow and mature – but most working days will provide numerous opportunities for you to improve. If this seems a little scary to you – take classes in something that helps develop your skills and confidence. One of my major hobbies is performing improvised theatre and comedy – and it's absolutely true what everyone says about how useful it is – so much so that I even blog about it from time to time.
Develop an organisational style that suits you.This was one I learned the hard way on Check Your State Pension. When I started, I didn't have specific tools or approaches for managing and prioritising a high workload that worked for me, and I found after a while I started to burn out. I've developed them since then and am a lot more effective and less stressed day-to-day.Graham Allcott's book saved my life – wish I had read it sooner!
Work and lead from the heart.Work environments can sometimes create high-pressure situations that can feel difficult (at times even alienating) for those involved. The most effective people I've worked with are the ones who are sensitive and responsive to how these situations affect their colleagues – as well as good at setting boundaries in a personable, professional way. Difficult times can forge bonds between people who are striving together – but when all is said and done, people just appreciate people who appreciate people. Bethat kind of person in your professional life – its a good thing to do, and in the process you will foster trust and good will in others that will serve you in ways you can't yet imagine.
Reading list
Here are some of the books that have had the biggest impact on how I think about work and my career:
Personal
Interpersonal
Cultural/Organisational
Professional (Product Management)
My Journey into product management by NHS Digital Product Manager