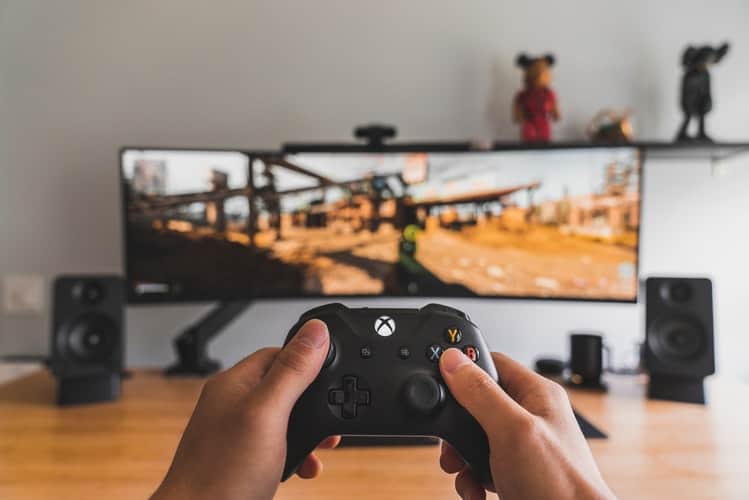 The game stop is the best company to look for when it comes to anyone's video gaming needs. It has been faithfully serving the video gaming community ever since its inauguration in 1984. It was known as Babbage. Its current CEO is George Sherman, who is very ambitious about serving the gaming community. This article is all about GameStop Mission And Vision Statement Analysis.
Gamestop's mission is  "to deliver customer satisfaction." There is no need to over-analyze this statement, but credit is due to them putting their goal upfront towards their customers and investors. This is one thing that can come across as low effort but is an incredibly genius marketing move.
Gaemstop vision is, "Our GameStop, EB Games, and Electronics Boutique retail locations set us apart in the industry. Everything that we offer our customers-from our expansive selection of new products to our knowledgeable associates and our value-added pre-owned products-is geared to deliver customer satisfaction. We complement our store network with GameStop.com and EBgames.com and publish Game Informer, one of the industry's largest circulation video game magazines."
The vision statement revolves around upholding customer satisfaction and managing the company to the best of its abilities. It describes itself as "together. We hold a passion for gaming, a commitment to our industry, and a disciplined business perspective to continuously drive value with shareholders, customers, vendors, and employees." This collectively gives us many things to analyze.
Their values revolve around being the best at what they do. The value statement is "Defining Who We Are & What We Stand For." This statement is entirely different from other words that Gamestop has released about themselves. It involves reaching down and realizing what they indeed are, as gamers and as employees.
Today we will be looking at all of these statements in detail and analyzing what GameStop is. This article will involve an FAQ section along with a detailed analysis of every word. Let's get into it.
GameStop Mission Statement
GameStop's complete mission statement is too long to assess. The factual information they want the public to know is "to deliver customer satisfaction." There is only one exploration in this statement, but it involves the most crucial transacting aspect.
Delivering customer satisfaction is one of the most important aspects of any business, and GameStop thrives in that area. They always put their consumer first and try their best to provide for their needs. Their policies in dealing with customers are unrivaled and cannot be competed with by any other gaming store in the United States of America. Their customer service involves providing discounts for controllers, old games, and special packages that complement each other that are beneficial for the consumer. That is why they have maintained their right image for the past decades and have simplified themselves as the best.
Customer satisfaction is where most of the companies fail, whereas it came to stop success. Their right attitude while dealing with customers is the foremost reason for their success because the customer is always king, and being respectful to them goes a long way for the business. They have always stuck to marketing basics and advertised themselves as a company that faithfully serves gamers and their needs. Their magazine game informer is the forerunner of most review sites, and many gamers consult the magazine for regular updates on their favorite games and reviews for upcoming ones.
This also involves listening to special requests and hiring employees who have appropriate knowledge about upcoming video game titles and consoles' operations. They also deal with used games and exchange unwanted gaming-related items. They provide assistance and excellent after-sales service for any given product. Their right attitude contributed to returning the games if they weren't satisfactory, and each shop has a wide variety of games to suit the customer's needs. They partner with video game companies to sponsor special items that can be availed by local offers or discounted prices, which is the driving factor for their sales and marketing campaigns. This particular policy may have been shorter than most mission statements that companies provide, but their work more than makes up for it. They are the most well-known gaming shop in America, and their customer treatment keeps them on top and keeps them happy and returning.
Gamestop's Vision Statement
As explained earlier above, the vision statement was about unfolding the rules and providing the best possible experience for the customers so that they have a pleasant transitioning experience and refer to their friends to increase their goodwill. This will increase their potential customers and ensure that the current customers only visit their shops for new releases and equipment needs.
The vision statement proclaims that "together, we hold a passion for gaming, a commitment to our industry, and a disciplined business perspective to continuously drive value with shareholders, customers, vendors, and employees." There are a lot of elements to analyze in this statement, and their classification is given below.
Together
We hold a passion for gaming.
A disciplined business perspective
Drive value to shareholders, customers, vendors, and employees.
The first element hints at the employees being in the journey of making gamers happy together and trying their best to put themselves after their needs. This is the first duty of any organization, and this element solidifies the statement of working together and helping each other grow as a community. The gaming community thrives on collective work, and it helps to know each other in terms of playing together and exploring the vast and ever-growing gaming industry. That is why Gamestop has put the word together in its vision.


The second element of the statement is Gamestop's foremost reason for existence. It was made to spread and make everyone experience gaming passion while also providing fellow gamers with the equipment and newest releases at an affordable price. Gamestop is a gamer hub, and it connects people with other gamers who have similar interests. It allows them to communicate with each other and offers an opportunity to make friends and memories. The whole community is very passionate about gaming, and this passion spreads happiness with everyone, which Gamestop helps in doing.


The third element talks about the business perspective of Gamestop. There has been a sudden rise in the stocks of Gamestop recently, and they plan on capitalizing on this opportunity and help the community of gaming make itself known worldwide. It is still a developing community and industry which has a lot of potentials to succeed. Part of the reason for having the right business perspective and a passion for serving the community is that it keeps the employees focused on doing the right thing to help the customers to the best of their abilities. It also allows them to get constructive criticism from customers and business people to know more about their interests. Keeping the businessmen entertained and satisfied is also the first important part of any organization to draw customers and investors. The strategies for drawing in varies according to the release of individual games and consoles. It significantly rises during famous singular releases like Call of Duty and Telltale games.


The last element of the statement gives us the impression of Gamestop taking constructive criticism and an excellent drive to learn from mistakes and better themselves at every corner of their game. That is why they have highlighted a statement to please all the supporting tropes of business like investors, vendors, shareholders, and customers. This helps them keep in touch with their mindset while also providing the best possible experience for people getting involved with them. It has earned them a lot of credibility in the gaming community to such an extent that the first thing someone needs to buy a game, one thinks to check the Gamestop site. Plus, the site is active not only in America; it is available in other countries.
GameStop's Values
Gamestop values its customers as well as its employees. Its value statement says that "Defining Who We Are & What We Stand For." This includes all of the vision and mission statements; it is a collective of both of their meanings. They define themselves by their brilliant service to the customers while also maintaining their goals and economic status and pleasing the investors.
What we stand for is the statement that defines their reason for conducting business. They have been in the business to make sure the gaming industry stays alive and well. They are here to provide for the community no matter what requirement or request comes their way. That was the reason why no company has gotten that close to beating Gamestop to the point of conducting business while also maintaining its social standing.
Gamestop has always had pride in making active gamers' lives better by offering new releases and suitable consoles at a discounted rate for the people. This makes the experience of all the people involved better since all the parties are providing from experience. That is why gaming enthusiasts always prefer them.
The Takeaway
The whole article's takeaway is that Gamestop is a company that is solely dedicated to its customers, and they have displayed this manner of customer service throughout all of their active years. It is one of the only gaming-related stores that is prevalent throughout the United States of America.
They have prided themselves in assisting and making sure the gaming community progresses through the steps they take. Their efforts are only possible through their loyal consumer fan base, which has been continuously increasing for years and will continue to do so when the company sticks to its routine of treating customers like family and providing them with discounted rates.
As far as business people are concerned, they are among the best companies to invest in as they are the only well-known company in the ever-growing gaming industry. This puts them on the list for the most wanted stocks that investing bulls and bears will gladly invest in. They are regarded as a pretty well-crafted investment since there is a good investment for the gaming industry besides Sony.
Their behavior with the customer is friendly and helpful; the staff is also well versed in gaming-related stuff and knows well about all the information and news going around the industry. Their knowledge extends beyond the average player, and they guide their customers properly without leaving out any details that keep them loyal and returning.
This behavior has led them to the top of the mountain without investing in extra advertisements or billboards. They have built their goodwill through their better customer service and always sticking up to their values. Their employees' knowledge and dedication have skyrocketed their sales, which caused a rise in stock prices and a rise in investment, with a little outside help from the media.
FAQs
Why is Gamestop stock price rising?
Gamestop stock prices are rising because the big moneyed investors are putting a hedge fund against it while the small investors are trying to top up its price by investing little amounts into the company. This has caused quite a pickle in the financial market, confusing the investors on what route to take.


How many Gamestops are there in the United States of America?
There are 5000 Gamestops in the United States of America, while others are still developing, making it one of the most forefront gaming companies in the whole world. It is the sole profiteer of extraordinary sales of consoles and games sold in their store. This is why most investors are thinking of investing in the company due to its grown branches. This has caused a racket that is negatively impacting all of the accompanying gaming companies.


In which other counties does Gamestop operate?
The game stop operates in the United States and countries like Canada, UK, Europe, New Zealand, and Australia. Their eve growing network is one reason for their tremendous success, and word of mouth has spread pretty fast about their prompt service. This leads to a straightforward increase in sales and saving of money.
Also read Gamestop Hiring Age, Application & Salary Guide
GameStop Mission Statement, Vision & Values Analysis