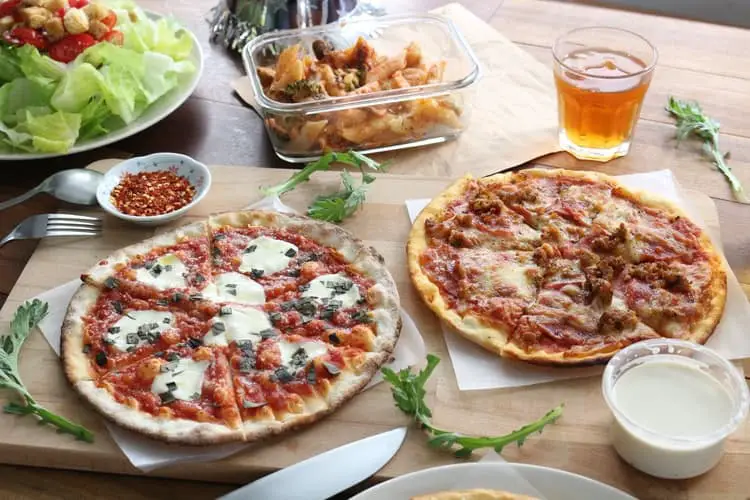 Cicis Pizza, the American buffet restaurant chain, was established in 1985 in Irving, Texas. This renowned business enterprise is a go-to cafeteria where guests come to spend quality time together with friends and family and enjoy mouth-watering pizzas. Over the years, this company has built its name by creating 450 franchised and corporately owned restaurants all over 32 states in America, thereby birthing more careers for prominent job seekers. This article will give you an idea of Cicis Pizza Careers.
Cicis Pizza, upon its inception, has created career acquisitions for different people with a variety of skills and talents. Before anyone would consider applying to work in an establishment such as these, the following areas should be taken note of;
Job opportunities
Salary
Requirements 
Age 
Application processes
Benefits
Cicis Pizza Job Opportunities:
Cicis Pizza has enough provision for employment. However, job opportunities vary. Employees could either work full-time or part-time, and not everyone is qualified for every job role. Some job opportunities include the following;
Pizza Cook: The whole idea of Cicis Pizza is almost incomplete without its "Pizza." Certain persons must prepare the Pizza, putting it into and taking it out of the oven. Pizza cooks work mostly on a part-time basis. They fall into the category of the BOH. The Pizza Cook is also expected to possess these other qualities; enthusiastic learning, good people skills, etc. some responsibilities include the following; 

Must be experienced in preparing pizzas. 
Strong time management skills.
Interpersonal skills are highly required with both guests and workers to ensure a fast-paced environment's smooth running.
Good teamwork. To make a good meal, all hands must be on deck. A confused house would produce a bad meal.
Must have the stamina to perform this task.
Must have the ability to work under pressure.



Delivery Driver: This job offer entails delivering Pizza to its customers. The driver must be qualified, and having a clean record of good driving skills is equally important. Also, he must be very well accustomed to his environment. Inexperienced drivers do not qualify for this job. Most times, drivers tend to receive tips from customers. They are in charge of delivering food to customers who are paid for home delivery. Other responsibilities of the driver include the following;

Good time management skills so foods must be delivered promptly to customers.
They must possess a work vehicle.
Work with the personnel of the restaurant in ensuring customer satisfaction.
Must be over 21 years of age.
Must be licensed.
Must be strong and agile because he would be required to carry parcels from the kitchen to the work vehicle.
Good conversational skills.
Must be able to work during weekends and holidays.
Must be a licensed driver.



Management: A restaurant like Cicis Pizza ought to have a person or body of good managerial or administrative skills. They do the following:

Recruits new intakes for the job.
Conduct interviews for recruiters.
Ensures the restaurant is always clean.
Ensure compliance with hygiene and health guidelines in the restaurant.
Oversees both the front-of-house and back-of-house team members.
Ordering stocks.
Organizing meetings with the workers.
Payment of salaries.
Agreeing and managing budgets.
Delegates duties to other team leaders.
Keeping financial and statistical records.
Solves all related restaurant problems, from guests to its workers.
Set targets and abide by them for the profitability of the company.
Promoting and marketing the businesses.
Reviews meeting reports.
Maintaining equipment.
Checking the quality and size of food servings



Assistant Manager: Just as the name implies, the assistant manager relieves too much work from the manager's shoulders. The manager delegates the following responsibilities to his assistant,

Carefully and properly evaluating the performance of his workers.
Fully in charge of handling the salaries of the workers.
Coordinating the restaurant and sees to the complete satisfaction of its customers.
Ensuring the laws, rules, and regulations of the restaurant are strictly adhered to.
Training recruits and other employees on their duties in the restaurant.
Organizing meetings, write reports and keep daily records of the restaurant sales.



Team Member: They are in charge of serving meals to guests. However, they may play a huge part in preparing the meals too. A good team member must know how to welcome guests into the restaurant. He must be hospitable, play a part in cleaning the restaurant, etc. In summary, Team members are the cooks, waiters/waitresses, and cleaners, etc. Some of their criteria include:

Smartness and agility.
Good teamwork abilities.
They are expected to learn all the menu items to be prompt when guests ask questions about the menu.
Great interpersonal skills- they should know how well to relate with colleagues, business partners, guests, and other restaurant personnel. They should be relatable to achieve daily, monthly targets.
Assisting the management because they play administrative roles too.
The team members fall into two different categories, the back of house team members and the front of house team members.
Front of house team members: This set of persons appears at the restaurant's door and welcomes its arriving guests. They manage bookings, escorts guests to their tables, and make sure they are very well entertained. Front of house staff ought to have pleasant personalities- they should be friendly and very approachable, they should also be very attentive and swift in taking the guests' orders. It would not be nice to ask the guests to keep reiterating their needs.  Generally, they directly attend to the guests and ensure they are suited and very comfortable.


Back of house members: Also known as BOH, they are the dishwasher, sous chef, etc. The back of house team member should possess the following skills. 

Excellent Customer service.
Reliability.
The ability to multi-task.
Punctuality. 
Ability to work under pressure.
Communication skills.
This job type is part-time, working hours are really flexible. Back of house team members must know how to lift 25lbs, they must know how to stand for a long period of time. They are paid well according to their level of experience. The difference between the back of house and the front of house team members is that the back of house team members include kitchen staff members like the pizza cook, sous chef, etc., while the front of house team members are the waiters, the stewards, etc.
Sous Chef: They are responsible for planning and directing food preparations in the kitchen. They assist the head chef in the kitchen. They lead the kitchen team in the absence of the lead cook/chef. They are responsible for the day-to-day running of the culinary operations of the kitchen. The sous chef must possess the following skills/abilities.

Cooking skills. He/she should know about preparing different exquisite dishes.
Produce quality meals for their guests.
They oversee the cooking staff.
Good behavior.
Organizational skills.
Interpersonal skills.
Leadership skills.



Prep and Dishwasher: This set of people are solely responsible for cleaning and washing kitchen utensils – pots, pans, plates, spoons and resetting the dining areas. A good dishwasher must know how to manage time in a fast-paced environment. The following is required of a good prep and dishwasher;

Must possess a high school diploma.
A clean habit is essential.
Ability to work at speed.
Must be a problem solver.
Must be smart and very hardworking- a prep and dishwasher must not be a sluggish person.



Shift Leader: They lead shifts in the absence of the manager. They create the schedule of operations for the day and delegate duties to other personnel to ensure the company's smooth running. A good shift leader must have the following requirements;

Must possess a high school diploma.
Must be an ardent problem solver.
Strong leadership skills.
Interpersonal skills.
Create shift schedules.
The following are some of the duties of a shift leader;
They assign tasks to all employees.
They are in charge of the opening and closing of the store or warehouse.
They write reports.
They oversee the affairs of the workers in the company.
They ensure that customers are satisfied with the services rendered to them.
They ensure the inventory is accounted for.
They encourage the workers as they go about their business.
They also assist in the cleaning of dishes.
They respond quickly to emergencies in the restaurant.

Cicis Pizza Salary:
Employees are paid fortnightly. Some are paid at the end of every week. The salary rate varies on the kind of job. For instance, according to their level of experience, a Pizza cook is paid from $8.00 to $10.00 per hour. The assistant manager earns up to $20,000 to $25,000 per annum, while the manager earns close to $45,000 yearly, all based on their experience level.
Requirements:
Applicants would be asked to fill a questionnaire, inputting details about themselves. Pieces of information like their health, previous employment, how they got to know about the job opening, family, and academic qualification. If the applicants fail to fill the form, it could lead to disqualification. 
Cicis Pizza Hiring Age:
Cicis Pizza offers employment opportunities to applicants who are at least sixteen years of age. Applicants lower than this age would not be employed even to work as dishwashers. For those applicants seeking managerial roles, the age limit is 18 years. This job is suitable for high school students simply because most job role requirements entail them having a high school diploma. Still, the reverse is the case for those applying for managerial roles because a lot of experience is needed to take on that position.
Application Process:
The application process is less cumbersome. It takes up to 20 to 30 minutes for their forms to be filled online. They are given interview dates, and they are called upon within three or four days after receiving the application before proceeding to the second interview stage. Candidates who apply physically tend to get employed immediately than those who apply online.
Benefits:
Cicis Pizza employees tend to enjoy a lot of benefits. They include;
Conducive environment and the right atmosphere to work.
Good salary payments.
Great health benefits.
Networking. 
Flexible schedules.
Retirement plan.
Paid vacations.
Discounts for workers.
Frequent Asked Questions
How are shifts like at Cicis Pizzas?
The morning shifts are from 08:00 am till 04:00 pm every day. Employees can be allowed to take some weekends off.


Is there a dress code at Cicis Pizzas?
Yes, there is a dress code requirement that employees would have to follow. They provided Cici T-shirts as well as black pants. For interviews, casual wear is allowed.


What is the interview process like at Cicis Pizzas?
Applicants would be asked about prior experience and other information about themselves. Interviews are not stressful at all.  All you need to meet with the interviewer (Director of Operations) is yourself whilst answering his questions.


How flexible are the working hours at Cicis Pizzas?
Workers at Cicis Pizzas work around 40 hours per week. Others work around 50-65 hours per week. There really is not so much room for flexibility during working hours.


Can Cicis Pizza employees work from home?
No, Cicis Pizza employees cannot work from home. The establishment does not have a work-from-home policy.


Apart from pizzas, what other services does Cicis Pizzas offer?
We offer pizza, pasta, salad, and desserts.


How often are holidays taken by employees?
Employees are allowed to take holidays during the winter months. But, due to the Covid 19 pandemic, some employees are forced to stay home.


How is Cicis pizza responding to the global pandemic?
Cicis pizza sought more healthy sanitation protocols than ever before. For the safety of both the employees and the guests, Cicis pizzas took a step further in imbibing a more strict approach to the restaurant's cleanliness. Social distancing protocols, personal hygiene, face-masks, hand sanitizers, creating a handwashing area by the local and state guidelines are the major ways Cicis pizza is responding to the global pandemic.
Also read Papa John's Careers: Job Application, Salary & Benefits

Cicis Pizza Careers: Job Application, Salary & Benefits