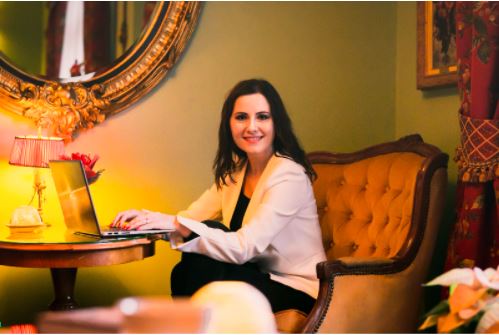 Hi! I'm Irina Ianculescu, the founder of marketingasahabit.com and a longtime marketing strategist working with startups to build and refine their go-to-market strategy.
I have 11-plus years of digital marketing expertise running digital marketing for European & American brands, mentoring startups in various accelerators and startup competitions, growing and managing marketing teams, and creating courses and workshops for entrepreneurs.
I'm passionately fighting random marketing by guiding startups through uncovering their unique combination of elements that unlocks growth.
College and my first 3 jobs, including selling underwear over the phone in German
I attended the Foreign Languages Faculty, part of the University of Bucharest, where I studied German and Spanish Literature, and where I got my bachelor's degree in German Literature. I was always into German, ever since I was little – studying German at school, at home, taking private classes, then continuing with my German studies in high school, and finally, deciding that I want to study German in college, as well. Done and done. There was a lot of German involved :).
In my second year of college, I started working and got my first part-time job at a call center where I sold lingerie to Germans by phone. I would talk on the phone for 4 hours a day straight, describing all sorts of underwear and nightwear to German ladies. Imagine that! After work, my mom would call and I couldn't have a proper conversation with her – that's how sore my throat was after all that talking. Then, after work, in the evenings I would go to classes because I didn't want to miss any seminar courses – the types of courses you had to attend if you wanted to pass the exams.
That first job opened my eyes to life outside college and the different career opportunities available for anybody who wanted to work hard and learn new things. Right after my 6 month-long call center job, I got a more advanced job in a Dutch bank called Credit Europe Bank, in the back office, where I stayed for a whole year. I was learning a lot and decided that I want to advance my career as fast as possible. I wanted a higher wage as, at that age, I started to crave the finer things in life: nice clothes, shoes, places and vacations.
Although I finished college and got my degree, at some point having a job became much more interesting than going to classes. I soon realized that I was learning a bunch of useful skills on the job that my colleagues didn't have: selling products, prioritizing tasks and projects, speaking my mind, communicating with different types of people from different backgrounds, while at the same time gaining confidence in myself and feeling more and more comfortable in my own skin.
My next job was at Accenture, a multinational professional services behemoth where I got hired as a Collection Specialist for Universal Music Berlin. My responsibilities involved handling all the B2B relations with Universal Music Berlin: collecting due receivables, reporting and forecasting, negotiating contracts – all in German, of course :). That job was the first one where I got to see what it meant to work for a massive company, such as Accenture. I learned all about employee benefits, salary negotiation, being part of a bigger team, company culture, documenting and following processes, traveling for work, presenting my work and speaking in public, and getting buy-in for my ideas.
While it was a stimulating role for an overachiever such as myself, I soon realized that I was working longer and longer hours, and had zero work-life balance. I would work until 11 pm in the evening and started to miss my friends, going out and do other activities other than work, and so I decided I needed a change.
At some point, in one of my lunch breaks, I read an article about digital marketing. I immediately got excited after reading it – it all seemed so interesting and modern, and so right then and there I decided that was something I wanted to pursue and find out more about.
If I had to describe myself in a few words – that would be action-oriented. I immediately jump into action when I set my mind to something. So, I started looking for jobs in digital marketing and applied to several companies looking for marketers.
Job skills acquired:
Communicating my ideas effectively
Salary negotiation
Documenting and following processes
Presenting my work and speaking in public
Getting buy-in for my ideas
Finding a common ground with people with different backgrounds
Learning how to prioritize projects and tasks
Learning how to sell products
Working in an early-stage company is the most effective way of learning marketing
One of my first interviews was at a dev shop – a startup where they built web applications for external customers. This was in 2009. They were looking for a marketing person, someone who could speak German and could market different software projects on the German market. I remember getting there for the interview and seeing all these marketers with their portfolio books talking about their marketing projects in the hallway and I remember feeling so small compared to them.
The founders gave me a chance, though, because they liked my "tenacity, openness, and thirst for learning new things". And, of course, I spoke German – this leitmotif of my professional life. So they hired me even if I was the only one there without proven marketing experience. And so it all began, and by "all" I mean my love and passion for all things marketing.
That dev shop was THE place where I learned marketing by doing and experimenting. I was lucky to have an open-minded, super cool boss that would let me come up with ideas and validate or invalidate them through experiments. 
The more I played with different tactics and strategies, the better I understood what works and doesn't work when it comes to digital marketing.  When I look back, I think I got immensely lucky to start my marketing career with a job that allowed me to tackle different types of digital marketing disciplines: paid ads, blogging and writing copy, creating newsletters and sending emails, and SEO. 
I liked it so much that I started taking more and more responsibility and got promoted to hire more people and manage the marketing and customer support teams soon after. I spent two amazing and exciting years there, and then I decided it's time to move on to a bigger company, with bigger resources, and greater international exposure to markets such as the US.
Job skills acquired:
SEO
Paid Ads
Email marketing
People management
Working in a large company has its perks
Introducing Avangate, former 2checkout, now Verifone, a commerce and monetization platform for software and SaaS companies, the company where I spent 5 years improving, growing, and fine-tuning my digital marketing and management skills. I started as a Digital Marketing Specialist and was put in charge of growing the company's organic presence and brand awareness in the US. I was part of a bigger marketing team where I grew fast, and, after two years, got promoted to run all the digital marketing initiatives, as well as coordinate a 3-people digital team.
In my next 3 years working there, I orchestrated and coordinated all initiatives around SEO, CRO, Paid Ads, Content Marketing, and Social Media with outstanding results: tripled the number of conversions coming from marketing sources, tripled their engagement on social media, organized and implemented their content marketing strategy, launched a new website, and built many of their marketing systems and programs from scratch.
In 2checkout (now Verifone), I saw what it meant to market B2B services, which needed a completely different marketing approach compared to my previous experience with B2C products. I also learned how to juggle big budgets. So big, it was sometimes scary and overwhelming. I also got to know what it meant to market services in the US market, which is very competitive compared to other markets out there. And also, what it meant to have big, audacious goals and strategize different ways to reach them. I got the chance to work with such smart and beautiful people: Romanians, Americans, Germans, travel to the US headquarters in San Francisco and work from there, and participate in some of the biggest marketing events and conferences in the world, like MozCon and Search Love.
And while I was happy with what I had managed to achieve up to that point, I knew I could do even more. And for me, more meant becoming a Chief Marketing Officer (CMO) in my thirties.
Job skills acquired:
Marketing Strategy
Setting and meeting goals
CRO
Content Marketing
Social Media
Building programs and systems from scratch
Juggling big budgets
People management & coaching
Having a key position in a fast-growing startup elevates your personal brand
In 2016 I was offered the role of Head of Marketing in a fast-growing fintech startup called SmartBill. After meeting several times with the SmartBill founders I decided I was ready to leave 2checkout and jumped at the opportunity to lead an even bigger team and run the marketing operations in a more dynamic company.
I absolutely loved this role and everything that came with it: I built their marketing strategy from the ground up, launched their blog and content program, built all their marketing programs and systems from scratch, doubled their signups, helped organize a 450+ people event, came up with the structure for their new website, implemented the OKR system of measuring and tracking objectives, and most rewarding of all – coached and mentored a team of great marketing professionals.
The role of Head of Marketing in SmartBill helped me with my personal brand, as well. That allowed me to also get involved more in the entrepreneurial ecosystem in Romania:
I'm a marketing mentor at Startarium, a startup accelerator in Bucharest where I guide startups into developing their marketing and growth strategies
The National Jury Board of Central European Startup Awards invited me to be a jury member in their competition.
I've been on the jury board of Pitch Day, the biggest startup competition in Romania.
I've filmed online courses and workshops for startup founders as part of different startup accelerators
Job skills acquired:
Marketing strategy
Organizing events
Launching websites
Implementing OKRs
Team coaching and mentoring
Helping startups and creating info products at Marketing as a Habit lights me up
This new entrepreneurial world opened itself to me and I started daydreaming about building my own business – packaging all my experience into informational products for entrepreneurs and marketers.
I started to realize that my dream of becoming a CMO wasn't something I wanted anymore.
So, in December of 2018, I launched https://www.marketingasahabit.com/, a content hub where I deliver marketing online courses, workshops, eBooks, and newsletters to entrepreneurs and startup founders.
At Marketing as a Habit, we're giving entrepreneurs the right models and tools to figure out that unique combination of elements that work for their business in the market that they're in, and that's when great things happen. We give them models of thinking around marketing, so they can be strategic decision-makers without blindly following best practices.
It's been a lovely and challenging adventure growing Marketing as a Habit into a proper business, and there's still an enormous amount of work left to do. 
Running your own business is a mix of increased flexibility, but also increased responsibility and accountability to make things work. Throughout this new adventure, I exercised three crucial skills any entrepreneur should have: resilience, patience, and open-mindedness. 
It's sometimes a lonely journey, but despite all the negative parts, nothing compares, at least for me, with being able to contribute to the growth of so many companies, let alone work on so many interesting projects like creating podcasts, newsletters and courses, meeting other entrepreneurs, speaking at events in my industry and having the opportunity to test so many channels and tactics without asking for permission.
Marketing your own company is very different than being an in-house marketer or running marketing for other companies. You are wearing so many hats each day: writing, finding clients and partners, doing marketing, prioritizing tasks, managing different tools and systems, accounting and invoicing, and the list goes on and on. You're in a constant whirlwind of activities and emotions, but one thing that I've seen helps me is making time each day to learn something new. Why? Because it keeps me top of my game and gives me confidence. I love reading and you can easily call me an information junkie.
There are so many books, podcasts, and newsletters that helped me refine my skills and knowledge over the years, so I'd need days to talk about all of them. I will mention below some that have influenced me the most. 
Marketing & Business Books:
Influence and Pre-suasion by Robert Cialdini
Obviously Awesome by April Dunford
Everybody Writes by Ann Handley
The Almanack of Naval Ravikant by Eric Jorgenson
Buyology by Martin Lindstrom
Contagious by Jonah Berger
The War of Art by Steven Pressfield
Webs of Influence: The psychology of online persuasion by Nathalie Nahai
Zero to sold by Arvid Kahl
Rework by Jason Fried & David Heinemeier Hansson
Good Strategy Bad Strategy by Richard Rumelt
This book will teach you how to write better by Neville Medhora
Podcasts:
Indie Hackers
Hurry Slowly
The Chase Jarvis Show
3 clips with Jay Acunzo
Everyone Hates Marketers
Marketing as a Habit Show
Newsletters:
VeryGoodCopy
The Hustle
Trends
Chartr
Lenny's Newsletter
I also spend quite some time weekly on Indie Hackers, Product Hunt, Medium, and Quora. And three of the tools that make my life easier are Evernote, Pocket, and Trello.
Thanks for reading my story and good luck on your journey!
Here's my last piece of advice for you. Whatever you choose for yourself and wherever you end up:
Be genuinely curious to do and learn new things
Build your personal brand early on. Talk and post online about the things that light you up
Learn to write and express your ideas
Also read How I Launched My Own Financial Marketing and Public Relations Agency
My story from selling underwear in German to becoming a marketing strategist working with startups all over the world