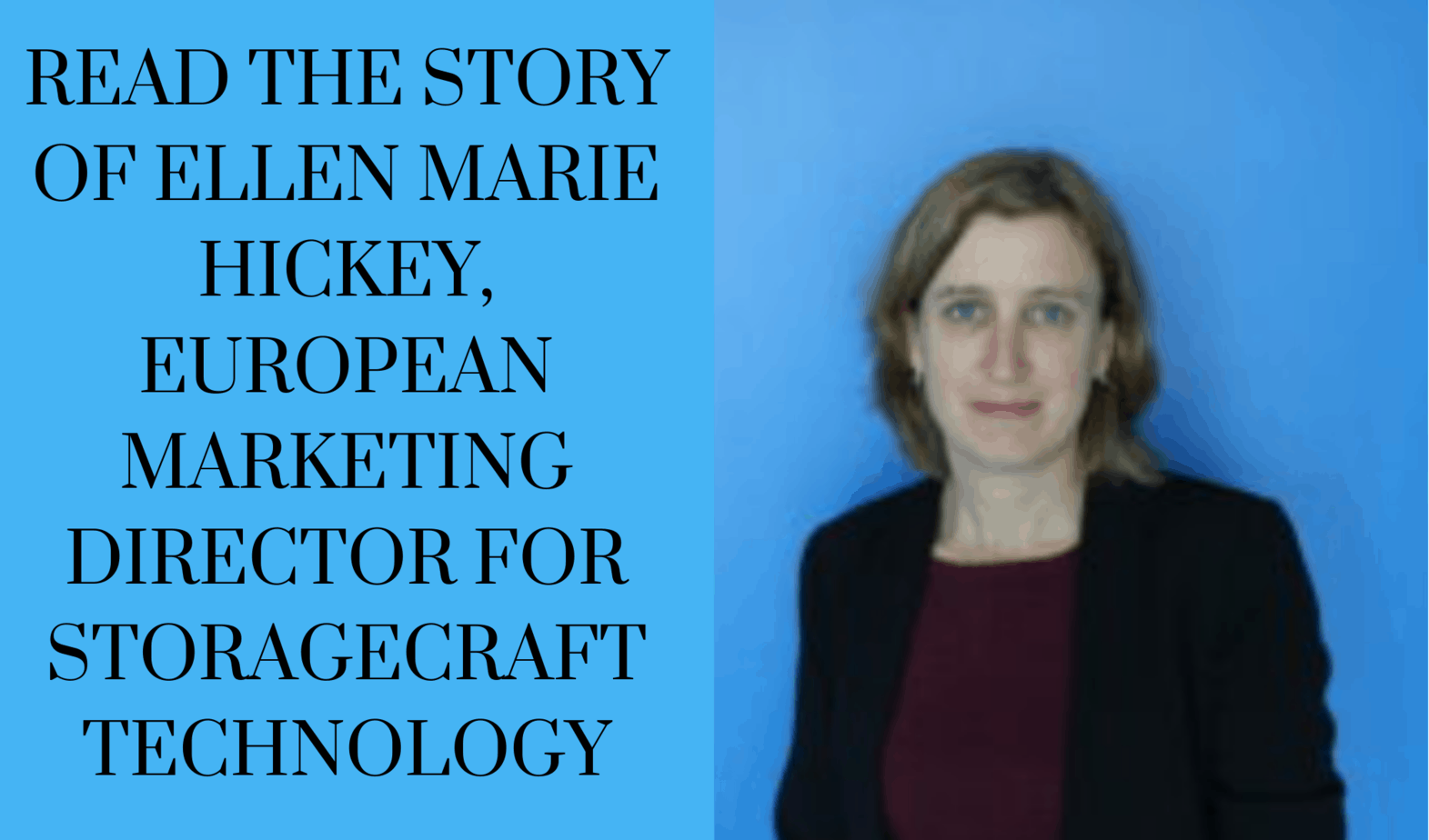 Are you wondering how to become a marketing manager? My name is Ellen Marie Hickey and I am the European Marketing Director for StorageCraft Technology, a data management vendor. I head up the Marketing dpt for StorageCraft across EMEA and joined StorageCraft nearly 4 years ago when the company set up its international headquarters in Ireland.
I've been working in Marketing in the IT industry for 18 years now. I would describe myself as a passionate communicator and I believe that investing in Marketing is key for IT VARs and MSPs (managed service providers) to grow their businesses. In my current role I oversee StorageCraft EMEA Marketing programs responsible for growing the StorageCraft data protection portfolio in EMEA. My key responsibilities include driving pipeline, building brand awareness to help drive business results and working closely with the IT channel to drive revenue by selling disaster recovery as a service.
Education background
I studied a bachelor of arts in Marketing and Languages at Dublin City University. I enjoyed studying in Dublin, made friends for a lifetime and graduated with a great degree. Quite frankly, I did not have a very clear or definite career plan when I finished university. In fact, I travelled and did some temping jobs in the US and Australia for the 1st 18 months after university. I then somewhat stumbled into the IT world as I was very anxious to get my first "proper" job after getting back from my travels. So, IT found me as opposed to me finding IT. That's the beauty of starting out in a career I suppose, as long as you're open to opportunities and different sectors, there's a great chance of ending up in industry sectors that were not necessarily on your radar at all. It's important as far as I'm concerned not to pigeon-hole yourself too much when it comes to starting out in your career. There is such a steep learning curve after university that it's just really important to get out there, get a job and start learning and gaining experience in the workforce.
First Job
One of my first jobs was an account management role where I quickly learned the importance of putting the customer at the centre of everything. Being customer centric at all times is very important and is essential when it comes to Marketing and building brand awareness. This is especially true in my career where I have mainly worked in SMBs who are trying to build a brand with small budgets and little resources.  Make sure you think of the customer from product development right through to your customer service and technical support. Loyal customers are hugely beneficial when it comes to building a strong brand and the job satisfaction I get when speaking to a happy customer is still a fantastic feeling and buzz. Being honest with the customer is also very important of course. This is very essential in terms of Marketing as companies sometimes have a tendency to over promise, over sell, … Customers nowadays are more informed than ever before so be clear and honest with your customer when it comes to pitching and Marketing your products and solutions.
Interview Preparation Marketing Job
When it comes to preparing for a job interview, there are no big secrets. Prepare, prepare, prepare. Make sure that you are confident, smiling, enthusiastic. Tell the recruiter that you want the job, why you want the job. Be honest about your capabilities and your shortcomings. Companies are not looking for robots, they are looking for people that are driven and confident, that are good team players and have the capacity to evolve and improve. Be prepared to get stuck in, be a team player; these are essential attributes of any employee and you need to ensure that the recruiter is clear that you fit these criteria. Don't underestimate yourself, this is obviously easier said than done and I certainly am not the best person to preach this. But go into that interview and be confident, not cocky and give it your best shot.
Advice on how to grow career in marketing
While education is obviously hugely important I would stress that on the job experience counts so much for me. So much learning is done on the job so when you do start on your professional journey be willing to get involved in as many projects and initiatives as you can within the company. These are the experiences that you will pull from later in your career, these are the experiences that will help build your character and resilience. These are also the experiences that others will remember you for and thank you for.
I would also stress the importance of networking and keeping abreast of current trends for everyone. In IT and Marketing the world is moving at a very fast pace. When I was in college, social media didn't even exist, it's now an integral of any company's Marketing strategy. IT is moving so quickly it is quite simply mind-boggling. Make sure you keep abreast of such trends. There are so many local networking groups that host information sessions on such trends as well as providing a great local network for young professionals. So get out of the office, go to these events, network as much as you can and you'd be surprised how your job and employer can reap the benefits. It's essential to take a step back from time to get, get a feel for what is happening in the industry and take on board new ideas that you can incorporate into your company.
Summary
IT is a great industry for any young person to work in. There are huge opportunities with a notable skills gap existing in many countries in this sector. Be part of an industry that is constantly evolving. Be part of one of the most innovative industries on the planet. IT is the future. It's not all about geeks coding in dark offices. IT touches every aspect of our lives so I would strongly encourage people to join the IT industry.
Read the story of Ellen Marie Hickey, European Marketing Director for StorageCraft Technology