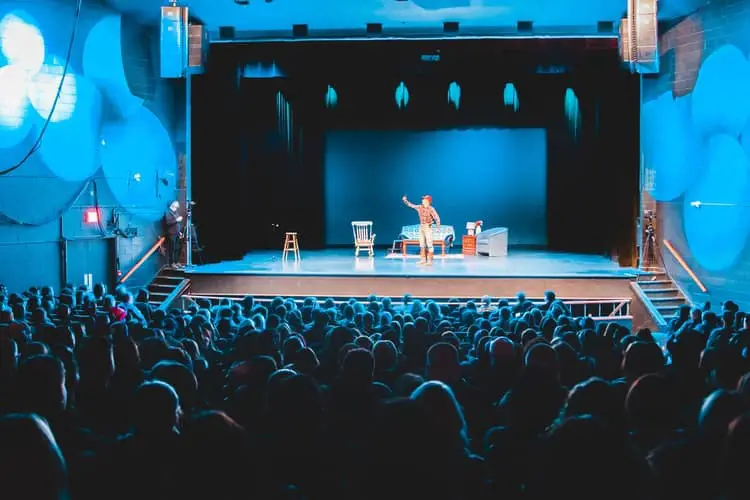 The entertainment industry is one of the leading industries in a developed economy, especially in the United States of America. This is not really surprising because it is psychologically right to relax one's brain after long hours of work. Due to the lucrativeness in the entertainment industry, many people invest millions of dollars into the industry to profit and provide maximal entertainment for the masses. Entertainment can be in the form of music, films, or theater art. It can also be in the form of drawing or imaginative creativity. Film production and theater artists are the major aspects of the entertainment industry. An individual who coordinates and directs a movie in a theater is a theater production manager. A theater production manager coordinates and directs the production of films. He/She must have experience and a deeper understanding of the work. Additionally, he/she must be educated in the field of theater production. His/her salary depends on the movie industry and his/her years of experience. If he/she is employed by contract, his/her salary depends on the duration and agreement. 
Introduction
Entertainment can be regarded as food to the soul. Psychologically and emotionally, it is normal for human beings to be stressed out. The entertainment industry has a way of reviving an emotionally weak individual. Music and movies are the major dominant of the entertainment industry. In the USA, the Hollywood industry releases different movies sufficient enough to keep one at bay. 
Most of the time, movies are acted and recorded on a disc as a hard copy or probably available on the Internet as a soft copy. In some situation, movies are acted live by our favorite actors we always love to see in a building known as "Theater" This is still interesting because you have the privilege to see all actions real and raw. To make this achievable, a lot of skilled and professional individuals are involved.
Theater Production Manager Job Description
A theatre production manager is an individual that coordinates all the production including hiring and supervision of the crew. The theatre production manager ensures that production runs smoothly as planned by working as a mediator between the cast, crew, and the executive director. They are involved in any purchase needed for the production, organize meetings with all stakeholders involved, and organize rehearsal among the crew members for effective production. Theatre production managers also take comprehensive notes regarding the director's vision and solve technical issues that may arise during the cause of production. 
Qualifications And Requirements For A Theater Production Manager
Education is paramount for any important and prestigious position since education improves our mental and thinking fitness. Formal education in Dramatic or theater art is mostly favored for this prestigious position in the movie industry. Similar courses are also considered, although formal education in other courses with a diploma in any course relating to film production is also welcomed. Since the position is highly competitive, diplomas and certificates in theater art and film production are advantageous.  Experience in the field of theater production is also required for consideration. About three years' experience of holding an important position in the industry will help fit the job well. 
More than the certifications and experience, a good and efficient theater production manager must have a team spirit to cooperate with others. He/she must be knowledgeable and possess the ability to solve problems efficiently. He/she must be gifted and talented in film production and must write a different script for an urgent situation. He/she must possess good leadership skills for better success on the field. He/she must be proactive and must be able to manage time effectively. He/she must be ready to travel to different locations at different times. This is very important and will surely be stated in the terms and conditions because the production can involve different cities and locations. Above all, he must be honest and be a man or woman of integrity always. 
Duties And Roles Of A Theater Production Manager
A theater production manager plays a critical role in film production. He/she determines the success and effectiveness of the movie to be produced. A theater production manager performs the following roles:
Auditioning of actors and crew members: A theater production manager plays a major role in choosing actors and crew members to participate in the production. The selection process is very critical because it determines the success of the movie or theater production. Many interested and talented individuals always register before shooting a movie. It is the theater production manager's duty to screen them by auditioning to choose the best to fit well for the job. He/she also take decisions on other technical members of the crew. 
Planning and budgeting: The theater production manager makes adequate preparation ahead of any film production. Such preparation involves the estimation of all costs for the production. In budgeting, he/she needs to be rational at the same time wise not to affect the project's quality. He/she also makes purchases when necessary, that is, buying materials and equipment needed for the project. 
Organization of rehearsals: It is also the duty of the theater production manager to organize rehearsals before any stage play or film production. The rehearsal helps the actors be perfect in their roles and perfect the duration and time by removing all excesses.
 Stage coordination: During stage play, it is the duty of the theater production manager to coordinate the stage for effectiveness and organization. He/she ensures that every scene is well-acted and organized. Also, backstage, he/she ensures that the right costumes are used for every specific role. He/she also interacts with all other crew members and ensures they all perform their duty effectively. 
Salary Structure Of A Theater Production Manager
In the United States of America, actors in the entertainment industry are financially astonishing. The reason is because of the number of people that are interested in their product. On analysis, after the footballers, actors are well compensated for every role they play in a movie. For a Theater production manager, most of the time, he/she works on contract except in some cases where a theater production firm can employ him/her. When on contract, his/her wages depend on the terms, conditions, and duration of the contract. If he/she is employed, the salary also depends on terms and conditions as well. Years of experience and level of education are also major factors that determine the salary structure. On estimation, a theater production manager earns about $200,000 to $250,000  per annum. 
Also read Banquet Manager Job Description, Salary & Qualifications
Theater Production Manager Job Description, Duties, And Salary