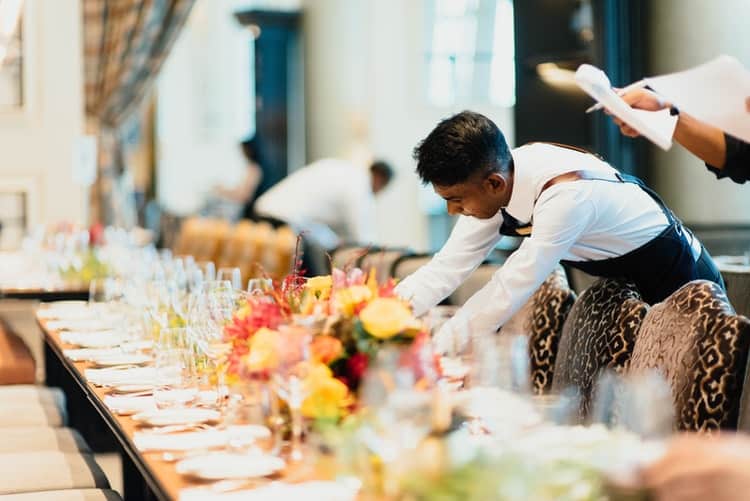 A banquet manager's job can be one of the most necessary and high-profile roles in hotel management because of the rich source of revenue I can receive in this position. To put it simply, a banquet manager is a person who oversees the hosting of banquets and provides customers with an excellent banquet experience. During any ceremony or event, the staff members are assigned different roles, and the one responsible for coordinating and leading this team is the banquet manager.
As a banquet manager, you will be responsible for every decision-making during an event, whether it is about marketing and selling the banquet space or providing service to the guests. As the events held at a hotel will have several guests there, the banquet manager's duty is to attend and provide services to the guests and ensure that the event is running smoothly.
Talking about events, there are different kinds of events held in a hotel, and the banquet manager is said to organize the whole function with their team. It can be a professional meeting or conference, reception, or an exhibition where the client will hire a venue. There can also be general ceremonies such as parties or weddings with many guests attending them together. There is no guarantee of how many customers there will be, and even sometimes, if it is a large hotel, there can be two or more events happening at the same date and probably, at the same time.
KEY RESPONSIBILITIES OF A BANQUET MANAGER
As I mentioned above, a banquet manager's job is about organizing and coordinating an event along with their team. However, the responsibilities assigned to a banquet manager are more than just organizing an event. And if you are looking for a job in this field of work, you should have a very detailed and specified idea regarding a banquet manager's duties and responsibilities. Here is a list of responsibilities allocated to a banquet manager:
Attending clients and scheduling reservations as per the availability of banquet space.
Marketing and selling banquet spaces along with listing the facilities and services provided by the management.
Planning the event as per the client's request while achieving maximum profitability and success by controlling costs and service quality.
Briefing the staff members regarding an event and assigning them particular duties and what kind of services they would be providing.
Discuss the menu with the clients and list what dishes and beverages are to be served on the said date.
Deciding the cutlery, china, glassware, linen, and equipment for the upcoming event.
Ensuring all the services are being provided as promised on the event's said date and double-checking the management.
It provided the guests with delicious food and beverages, checked the seating arrangement of guests, and cleaned the table.
Checking the room set-up and the other rooms booked by the client and providing proper room-services to the guests.
Ensuring all the bills have been paid on time.
After completion of one event, setting up the venue for the upcoming one on time.
Maintaining records for inventory, labor cost, food cost, etc.
Coming up with new developmental and innovative ideas for the upcoming events.
Dealing with the customers in case of any query or mismanagement.
On the said date, great your clients and other guests with courtesy.
Training the staff members beforehand.
Discussing the menu with the chef and prepare dishes at the request of the clients.
In case of any last-minute changes, remain prepared with a back-up plan which does not affect the overall event.
QUALIFICATIONS REQUIRED FOR BANQUET MANAGER
To get a job as a banquet manager, it is necessary for you to have experience in this field. However, if you are new to this field and want to make your career here, your qualifications will definitely help you to prosper in the future. Here is a list of minimum eligibility criteria for getting a job as a banquet manager:
Bachelor's degree in Culinary Arts or Hospitality/Hotel Management. These two are the most basic degrees to get a job in this field. Getting a diploma in Catering, Culinary, Hospitality, or any other similar field may also help you out.
Working of at least 2-3 years in Banquet management or any other similar department. Working as a trainee for 1-2 years may also prove beneficial.
Proficiency in catering management software, such as Better Cater and Caterease.
WHAT SKILLS ARE REQUIRED FOR A BANQUET MANAGER
Along with degrees and certification, if you are willing to work as a banquet manager, you need a number of skills to excel in this field. Here is a list of skillsets you require as a banquet manager:
Having good interpersonal and communication skills always help. These are the most basic skills that one requires to get a job in this field. After all, you are supposed to discuss different events with your clients and team members, so having good communication skills always helps.
As the team leader who will be managing and coordinating the whole event with their team, you should have good leadership qualities that can lead and motivate other staff members.
Having confidence in your job also helps in pursuing clients.
Excellent organizational and management skills help you manage different events, clients as well as your team.
Keeping your cool during stressful situations is also considered beneficial for the job. There is always a chance that something might go wrong, and if such a thing happens at the last moment, you can tackle it without any complaints or queries.
With a charming and charismatic personality, you can also greet organizers, guests, and hosts, assuring them that you prioritize this event and give it your full attention.
SALARY OF A BANQUET MANAGER
Sure, if you are entering this field of work, you will also ensure how much you will make from this career. In the United States, as of January 2021, the average Banquet Manager salary is $47,269. However, the range typically falls between $36,604 and $58,047. Salary in this field also depends widely on many other factors such as experience, certification, education, and a few additional skills. As a banquet manager, there will be several tasks and responsibilities assigned to you, and as per the requirements, you must fulfill them. Only with your skills and expertise can you excel in this field.
Also read General Contractor Job Description, Salary, Duties
Banquet Manager Job Description, Salary & Qualifications