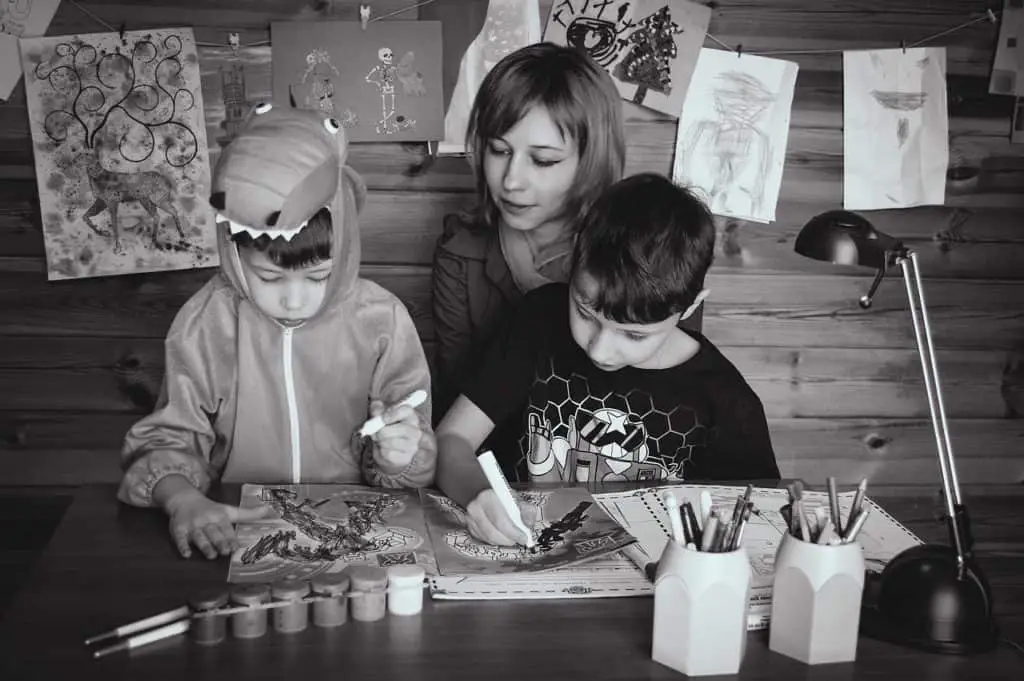 Art sustains the world, and students' world mostly starts from school, enriching their bountiful minds. An art technician facilitates his knowledge into young minds by communicating and assisting them. We will discuss the School Art Technician Job Description over here in this article.
Roles
An art technician is a specialist possessing degrees and vast knowledge in the art. They often assist art teachers in school, acting as an additional faculty to facilitate excellent training and learning. Besides training, other roles may include stocking up equipment, printmaking, framing, and hanging artworks in the entire school building.  Preparation of lectures for the art teacher with setting out materials and making presentations can be an additional task.
School Art Technician Job Description
Purpose Of The Position
The art technician's primary responsibilities are to provide assistance and support to teachers in the art department and cooperate with other technicians to ensure the smooth running of Art school's day-to-day program of different extracurricular activities and lessons according to the timetable. At an art school, a technician is a committed and professional member of the Art team, thus enhancing the prestigious reputation of the art department. 
Duties are much diverse, like that of a curator from the art museum. Still, at school, the position of art technician is limited to pupils, primarily in preparation, guidance, and displaying their artwork. Just like an art teacher, an art technician gives "meaning" to the pupils' art.   
Main Duties
A school art technician may be required to proceed with the below-mentioned things. 
Maintenance of art equipment for general art areas. 
Preparation of specific daily, weekly, and holiday tasks online as a subset of what online teaching requires to ensure smooth functioning of art faculty. 
Assistance to teachers in lectures and practical classes as per schedule.
Quotations obtaining and ordering of art equipment  
Maintain the decorum of school walls to make them look attractive
Assistance in administration duties like stocking up of supplies, photograph framing.
Photocopying department-related documents and processing word files, with a must knowledge of design processes using software like Adobe.
Keeping up with art studios, tidying them and maintaining art libraries and storage facilities. 
Assistance in school exhibitions, working on a particular theme of hanging paintings and other artworks of refined artists and school kids, maintenance of discipline during the event.
Assistance in preparing for incursions and excursions and accompanying the teachers/ to events or lectures as per teacher/s convenience during working hours.
Involvement in making Art studios and art libraries of school art faculty. 
Interactions with students and supervising them for the art projects and inter-school and national level competitions.
Responsibility for maintaining, art equipment related to occupational health and safety principles, including keeping up with all the files and maintaining a safe environment.
Responsibility for the school's photographic items and carrying out as official photographer and curator for the school by attending all school functions. 
Usually, a driver license is also desirable for the position.
Regular auditing and maintenance of records of the art faculty.
Preparing required materials in art classes like shaping wood, preparing sets of canvas and clays mostly preparing resistant material resources. 
Specification Required
EDUCATION QUALIFICATION. A degree in art or a related field is desired, but a diploma would also do. 


EXPERIENCE

Essential 

Mandatory skills required in practical for multi-tasking.
Previous experience is required in a prestigious institute, but primarily, community and local schools also hire freshers.
Previous experience in teaching and working in a school environment. 

Desirable

Problem-solving and analytical ability.

Specialism 

Teaching team-oriented, emotional intelligence. 
Knowledge of ICT skills (MS Outlook, Adobe Photoshop, MS office, etc.)
Understanding of Silk printing and other print processes.


KNOWLEDGE REQUIRED 

Of art materials and related equipment used. 
Understanding of keeping tidiness of art studios and other places where students mostly work. 
Relevant knowledge to work with limited supervision.



GENERAL INTELLIGENCE

Reasoning and aptitude ability. 
Emotional intelligence
Empathy



FINANCIAL 

Efficient in minimizing wastage in consuming items.
Efficiency in managing finances of the items required in school art studios. 
Management of informative books, scripts and files in the art library. 
Working for a better decorum with different themes for school in a financially manageable way.



BEHAVIORAL SKILLS

Reliable and easily adapting
Flexible in the school environment
Has a Positive and growth-related mindset.  
Good communication skills: verbally, writing and visually to easily deal with questions asked by students and acquaintances.
Able to maintain confidentiality and integrity. 
Ability to work under pressure and remain calm.
Committed to the well-being of students and colleagues and their successes.
Excellent Eye accuracy required for attention to details.
Ability to deal in a friendly and patient manner.
Commitment to professional and personal development.
Ability to work cooperatively in a team.
Has relevant communication skills to deal with a vast number of people. 
Must prioritize work over anything to meet deadlines.  



TEAM PARTICIPATION

Contribute positively to the school community. 
Ensuring a better performance taking aims and objectives of the school in mind.
Well-adapted working with school administrations and other departments.  



SAFETY REQUIREMENTS

Manual handling
To be responsible for the safety hazards of all equipment used and to carry out risk as required. 
Salary
The average art technician salary starts from  $70,000. However, the salary range typically falls between $62,000 to $79,000. 
A prestigious institute offers a good paygrade starting often from  $57,000 to $63,987. 
Local schools and community colleges have decent paygrade, salaries starting from $23,000.
Further salary can get negotiated according to qualifications and experience. Promotions are often offered.
Salary ranges differ accordingly with education qualifications, behavioral skills, years of experience, and other attributes as per requirement.
Working Relationships
An art technician is required to work as a team with the administration.
Department Head of Art Faculty
The Staff of the Art Department
Teaching Faculty
Non-Teaching Faculty
Students 
Financial Administrator
School Administration Staff and Other Support Staff
Visitors
Parents 
Conclusion
In conclusion, people are looking for technicians. However, technicians should be great communicators, reliable, and know well to handle several people. Possessing varied degrees and diplomas will not get you a job if you do not have other additional skills. Specialists like art technicians must teach students, so they need to adapt to the school working environment. It can be a problem if you do not have enough teaching experience. In addition to being in the art department, an art technician needs to be active in school administration and other programs as required by the institute. An art technician closely works with teachers in the art department, so teaching experience is essential. In addition, accuracy is a must for art technicians as they need to look for the fine details and work on different themes. If you cannot adapt to a busy working environment like school and clumsy, you should probably think twice before applying for the position.   
FAQs
Do you need to have a degree in art to apply for this position? It is desirable when applying for a position of art technician; however, a diploma would do the thing. So you cannot apply for the position without a certificate or a degree in art or design. 
Does an art technician is a well-to-do the job? It is a well-to-do job, with pay grades starting from some $70,000, salaries depend on the qualification you possess and years of experience. Better the qualification and experience more will be your pay grade. 
How to become an art technician at school? First, you need to complete your high school then a degree or diploma in art is required. Whether it's fine arts or sculpting, or photography, it does not matter. Next, apply to the positions in schools and carefully read the job description and terms and conditions.
Do schools provide training after joining? Some institutes provide training and apprenticeship under senior technicians. If you do not have enough experience, it would be advised to apply only to these institutes. They would give you the required exposure. 
Does requiring a working knowledge of software like adobe, MS outlook is essential? It is desirable, not essential; this specialist software is popular nowadays. Knowing their work is a plus point because an art technician needs to demonstrate the students to this software and related equipment. 
Can a previous art curator or a painter apply for this position? Yes, of course. An art curator is someone well adapted in a working environment previously, so it's an additional gaining point. And who knows an artwork better than a painter with deep knowledge of themes is required in exhibitions and schools' annual functions.  
School Art Technician Job Description, Salary, Duties