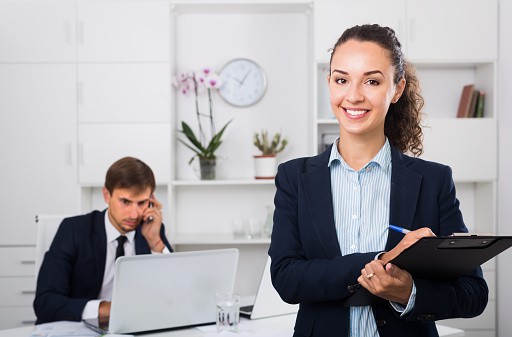 Administrative Assistant Job Description
An administrative assistant's job description varies from company to company, but some basic tasks come under these professionals' responsibilities. If an administrative assistant's job is to be defined in one word, it would be multi-tasking. The administrative assistant provides administrative aid to guarantee the smooth and efficient running of the office, for that the administrative assistant needs to handle a wide range of tasks that include supporting manager and employees through their assignments and tasks to ensure that all operations and interactions/co-ordinations in the organization go smooth and productive. Other responsibilities of the administrative assistant are certain clerical managements and arrangements that need to be done in the office daily. Basically, administrative assistance facilitates the organization's routine operation and serves as a prime contact point for all the other personnel and employees in the office.
Salary of an Administrative Assistant 
According to ZipRecruiter, an administrative assistant's annual pay scale ranges from $46,000 at the highest point to $18,500 at the lowest point. On average, the entry-level salary currently ranges from $25,000 to $33,500, potentially going as high as $40,500 annually across the USA. According to ZipRecruiter, the average pay range of an Entry Level administrative assistant differs by as much as $8,500, suggesting that there is a high scope of improvement and salary increase based on performance and gain of experience. Location is also an important factor further explored below.
Earning Potential According to the Location
Earning potential for an administrative assistant varies in different cities, depending on the city or area the organization is located in. generally, earning potential is higher in larger cities than towns and smaller cities. Top locations with high administrative assistant pay are:
Philadelphia – $49,299
New York – $ 56,022
Houston – $ 43,404
Chicago – $ 40,631
Orlando – $ 42,981
Metropolitan cities tend to have higher salaries for jobs of administrative assistant. Private companies and organizations also pay more than government and non-profit organizations.
Duties of an Administrative Assistant 
Administrative assistant handles a wide array of duties which include:
Responding to phone calls and messages 
Scheduling appointments, meetings, maintaining the calendar.
Taking notes in meetings
Maintaining a confidential filing system and official documents and reports.
Providing general aid to visitors and clients
Handling travel arrangements  
Managing communication like email, memos, letters, and faxes
Managing office packages, deliveries, and supplies
Facilitates office interactions and co-ordinations
Administrative Assistant Requirements
The job description of administrative assistant requires a mix of certain education levels, skills, and certifications. However, requirements can vary according to different organizations.
Education Required for Administrative Assistant Job: An administrative assistant job does not strictly require a formal degree. The minimum qualification required is a high school diploma or General Education Development (GED) certificate. However, some organizations require a minimum of an associate degree in the related field. Those applicants having a Bachelor's degree are more marketable and preferred since they are expected to have a proper and well-balanced education about writing and mathematics, which can help the job. Usually, Bachelor's degree in any field, including communication, business, or liberal arts, is accepted. Simultaneously, some specialized administrative assistant roles that include working with government agencies and financial spheres require education in the relevant specific subjects. Although certain courses and certifications help those lacking degree or a high level of education, these are detailed below. 


Courses: The applicants without degrees, particularly those freshly graduated from high school, can go for certain technical courses that offer the hard skills necessary for the posts of administrative assistant. These hard skill courses include:

Business writing
Documentation
Filing and organizing 
Data processing
Bookkeeping
Word processing 



Certification: Certification is an effective way for the applicants to prove their credibility to the employers. Administrative assistants can earn certificates to gather more theoretical knowledge regarding the duties of their position and access their professional abilities. The two most common certifications for this job are below: 



Certified Administrative Professional (CAP): Undertaken by the International Association of Administrative Professionals (IAAP), the CAP exam covers six domains and 47 performance outcomes (PO), covering the duties of administrative professionals, which include business documentation and writing, business functions, technology and information, event and project management, record keeping and organizational communication. The test is designed particularly for the students who graduated with a 2-year degree in an office professional program but didn't have the necessary years of professional experience. The exam is computer-based, consists of 200-225 multiple choice questions, takes three hours to complete. It is taken in person at IAAP approved testing centers. IAAP provides the preparation materials on their website. 


Microsoft Office Specialist (MOS): This certification tests the candidate's technical skills, mandatory for today's technologically advanced offices. Microsoft offers Associate level certificates for each specific Microsoft application, including Word, Excel, and PowerPoint, demonstrating to the employers the applicant's practical expertise in Microsoft Office. A MOS-certified employee, at entry-level, can earn fairly more than their uncertified coworkers. The exam normally takes 90 minutes to complete. They are taken in person at authorized testing centers. After earning that certificate, candidates can further move on to MOS Expert or MOS Master certification by completing two additional Expert-level exams.
Are Certifications Important and Worth It?
A frequently asked question about certifications is whether or not they are worth the effort. There is no definite yes or no answer to the necessity of certificates, it depends totally on the applicant's prior education, experience in the field, skills, as well as on the requirements of the job to be applied for. A certificate might be the only difference between two competitors applying for the same job, or it might not make any difference at all. Before choosing whether or not to opt for certification, one should better access his skills and weigh his abilities himself and then decide accordingly. Despite years of experience one may have something missing in his resume or could lack the technical skills vital for managing a high tech modern office or an applicant might have the skills but not the necessary experience for a job.
Associate's Degree for Administrative Assistant: High school graduates can opt for an associate's degree in administrative assisting. Many community colleges and vocational institutions offer a 2-year program leading to an associate's degree. Although an administrative assistant's specific duties vary depending on each organization, there are certain duties common to each setting. Individuals can choose and opt for a program related to office work that is generally demanded to work on the post of administrative assistant. 
Skills Required for Administrative Assistant Job: An administrative assistant has to perform a wide array of duties that ranges from those using technological tools to interacting with visitors. Below are the top hard skills and soft skills required for the position of administrative assistant: 


Hard Skills: The administrative assistant needs to be pretty tech-savvy in the current world. It certainly isn't sufficient to be familiar with using computers. He or she needs to have a good grip and command on certain software and apps used in these spheres. The hard skills required are:

Proficient computer skills, including MS Office (MS PowerPoint and MS Excel, particularly)
Database management
Calendar management 
QuickBooks and Xero
Proficient with projectors, scanners, and photocopiers
Accuracy in data entry
Inventory and supply management 
Editing and proofreading
Record keeping and billing
Business knowledge



Soft Skills:
The essential soft skills for administrative assistant are enlisted below:

Excellent time management skills 
Strong organizational skills
Detail-oriented
Problem-solving skills
Excellent writing skills 
Verbal communication skills
Written communication skills  
Multi-tasking
Decision making 
Strong interpersonal skills 
Reporting skills
Analytical skills
Research
Customer service
Phone etiquette
Discretion
Emotional intelligence
Responsibility
Flexibility and adaptability
Teamwork
Professionalism
The Requirement of Experience for Administrative Assistant Post:
The requirement of prior work experience is also conditional, depending upon certain factors. While experience is not strictly required, some organizations prefer experience in the field since on-the-job training teaches major skills necessary for the job to the professionals. A long-term history with other companies can exhibit responsibility, reliability, and the acquisition of the necessary skills. Consequently, earnings are also affected by the experience in the field. Freshly starting administrative assistants make lower than experienced ones. On average, new administrative assistants earn $8000 less than those with 20 or more years of experience.   
Whereas formal and high education levels are not typically required for the job, having a bachelor's degree in the related fields can make up for the industry's requirement of experience. In this case, certifications can also help, as stated above, CAP is specifically designed for applicants lacking necessary experience in the field and MOS certified applicant has a promising technical skillset to offer. Therefore, applicants who are just starting their careers lack any experience but have certifications or courses added to their resume and can compensate for the deficiency. However, with the gain of experience, there are also chances of growth from the administrative assistant position. Details about the career path of an administrative assistant are given below.
Career Path for an Administrative Assistant
There is a high scope of growth and elevation in the job of administrative assistant. The diverse career path prevails partly because of the varied range of tasks that are part of the job, from creating spreadsheets to managing stockrooms. The position of an administrative assistant covers it all. Consequently, an administrative assistant has the chance to explore all these varied aspects that are part of the job to find out what interests him or her the most and then to pursue the relevant field. Those whose interests incline towards budgeting and financing can ramify their administrative assistant path to pursue finance. Those interested in business administration can pursue business. Hence, the path of an administrative assistant is like a broadening road dividing into multiple paths. 
Chances to Advance as an Administrative Assistant 
As administrative assistants gain experience within their posts, their advancements to higher or senior roles have higher-level responsibilities. For instance, an entry-level administrative assistant may be promoted to become an executive administrative assistant or an office manager. An administrative assistant's post can be used as a stepping stone for moving up in the career. Let's discuss a few specific aims and tactics for advancing up from the position of administrative assistant. 
Aims and Tactics
Advancing From Administrative Assistant to Office Manager

The Tactics:

If the organization one is working in, as an administrative assistant, has an Office Manager, he or she should observe the kind of tasks and responsibilities that come under the Office Manager's domain.
If the organization lacks an Office Manager, then one should observe and notice the important tasks that the company is falling short of completing. 
In case one's current position as an administrative assistant offers some flexibility, he or she should try to take on some duties of an Office Manager.
Asking the current Office Manager if he or she needs any help or assistance in anything, one should clarify that he or she intends to work as an Office Manager in future, therefore, want to understand the necessities and duties of the position.
If the organization doesn't have an Office Manager, the administrative assistant should explore and try in the areas that interest him or her the most and take on the concerned additional duties but making sure that he or she isn't falling short of completing the assigned duties.
A bachelor's degree in subjects like business administration, HR management, IT, or public administration is required for the position. 



From Administrative Assistant to Executive Assistant 

The Tactics:

Developing strong relationships with the Executive leaders in the organizations, sharing with them the work aspirations will make them consider the individual when the position gets available in the future. 
Noticing the prevalent unmet tasks during the weekly meetings with the executive leaders.
Trying to incorporate those tasks into the current to-do list will particularly help if the executive working in the organization doesn't have an assistant.  
Regularly Discussing one's performance, asking for feedback from the executive about the additional work that one's been doing, whether it's helpful, use that feedback, even critique, for improvement and growth. 
After one's sure of exhibiting unchallengeable performance, then he or she can schedule a discussion or meeting to discuss his or her goals and to know what else is to be learned to become an executive assistant.
Opting for additional training and/or certification can also support one's growth from an administrative assistant to an executive assistant. This can enhance one's credibility, skillset, hence the performance.
An associate's degree or bachelor's in the business field is preferred for the post.  



From Administrative Assistant to Human Resources Specialist

The Tactics:

Recognizing the domain in the administrative assistant job that extends over the functions of Human Resources.
Giving more time to work on those domains and finding out ideas to improve those areas.
Sharing those ideas with the supervisor, asking for feedback, and keeping track of one's progress and development in those areas relevant to HR.
Finding out what else one needs to do and what other experiences to achieve the desired position.
Developing and sharpening skills essential for the HR position is crucial, skills like customer service ethics, diplomacy, listening, and communication skills. In short, one has to be a people person more than a tech person to achieve and to excel in the HR position.  
Obtaining a bachelor's degree in business studies, human resources, or information technology can help achieve this targeted position.   
There are plenty of opportunities, particularly for Individuals with a Bachelor's degree, for career development as administrative assistants. They can be promoted to office manager with the duty of undertaking all administrative functions of the organization. Individuals in administrative assistant positions who attain business degrees can have a chance to move on to relevant fields like business administration posts, enhancing their career path. 
Becoming an Administrative Assistant
The best thing about working as an administrative assistant is that an individual has myriad possibilities and paths to consider and choose from. He or she is exposed to numerous domains and areas to explore and find out which one of those is his calling. He or she can pursue that field of interest. Individuals fresh out of high school, who don't yet know what subject, field, or work is for them, can start with working as an administrative assistant, with the exposure to all the domains of different posts, they get familiarized with a lot of choices with a chance to explore them and then deciding and pursuing a formal degree in the subject that interests them the most. However, deciding one's interest and what he or she exactly wants is crucial.     
Also read COTA Job Description, Duties & Salary
Administrative Assistant Job Description, Salary & Duties