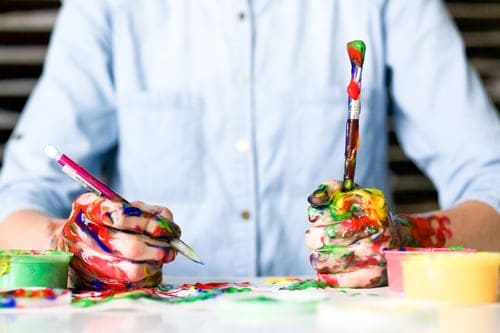 Art has always helped man to understand the world beyond words. It has been there as a privilege as solace as records and stories. It has grown with the world as the process of learning and teaching arts. Society is transforming, so is the process of education. Schools and universities are implementing new subjects and removing old ones that have lost utility. Some have gained a place in modern education processes as Arts in all its form like visual, performing, or fine. Creativity is the tool of this generation. So, the role of the art teachers is invaluable. They have to bring out the imagination. Teach the art of meaning-making. And help children find their individuality and respect others.
In this article, we will read about drawing and painting teacher as an art teacher. 
What are the skills and qualifications required?
What are the job opportunities? 
What are the duties?
Which courses to pursue? 
What is the average salary?
Art Teacher Skills and Qualification:
Teaching arts is a complex concept, as there are no distinct rules and formulas. It involves most of our senses and perception. An art teacher is a teacher of history, psychology, and science. What one needs to be an art teacher is aptitude and certification of teaching. There are many ways to become an art teacher. If one wants to teach at the school, they need to have a bachelor in arts degree or diploma. And certification of state eligibility test. 
Job Opportunities As An Art Teacher:
Art is not only an extracurricular activity at a school. Now, it is the tool to enhance cognition in people, bring aesthetics. It is the base of all designing, engineering, and architecture. People who have certification in arts can apply for jobs at:
Schools
Churches
Community Centers
Senior Centers 
Daycare Centers 
A Non-profit Organization like the YMCA
Duties Of An Art Teacher:
The job and responsibilities of an art teacher are:
Interest generation, the challenge that an art teacher has is the lack of patience. There is so much to know too fast. Everyone feels like they are out of time, especially the children. Art is the opposite of all that. It requires patience. And to let children try it, teachers need to be creative.  
Providing experiences – some children get inspired by seeing, some by creating. Some get inspired by listening to the stories, and some when they are amazed. It is easily up to teachers how to find inspiration for their children's learning.
Creating platforms – Finding national-level art competitions, creating art fests, magazines for art. letting children know about the contemporary art movement. Encouraging them to participate.
Assessments – When teachers are assessing art, they are not marking the strokes and shapes. They can track the growth or trauma. They can make children confident just by giving them the opportunities to speak without being right or wrong. 
Recording wholistic progress – keeping a log, creating a portfolio of all the students having a dialogue with the students individually to understand them better. 
Interacting with parents and surrounding – Talking to the parents of children to understand their background. Informing the parents about the strength and challenges of their children. 
Moral and Confidence building – creation in itself is empowering children when appreciated gain confidence. 
Organization and presentation are the two skills people need in all of their student and job life. Art is a subject that can provide the earliest experience to the process of presenting one's work and discussing it without fear.  
Education on history, culture, and values – dialogues while teaching arts is natural. An art teacher can teach all the subjects in one session by designing meaningful and relevant discourses.  
Identification of talents – children and adults who are aware of their competencies are confident. They can plan their future around it. Art teachers can identify students with the artistic temperament. And tell them the opportunities they have as a career.
Training and educating – art teachers provide the training to draw and paint, knowledge of shapes and texture, and cultivate hand and eye coordination. Educate how to organize the ideas, how to master certain forms. They help students generate perseverance.  
Curriculum designing – as every student is different so, is every class and every school. That is why designing the curriculum is required as per the need of the students. Art teachers should understand the objectives made by the national curriculum board of education. Then, create a syllabus that is as per their student's interests and learning levels.        
Reporting – art teachers, like all other subject teachers, should make a quarterly report. Mentioning the grade and emphasizing the qualities that marks do not show. 
Courses:
There are many ways by which one can become an art teacher in the USA. Different states have different qualification examinations that one could take after school if they had studied arts. People who did not study arts in school but want to be an art teacher can give that qualification examination after the following degrees or diploma.
Bachelor in Arts with Arts as a Subject
Bachelor in Liberal Arts with Arts as a Subject
Diploma in Drawing and Painting
Bachelor of Fine Arts
Bachelor in Science in Arts
Masters in Arts with Arts as a Subject
Masters in Fine Arts
With the above mention courses doing digital art courses like computer-aided designing gives an edge to the resume.
Salary Of An Art Teacher:
The salary of an art teacher varies from schools and levels. The pay in government schools across the USA is similar. But there is no aggregate of an art teachers pays in private schools. As per the US Bureau of labor statistics:
Art teachers in elementary schools earn an average of $58,230per year.
Middle school teachers earn an average of $58,600per year. 
High school teachers earn an average of $60,320per year.
In higher educational institutes, the pay grade is high, and as there is a difference in pay of art teachers from college to college, which are changing every year. There is no official average pay record. 
Art Teacher Job Description, Salary & Duties