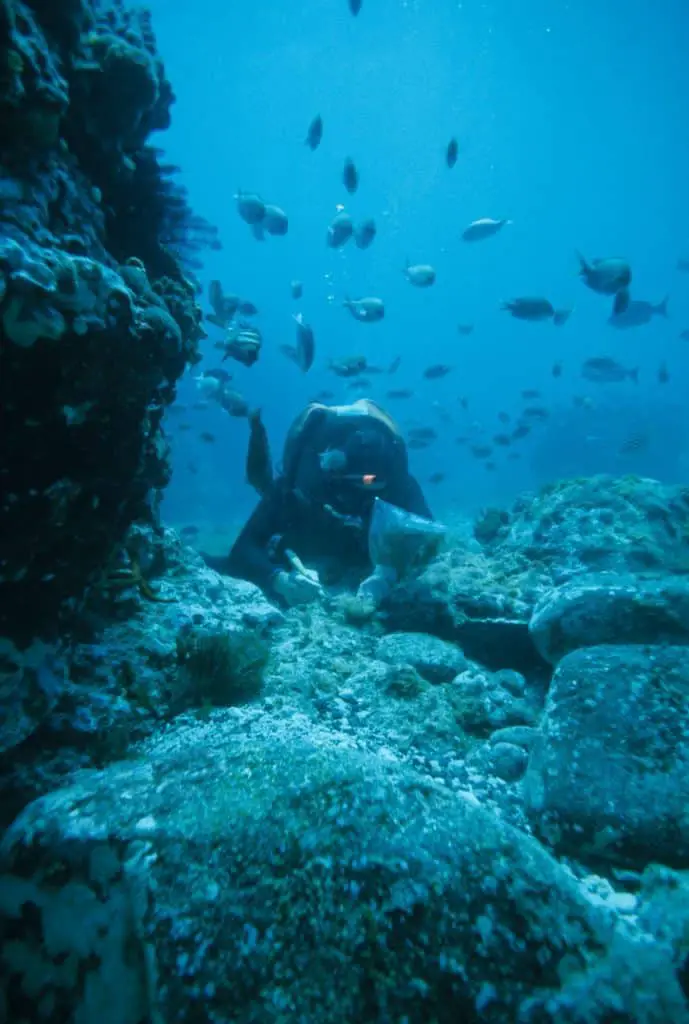 Marine biologists investigate the behavior of marine organisms. Also, they study their interaction with each other and the environment. They explore beautiful reefs, dive deep into the blue, and witness life dwelling in extreme, unimaginable habitats. As interesting as it sounds, more intriguing is how you can be the next marine biologist. If you have a passion for analyzing the environment and different ecosystems that make it up, this career is tailor-made for you. This article sums up the requirements and procedures to become a successful marine biologist. 
Academic Qualifications
You should have a bachelor's or a master's degree in any of the following courses to become a marine biologist:
Marine biology and coastal ecology/oceanography
Marine sciences
Marine ecology
Marine biotechnology
Marine and Atmospheric sciences
Aquatic ecology
Oceanography
Ocean and earth science
Fisheries
Zoology
Biology
Ecology
Other animal sciences
Subjects such as chemistry, statistics, English, and physics are also considered important. You should engage yourself in marine biology-related activities to discover your true passion for it. You can volunteer for various projects such as environmental clean-ups or animal counts. You can get an entry-level job through a bachelor's degree. The possible employment opportunities are in labs, government agencies, research organizations, etc. Internships and research opportunities help students in determining their areas of specialization and getting employment after college.
To boost earning power and career options, advanced degrees such as a master's or doctorate (such as a Ph.D. in marine biology) are essential. Many a time, a master's degree is required for research, consulting, and teaching jobs. You can consider a bachelor's-master's program to get the advanced degree in a lesser period. A Ph.D. will earn you high-level jobs such as research director, college-level instructor, or program term leadership. 
Here is the list of some of the finest colleges offering courses for Marine biology in the USA:
Boston University
Duke University
University of Miami
Texas A&M University
Brown University
Stony Brook University
University of Maine
University of New Hampshire
California State University, Long Beach
University of New England
Skills Required 
Marine biologists may work in an office or at a local stream. Their job can even take them to remote places around the world. There are some skills that a successful marine biologist acquires during education, while some are inborn. These skills are necessary to deliver your full potential as a marine biologist. The ideal personality traits of a marine biologist are as follows:
They must have patience, observance, a questioning mind, scientific ability, and an appreciation of marine life. 
Precision and skillfulness at interpreting and analyzing data are required.
They should have the stamina and fitness to work efficiently at remote locations.
The quality of teamwork is essential.
They must be communicative. Their work sometimes requires public speaking and addressing policymakers.
They should be comfortable with working on and in water.
They must have an interest in working with and manipulating raw data.
Career skills required in this field are as follows:
They should be successful in science coursework at the college level.
Active listening skill is required. They need to give their full attention while people express themselves but not interrupt them.
They should have a good command over science subjects.
They should be skillful in using specialized tools, software, computers, and technology such as field collecting equipment (e.g., plankton nets) for sampling. They must know about automated measuring equipment. One such example is a salinometer. It measures the salt levels in the water.
Robotic skills required to handle ROV (Remotely Operated Vehicle).
They must have the ability to make research protocols, create models and draw conclusions.
They should know and follow basic safety protocols.
They should document all details at an exacting level.
This job demands working frequently in laboratory settings. Therefore, having strong lab skills such as composing risk assessment, standard operating procedures, sequencing is a must.
They should be well versed with the technology related to this field such as Leading Environmental Analysis & Display System (LEADS), Oceanwise, PIPE-FLO, and Growing Blue. 
They must be able to design studies for research purposes and have strong research skills.
Their observations must be with attention to the details.
They must be able to plan expeditions for research purposes.
Honesty, collaboration skills, responsibility, and awareness are needed. 
Types of Marine Biologists
Depending on the type of specialization in marine biology, there are many types of marine biologists:
Dive Operations Manager – Qualification required in PADI Open Water Scuba Instructor, marine biology or conservation, Aqualung/Apeks qualified service technician. 
Marine Biotechnologists – Bachelor's and/or master's degree in marine biotechnology required
Marine Ecologists – Qualifications include bachelor's and/or master's degree in marine ecology
Marine Ecology Consultants – Bachelor's degree in marine ecology for entry-level, master's degree, and/or doctorate for advanced level
Marine Ecology Professors – Bachelor's, master's, or doctorate in marine ecology
Fishery Data Managers – Bachelor of Fisheries/ Bachelor of Science in Industrial Fish and Fisheries/Bachelor of Fisheries/Bachelor of Science in Aquaculture required
Environmental Engineers – Complete Bachelor's course in environmental engineering for entry-level, master's degree for advanced level
Marine Biology Technicians – Bachelor's or master's degree in marine biology is a requisite
Research Assistants – Bachelor's degree in marine biology or any of its specializations
Marine Policy Experts – Bachelor's and master's degree in marine sciences
Reef Restoration Product Managers – Bachelor of sciences in conservation biology, resource management and policy, natural/environmental sciences, or related field
Oil Spill Response Specialists – Complete a marine environmental technology program or a mechanical engineering technology program 
Postdoctoral Fellow – After the completion of the doctorate program in marine biology or related field.
You do not need to have a bachelor's degree for jobs such as seagoing technician and scientific support.
Duties of a Marine Biologist
Marine biology is a broad-ranged career that comes with a lot of responsibilities. As a marine biologist, your field can land you into academic research, policymaking, charity, consulting, laboratory work, or fieldwork. The duties of a marine biologist include:
Managing existing and new projects at the senior level outside or within the academic setting.
Enhancing knowledge by attending training courses and learning about new technologies and research.
Being the supervisor of students pursuing masters, Ph.D. and the lecturer of specialist subjects.
Taking interviews of stakeholders, fishermen, and local divers about the local marine practices and animal behavior. 
Cooperating with fellow research staff, colleagues, technicians, assistants, and crew members of the ship.
 Taking up surveys of endangered organisms through scuba diving.
Determining and implementing strategies for the protection and preservation of endangered marine organisms.
Putting the organisms affected by pollutants to monitoring and tests.
Scheming procedures for experiments. 
Collecting and organizing findings.
Helping policymakers by providing scientific information for the best management of the marine environment.
Help in tracking and coordinating schedules, deliveries, budgets, scopes, and assignments.
Composing contract negotiations, grant proposals, developments in business and marketing.
Management, development, and implementation of marine environment projects.
Raising awareness and education by talking with the public, commercial employers, government ministers, and fellow academics.
Implementing data sampling and collecting processes such as geographic information systems or GIS, scoring techniques, visual recording, and sampling.
Executing assessments for evaluation of environmental, cultural, human-health, and socio-economic impacts on a proposed project.
With the help of conferences, academic publications, or outreach, educate people about all the latest advances in marine science to improve the methods used to look after oceans.
Responsible for detailed reporting of water bodies for the Department of Environment, Food and Rural Affairs (DEFRA) which is a government body, commercial organizations, agencies, funders, etc. 
Preparing samples of unknown species and diseases, preserving specimens, mapping the movement, distribution, and range of marine populations.
Planning and conducting fishing expeditions and preparing research vessels in different areas such as tropical, polar, and temperate regions.
Taking lectures on marine activity planning and management, policymaking. 
Advocating on policymaking for marine ecosystems and organisms.
What can you anticipate?
There are some factors which you should know before entering the field of marine biology. They are as follows:
If you work for a consultancy, expect a formal dress code. Otherwise, it is usually informal or casual for almost all roles in marine biology and fieldwork.
University work may take you to short-term or long-term expeditions abroad but mostly their tasks require working in a lab or office.
You should be comfortable enough to grab different types of internship or volunteering opportunities. It is essential to stand out from the crowd as this field is very competitive.
Fieldwork is a laborious job. You may have to endure bad weather conditions while working at an ocean or sea, diving underwater can extend up to seven hours a day.
The field of marine biology is gender-equal.
You will get a lot of opportunities to work in all corners of the world. It can be anywhere from Mexico, Hawaii, and Greece to Tobago, New Caledonia, and the Falklands.
Resume
Marine biology is an umbrella term. Therefore, your resume should be aimed at your course specialization, mentioning related skills and experience rather than only the broad phrase. Marine biology encapsulates all the characteristics of sea and ocean life as well as the related ecosystems. The objective of studying marine biology is to comprehend the nature of changes observed in the ecosystem. A well-structured resume can make it easy for the employer to recognize your skills and area of expertise. As it is exigent to create a well-thought-out resume, we have some tips for you to make the task less arduous-
Format – The format should be a professional one. It must be able to spotlight your most significant accomplishments in front of the hiring manager. The ideal resume format for a marine biologist resume is as follows:

Contact Information
Work History and Experience (write in reverse chronological order)
Education Background
Skills
Resume Summary (optional)

Optional Sections – If you have any other exceptional attributes that are relevant to the job position you have applied for, mention them in separate sections at the bottom of your resume. Refer to the following sections as an example:

Recognition and honors
Idiosyncratic interests
Conferences and seminars attended
Recreational activities
Remember that your resume should remain limited to a single page. Instead, it should act as an elevator pitch for you, briefly describing why you are a perfect fit for the role. 
Work History and Experience – This is the most valued division of a marine biologist's resume by every employer. Remember to make it result-oriented. As stated before, having a voluntary or a recreational experience in life sciences such as working in animal sanctuaries or an aquarium will provide your career a boost. The more the work history and experience, the more are the chances of you getting hired. Write your work history (if any) in reverse chronological order. Represent evidence using specific facts or figures. You can mention some relevant experiences such as-

Experimentation assistance (to a specialist)
Research papers set forth
Boat handling
Scuba diving

Educational Background – Mention the degree you pursued along with those concepts and specialized topics that are directly related to the job description. Some examples of specialized topics are as follows:

Oceanography
Biostatistics
Toxicology
Aquatic Animal Biology
Write down the certification or licensure you gained while pursuing a practical job such as scuba diving or boat handling.
Skills – As a marine biologist, the skills required are mostly research-based. Jot down the skills relevant to the job as bullet points on the resume. Mention the specialized skills (skills that come from educational degrees) and your soft skills (non-technical skills that determine your nature at work) separately. Do not use cliches. Instead, make use of phrases and exact words.
Resume Summary – This is an optional section but can prove to be useful when the employer has a lot of resumes to look through. The hiring manager may miss some important details in the resume in a hurry. If you mention all the major points concisely as a summary, you can make sure that the employer will be able to access them easily.
Being Adept at Interview
Crossing this hurdle requires earnest preparation, self-confidence, and perspicacity. It is basically to check how well versed you are with the knowledge of your specific field in marine biology. Sometimes, you can be given a situation to test your judgment abilities, conflict resolution, prudence, etc. If you do not know the answer to a question, accept it humbly and not beat around the bush. Also, your practical knowledge is as necessary as the theoretical portion. 
Some common interview questions with answers are as follows:
Tell us something about yourself?
Here, you need to tell basic details such as your name, hometown, academic qualifications, and personality traits such as optimism, creativity, integrity, empathy, etc. Also, mention job-relevant professional traits such as solution-oriented, helpfulness, self-motivation, collaboration, etc. 
Why is it your aim to be a marine biologist?
I have always been passionate about studying marine organisms, how their ecosystems work, and research to find ways to protect marine life. Your team is doing great endeavors, and I, too, want to be a part of it. 
How did you get to know about this position?
I got to know about this position through a very close friend during a corporate sailing event. I felt a wave of excitement run through my body as I have always been down to work with this prestigious organization and finally got a chance to prove myself. 
How do you deal with conflicts?
I am a calm person and tend to take things the same way. First of all, I try to find the root cause of the situation. Then, I figure out the best possible ways of remediation to get the best outcome. At last, I make sure to take adequate steps for remediation. 
Some other interview questions are as follows:
What are some skills that only you can offer us?
Did you make any suggestions for your previous company that benefited them?
How have you tried to increase your knowledge in marine biology in the past year?
What do you do to keep yourself motivated at the workplace?
What according to you is the most challenging part during boat handling at the sea?
What were your past contributions in policymaking to ameliorate the marine environment?
How do you manage to meet close deadlines as a marine biologist?
Recall a time when you needed to make a good impression on the client. What possible things did you do?
How would you manage if you became inundated due to a lot of work on your schedule?
What should be the ideal lifestyle of a marine biologist?
What kind of problems do you define as 'unfixable'?
What according to you is the Gordian knot that you had solved as a marine biologist?
What attributes would you like in your supervisor?
How to become a marine biologist?