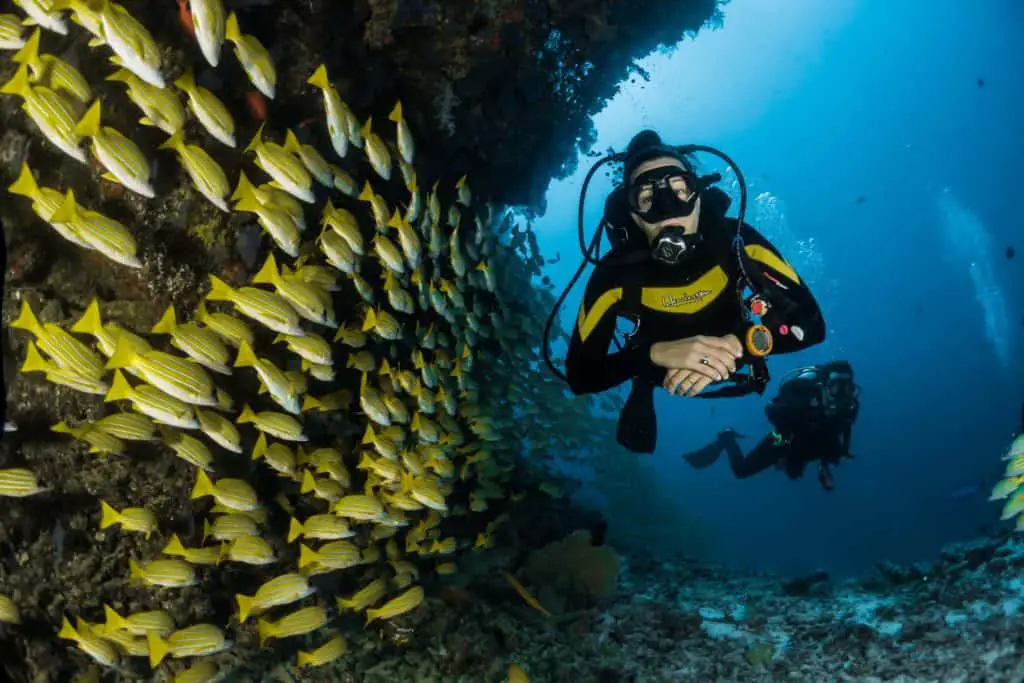 Marine Biology as Career – Marine Biology is the study of microorganisms and organisms that live in the oceans and other saltwater bodies. Marine Biologists study these organisms in their natural habitat and may study anything from behavior to physiology. They also study the effects of human intervention on these habitats and how they affect them and the underwater environment. Marine Biology is an ever-changing, ever-evolving field that requires constant study to understand and to provide information.
Marine Biology as Career
There is a lot to consider when you become a marine biologist. One of those is understanding just how passionate you are about the subject and what you are trying to achieve. There are many career paths under marine biology that you can pursue. In some, you may have to go through long days and have to travel for long periods and maybe some remote places. You may have to spend time away from family and friends as well. Others are comparatively more stable. However, even when considering all those things, marine research is a gratifying career. There is nothing like understanding a part of the earth that has most of its world yet to be discovered. 
What do you need to pursue a career in Marine Biology?
Educational Qualification: The minimum qualification needed to be a marine biologist is having a high school diploma. Further than that, you would also require a bachelor's degree in marine biology or related subjects. You may also consider pursuing a Ph.D. for further studies and to broaden your knowledge on the subject.
It is beneficial to engage in activities that are related to studies in biology, chemistry, physics, or maths. It can also help in gaining perspective and experience. This could mean volunteering for environmental cleanups, or work experience may be at the aquarium or zoos.
Marine Biologists study a variety of sciences and so picking those subjects that are relevant to your career path can be extremely helpful. 
Internships or looking to assist in research during your period of study can help you gain insight into what you would like to do as a career option.
To start any job in the field of marine biology you will require a bachelor's degree.
The more persistent you are with pursuing your higher studies the better your job opportunities and pay grade will improve.
Scope for Jobs
Studying marine biology has a variety of job opportunities in its field. So your job description will vary depending on what kind of specialization you pursue. You may be assigned to work in laboratories, aquariums, and even zoos. Your work depends on what you have chosen. Marine biology is a highly competitive field, so you must be prepared to give your best at all times. You may become anything from an aquatic scientist to a biological technician. There is a wide variety that you can choose from, each interesting in its way. Both government and private organizations offer jobs for those who have pursued marine biology. Though it is extremely competitive, there is a large and growing need for marine biology in our day and age. 
The Pros and Cons of Marine Biology
Marine biology as a career choice has an array of enticing factors that draws people to it. One of the biggest factors is the ocean. The opportunities for discovery are virtually limitless, and there's still so much to explore. With new species of flora and fauna and the current need to protect and understand them and their habitat has made this line of work increasingly important. However, this choice of work can be extremely strenuous and requires commitment. 
The Pros
As mentioned above, much of the ocean is still yet to be discovered. This allows for more prospective jobs and opportunities in this field of study. There is still much to figure out about marine life so opportunities continue to crop up wherever and whenever.
The job is extremely rewarding. With all the projects and the works that you are assigned to, you are playing a part in making the world a better place. Researching will eventually result in understanding how and why certain things work. This will in any case bring improvements ways to better our world
The Cons
The field is extremely competitive. Finding steady jobs may be a little difficult considering how popular this subject is. However, with perseverance, you will be able to overcome this and find success
The pay at the beginning of the career may not seem so steady. A lot of the work that you may do will be reward-based. However just like with the competitiveness you may be able to overcome this as well.
What does a day as a marine biologist look like?
Much of the work from being a marine biologist also depends on the kind of job you are assigned to. For example, a day as a science writer may completely differ from that of a researcher. So depending on what role you have taken up, your daily work will also differ. 
For example, a field researcher's day may be all about creating a concept for studying marine animals. Following that, they may go in for collecting samples and specimens for creating data and analyzing them. Field Researchers will also have to write research papers and reports to record all the analyses and showcase their findings. Some common tasks between analytical careers would be researching and collecting data. It would also be writing reports and research papers. You would also be working with other branches and people in different fields like biological technicians and other scientists. 
Marine Biology has an extensive range of opportunities and career paths to choose from. At the end of the day, it matters how much time you're willing to spend on branching out your career and how passionate you are. There may be a couple of cons to this career, but it is still an enriching career path that offers a wide range of specializations that you can choose from. 
Frequently Asked Questions
How much is a marine biologist paid? The pay grade depends on how many years of experience and the kind of projects that you take up. In the beginning, your salary may start at around $33k a year. This may progressively increase with more experience and the number of achievements you earn in your place of work.
What skills do you need to become a marine biologist? Some important skills that you would need to become a marine biologist are:

Communication: A lot of work that marine biologists get is to communicate all their observations and findings in an easily comprehensible way. 
Teamwork: Marine biologists often have to work in teams and with other branches during research so that they can bring about the best in their field.
Laboratory Work: A lot of the research happens in the lab and using procedures that may be complicated. 
Observation Skills: As a marine biologist you will have to spend hours observing flora and fauna and report your findings. This is why it is one of the most important skills to have.
Research Skills: Those who have strong research skills can help in analyzing and collecting data. They can also assist in designing expeditions and studies.
Marine Biology as Career Option Guide