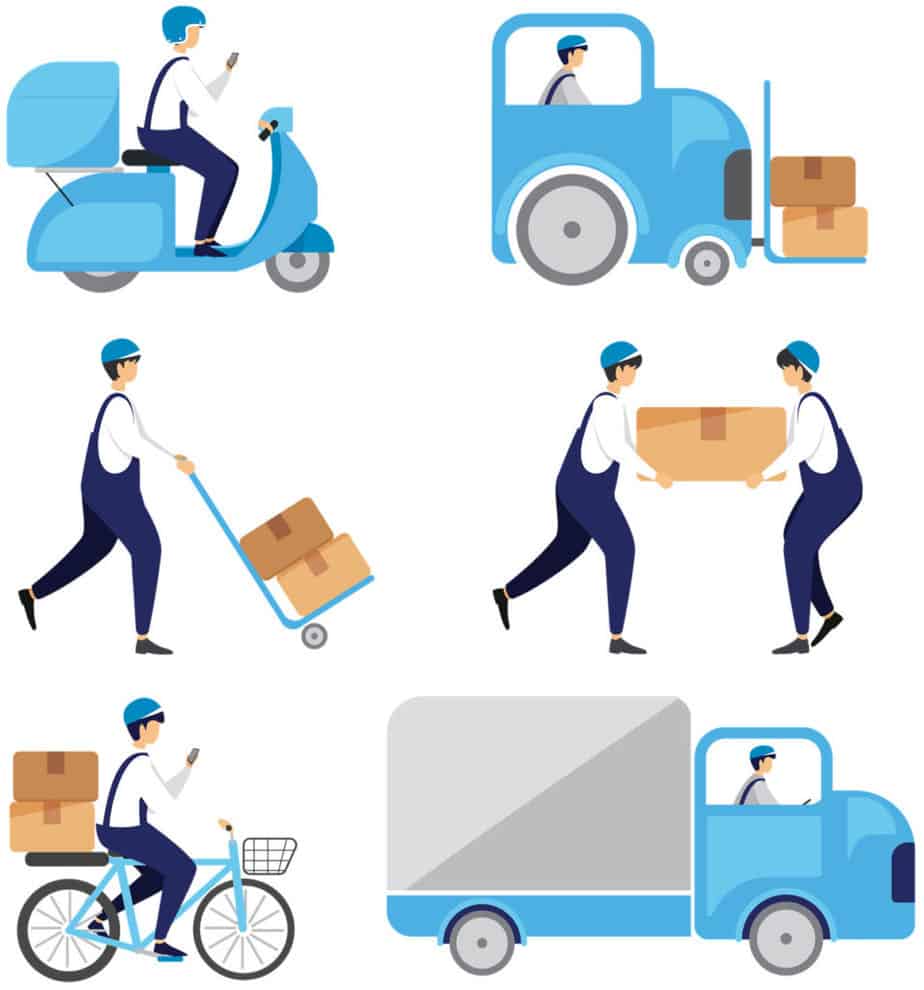 What is supply chain management?
Customer satisfaction is the top priority of any business, and an efficient strategy for supply chain management is at the core of it. But what is supply chain management? In simple terms, it is a system that involves moving goods or services from one place to another. The supply chain is a broad umbrella that encompasses the management of the transportation of products and services, right from production to delivery. It includes several functional processes such as production, procurement, logistics, and delivery. In this article, we are going to discuss Supply Chain Management as Career option in this century.
Supply Chain Management as Career
Every possible sector in the world today is dependent on the supply chain for the delivery of raw materials, finished goods, or services. That means all sectors have a notion in the supply chain industry and have a key role that is directly responsible for its functional processes. In other words, a career in supply chain management will ensure a wide range of diverse roles depending on the industry.
What are the roles of a supply chain professional?
The diversity in roles indicates that the supply chain industry has great potential for professionals. In addition to this, the responsibilities of these job roles require technical and logical skills that one must demonstrate while in a primitive role. The current market situation is undisciplined, instead of the ongoing global pandemic, leading to the diminution of profound roles. Furthermore, job security is the highest risk amongst professionals, as most individuals find themselves in disruptive roles away from their primary career path.
The roles of a supply chain professional include:
Purchase Officer
Purchase Manager
Procurement Assistant
Procurement Manager
Logistics Coordinator
Logistics Manager
Supply Chain Manager
How much did Covid-19 pandemic affect the supply chain industry?
The Covid-19 pandemic has affected every industry in the market, with impressions that will haunt for years to come. However, this includes supply chain, however, with little exceptions in medical and fast-moving consumer goods (FMCG) industries. The unsung heroes behind the success stories of medical practitioners were supply chain professionals who delivered medicines, drugs, and vaccines. Health care supplies but supply chain management has also fulfilled the task of delivering food supplies thousands of miles across. Since the onset of this pandemic, the supply chain industry is the only third industry that has flourished, ahead of competitors such as Information Technology (IT), construction, and tourism. Other than flourishing, the supply chain also has a great impact on the environment compared to most other industries. When most sectors are concerned with the sustainable aspects of production or usage of goods, the supply chain is responsible for its delivery. Therefore, aTherefore, a move towards sustainability will save on finances as well.
Why choose a career in supply chain management?
The top reasons why supply chain management is a good career are:
The supply chain industry is growth-oriented.
Growth is an important parameter for career development, and professionals concern themselves with it at every turn of their hustle. The supply chain industry is at the foundation level of every sector, with Business Wire (2021) reporting that CAGR is at 11.2%. With a forecast that will reach $37.41 Billion in 7 years, the supply chain market has a huge potential that will facilitate the job market.
With innovation in cloud-based platforms, blockchain technology, and a demand for logistics management apps, industries like healthcare, pharmaceutics, FMCG, and food are looking for more opportunities to integrate the supply chain. The job opportunities arise from companies like Oracle, SAP SE, Microsoft, IBM Corporation, Infor, JDA Software Group Inc., Kinaxis Inc., and other whales in the industry for growth.
The journey begins from entry-level roles and can go as high as director-level positions depending on the organization. For most career roles in the supply chain, a degree in the field or logistics can be the tool in climbing the ladder. With additional courses and related programs in procurement, supply chain, and logistics, a professional's key strategy must be networking for career growth.
A day in the life of a supply chain professional.
Supply chain professionals have exciting days all year round. The job responsibilities of a supply chain professional are completely dependent on the choice of the career path of the individual. The diverse nature of roles requires individuals to be connected with the supply chain industry, with planning at the core of all responsibilities. Association of Supply Chain Management (ASCM) released a report (2020) on the primary responsibility of professionals from the industry and noted that 50% of individuals chimed the word 'planning' in their responses.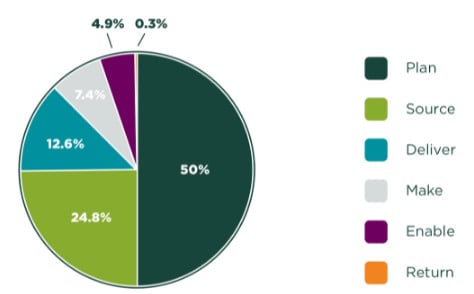 Figure: Job Responsibilities of a Supply Chain Professional (ASCM, 2020)
The supply chain industry talks money.
Job opportunities from top companies always lead to competition, giving rise to strategic leaders in senior managerial roles. These opportunities come with perks in competitive salaries, allowing for decisive responsibilities and critical demand for talent. In the report released by ASCM (2020), demographics for salaries were also entailed, disclosing the average salary of professionals from the supply chain. According to the report, a mere graduate degree in the supply chain can attract a whopping $75,000 annually for freshers in the US. Divisional managers and Vice Presidents make as high as $200,000. Such competitive salaries make way for a charming career path, let alone the perks of compensations, allowances, and additional facilities that come as a bonus.
Low barriers for entry.
The inter-relation of supply chain management with most industries necessitates that a professional can be working in the industry without having an advanced degree or certification. Training, however, ensures success, and an adequate certification can be key in embarking on a profound journey. Having said that, supply chain management develops transferrable skills in an individual that allows for low barriers for entry in any sector. For instance, as witnessed above, planning is the core of fundamental skills deployed in the supply chain industry. This can also be used in finance for financial planning. Another instance, say, involves a supply chain professional to forecast inventory and stocks. This skill can be duly used in marketing to forecast sales. Therefore, transferrable skills allow for low barriers when entering a new field of opportunity.
The need for specialization.
With a wide range of options, the supply chain industry has potential for professionals who wish to specialize in a specific field. Career development is potent and individuals can pursue a specialization in procurement, warehousing, and business, depending on their area of expertise. The wide range of possibilities allows for a range of career options in the supply chain. These specializations further create opportunities in Fortune 500 companies. Federal Governmental entities also hire skilled professionals with specialization in the supply chain industry. The industry demands skills from people, requiring a broader sense of responsibility making versatility a mandate for a career in supply chain management. Therefore, a mix of qualifications and experience is a great way of paving the path to a career in the supply chain.
Strategy is the key.
The roles in supply chain management are dynamic and aim to empower professionals with the ability to multitask. The job is a demanding one that requires individuals to be two steps ahead in their game. The objective is never to lose out on the bigger picture while one is at it. An efficient and effective system will allow industries to produce faster, deliver in a shorter period, and maintain quality. In fact, the entire process of the supply chain ultimately affects the production and execution industries. Therefore, supply chain management empowers professionals to have a strategic outlook, allowing them to be smart in every foreplay.
Reduce Carbon Footprint
Sustainability and supply chain go hand-in-hand, where one niche balances the other. By integrating sustainable practices into the entire supply chain lifecycle, professionals can reduce carbon footprint from the world. A lifecycle of the supply chain process involves designing, material selection, production, packaging, logistics, delivery, product usage, and disposal. Quality input in any stage adds up to the task of responsible sustainability. Other than reducing carbon footprint, supply chain professionals actively contribute towards corporate social responsibility. The supply chain is a labor-intensive industry that requires manual labor at most stages in a product's lifecycle.
Conclusion
Supply chain management is an appealing choice for individuals who want challenges in their professional life, and enjoy solving puzzles. On the one hand, it is barely possible to imagine businesses functioning without supply chain involvement, and on the other, it demands most out of an individual's abilities. People's goals and interests change over time, and the supply chain industry has several options to choose from. If in this sector, professionals can flexibly change their stream of work within the industry. Supply chain management brings a wealth of opportunities for the overall development of professionals, allowing them to hone their skills while shaping the world's economies.
Frequently Asked Questions (FAQ)
Do I need a degree in supply chain management or logistics?
Supply chain is one industry that is not limited to professionals having a degree or certification in logistics. Although having training in the field adds value to your career, most industry professionals can work in this sector without proper supply chain qualification. It is recommended that individuals pursue post-graduation in supply chain management for career advancement and growth. Managerial positions and leadership roles are generally offered to professionals with a Masters's degree in supply chain management.
What job responsibilities can I expect in supply chain management?
Supply chain management is a broad spectrum that covers a wide range of professional roles. Task delegations involve procurement, logistics, coordination, warehousing, management, purchase, sourcing, and operations. A procurement officer is responsible for vendor selection, preparing invoices, tenders, and material selection. He is in charge of the overall purchase department, whereas a purchase officer oversees the purchase and inventory-related tasks. The logistics coordinator collaborates with procurement, purchase, and other departments for the delivery of goods. He is also in contact with the warehouse manager for updates on stocks. A warehouse manager oversees inventory management in warehouses. He keeps a tab on inventory, stocks, and delivery of goods. An operations manager oversees the entire operation and links procurement, logistics, and other departments. He ensures that the production facility is never out of raw materials, goods leaving various facilities are updated regularly, and the goods reach adequate places for their use.
What skills do I need to become a supply chain management professional?
In any corporate sector globally, an individual must be inquisitive and have the desire to learn. The same applies to the supply chain industry. Professionals aiming to dive into this sector must understand trends in their working patterns to be a part of something big. Individual skills can vary from technical abilities to logical reasoning prowess that can add to one's success in the long run. Technical skills include knowledge of enterprise resource planning software and planning software. For example, Oracle's Primavera is a top-notch app that can boost your skills and add value to your resume. Interpersonal and business skills include forecasting, planning, and negotiation skills that come in handy in key roles in the organization. In addition to this, negotiation skills can land a professional in the management seat.
What are my career options as a supply chain professional?
Supply chain professionals are known to have their handful when it comes to jobs. Specializing in a specific sector can oversee progression to senior managerial roles in the future. Graduates and post-graduates pursuing a career in the supply chain can aim to be a part of:
Planning Department: Plan activities and forecast supplies
Procurement: Purchase related activities, inventory management, quality control, vendor selection, and material management
Logistics: Transportation of finished goods, raw materials, and services. Coordinate between warehouse and procurement
Warehousing: Inventory management, management of the warehouse, stocks, and delivery
Designing: Designing of warehouse and design of distribution network
Purchase: Purchase related activities, vendor selection, material management, quality management, and invoicing
Supply Chain Management as Career Option Complete Guide